Buses Will Replace Trains on Some of Melbourne's Train Lines Again This Autumn
Parts of the rail network will be closed throughout March, April and May in a massive construction blitz.
The past year has been a bit of a disruptive one for Melbourne's public transport network, with train closures throughout 2019 and over the summer — and we're not over it yet. As construction continues on the the Metro Tunnel, more level crossings are removed and maintenance is performed, the Victorian Government has announced that sections of seven Melbourne train lines, a number of tram lines and some V/Line services will be closed at some point between March 6 and June 1.
What does that mean? Replacement buses. If you travel on the Belgrave, Lilydale and Alamein, Cranbourne and Pakenham, Frankston, Glen Waverley, Mernda, Sandringham or Sunbury lines, you'll most likely have to switch from the train to a bus at some point on your commute.
Here's what we know so far about what's happening on each of the affected lines.
Belgrave, Lilydale and Alamein: Buses will replace trains between Parliament and Camberwell stations from March 6–9.
Frankston: Buses will replace trains between Moorabbin and Mordialloc on weekdays and between Moorabbin and Frankston on weekends from March 20–27, between Mordialloc and Frankston/Stony Point from April 30–May 3, and again between Moorabbin and Mordialloc from May 23 until mid-July. Cheltenham and Mentone stations will also be closed from March 20–March 27, with Cheltenham Station closed again from April 15–August 1.
Cranbourne and Pakenham: Buses will replace trains between Westall and Cranbourne/Pakenham stations from April 10–12.
Glen Waverley: Buses will replace trains between Richmond and Glen Waverley stations from March 6–9 and between Burnley and East Malvern from April 3–12.
Mernda: Buses will replace trains between Thornbury and Mernda from April 17–19.
Sandringham: Buses will replace trains between Flinders Street and Sandringham from March 28–April 5.
Sunbury: Buses will replace trains between North Melbourne and Sunshine from March 6–7 and again on May 14–20, and between North Melbourne and Sunbury on March 8.
Works are already being planned into winter, as well, with buses scheduled to replace trains on the Upfield line between North Melbourne and Upfield from July 20 until October.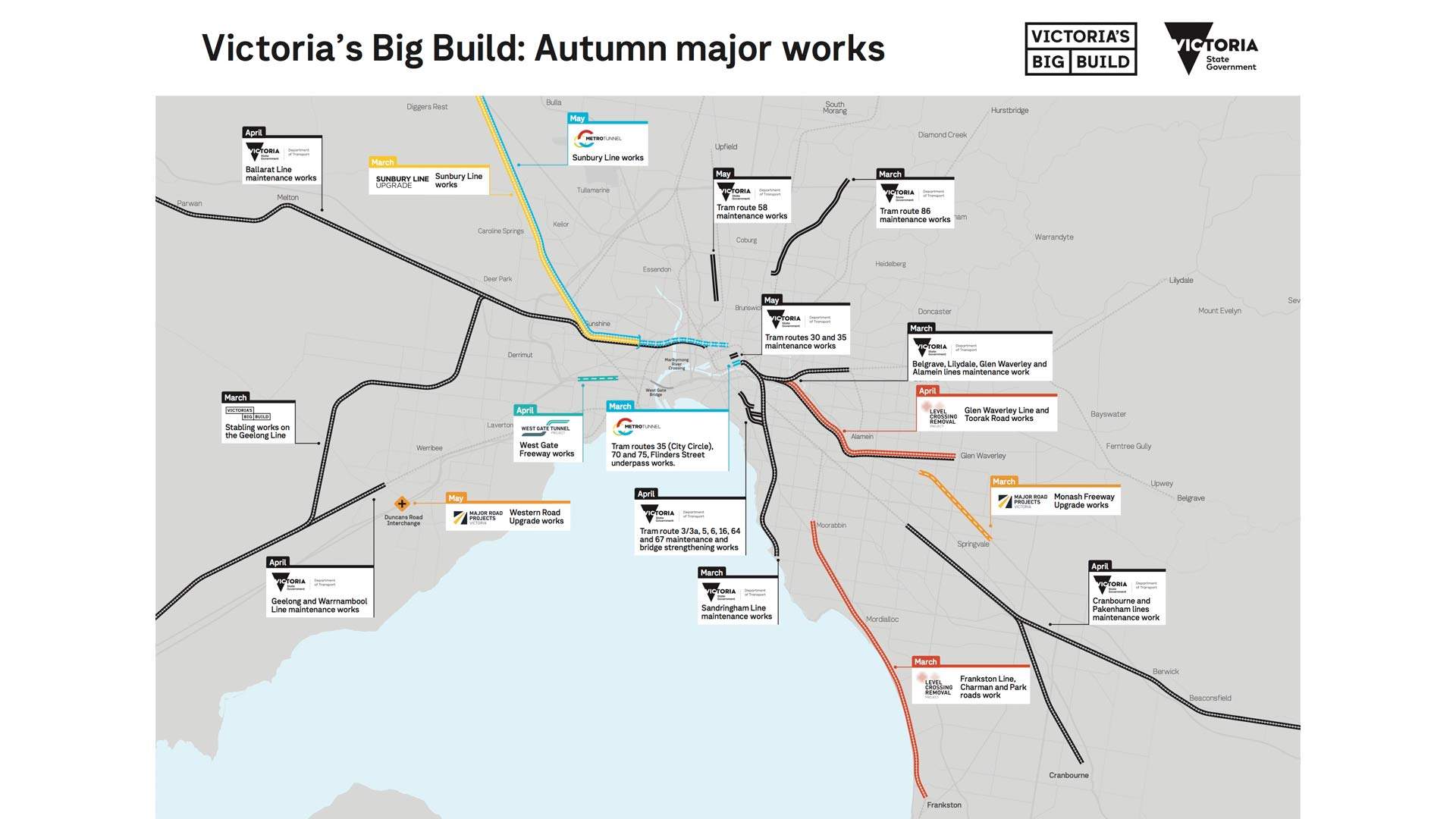 If you're a tram traveller, you'll likely be affected as well. Buses will replace St Kilda Road trams between Commercial Road and Union Street from April 4–12, with a number of other disruptions planned throughout autumn to keep an eye out for, too.
Also, V/Line services will be affected. Coaches will replace trains on the Ballarat, Ararat, Maryborough, Bendigo, Swan Hill, Echuca, Geelong and Warrnambool lines on various dates until June 1. Something to take into account before you make any big weekend plans.
The train closures this time round will see crews remove three level crossings in Mentone and Cheltenham, build two new stations, remove the level crossing at Toorak Road and complete the new rail bridge. In addition, they'll upgrade the Sunbury line, start upgrading the Monash Freeway and continue works on the Metro Tunnel — building an underground pedestrian connection between Flinders Street Station and the new Town Hall Station, and impacting trams on Flinders Street in March.
For up-to-date info, your best bet is to check the disruptions map on the government's Big Build website.
Top image: Josie Withers for Visit Victoria.