TRAVEL & LEISURE
Early Knock-Offs and Free Public Transport Could Liven Up Melbourne's CBD Under a New Proposal
The Property Council of Australia is calling for a slate of initiatives to encourage Melburnians to head into the city on Friday nights.
Before 2020 hit, anyone who found themselves in the Melbourne CBD on a Friday night was bound to have plenty of company. But after a year of lockdowns, social-distancing measures and modifying routines in response to the pandemic, the city centre isn't the thriving hub of activity it once was when the working week ends.
To bring more folks back into the city on a Friday evening (and to get them to spend more money to support the CBD's businesses while they're there), the Property Council of Australia is proposing a bold plan. It's called 'Fab Fridays' and, if you're a nine-to-five worker, you'll be particularly excited about one of the key points: letting CBD workers call it quits at 4pm on Fridays so that they can then hang around, catch up with their colleagues and mates, have a bite to eat and a drink, and patronise the city's hospitality businesses.
Making public transport free on Friday nights has also been suggested, with Property Council Victorian Executive Director Danni Hunter noting that it'd "encourage Melburnians into the CBD on Friday night, with the extra incentive of knowing you'll get home safely after a wonderful dinner and show".
Hosting free morning activities like yoga, and giving CBD workers free or discounted food and coffee, has been floated as well — to get office-based employees to head into their place of work to finish the week, rather than working from home. Obviously, once they're already in the CBD, it's hoped that they'd stick around at knock-off time for a meal and a drink.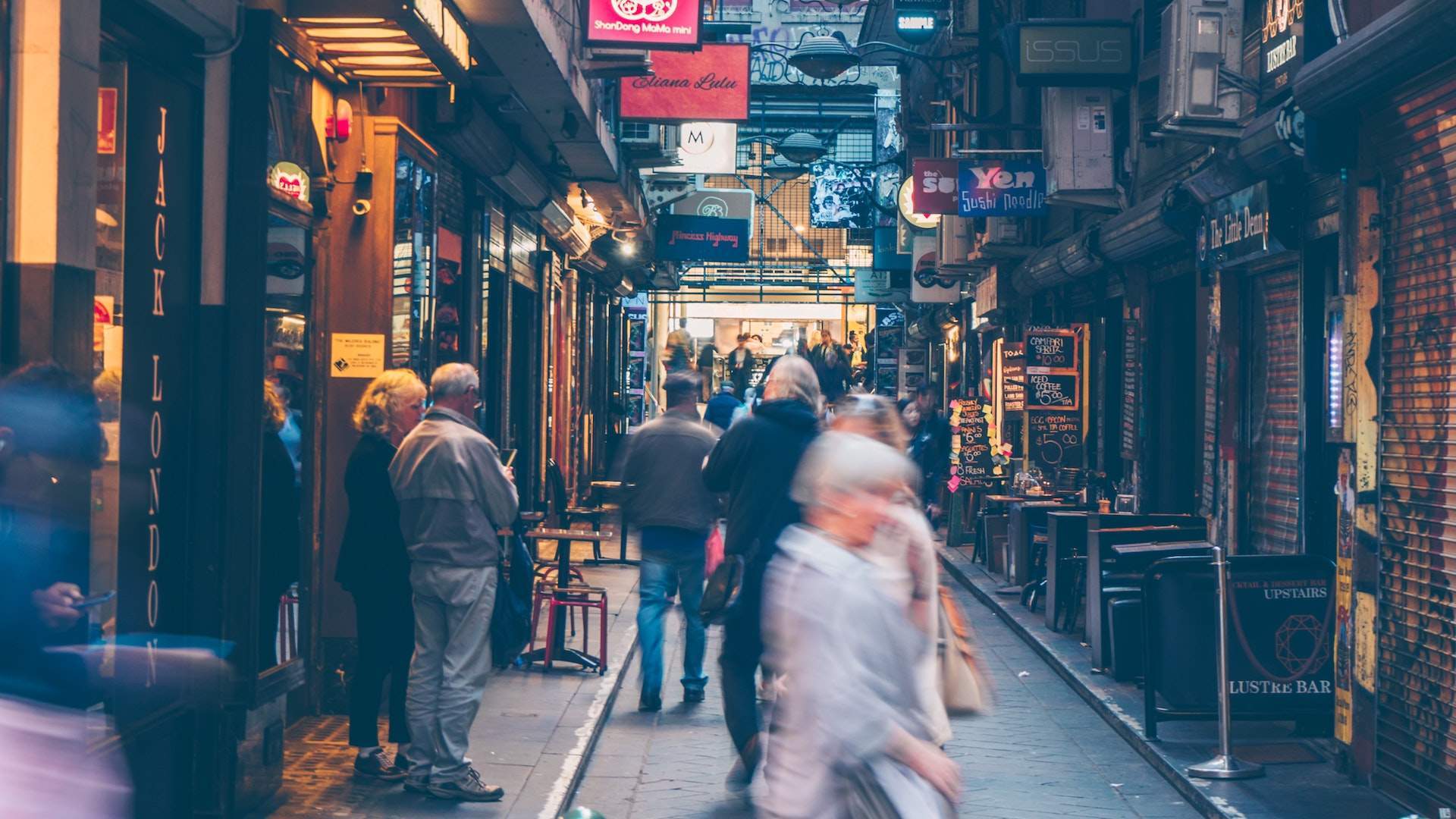 "With only 24 percent of workers back in Melbourne's CBD, and hospitality businesses and retailers missing much-needed foot traffic, the Property Council has come up with the idea to get people back to the office on Fab Fridays, to play, stay and spend in the city into the evening and weekend," said Hunter. "We want to incentivise Melbourne's workers back into the city on a Friday in a safe and structured way. Where possible, it would be great to see them enjoy a Friday night in the CBD."
The Property Council is calling on businesses to support the scheme by implementing some of the above suggestions — particularly the ones that can be put into effect in workplaces, such as 4pm knock-offs; and the ones that hospitality venues can enact, like free or discounted food and coffee — from Friday, April 23. That's when it's launching the Fab Fridays initiative, with the organisation sending an email to its members on Tuesday, March 9 asking for them to get onboard.
The organisation is also calling for government support. "Melbourne's CBD supports more than 48,000 public sector jobs and we'd love to see the government make a concerted effort to encourage them to be in the office and active in our city on Fridays," said Hunter.
The Herald Sun reports that discussions are underway with the City of Melbourne regarding how the scheme would operate.
For now, though, nothing official is in place, so the Fab Fridays initiative is currently just a suggestion. But, Melburnians, if you're keen to kick off your weekends early — and to end your work weeks with a free or discounted bite to eat, and free public transport — start crossing your fingers that some of these ideas become a reality.
For more information about the Property Council of Australia's Fab Fridays proposal for Melbourne's CBD, head to its website.
Published on March 10, 2021 by Sarah Ward