The Best Mountain Walks Near Sydney
Trek through ancient rainforest and burning mountains to stunning peaks, all within reach of Sydney.
in partnership with
One universal takeaway from the past few years is a newfound appreciation for the great outdoors. After all, a hike in nature has loads of benefits: fresh air, fitness, scenery, a feeling of smug satisfaction... what's not to like?
There are several summits worth surmounting in New South Wales and a heap of them are located an easy drive from Sydney. Here are the best spots for when you need an altitude boost.
Due to extreme weather events, some places mentioned may be closed or operating differently. Check websites before making plans to visit. 

MOUNT BANKS, BLUE MOUNTAINS NATIONAL PARK
For dazzling views of the Grose Valley and wombat spotting, head to Mount Banks. The 2.4-kilometre return trail starts at the Mount Banks picnic area and begins with a short yet steep climb before ascending gradually to the summit. Most peaks in the Blue Mountains are sandstone but this still has a basalt covering created by volcanoes 20 million years ago. For the flora fiends among you, take in smooth-barked monkey gums and native wildflowers. Once you hit the top, the view of Grose Valley from the summit is awesome. If you'd like to extend the hike, opt to link up with the Mount Banks Road cycle route, which will make the trek about 4.7 kilometres all up.

CAREYS PEAK, BARRINGTON TOPS NATIONAL PARK
Set within the ancient Gondwana rainforests — a World Heritage Area — Careys Peak takes you through the best bits of Barrington Tops National Park. The 14-kilometre return walk begins at the Mount Barrington picnic area and travels through the Australian wilderness, parts of which will remind you of Lord of the Rings with more giant native ferns and fewer demonic shadow creatures. From the peak, 1544 metres above sea level, soak up the pastoral glory of the Hunter Valley on one side and the expansive Barrington wilderness on the other.

BURNING MOUNTAIN, BURNING MOUNTAIN NATURE RESERVE
Burning Mountain (aka Mount Wingen) gets its name from a coal seam, 30 metres underground, that has been on fire for an estimated 5500 years. And, since the fire moves one metre every year, the landscape is continually changing. The hike itself is an accessible four-kilometre loop that allows you to explore this phenomenon and its impact on geology, animals and plants — from the smoke billowing out of the ground to the red gums growing along cracks in the earth. The Burning Mountain Nature Reserve is a 3.5-hour drive from Sydney, so we recommend staying overnight at a campsite or at accommodation in nearby Scone (the town, not the baked good).

DONKEY MOUNTAIN, WOLGAN VALLEY
Wolgan Valley sits between Gardens of Stone National Park and Newnes Plateau. Somewhere in the middle is Donkey Mountain. Reaching its summit involves weaving your way through an adventurer's paradise — in and out of canyons, pagodas and caves splashed with rock orchids, ferns and natural vertical gardens. The trails are largely unmarked and difficult to navigate, so it's best to come prepared for a challenge and take a compass/GPS or an experienced climber. We recommend staying the night before at the nearby Newnes campground to allow plenty of time to explore the region.

PIERIES PEAK, MOUNT ROYAL NATIONAL PARK
Don't let the three-kilometre return hike to Pieries Peak fool you. It may not be long but it is steep. The challenging trail starts at Youngville campground and launches straight into action, climbing through rocky ridges, snow grass and rainforest. Once you reach the top, kick back and enjoy views across Hunter Valley and Lake Saint Clair. The peak gets pretty cold in winter so check the forecast and make sure it's not arctic up there before you commit. In general, the region's weather is unpredictable, so come prepared for all scenarios.

THE CASTLE, MORTON NATIONAL PARK
The Budawangs are a three-hour drive from Sydney, so if you can't cut an early start, head down the night before and pitch a tent by the river at Long Gully campground. It'll give you time to physically and mentally prep, because The Castle hike isn't exactly a lazy stroll. Prepare for rock scrambling at great heights. If you'd rather hike with a pro, you can book in a guided tour through Big Nature Adventures on the NSW National Parks website. Despite its difficulty, this hike is worth it — The Castle is hands down one of the best mountain walks in New South Wales, giving you amazing views over Morton National Park, the Byangee Walls and Pigeon House Mountain.

WENTWORTH PASS, BLUE MOUNTAINS NATIONAL PARK
Do go chasing waterfalls at Wentworth Pass walking trail. Located two hours from Sydney, the grade four hike is a five-kilometre loop that takes around four hours to complete. The trek is a segment of the famed National Pass trail. Along the way, you'll hike deep into the Valley of the Waters encountering seven waterfalls — starting with Wentworth Falls. The lookout boasts views across the Jamison Valley to Mount Solitary. You'll then undertake one helluva steep climb, passing five more waterfalls along the way, finishing at the breathtaking Empress Falls lookout.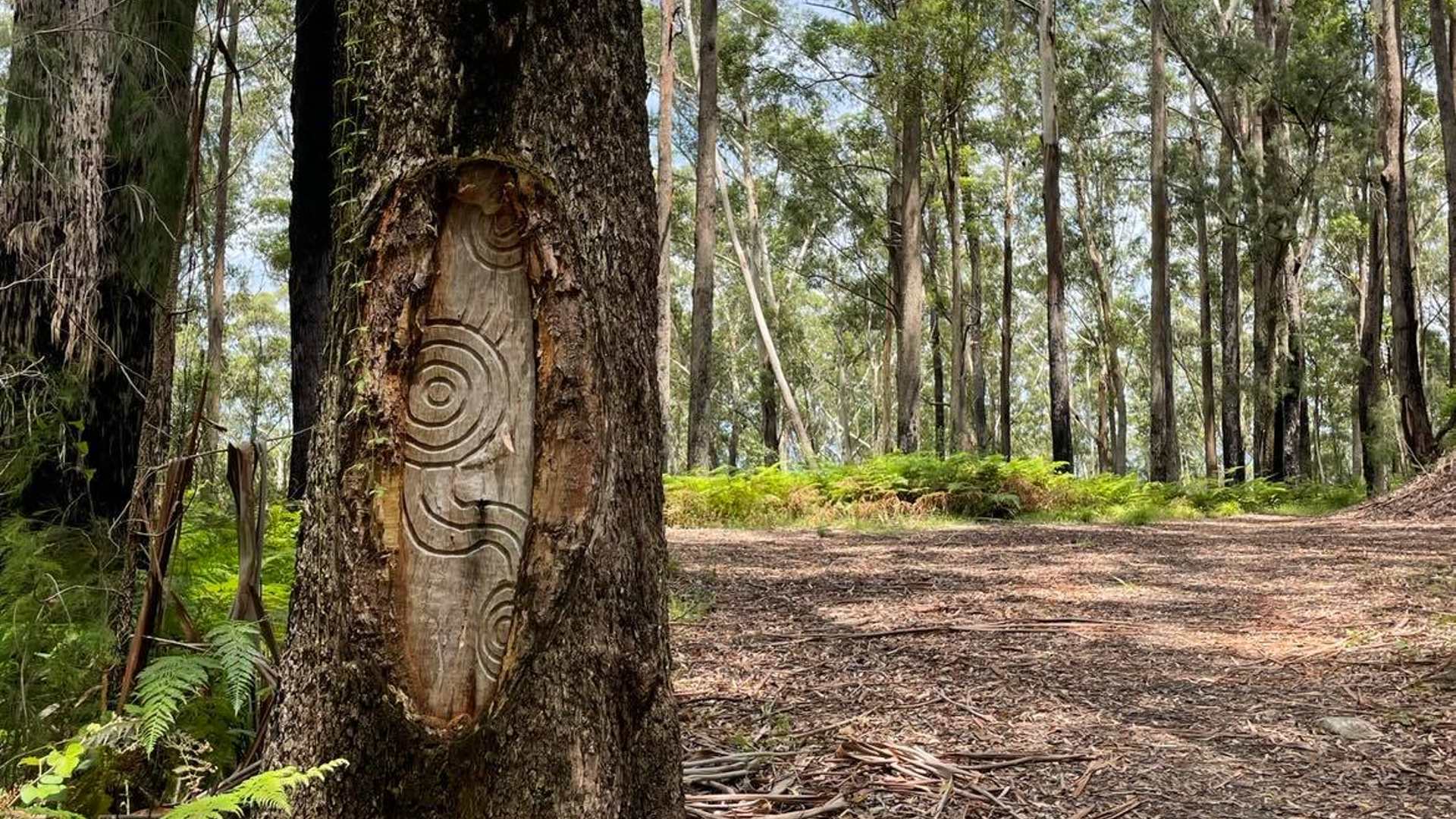 BULAHDELAH MOUNTAIN TRAIL, BULAHDELAH
Located an hour north of Newcastle, the Bulahdelah Mountain boasts a relaxed 4.5-kilometre return hike up to the top of the mountain. Once you reach the summit, you'll be treated to expansive views of the surrounding bushland, but there's also plenty to discover on your way up. Sitting in Worimi Country, the mountain is a sacred Indigenous site with a traditional cultural space found halfway up. Throughout the hike, you'll find tree carvings that were created in 2018 by local First Nations community members. And, while you're in Bulahdelah, you can stop by the Grandis picnic area to find the tallest standing tree in NSW.

If you are looking for more places to feel free in New South Wales, head to visitnsw.com.
Top image: Morton National Park by Destination NSW