TRAVEL & LEISURE
Eight Kayaking and Canoeing Spots Located a Short Drive from Melbourne
Escape the city for a day gliding on the water spotting platypuses, dolphins and aquatic birds.
If you prefer your exercise with a side of open skies, fresh air and H20, then a spot of kayaking or canoeing will definitely be your jam. Gliding through the water, captaining your own vessel as you soak up some sunshine and scenery — that's the kind of recreational activity that delivers all year round. Thankfully, Victoria's chock full of stunning locations that are primed for those water-fuelled adventures — whether you're down for a bit of ocean frolicking or fancy cruising atop some glassy lake. So, we've rounded up some great destinations for kayaking and canoeing, all located not too far from Melbourne. Pull that watercraft out of the garage — or tee up a rental — and hit the water this weekend.

THE YARRA RIVER
That paddling session needn't mean venturing way out of town. You can float your boat much closer to home, with a jaunt along our very own Yarra. For a chance to see the city sights from an entirely different angle, try a leisurely kayak or canoe river trek, with one of the many inner-city hire and tour companies, such as Sea Kayak Australia. There are minimal skills and effort required if you stick to protected central spots like Docklands and South Wharf. Otherwise, you can amp up the heart rate by tackling some white water rapids, out where the river passes through Warrandyte. And yes, you want to avoid copping a mouthful of Yarra water wherever possible.

Holidaying along the mighty Murray River has become synonymous with aquatic adventures. But you don't necessarily need an overnight stay to enjoy its scenic, paddle-friendly waters. Spread along most of the state's northern border, the Murray is filled with oar-some spots for kayaking, including the point where it hits Echuca, around 2.5 hours out of Melbourne. Here, the river's slow-moving waters make for some easy cruising, while the banks of majestic red gums offer a soothing nature fix and promise plenty of wildlife sightings. How far you venture is only limited by how much time you've got — this river is a whopping 2508 kilometres long.

Literally surrounded by sparkling water, the Mornington Peninsula has kayaking options on tap. All that's left is to decide is which bit of gorgeous coastline you're in the mood to paddle through today. The usually calm waters of the bayside stretch are ideal beginners turf, with plenty to see as you slip alongside the bathing boxes of Rosebud and Rye, and onward for a peek at the dazzling mansions set above Sorrento. Or, if you fancy splashing with some dolphins and seals, check out the pristine setting down by the Point Nepean National Park, at the entrance of Port Phillip Bay. There are loads of different tours on offer if you'd like a guided experience.

A renowned haven for swimmers, paddlers and boaters, Barwon Heads sits an easy 90-minute drive from the Melbourne CBD, offering a serene aquatic playground at the mouth of the Barwon River. With its smooth, shallow waters, the inlet attracts scores of stand-up paddleboarders all year round, though it's also a top destination for some laidback kayaking or canoeing adventures. There are no wild waves to deal with and you'll find lots of wide sandy shoreline for easing your craft in. And for relaxing in between paddles, of course. There's also a stack of coastal cafes and restaurants located just a short stroll off the water.

For a scenic paddle with a high chance of platypus sightings, take a spin on Lake Elizabeth, deep within The Otways. A favourite aquatic playground along the Barwon River, this one's loved by canoers and billed monotremes alike, rocking a lush, tranquil setting that's hauntingly beautiful. The calm, glassy waters are ideal for beginner boaters, and you can test your turning skills gliding among the dead tree trunks — remnants from when a landslide created the lake in the 1950s. Platypus pals are best spotted at dawn and dusk — you can head out on your own, or boost your chances by joining one of the local guided canoe tours.

A 90-minute drive from Melbourne in the heart of Ballarat, Lake Wendouree offers up 238 hectares of primo paddling space, for water enthusiasts of all skill levels. And, having played host to the rowing events of the 1956 Olympics, it's also got quite the reputation. The lake has a bunch of different jetties and beaches you can take off from, and averages around two-metres deep, with some choppiness where the wind hits the more exposed waters. Members can rent out gear from the Ballarat Canoe Club pontoon, otherwise, you'll have to come equipped with your own vessel. Scored nice weather? A cheeky sunset cruise promises some pretty spectacular scenes.

Featuring almost 1400 hectares of mountain bike trails, walking tracks and bushy parkland, Lysterfield Park is brimming with opportunities for outdoor adventuring. But when some water action's on the cards, its famous namesake lake is the place to be. With its calm waters and wide sandy beaches, Lysterfield Lake is a popular choice for kayakers, canoers and SUPers keen for a leisurely cruise. Only non-powered boating is allowed here, so even total novices can feel at ease exploring the gentle 82-hectare expanse. And if you keep an eye out you should spy plenty of feathered friends on your travels — the lake's ringed by lots of natural waterbird habitat, sitting out of sight of the main swimming beaches.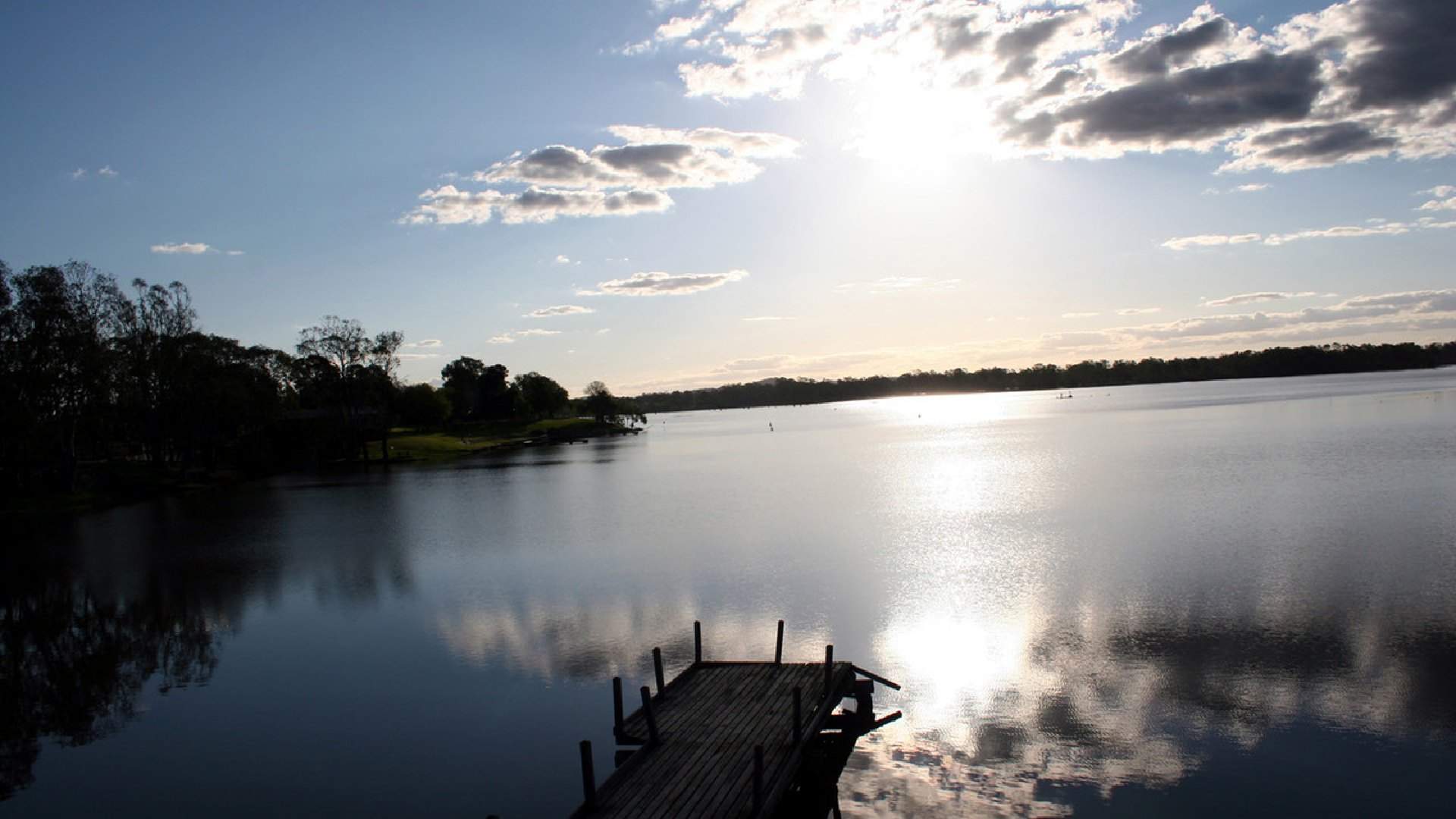 A much-loved water sports destination that hosts regular kayaking championships throughout the year, the inviting waters of Lake Nagambie are guaranteed to bring out your inner paddler. Outside of regatta days, you can join a crowd of fishermen, swimmers and boating types making the most of this sprawling body of water and its grassy shores. Take a jaunt along the shallows filled with red gums, and practise turning around the mini islands made of vegetation. If you're boat-less, there are plenty of local operators who can hook you up with a rental canoe or kayak, and even guide you through a lesson.

Top image: Lake Elizabeth by Mark Watson for Visit Victoria
Published on May 19, 2020 by Libby Curran