The Five Best Snorkelling Spots Near Melbourne
Swim with seals, spot octopus gardens and peek into the underwater lives of starfish, sea anemones and more.
Downtown Melbourne might feel a long way from any kind of underwater paradise, but it's not as far as it seems. Within 30 minutes of reading this, you could be submersed in crystal-clear water — surrounded by colourful coral gardens, dreamy seagrass beds, spiny sea urchins, pretty nudibranchs and spectacular weedy sea dragons.
Here are five of the best spots for snorkelling within a cooee of the CBD, from tranquil Half Moon Bay to the wild Bunurong Marine Park. So, grab your flippers and go.
BLAIRGOWRIE PIER, MORNINGTON PENINSULA
In the southeastern corner of Port Phillip Bay is the lively underwater community of Blairgowrie Pier. Stick to the shallows near the shore to meet weedy sea dragons, or head further out for colourful sponges, schools of fish and crustaceans. Away from the pylons, the bay's sandy floor provides ample gliding room for rays and flathead.
Other excellent snorkelling spots on the Mornington Peninsula include Rye Pier — where's there's a sign-posted octopus's garden — and Portsea Pier, a magnet for squid. Blairgowrie Pier is 90 minutes' drive southeast of Melbourne.
KITTY MILLER BAY, PHILLIP ISLAND
Kitty Miller Bay, a horseshoe in Phillip's southwestern corner, is one of the island's best protected beaches. It's 500 metres of shoreline shelter vast rock platforms, seaweed gardens and seagrass beds, bustling with zebra fish, leather jackets, rays and Port Jackson sharks.
Inexperienced snorkellers should stick to the shallows of the western corner, while those with more confidence might try the east. Take care at all times: the water might appear calm, but conditions can change quickly. Kitty Miller Bay, in Phillip Island, is just under two hours' drive from Melbourne.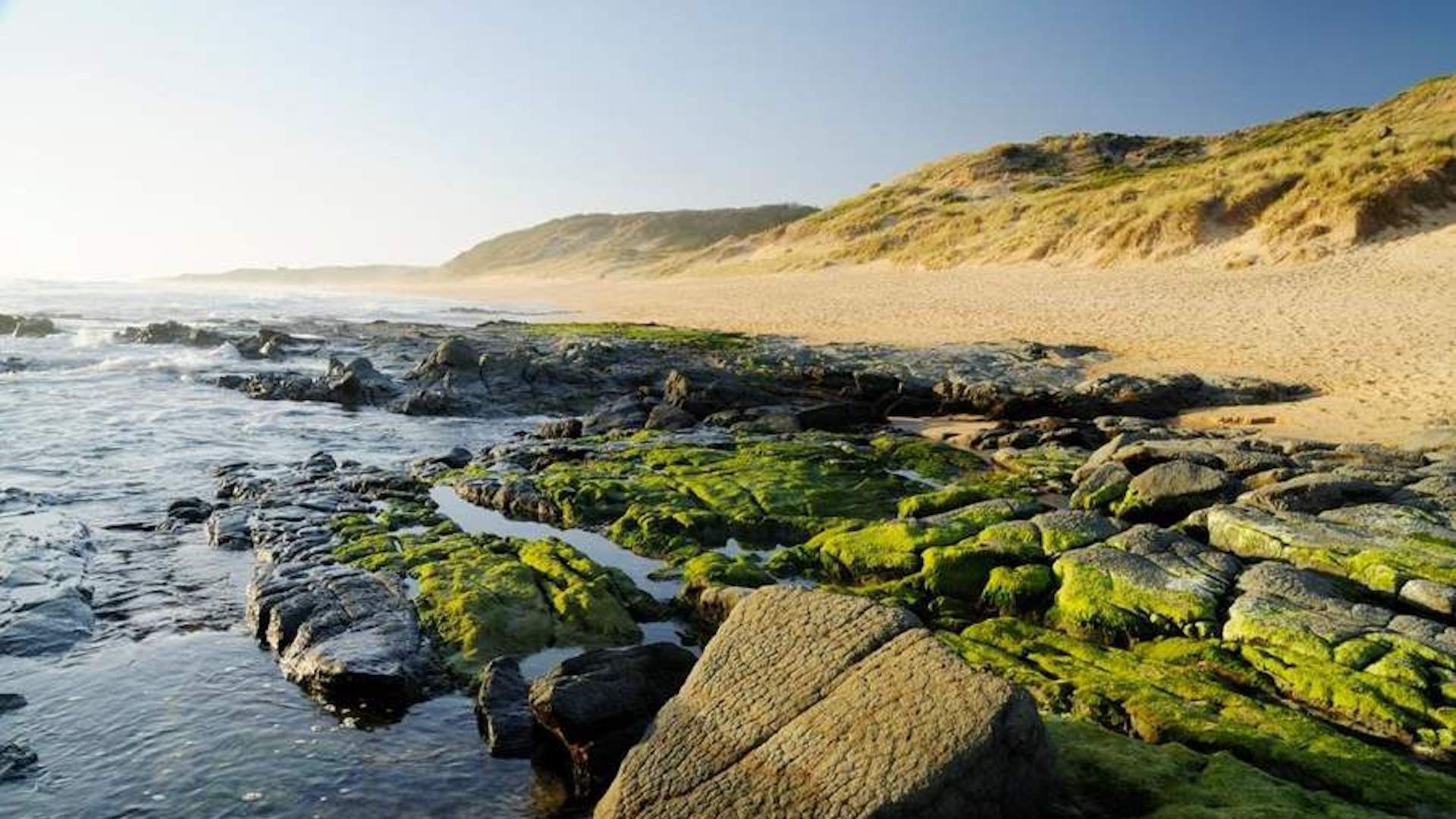 BUNURONG MARINE NATIONAL PARK, NEAR INVERLOCH
Hugging the coastline for five kilometres, Bunurong Marine Park gives you a diverse variety of habitats to explore — from caves and gullies to pools, reefs and ledges. More than 87 species of fish live here, including blue-throated wrasse, old wife and Tasmanian blenny, as well as a bunch of sharks, like Port Jacksons and gummies. Look out for starfish, lobsters and marine snails, too.
The most popular beaches for snorkelling are Eagles Nest, Shack Bay and Flat Rocks. Bunurong Marine Park is just under two hours' drive southeast of Melbourne.
ST LEONARDS PIER, BELLARINE PENINSULA
One of the most interesting places to snorkel southwest of Melbourne is St Leonards Pier, which juts into Port Phillip Bay at the end of the Bellarine Peninsula. Over years and years, the pylons have attracted diverse underwater creatures: on a typical afternoon, you'll see seahorses, nudibranchs, puffer fish, stargazers (recognisable by the eyes on top of their heads) and rays, among many others. Octopus and dumpling squid appear at night. St Leonards Pier is 90 minutes' drive southwest of Melbourne.
HALF MOON BAY, BLACK ROCK
When you're keen to get underwater, but don't have much time on your hands, grab your snorkel and head to Half Moon Bay, on the eastern shores of Port Phillip Bay, in Black Rock. The underwater terrain varies from jetty pylons to rocky reefs to seagrass beds. You'll have all kinds of company, including sea urchins, anemones, nudibranchs and (poisonous) blue-ringed octopuses. Above water, there's the wreck of the HMVS Cerberus, built in the 1860s and scuttled in 1926. Half Moon Bay is 30 minutes' drive from Melbourne. You can also travel by public transport.
Top image: Portsea Pier, Parks Victoria.
Introducing Concrete Playground Trips
Book unique getaways and adventures dreamed up by our editors