TRAVEL & LEISURE
Melbourne's Pet-Friendly BYO Picnic Boats Are Now Setting Sail From the CBD
You can now hire one of these easy-to-operate picnic boats from Banana Alley, near Flinders Street Station.
Earlier this year, Melburnians scored another excuse to hit the water, with GoBoat splashing into town. After launching its eco-friendly picnic boats in cities all over Europe, the Danish company made the leap to Australia, giving punters a fun new way to cruise the Yarra. And, thanks to a new move, you now can hop onboard from the CBD.
When GoBoat's vessels first arrived, the company was setting sail out of Docklands. If you're keen for a day on the river, you can now grab a boat from Banana Alley near Flinders Street Station. GoBoat has just secured a ten-year berthing arrangement with Parks Victoria, which means that it won't be shifting again anytime soon, either.
Aimed at making the whole boating caper more accessible for everyday folk, the outfit's Scandinavian-designed vessels are slow-moving, a breeze to operate and don't require a boating licence, making for fuss-free sailing sessions. In a win for the planet, they also run on silent, pollution-free, electric engines, and are crafted from a mix of reclaimed timber and recycled PET bottles.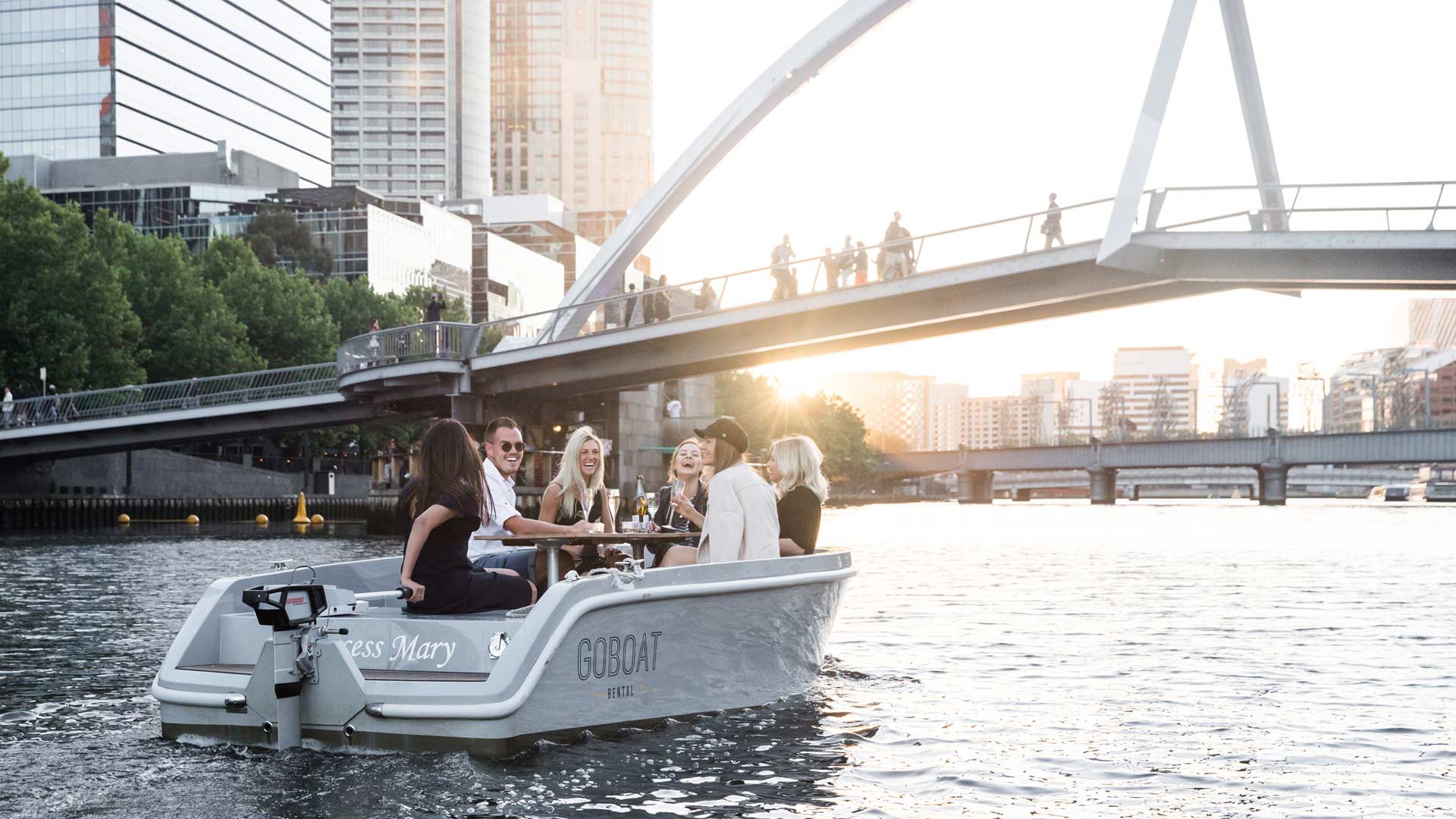 Each of the contemporary GoBoats clocks in at 18-feet long, boasting a central picnic table with room for eight people (and all the necessary snacks and booze). And despite what you might be thinking, they're even affordable enough to fit your post-holiday budget — simply BYO food and drinks, find enough eager sailors to jump aboard and a GoBoat session will cost you less than $15 per person, per hour. That's $109 hourly in total, or $189 for two hours, $269 for three hours, $349 for four hours, $429 for five hours and $509 for six hours.
Yes, you can really make a whole day of it. Bookings are currently available until the end of March, with timeslots available in 15-minute increments from 11am. The boats required to be returned by sunset, with the specific time obviously changing with the seasons.
Oh, and did we mention they're pet-friendly? Surely you've got a very good boy who deserves a river jaunt.
For more information about GoBoat, or to make a booking, visit the service's website.
Images: Lean Timms.
Published on November 09, 2019 by Libby Curran