Melbourne's Most Photogenic After-Dark Spots for When You're Not Quite Ready to End Your Date
From late-night bars to moonlit bayside strolls, there are plenty of ways to keep the night going just a little bit longer.
in partnership with

The two of you are out on the town. You've finished dinner, left your carefully chosen — and romantic-yet-not-too-romantic — activity and now you're strolling the city streets. The night's been an absolute winner, you don't want it to end. You're looking for something more delightful than ambling aimlessly, something special, aesthetically pleasing — you're really not asking too much. Just a photogenic touch to finish off the evening.
Luckily in Melbourne, there's beauty all around when the sun goes down. And, because we know how tricky it is to capture that night-time vista perfectly, we've teamed up with Samsung to deliver the prime spots to hit up for late-night date-night photo ops. Earlier this year, Samsung released the Galaxy S22 Series, which promises to 'make city nights epic with its new Nightography feature. It's precision-engineered for low lights and city nights to capture the magic of each moment, so you'll be snapping stand-out shots of everything from city skylines and street art, to waterside wanders and beautiful bars where the vibe and views are utterly on point.
HER ROOFTOP
You've no doubt heard about the elite cocktails and the immaculate vibe of the Music Room, but did you know that HER is also home to one of the best rooftops in the CBD to catch those night-time views? With plush seating, greenery and a bright colour palette, the aesthetic here takes its cues from the French Riviera — perfect, in other words, for openair summer nights.
From five floors above Lonsdale Street, you can look out over rooftops, treetops and even spot street art as your evening is illuminated by the twinkling towers that surround you. Enjoy Bangkok-inspired bar snacks and signature cocktails while you snap pics and take it all in, whiling away the time together until the small hours.
SIGLO
This Spring Street stalwart is the only rooftop terrace bar that offers views of Parliament House, the Princess Theatre and the towering spire of St Patrick's Cathedral — and it's a view that's even better at night. Located above City Wine Shop and the European, Siglo brings the old-world charm (and Cuban cigars) to your extra-late date night — it's open until 3am.
This spot is a must for cocktail aficionados, offering creative originals and well-executed classics. Though, you'd be just as satisfied enjoying a fine wine and bar snacks as you take in the views. It all makes for a perfect photo op, so be sure to capture your date in their best light (and best night, hopefully).
BAR MARGAUX
Prefer to stay indoors? Head below ground to Parisian-style Bar Margaux. Feel like a time traveller as you step into this swanky subterranean spot that's all about old-school service and style — and elite mood lighting. You'll need a good camera to capture the soft, diffused and, yes, romantic glow; the shake, stir and pour of the expert bartenders; or to show off your food photography skills with delectable late-night French cuisine your subject.
Come for the golden-hour specials available until midnight, like the Beggar's Banquet (a date-friendly spread of oysters, steak tartare, frites and two glasses of champagne) or L'Américain (arguably one of Melbourne's finest cheeseburgers). Bar Margeaux is beautiful from every angle — just like your lovely date.
SOUTHBANK
As photogenic views go, this classic Melbourne promenade needs no introduction. There's perhaps no better spot in town to see the towering city lights spilling onto the Yarra like a river of stars.
Wander hand-in-hand along this bustling strip before whipping out the camera for prime shots of the skyline, the flame installations outside Crown, the illuminated majesty of Flinders Street Station and the revelry of floating bars and al fresco dining spots. There's ample opportunity for a late-night, mid-meander pitstop at one of the many venues in this vibrant district — keep strolling to Princes Bridge and look back at that unmissable view: a rippled reflection of that gorgeous sparkling city at night.
BIRRARUNG MARR
If the bustle of Southbank isn't your vibe, opt for a quieter river wander on the other side of the bridge. Birrarung Marr is an urban park enveloped by the city skyline — and on a summery evening, the perfect low-key promenade.
Capture unobscured shots of the city and Hamer Hall across the water as you waltz along the illuminated curve of the tree-lined path. With its collection of permanent sculptures, as well as a calendar of other light and art installations, Birrarung Marr will leave you spoilt for choice photo-wise. Or, just stop on a park bench and soak up all the city-side serenity together.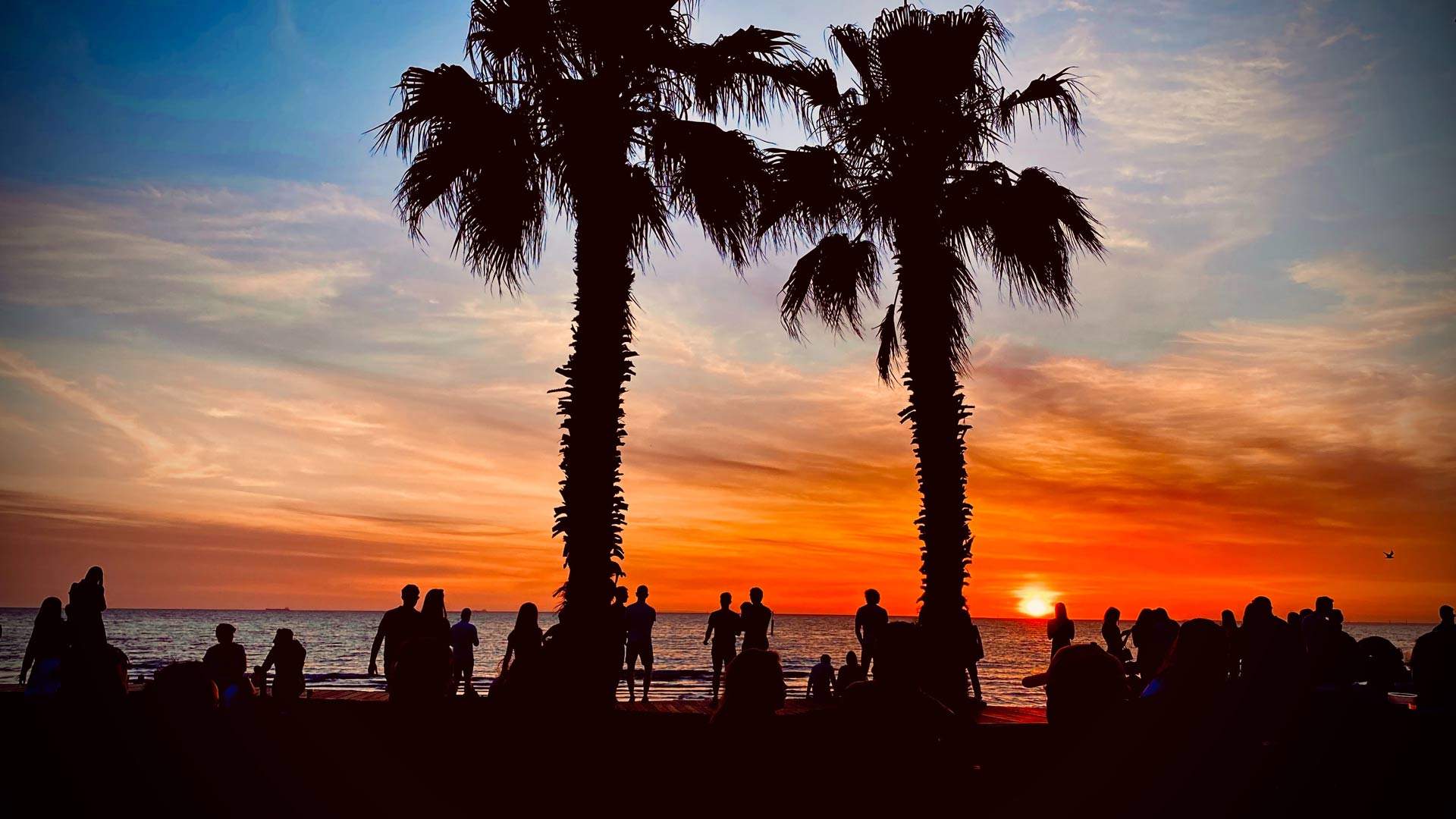 ST KILDA FORESHORE
After a photogenic wander beyond the CBD? Head south. The route from Port Melbourne to St Kilda is a bayside walk that offers a different kind of Melbourne photo op: beaches and well-lit promenades — which certainly aren't just for daylight hours.
With the city's buzz in the distance, you can catch the moonlight, starlight and wine-dark sea, snapping pics of crashing waves or calm waters in the glow of the street lamps above. The hours of darkness transform the bay, and even the lights of the faraway ships become magical. As you reach St Kilda, enjoy panoramic views and illuminated landmarks, like the Carlo Catani Memorial Clock Tower, Palais Theatre and the iconic toothy smile welcoming you to Luna Park. And if you've still got time for a nightcap, chances are there's somewhere open nearby.
TAKE A TOUR OF CBD STREET ART
Flash Forward is a laneway festival of art and music, born out of the pandemic, that supports creators while bringing even more art to the city centre. Over 40 art installations have bloomed in the laneways and alleys of the CBD and, while the music's faded, the art lives on for your night-time viewing (and photography) pleasure.
Twist and turn together through the back streets of Melbourne and you'll see no two pieces alike. Find Jaz Mishap's towering, shrine-like vision in Drewery Alley, the immersive geometric patterns of Nick Azidis in Highlander Lane, Shawn Lu's hyper-detailed scenery spread across Langs Lane, Gonketa's Australian Sign Language mural down Rainbow Alley and many more. But, it's not all murals — you'll also find a big crumpled paint can by artist LING looming in Wills Street. Plan your route and explore the city's street art together.
Make your nighttime epic again with a Samsung Galaxy S22 series device. For more info, head to the website.
Top image: Alexis (Unsplash)
Introducing Concrete Playground Trips
Book unique getaways and adventures dreamed up by our editors