Three Fancy New Hotels to Check Out If You're Looking for a Chic Weekender in Melbourne
Looking for a luxe staycation, or perhaps a weekend road trip to one of the most Instagramable hotels this side of the border? You're in luck with these three new openings.
Tempted by all your friends heading to Europe this winter, but cost of living got you down? If it's time for a getaway that's not going to set you back a couple of months' rent, perhaps a staycation is your best bet – and lucky for us, Victoria has delivered a swathe of brand spanking new hotels with all the luxe vibes of a southern White Lotus. Warm weather not guaranteed.
Here are three of the best new openings in Victoria right now – from a converted Rolls Royce showstopper in South Yarra, to an interior designer's dream in Ballarat.
THE ROYCE
Following a two-year renovation of their gorgeous heritage building, The Royce has opened in the most understated way possible – which is perfectly befitting the luxury hotel, formerly a Rolls Royce showroom but now aimed at high-end business clientele and weekend travellers looking for impeccable service, generous rooms and luxe amenities.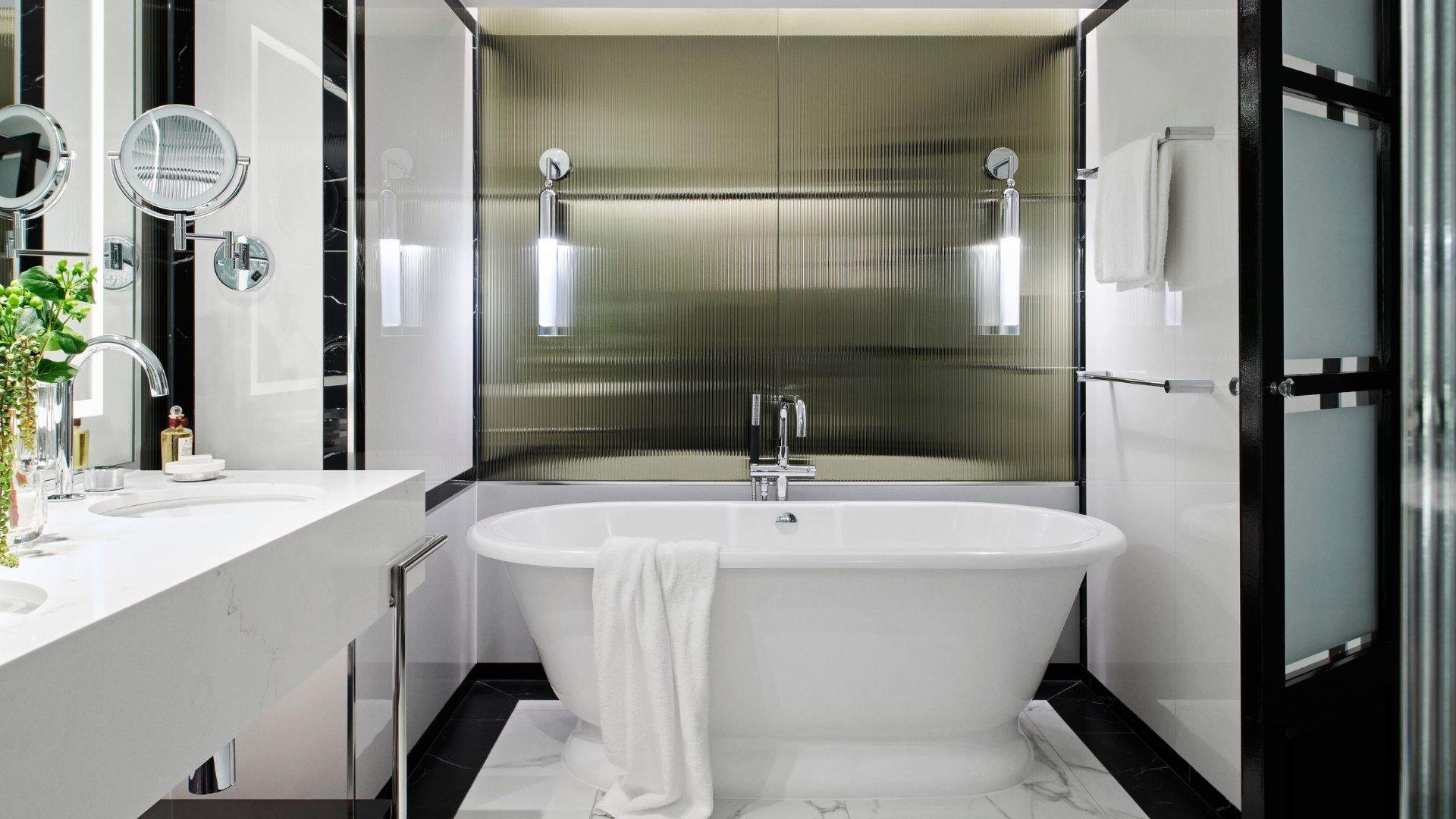 Speaking to Nick McLennan, General Manager at The Royce, he tells me they're not looking for a packed roster to fill their 94 rooms and suites – but rather a repeat customer who values discretion and design detail in equal parts. And the detail really has been carefully considered here; everything from the second bathroom in the two-level suites that repurpose the old mechanic's workshop offering a guest option for in-room meetings that ensures no awkward moments, to the separated lounge areas ensuring the bed is out of mind, and out of sight, when a client pops in for a nightcap.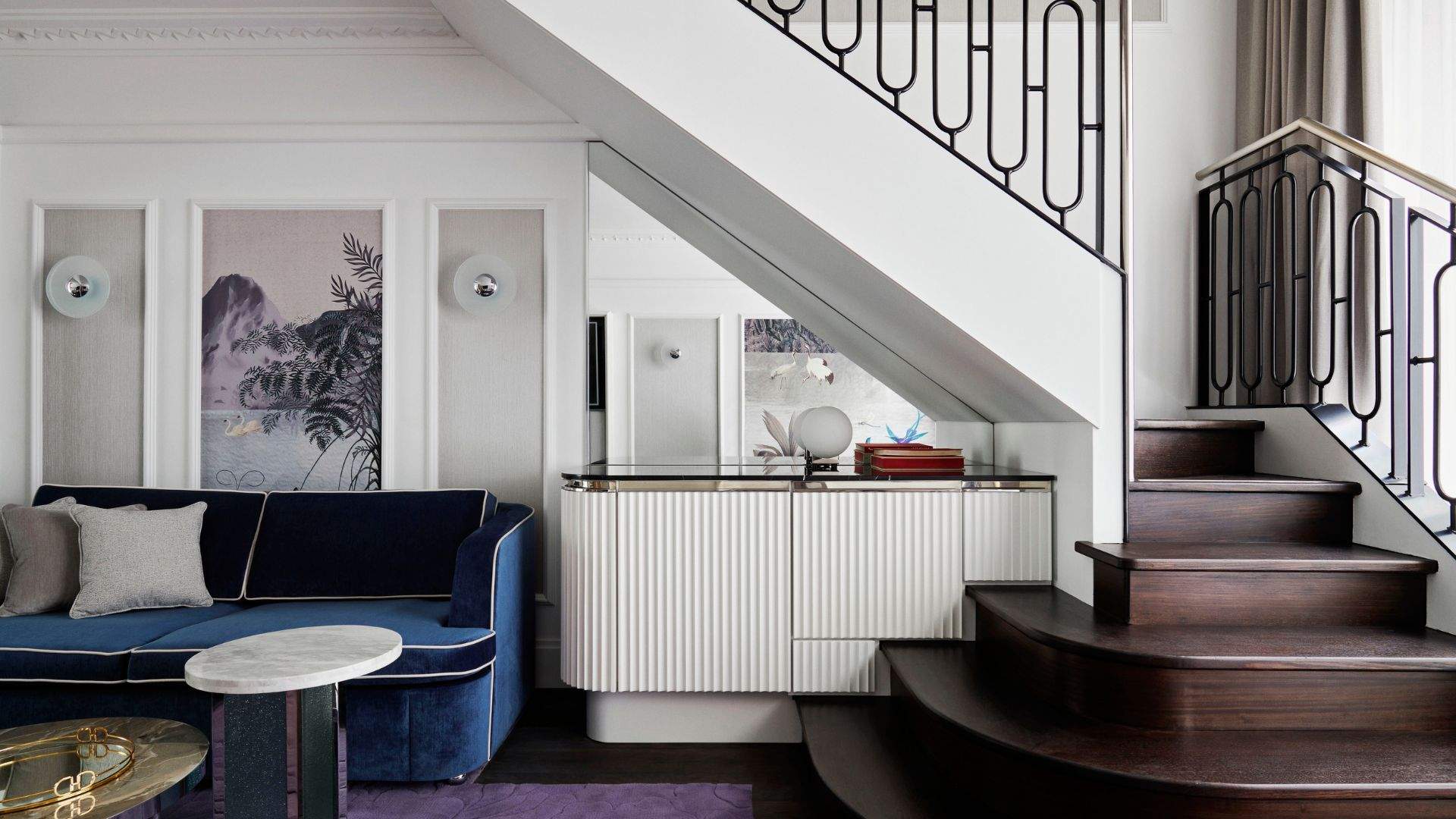 Breakfast in the Parisian glass conservatory is a treasure trove of Instagramable moments – particularly as you wander through the hand-painted chinoiserie frescos, matched perfectly to sorbet velvet armchairs, evoking the building's art deco bones without any of the pomp. The elegant Showroom Bar delivers sophisticated, but classic, dining almost all day and night, with an impeccably detailed marble staircase leading up to a mid-sized ballroom for any dramatic event moments in mind.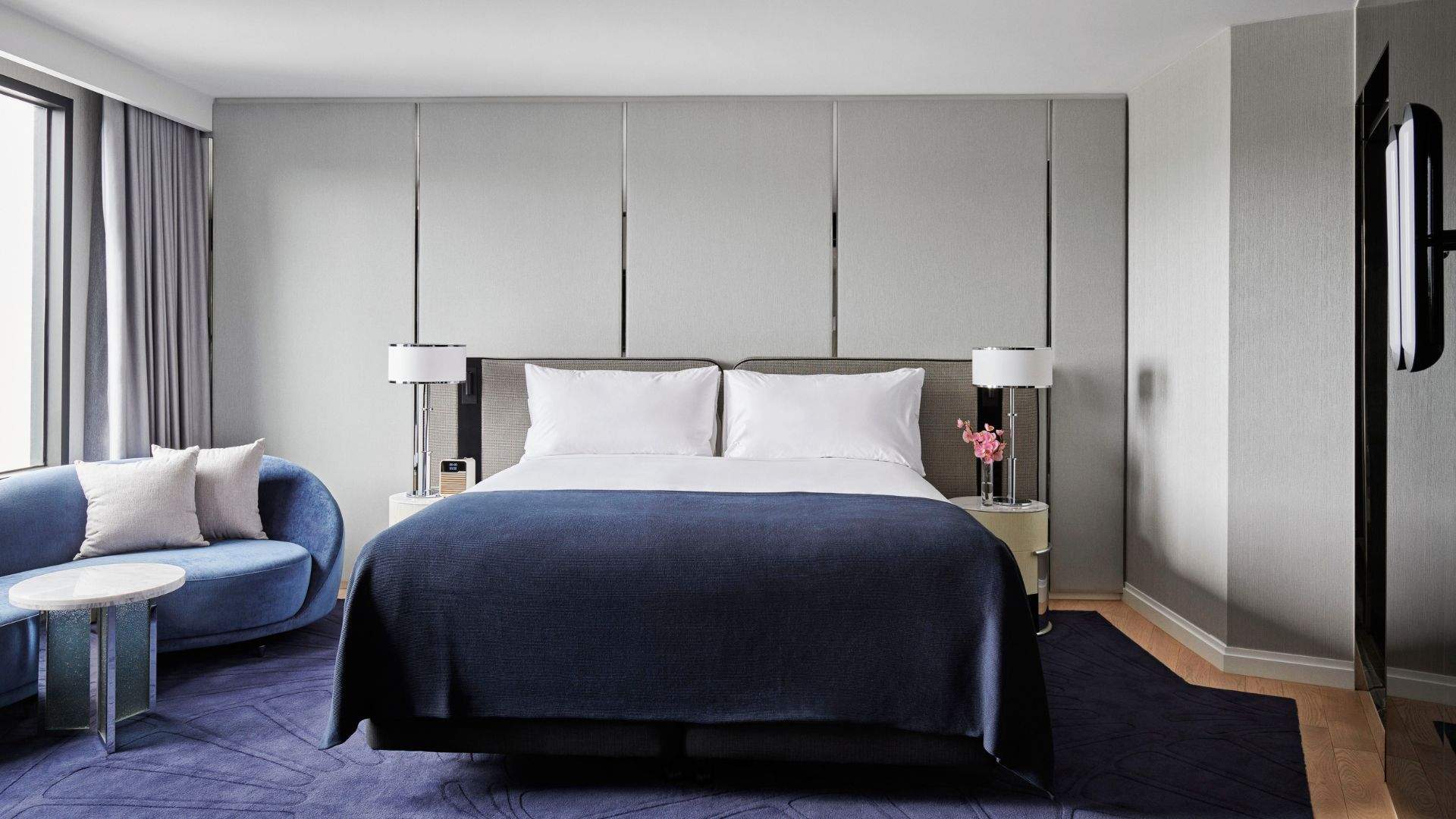 The Royce is delightfully decadent, but never garishly so – and its spot on St Kilda Road in South Yarra delivers city fringe convenience with excellent location amenity for those keen on a morning run around The Tan or a late night cocktail on Chapel. Their press release may have described the "capacious lounge" adorned with a 2-metre wide chandelier and a 14-metre curved marble fireplace, but this is certainly no Burberry tote housing fold-up ballet flats.
HOTEL VERA
Tucked away behind the façade of a quiet heritage townhouse on Ballarat's main drag is an interior designer's dream. As you enter through the front door, Hotel Vera's masterclass in colour theory unfolds before you – the inspiring result of owners David Cook-Doulton and Martin Shew's impeccable taste.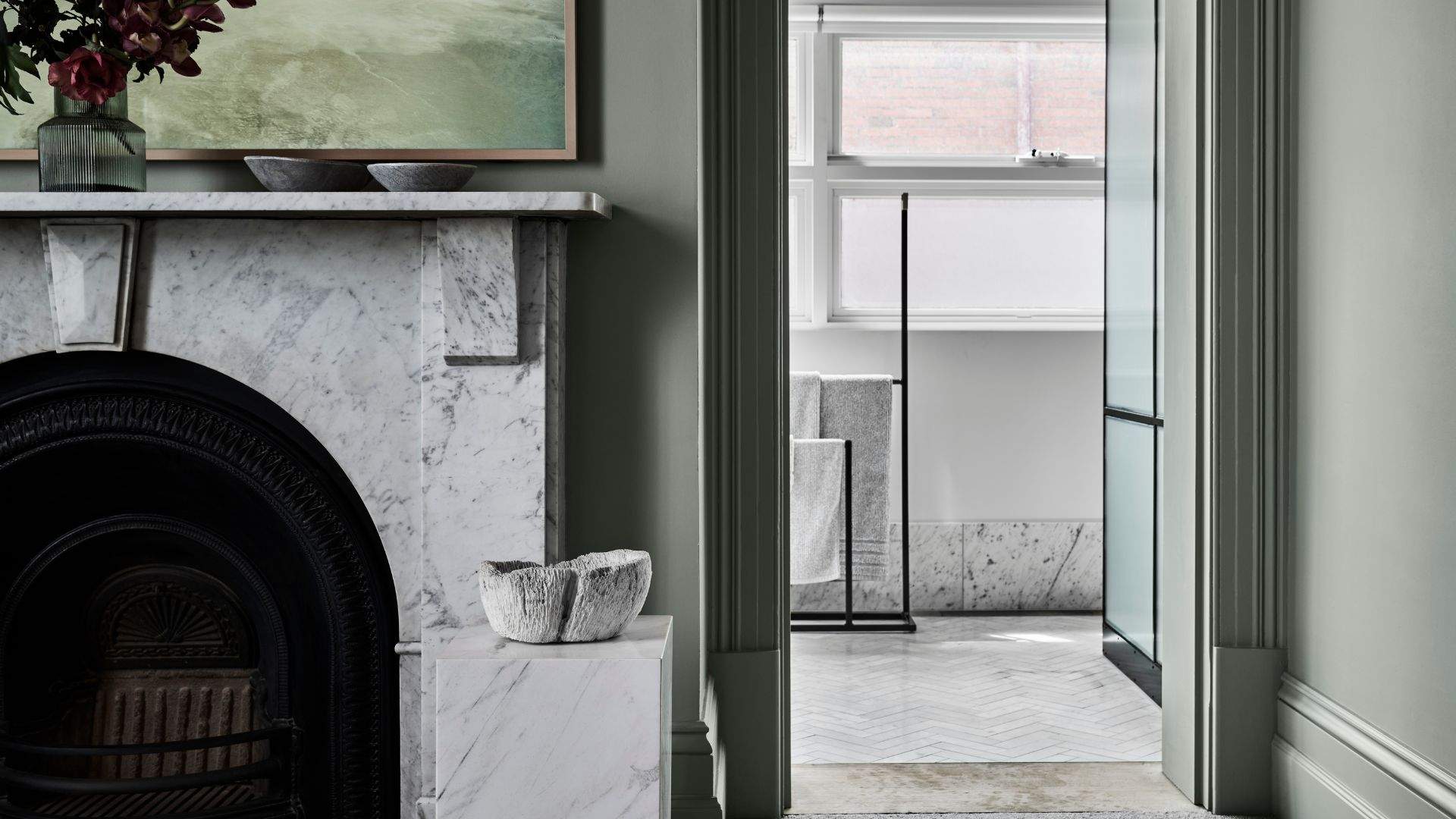 With only seven spacious suites on offer, Vera's focus is on a personalised experience that translates into easy-going hospitality, long chats over breakfast, and a fascinating tour of their 19th-century mansion – now transformed into a contemporary, lovingly-crafted modern guesthouse. Each room has its own unique flavour: individual two-tone wall colours are complemented by textured, sculptural design choices, original artworks and locally-sourced decorative pieces; a pet friendly suite offers a private courtyard and convenient, separate shower bench for dog washing; and an accessible suite redefines what is often an afterthought, featuring gorgeous interior touches that allow for easy use.
As Cook-Doulton leads me through the building, pointing out intricate historical details that they have weaved into their contemporary renovation, it's clear that this is a heartfelt project lovingly brought to life. As custodians of the history they've inherited, Cook-Doulton and Shew clearly understand that their properties (they also run Hotel Ernest in Bendigo) can offer modern amenities whilst still respecting the unique fabric of the regional towns they reside in.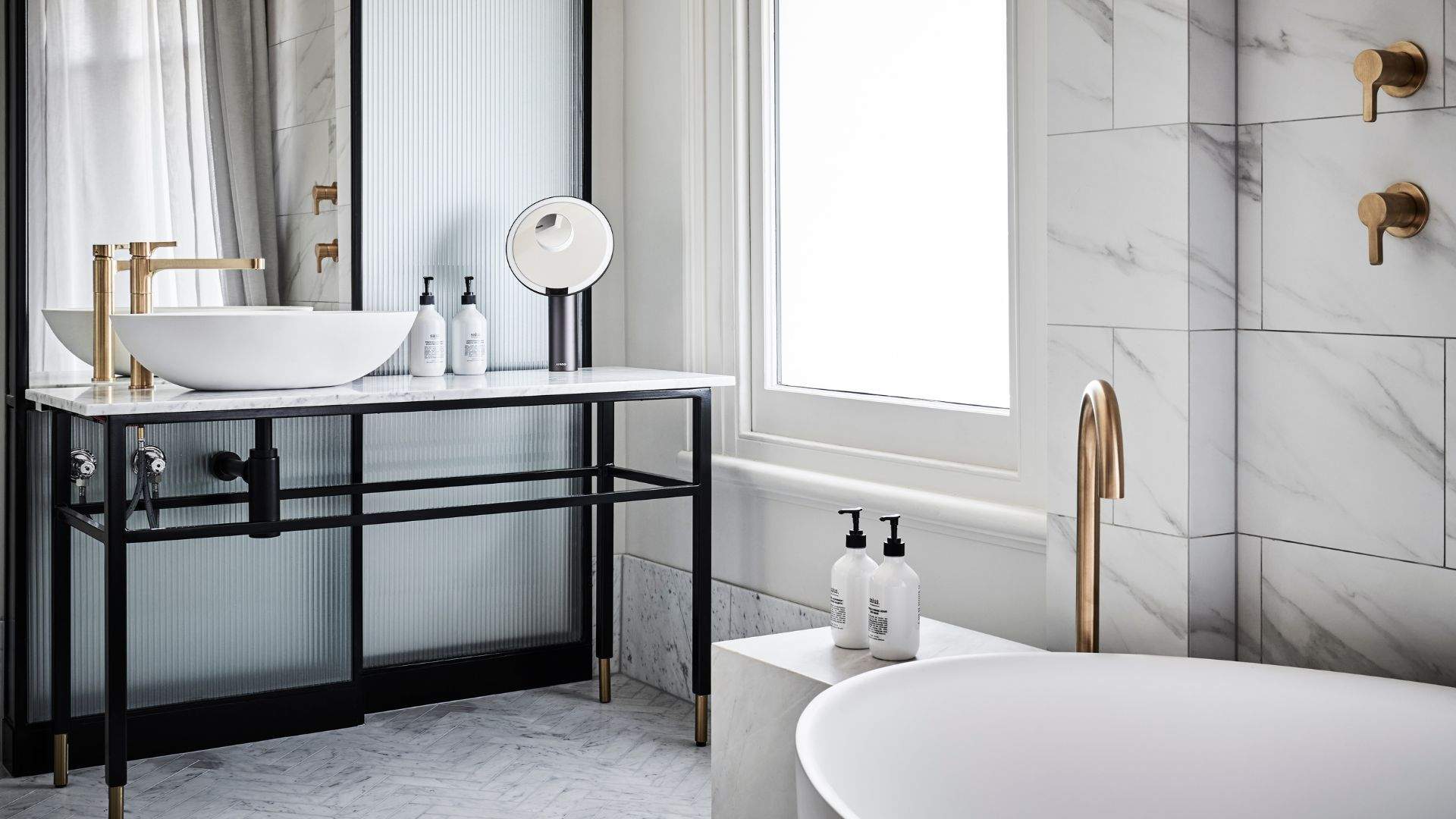 And Hotel Vera is just that: a quietly luxurious home away from home – with repeat visitors who request specific suites they've come to love – that also embraces its historical context. Add a table for the night at the 14-seat, intimate in-house restaurant Underbar, helmed by Michelin-trained chef Derek Boath, and you've got the ultimate weekend getaway on your hands.
That it offers a treasure trove of interior inspiration for anyone looking to update their own space back home? Well, that's just a bonus.
LE MERIDIEN MELBOURNE
Walking into Le Meridien on a Friday night straight from the office, the day after their rollicking Parisian-themed opening launch (featuring a sparkling champagne tower), is admittedly not quite as glamorous – but still enjoyable nonetheless. Positioned at the top end of Bourke Street and occupying the former Palace Theatre site, the Melbourne iteration of Mariot Bonvoy's five-star brand is smack bang in the middle of the theatre district. So, with its film-themed fine diner Dolly downstairs, and movie concession-style ground floor café Intermission, it takes its cues from its own rich creative history on site.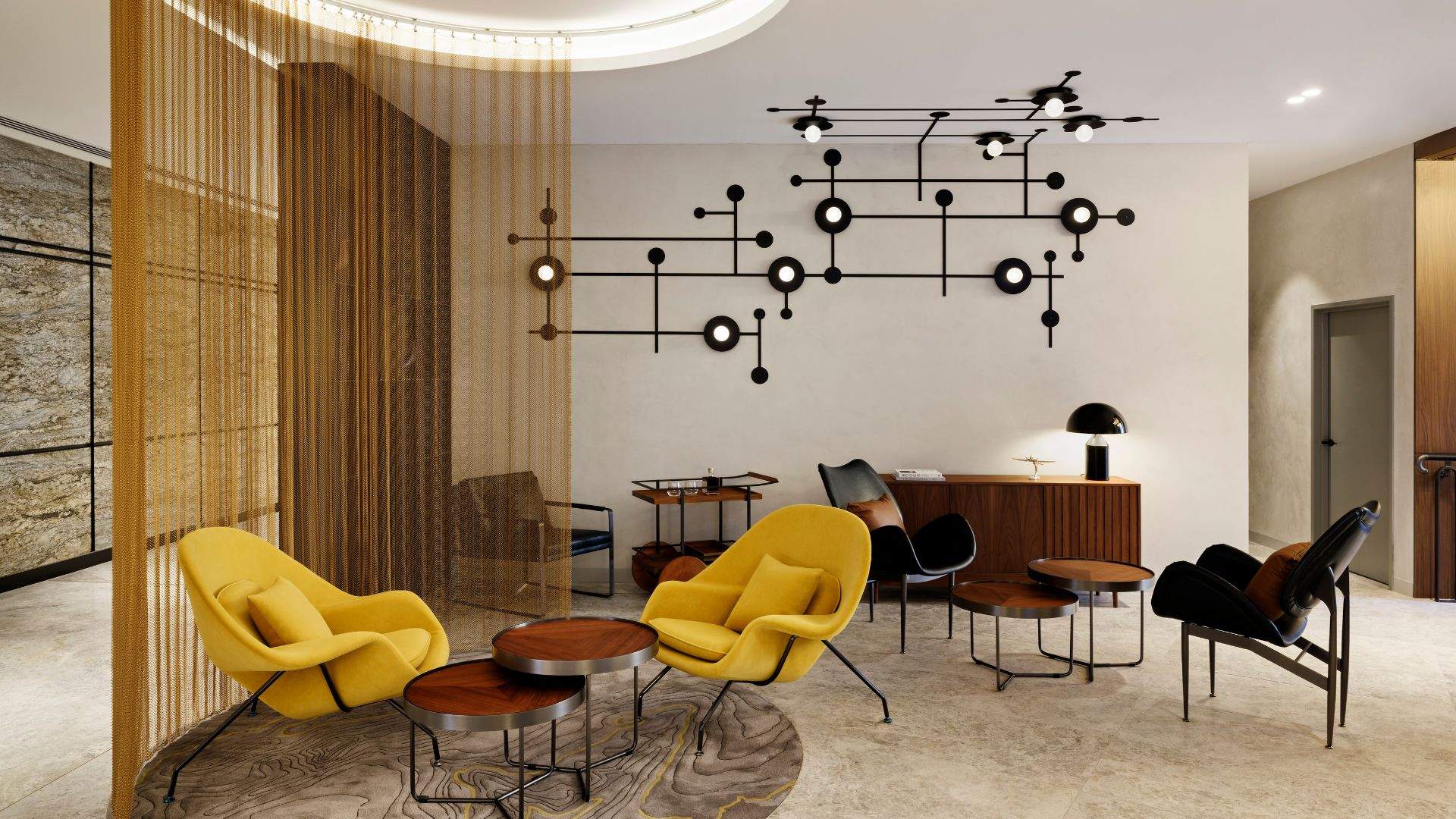 Now a 12-story building featuring 235 rooms tucked behind a heritage art deco façade, its design encompasses the performing legacy of previously hosting a theatre, cinema, nightclub and live performance venue at various times in its 180 year history. And although there are many subtle nods (like an incredible popcorn-flavoured bomb Alaska desert at Dolly, and the restaurant's name itself referencing – no, not Parton, but an obscure camera technique), its presentation is thoroughly modern.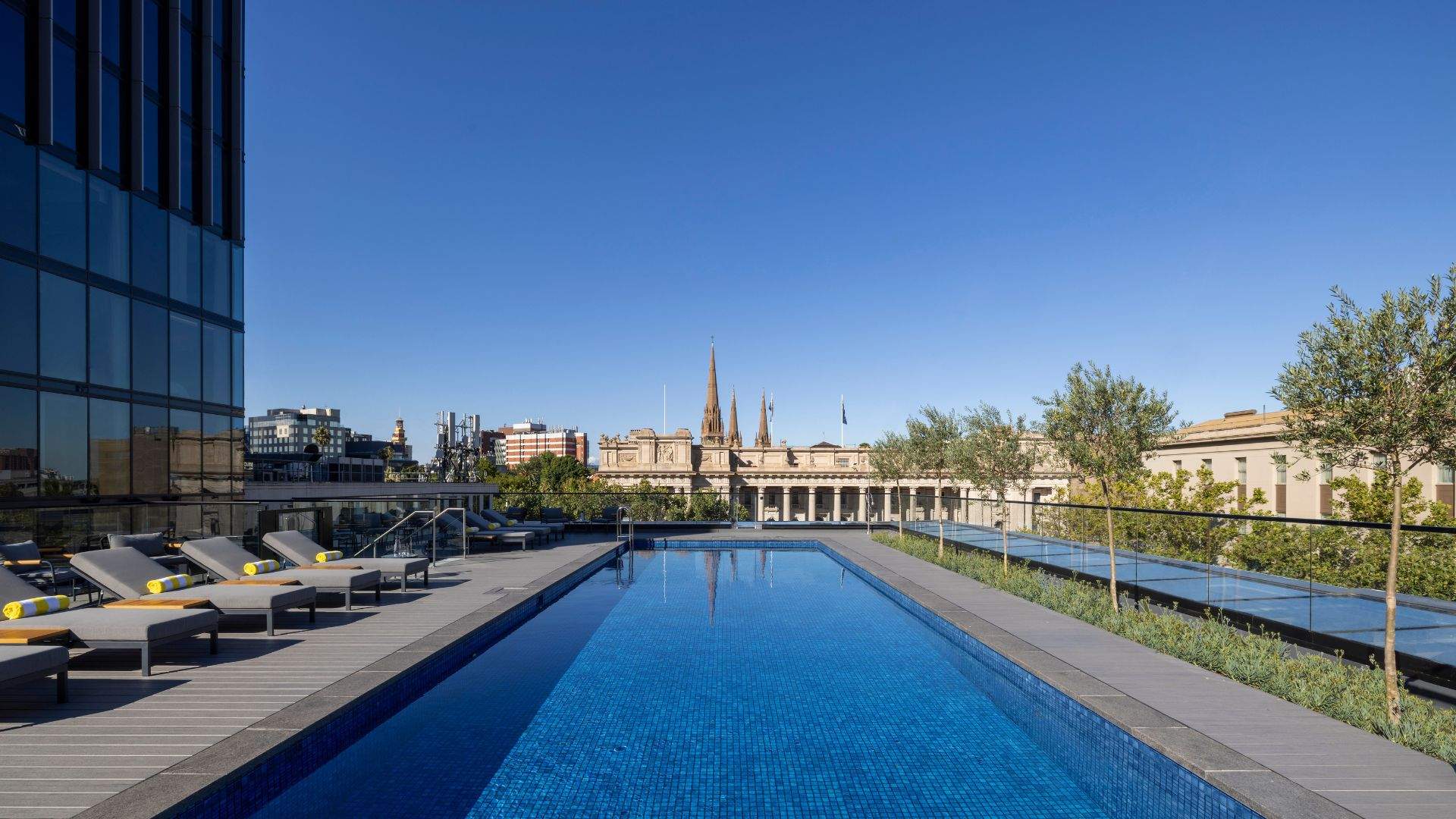 With rooms and suites overlooking either Parliament or the city – with a view to the chic pool deck below – there really isn't any bad room on offer, although the lower-pricepoint rooms are admittedly on the smaller side. Its selling point for weekenders is definitely Le Splash, a poolside dining offering featuring a small selection of cocktails and luscious lobster rolls delivered straight to your deckchair, with a view to Parliament House. Outdoor pools are a rarity in Melbourne, for obvious reasons, but when you get the weather just right, this is the place to be. 
Images: supplied. 
Concrete Playground Trips
Book unique getaways and adventures dreamed up by our editors