The Top Local Spots to Get Your Japan Fix (If You're Not Heading Over for the Cherry Blossoms)
A trip to the Land of the Rising Sun not on your 2023 travel list? Cure your travel bug and experience Japanese culture right here in Melbourne.
in partnership with

The end of March sees the beginning of cherry blossoms beginning their bloom all over Japan. The cherry blossoms, or sakura, are a fleeting beauty, only revealing the pretty pink petals for a couple of weeks each year — with tourists hailing from all over the world to catch a precious glimpse.
With the country's borders reopening to tourists at the end of 2022, there is no better time to head to Japan and soak in all of its wonders than right now. Plus, with the sakura season varying around the country, you can experience that pink sky a bit later in the year if you head further north than Tokyo.
If a Japan trip is in your near future, we're jealous! But, you're also probably feeling a tad overwhelmed with the myriad sights to see, activities to do and snacks to snack on. So, it's handy that Klook is up to date with the greatest ways to explore the country. Heading to Tokyo? Osaka? Okinawa? There's parasailing, dedicated cherry blossom experiences, temples aplenty and much more.
But, if you're not heading there in the near future, CP's got you covered — don't fret. We've rounded up some standout Japanese experiences in Melbourne that will ease you through your travel bug.
JOIN A CHERRY BLOSSOM-THEMED PAINT AND SIP AT LADDER ART SPACE
Heading to Tokyo? Be sure to book a Mount Fuji Classic Route Day Tour to see the cherry blossom trees in flower with the iconic Mt Fuji in the background. You'll have time to explore the picturesque ponds of Oshino Hakkai too, sure to be an experience you'll never forget.
Staying in Melbourne? If you can't see the cherry blossoms in the flesh, why not paint them instead? Kew's Ladder Art Space cherry blossom class will provide you with everything you need, all you have to do is show up. Your creative juices will flow (encouraged by some vino) and music, plus expert artists showing you the ropes. Whether you're a tyro or a Picasso, you will take home a hand-painted cherry blossom artwork, with the staggering Mount Fuji as the backdrop — your own slice of Japan to look at every day.
HAVE AN OMAKASE DINING EXPERIENCE AT YUGEN
If you're feeling sorry for yourself for missing out on cherry blossom season in Japan this year, we suggest you stay local and really treat yourself — and what's more indulgent than an omakase experience?
Head to the six-seater chef's table at Yugen, where Alex Yu will guide you through an intimate dining experience showcasing the highest quality produce and his well-honed culinary skills. Yu handcrafts a seasonally driven daily menu and personally works to ensure your experience is something truly special. The omakase will set you back $285 per person — make sure you book in advance as spots book out quickly.
GET YOUR BRUNCH ON AT 279
If you won't be in Tokyo to brunch on nori toast or impossibly fluffy pancakes, look no further than West Melbourne for your daily dose of authentic Japanese home cooking at 279. This sleek venue sits on Victoria Street and offers strictly Japanese cuisine, coffee and dessert. This is a fusion-free zone with a menu that is hearty and traditional, centred around onigiri —  which you can find on the shelves of Japan's plentiful convenience stores.
Right here in Melbourne is the perfect spot to start your day's feasting with authentic Japanese cuisine — you'll soon forget that you're in Melbourne's decorated streets and not those of Harajuku.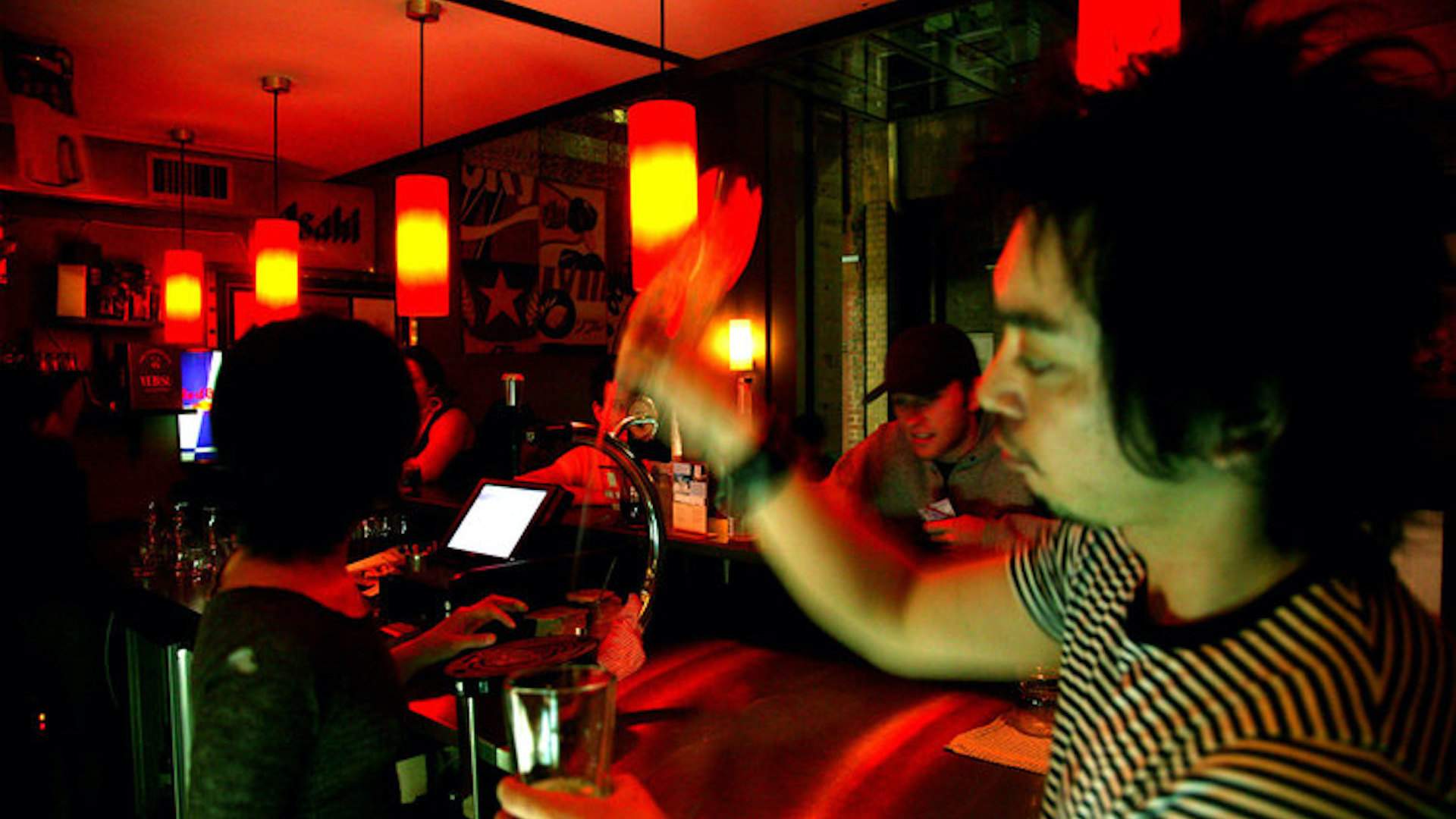 SIP ON SAKE AND JAPANESE BEERS AT ROBOT BAR
If a night on the town in Tokyo, exploring the alleyway bars of Golden Gai, isn't on the cards for spring, check out Robot Bar hidden away off Flinders Lane. This is a little slice of Tokyo in Melbourne, with an extensive range of sake and beer to enjoy. 
The Japanese "popular culture bar" is guarded by a gang of toy robots hanging from the ceiling and a collection of vintage Japanese movie posters. A fun and relaxed atmosphere to enjoy after work — or a place to nerd out on anime every Tuesday at 8pm.
REPAIR YOUR BROKEN CERAMICS AT A KINTSUGI AUSTRALIA WORKSHOP
Klook is full of exciting activities you can enjoy in Japan this spring. But, if you're wanting to take up a new hobby while embracing some culture right here in Melbourne, we suggest you check out Kintsugi Australia's workshop.
Kintsugi is the traditional Japanese art of repairing broken pottery using lacquer and gold, dating back to the 16th century. This art form embraces the Japanese celebration of the beauty in imperfection, beautifully highlighting a break or flaw instead of disguising it.
Kintsugi Australia offers a range of courses, whether you are looking for something modern, traditional, beginner or intensive. Workshops run most days — there's something for everyone to embrace and enjoy.
TRY YOUR HAND AT IKEBANA FLORAL STYLING
Have a go at ikebana, a calming and therapeutic petalled way to bring a bit of Japanese culture into your life. Ikebana is a traditional style of floral arrangement, which is a lot more sculptural practice compared to Western techniques. This practice highlights the inner qualities of materials and aims to express balance, harmony and form.
If you're interested in learning how to make beautiful ikebana arrangements, By Azumi has you covered with workshops suitable for beginners and more experienced students, in multiple places in Melbourne. You'll learn all the basics, going home with your arrangement and the skills to flex your ikebana muscles forever.
BUY SOME MANGA, FIGURINES AND MODEL KITS AT ONE STOP ANIME
If you're interested in more contemporary Japanese culture, One Stop Anime has a pretty impressive collection of figurines that will see you take a little piece of Japan home with you.
Hidden away on Bourke Street, this treasure trove is heaven for any anime lover. The staff are all experts and super friendly, so they will be sure to help you with whatever you're searching for — whether you are into Studio Ghibli, Pokemon or Hatsune Miku.

HEAD OUT OF THE CITY TO STAY AT JAPANESE MOUNTAIN RETREAT
Heading to Japan and Fukuoka's on your list? Be sure to check out Klook's Kumamoto Castle and Kurokawa Onsen day trip. After you explore some majestic historical castles and visit an active volcano you will end the day with a relaxing dip in the hot springs of Kurokawa. 
Staying in Melbourne? Head to the Japanese Mountain Retreat in Montrose for a romantic weekend away. You might not have a vista that includes volcanoes, but the mountains are just as magical. Plus, you can enjoy your own onsen experience. Here, there are multiple bathing packages that'll have you soaking in natural mineral-rich spring water — we promise you will feel worlds away from home in this Japanese oasis.
There are plenty of Japanese experiences you can enjoy right here in Melbourne, but if you can't quite cure your travel bug, it might be a sign that a last-minute trip during cherry blossom season is just what you need. Best place to start planning? Klook. For more information, head to the website.
Top images: AXP Photography; Julia Sansone; Jezael Melgoza.
Concrete Playground Trips
Book unique getaways and adventures dreamed up by our editors