TRAVEL & LEISURE
The Six Best Glamping Spots Near Melbourne
All these luxury glamping experiences are under two hours away from the CBD — so you can have your weekend wilderness experience and goose-feather down quilt too.
UPDATE Thursday, June 17: Under current COVID-19 restrictions in Australia, Melburnians will soon be free to travel around Victoria, with the 25-kilometre travel cap lifted at 11.59pm tonight. Check out the latest information on the Victorian Department of Health and Human Services website. You can also find more figures and graphs on its Victorian coronavirus data page.

Camping is a wonderful idea — reconnecting with nature, surrounding yourself with peace and quiet, and breathing in fresh, non-city air. It's the perfect escape from urban life.
But, the logistics of camping are difficult. Packing all that stuff, then unpacking all that stuff. Erecting the tent and praying that the thin synthetic material is enough to protect you from an impending storm or the swarming mosquitoes out to get your blood. Thankfully glamping, the luxurious older sister of that activity, provides a classy alternative to simply roughing it outdoors.
Combining both the beauty of nature with the mod cons and comfort of a hotel means you can have your wilderness experience...and that goose-feather down quilt, too. Check out these primo glamping spots, located not too far from Melbourne.



BALGOWNIE ESTATE, BENDIGO
Spend your next weekender sipping top-notch wines on an outdoor lounge on your own private deck and soaking up sunset-flooded rural views — all smack-bang in the middle of lush vineyards at Balgownie Estate. The winery's large collection of tents are kitted out with rugs, lighting, furnishings, air-con, tea and coffee, and bar fridges. There are three tent types on offer — choose between the Bell Tent, the Bell Tent Twin and the Safari Tent — the latter of which is probably bigger than your CBD apartment, boasting a four-poster queen-sized bed, ensuite and kitchenette.
From $225 per night. To book, head to the Balgownie Estate website.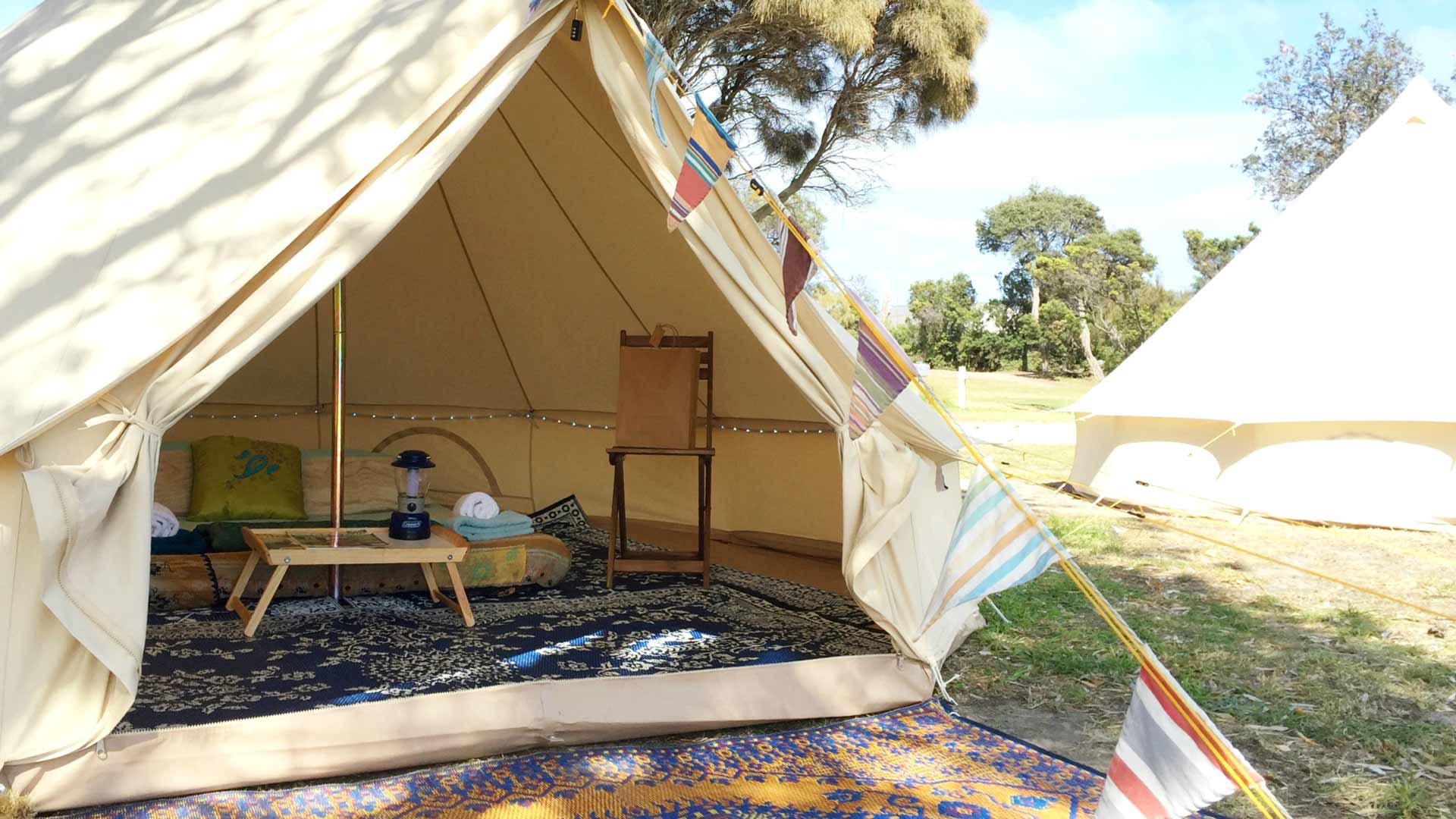 HAPPY GLAMPER, MORNINGTON PENINSULA
An hour out of Melbourne, you'll find the beautiful surrounds of the Mornington Peninsula, where soft sea breezes roll across the ocean and long stretches of beach invite good times. Happy Glamper rents out a whole range of nifty accomodation options, from a cosy couples' bell tent to an emperor tent with space for up to six people. The best part? Select your tent style and your location (in any available campsite around the Mornington Peninsula) and these guys will get you all set up — complete with magazines, mats, board games and chairs. You can also pay for extras, such as picnic kits. Happy Glamper will even pack up your campsite when you're done.
From $300 for two nights. To book, head to the Happy Glamper website.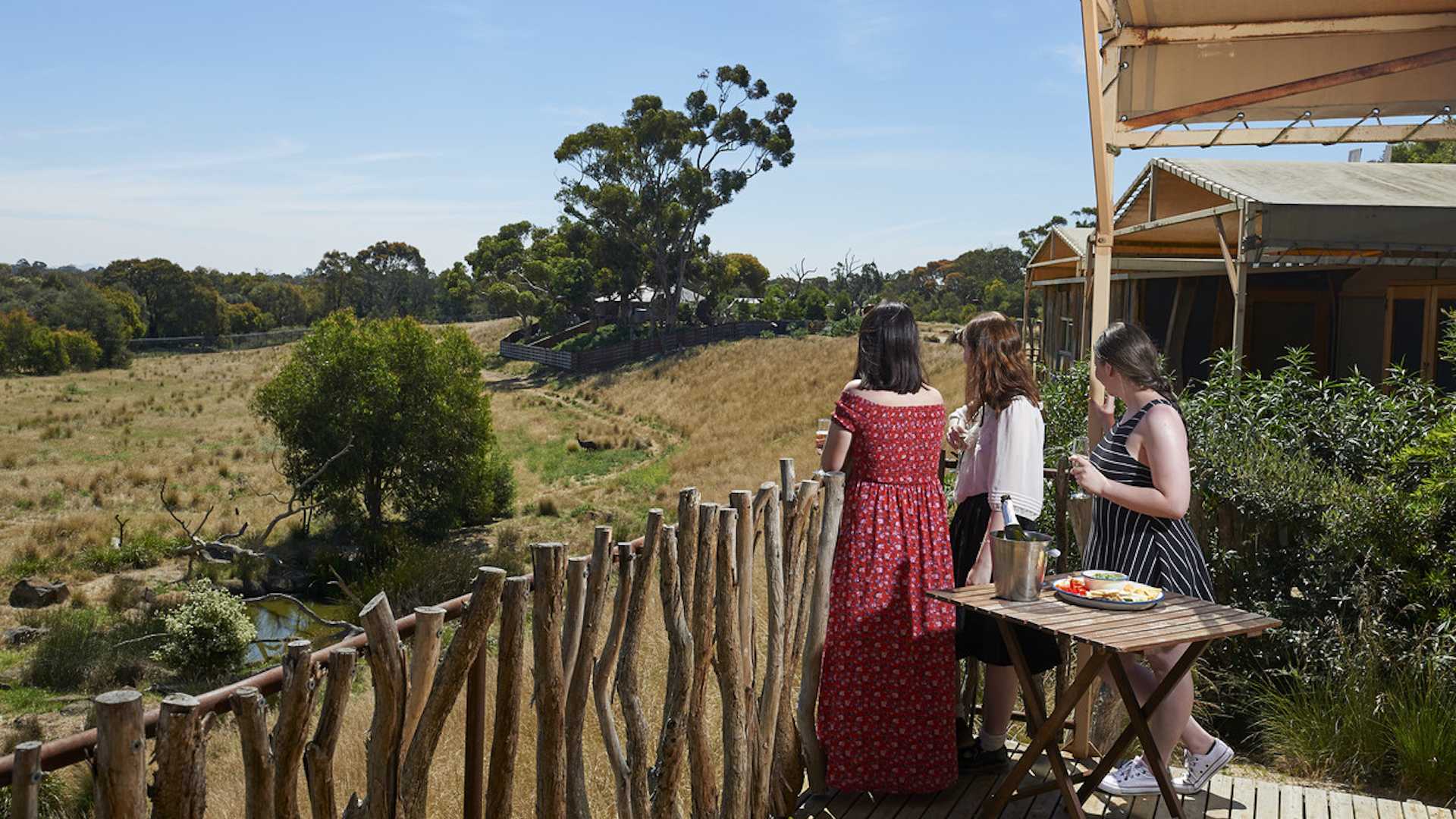 SLUMBER SAFARI, WERRIBEE OPEN RANGE ZOO
Does a rhino get bed hair? Are giraffes grumpy in the morning? What does a lion eat for breakfast? Spend a night in your safari-styled tent at the Werribee Open Range Zoo and find out all of these niggling questions that no amount of Googling can ever answer. The zoo's overnight Slumber Safari experience will have you hanging with the wildlife, enjoying all the creature comforts of a luxury lodge complete with comfy bed and private bathroom. Also included are delicious snacks, dinner, a safari tour, animal encounters aplenty, some complimentary bubbly and two full days of zoo access. Plus, an African-inspired brekkie the next morning on your own private deck.
From $345 (per adult) per night. To book, head to the Werribee Open Range Zoo website.

COSY TENTS, DAYLESFORD
Goose down quilt? Check. Bose speakers? Check. Barbecue, esky and communal fire pit for adventurous campfire cooking? Check. Stunning views across Hepburn Shire? Check, check, check. The Cosy Tents glamping retreat is the perfect weekend getaway to explore the smorgasbord of gourmet food, wineries and award-winning restaurants in the region. Oh, and it's located heavenly close to Daylesford, aka one of the spa capitals of Australia. Here, choose from a wide range of bell tents in various sizes, all set with ample distance between them, but close enough to create a little glamping community, too. There's also a swag of different add-ons and packages you can choose from to amp up your getaway, including Netflix movies and loaded brekkie boxes.
From $195 per night. To book, head to the Cosy Tents website.  

THE INVERLOCH GLAMPING CO, INVERLOCH
Book into one of The Inverloch Glamping Co's luxury bell tents and you can spend the night sleeping under the stars, just a quick hop from the beach. The company's eco-resort and glamping site features both cosy beach cabins and a range of luxury bell tents, as well as a communal camp kitchen overlooking the ocean. The tents make for a stylish, comfy beach escape, boasting queen-sized beds, heating/cooling systems, USB ports and speakers. There's some primo stargazing to be done out here, and the region is brimming with hiking trails, cycling tracks and scores of other nature opportunities.
From $250 per night. To book, head to the Inverloch Glamping Co website.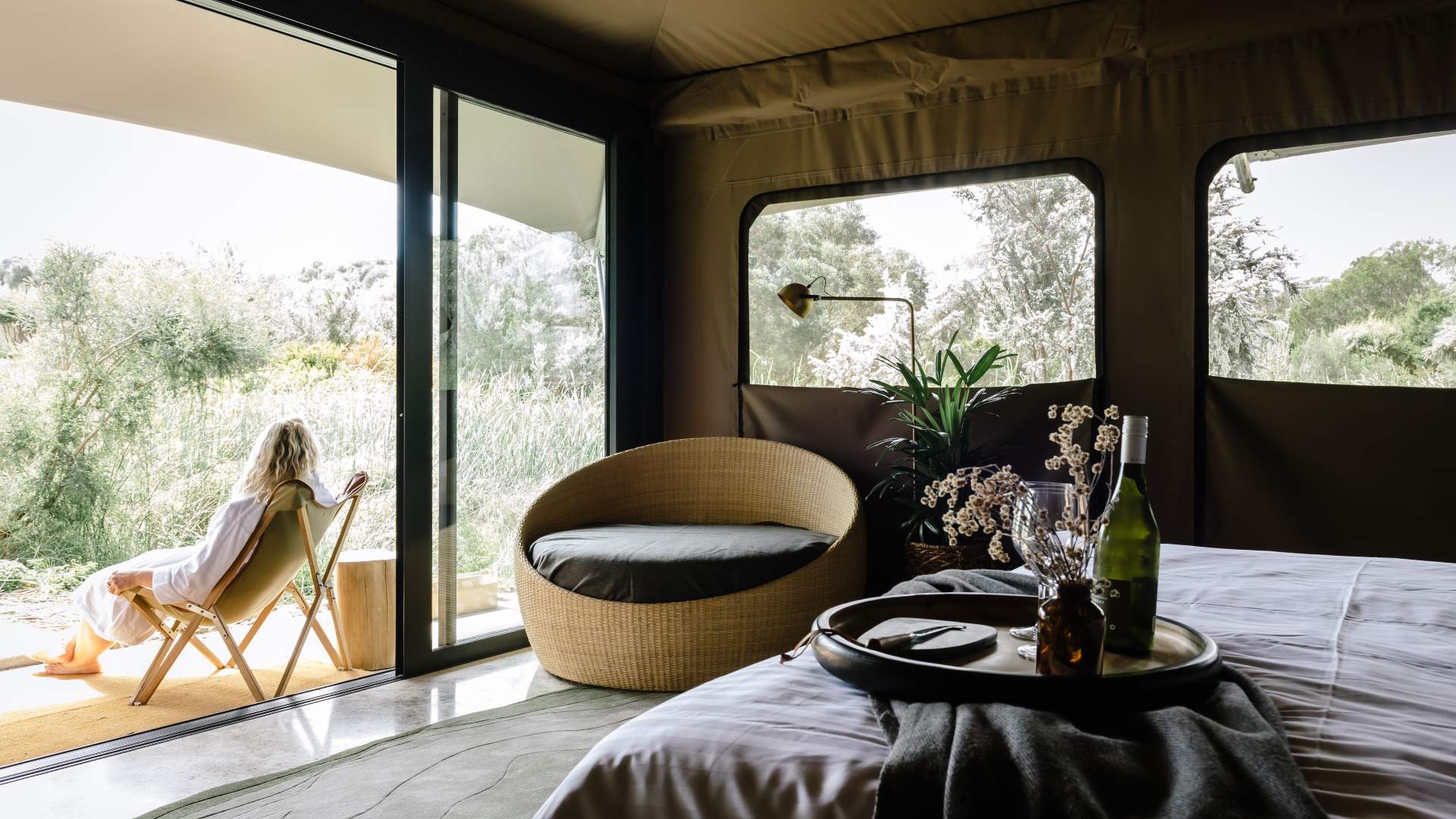 THE PENINSULA HOT SPRINGS, FINGAL
The Peninsula Hot Springs' latest addition is a series of luxury glamping tents, allowing visitors to spend the night onsite, mere steps from the geothermal baths, saunas, pools and other wellness offerings. The glamping retreat is a classy affair, with the tents nestled amongst the natural environment, boasting thermally-heated concrete floors, custom-made furniture and beds decked out in plush linens. Guests are treated to private ensuites and walk-in robes, complimentary breakfast, and access to the precinct's many wellness experiences. All that's left to decide is how much pampering can you fit into a weekend.
From $650 per night. To book, head here.

Top Image: Peninsula Hot Springs
Published on May 14, 2021 by Shannon McKeogh