TRAVEL & LEISURE
A $42 Million Yarra Trams Proposal Could See Cars and Trams Separated by Concrete Kerbs
The tram operator wants to install concrete kerbs along 38 kilometres of tram tracks to help minimise collisions.
Melbourne's CBD and surrounds could become a little more difficult to navigate in a car, but much safer for tram users, if a significant Yarra Trams upgrade plan is given the green light. The tram operator has proposed a $42.7 million project that would see concrete and bluestone kerbs installed along 38 kilometres of Melbourne's tram tracks, similar to what's already in place along sections of Nicholson and Lygon Streets.
With 75 percent of the tram network shared with other road users, the move is hoped to help decrease the 1000 vehicle-to-tram collisions that currently occur each year. That's an average of three a day. As well as having the potential to injure passengers and drivers, these collisions cause delays and cancellations, and result in less trams on the tracks while the damaged carriages undergo repairs. According to to Yarra Trams, around ten trams are out for repair each day because of motor vehicle incidents.
While the concrete kerbs would help limit collisions, they could also block motorists from crossing key city streets, which is sure to cause more than a few driver headaches.
As part of Yarra Trams' plan, it wants to add the safety kerbs along some of the CBD's busiest stretches, including Flinders, Collins, Elizabeth and Bourke streets. Sections of St Kilda Road and Richmond's Bridge Road would also score kerbs, along with 'high risk' areas like Racecourse Road and Commercial Road.
These are the proposed routes where kerbs would be implemented.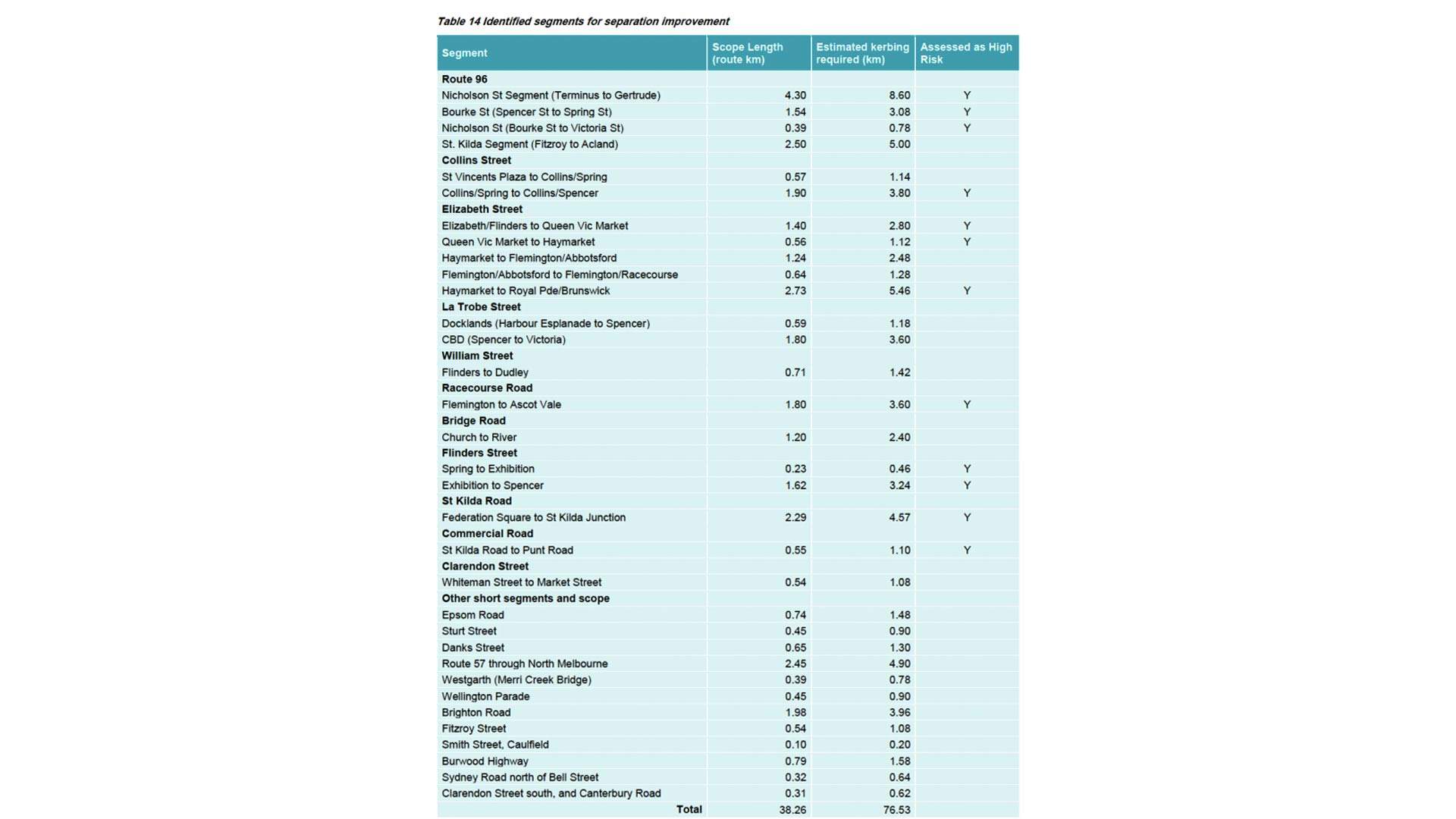 Tram crashes decreased by 25 per cent when hard kerbing was installed on Docklands tram routes.
The tram operator's proposed upgrades were submitted to a Victorian Parliament in response to an inquiry looking into ways of reducing road fatalities. Submissions will remain open until April 30, so it could be a while before we hear if the Government's takes any of Yarra Trams' proposals on board. If it is approved, though, Yarra Trams expects it'll take approximately 18 months to construct and install the kerbs.
Of course, with Melbourne's Metro Tunnel project — and the road closures its construction has brought with it — not expected to reach completion until 2025, now isn't the best time to be driving a car anyway. Perhaps stick with the public transport slog, or just hang out for the launch of Uber's much-hyped air taxis, which are set to start testing in Melbourne later this year.
You can check out Yarra Trams' full submission here.
Published on March 03, 2020 by Libby Curran