ARTS & ENTERTAINMENT
The Twelve Most Impressive Art Galleries in Regional Australia
From country Victoria to the WA coast to the Tiwi Islands, these galleries house homegrown and Indigenous art collections worth planning a whole weekend around.
Whatever your artistic inclinations, there's a gallery in Australia worth a road trip. Architecturally, our wide open spaces have enabled the creation of spectacular buildings that take on dramatic relationships with surrounding landscapes, while the art scene is extraordinarily diverse. Visit Shepparton to see Australia's biggest ceramics collection, Albury for travelling blockbusters, Tweed Heads for a recreation of Margaret Olley's studio and Hobart for ancient, modern and contemporary art that meditates on sex and death.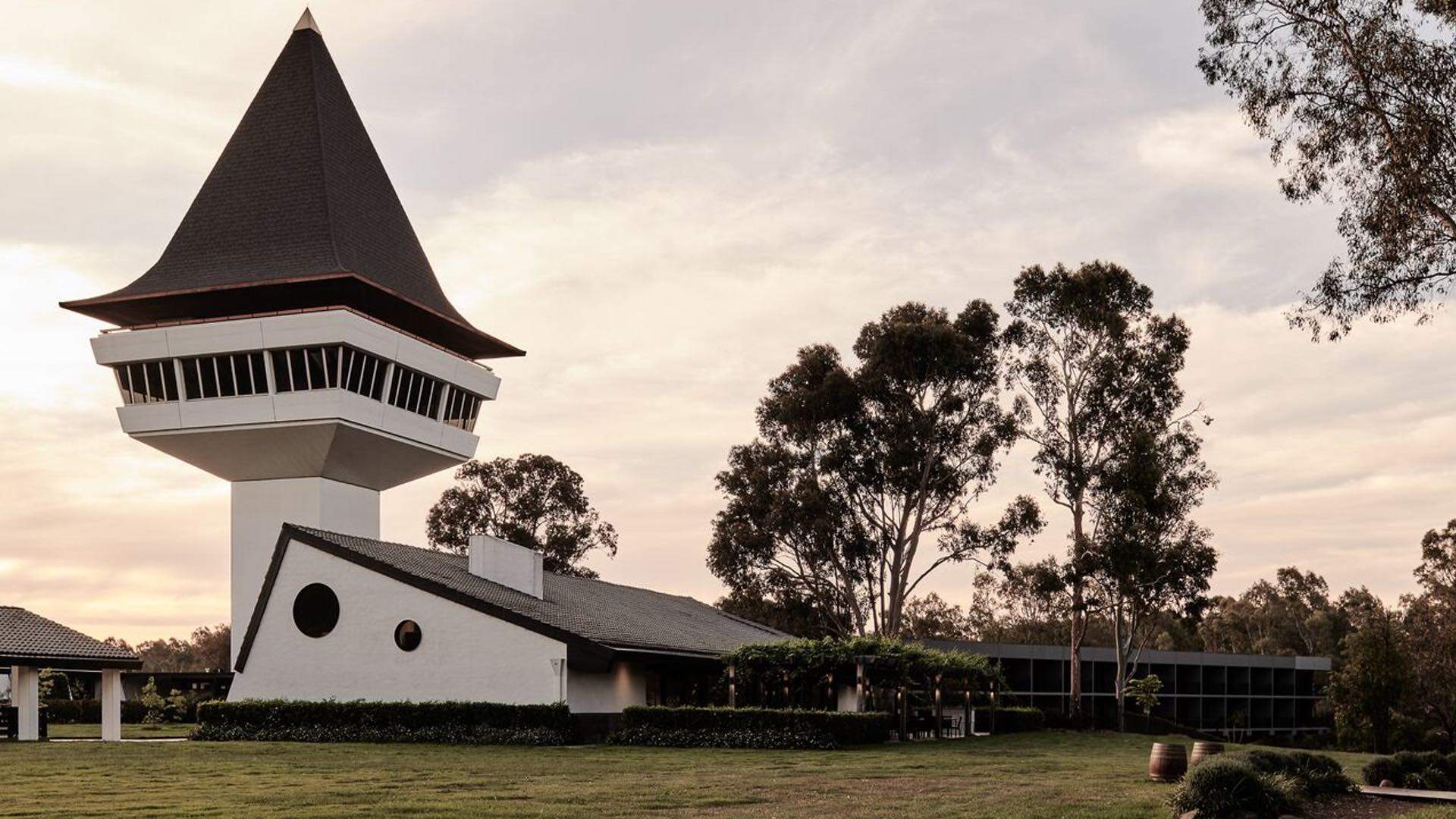 MITCHELTON GALLERY OF ABORIGINAL ART — NAGAMBIE, VICTORIA
To take an artistic journey through more than 15 remote communities, head to The Mitchelton Gallery of Aboriginal Art. Hidden within Mitchelton Winery, this epic collection of Aboriginal painting, drawing and sculptures is one of the biggest in Australia. Among the standout pieces are the The Message Stick Vehicle, which transforms a Vietnam War ambulance into totemic symbol of peace, and monumental paintings by the late Yannima Tommy Watson, Gabriella Possum Nungurrayi and George Hairbrush Tjungurrayi. When you're done, sample a wine or two and maybe stay the night in Mitchelton's super-luxe new hotel.
Where? 470 Mitchellstown Road, Nagambie. How far? About 90 minutes north of Melbourne.

MURRAY ART MUSEUM — ALBURY, NSW
After a $10.5 million revamp in 2010, the Murray Art Museum Albury (affectionately known as MAMA) has been attracting travellers off the Hume Highway with blockbuster exhibitions, parties, artist talks and workshops. The permanent collection features a growing number of works by prominent contemporary indigenous artists, more than 40 pieces by Russell Drysdale and the Nagel Bequest, which represents John Coburn, Margaret Olley, James Gleeson and numerous others. While you're there, tuck into parmesan scrambled eggs or fluffy hotcakes in the light-filled Canvas eatery. You'll find loads more Albury tips over here.
Where? 546 Dean Street, Albury. How far? About 5.5 hours southwest of Sydney, or 3.5 hours northeast of Melbourne on the Victoria–NSW border.

NATIONAL GALLERY OF AUSTRALIA — CANBERRA, NSW
We know Canberra isn't a regional town, but, nonetheless, the NGA is a destination gallery for Sydneysiders and Melburnians (any anyone driving between the two). And for good reason — the NGA hosts a steady stream of big name exhibitions. At the moment it's pulled works from American masters out of its collection, displaying Jackson Pollock's Blue poles (pictured above), along with pieces by Andy Warhol, James Turrell and Louise Bourgeois. In December, it will host a collection of Pre-Raphaelite paintings on loan from the Tate, which could make for a good Christmas or New Year stop-in if you're driving up or down the coast.
Where? Parkes Place East, Canberra. How far? About three hours south of Sydney, or seven hours north of Melbourne.

TWEED REGIONAL GALLERY — MURWILLUMBAH, NSW
In this gallery, you can peek into Margaret Olley's studio — which was originally located miles away in Sydney, at 48 Duxford Street, Paddington — as it was when she passed in away in 2011. Following her death, more than 21,000 of her belongings and paintings, including windows and doors, were transported to the Tweed Regional Gallery, where they were set up in a re-creation. There are also numerous works by Olley and her contemporaries, including Margaret Cilento, David Strachan and Cressida Campbell, as well as a vast permanent collection of portraits. The $20,000 Olive Cotton Award For Photographic Portraiture also takes place biennially.
Where? 2 Mistral Rd, South Murwillumbah. How far? About nine hours north of Sydney, or 90 minutes south of Brisbane.

TARRAWARRA MUSEUM OF ART — HEALESVILLE, VICTORIA
If you're in Melbourne and keen to get a country art (or architecture) fix, but don't want to travel too far, head to the Yarra Valley to visit the TarraWarra Museum of Art. Given to the public by  philanthropists Eva Besen AO and Marc Besen AC, this beautiful building overlooks rolling vineyards and undulating hills. When you've feasted your eyes on the views, head inside to see works by Jeffrey Smart, Brett Whiteley, Arthur Boyd and James Morrison. Then, of course, there are the Yarra's many, many wineries.
Where? 313 Healesville–Yarra Glen Road, Tarrawarra. How far? Only an hour northeast of Melbourne.

TIWI DESIGN — BATHURST ISLAND, NT
Of all the centres in Australia devoted to Aboriginal and Torres Strait Islander art, Tiwi Design is one of the oldest. It's on Bathurst Island, which is around 92 kilometres off Darwin. The collection is extraordinarily diverse, encompassing ochre paintings, ironwood carvings, screen painted fabrics, ceramics and sculptures of bronze and glass, as well as limited edition prints. What's more, Tiwi isn't just a gallery, but a living, working art centre, which means new artworks are in progress continually. To visit Tiwi, you'll need to book a tour, which includes return ferry rides from Darwin, a welcome ceremony, a walking tour with a local Tiwi guide, an art session, morning tea and lunch.
Where? Puantulura Street, Nguiu, Bathurst Island. How far? About 2.5 hours by ferry from Darwin.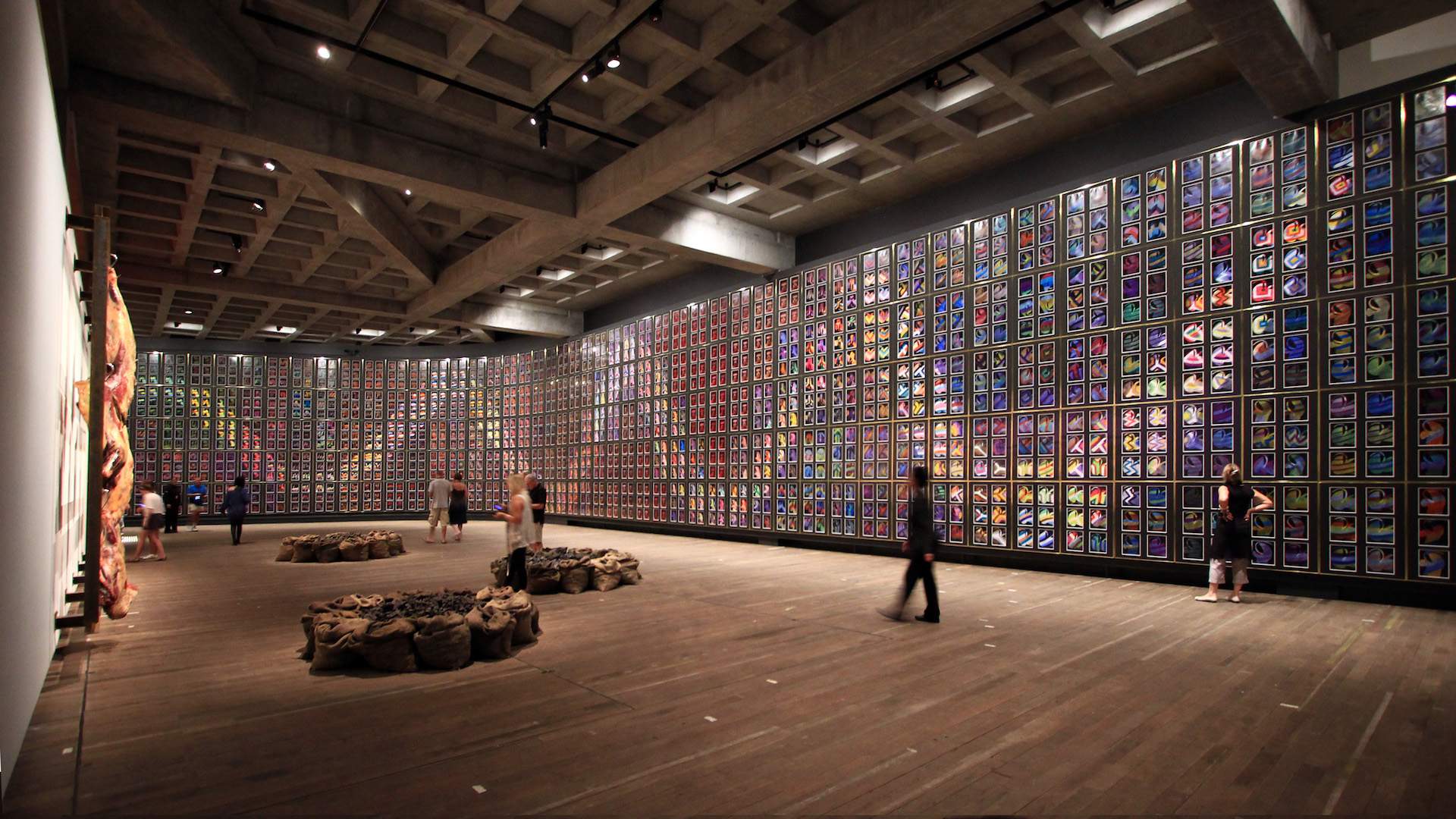 MUSEUM OF OLD AND NEW ART — HOBART, TASMANIA
Founded by Tassie millionaire and art collector David Walsh in 2001, the MONA is the biggest privately-owned museum in the entire Southern Hemisphere. Built into cliffs around the Berriedale Peninsula, the gallery is made up of three levels of subterranean, labyrinthine spaces, accessed via a spiral staircase. The 1900+ strong collection is famous for its preoccupation with sex and death, and every year, MONA hosts Dark Mofo, which marks the winter solstice. While you're in Tassie, add some foodie adventures to your road trip.
Where? 655 Main Road, Berriedale. How far? About 25 minutes by car or ferry from Hobart city centre.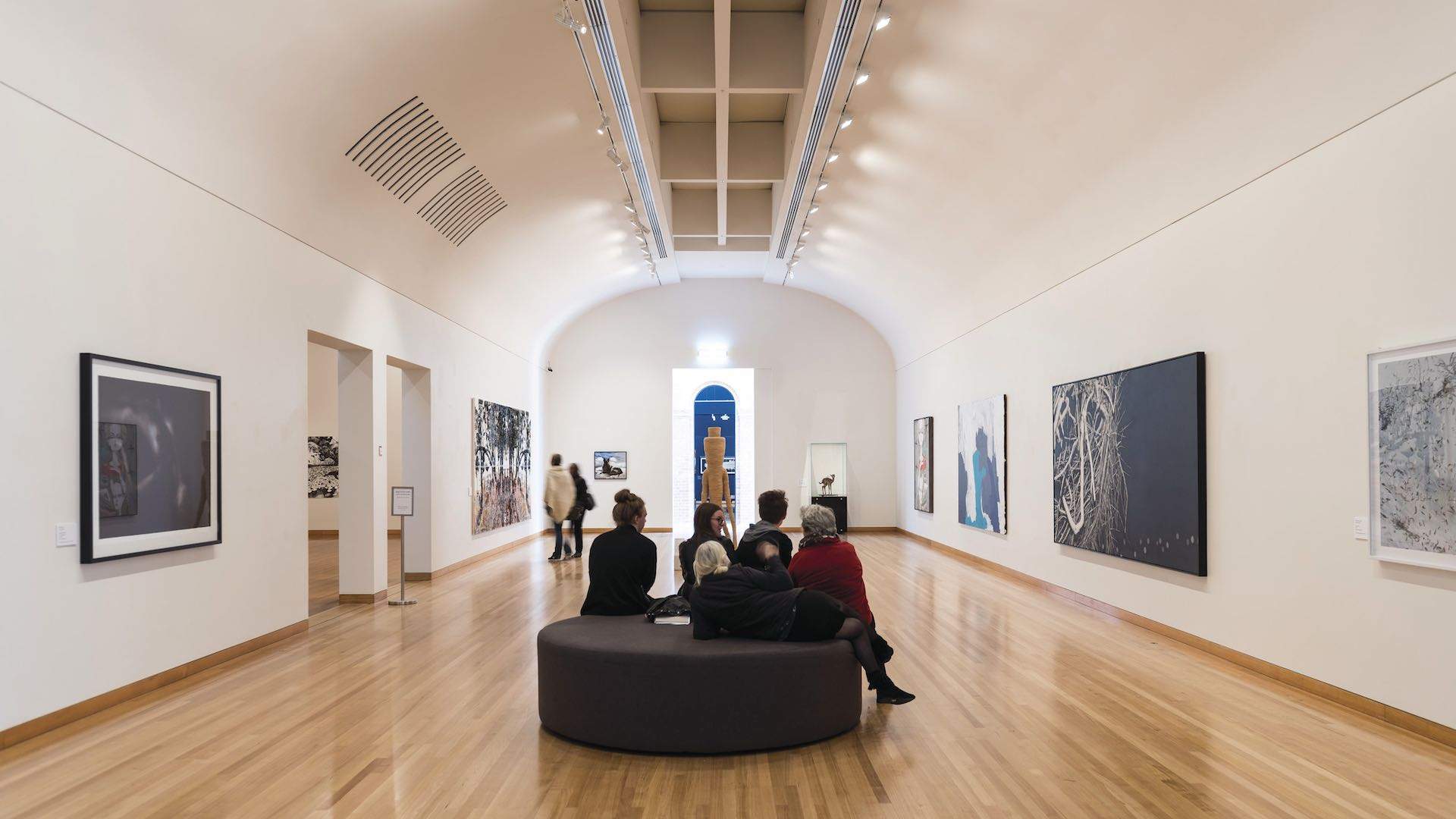 BENDIGO ART GALLERY — BENDIGO, VICTORIA
Established in 1887 and now sporting a highly Insta-worthy Karl Fender-designed extension, Bendigo Art Gallery regularly hosts blockbuster touring exhibitions. It's known for nabbing Australian exclusives for fashion and design exhibitions, including Marimekko earlier this year and Maticevski in 2016. Up next is an exciting exhibition of Frida Kahlo's personal photograph collection, including 257 images curated by Mexican photographer and photography historian Pablo Ortiz Monasterio. The gallery is part of a cluster of venues making up the View Street Arts Precinct, including the La Trobe Art Institute, so make sure to have a proper poke around the area.
Where? 42 View Street, Bendigo. How far? About two hours northwest of Melbourne. 


GERALDTON REGIONAL ART GALLERY — GERALDTON, WA
Geraldton Regional Art Gallery opened in the city's heritage-listed town hall building in 1984. Today, it acts as the centrepiece of Geraldton's art scene, through exhibitions, workshops, events and the annual Mid West Art Prize, a $45,000, non-acquisitive award for Western Australian artists. The 475-strong permanent collection includes works by Norman Lindsay, Robert Juniper, Tracey Moffatt, Howard Taylor, Julie Dowling, Hans Heysen and Elizabeth Durack. The City of Geraldton is on the coast, around 400 kilometres north of Perth.
Where? 24 Chapman Road, Geraldton. How far? About 4.5 hours north of Perth.

BROKEN HILL REGIONAL GALLERY — BROKEN HILL, NSW
Founded way back in 1904, Broken Hill is the oldest regional gallery in New South Wales. You'll find it smack-bang in the middle of town, not far from The Palace Hotel — the one famous for appearing in Priscilla, Queen of the Desert — and the majestic Astra, built in the 1890s. The gallery's home is another impeccably restored, heritage-listed 19th century building, with stunning, high-ceilinged spaces. Look out for works by legendary Aboriginal artists, such as leading Aboriginal artists including Clifford Possum Tjapaltjarri, Emily Kame Kngwarre and Michael Nelson Tjackamarra, as well as classics by the likes of Arthur Streeton, Rupert Bunny and John Olsen. Explore Broken Hill further with our weekender's guide.
Where? 404–408 Argent Street, Broken Hill. How far? Pretty far. About 13 hours west of Sydney, or nine hours north of Melbourne.

PERC TUCKER REGIONAL GALLERY — TOWNSVILLE, QUEENSLAND
Step into the world of tropical-influenced art at Perc Tucker Regional Gallery, Townsville. Opened in 1981, in the heritage-listed former home of the Union Bank, this institution owns more than 2000 works. Focuses includes, not only on historical and contemporary art of tropical Queensland, but also Aboriginal and Torres Strait Islander art, Papua New Guinean contemporary art, pop art and ephemera. Every year, the Percival Portrait Painting Prize a $40,000 acquisitive award, adds a new face to the collection.
Where? Corner of Flinders and Denham streets. How far? Real far. It's about a 15 hour drive north of Brisbane (or a two-hour flight).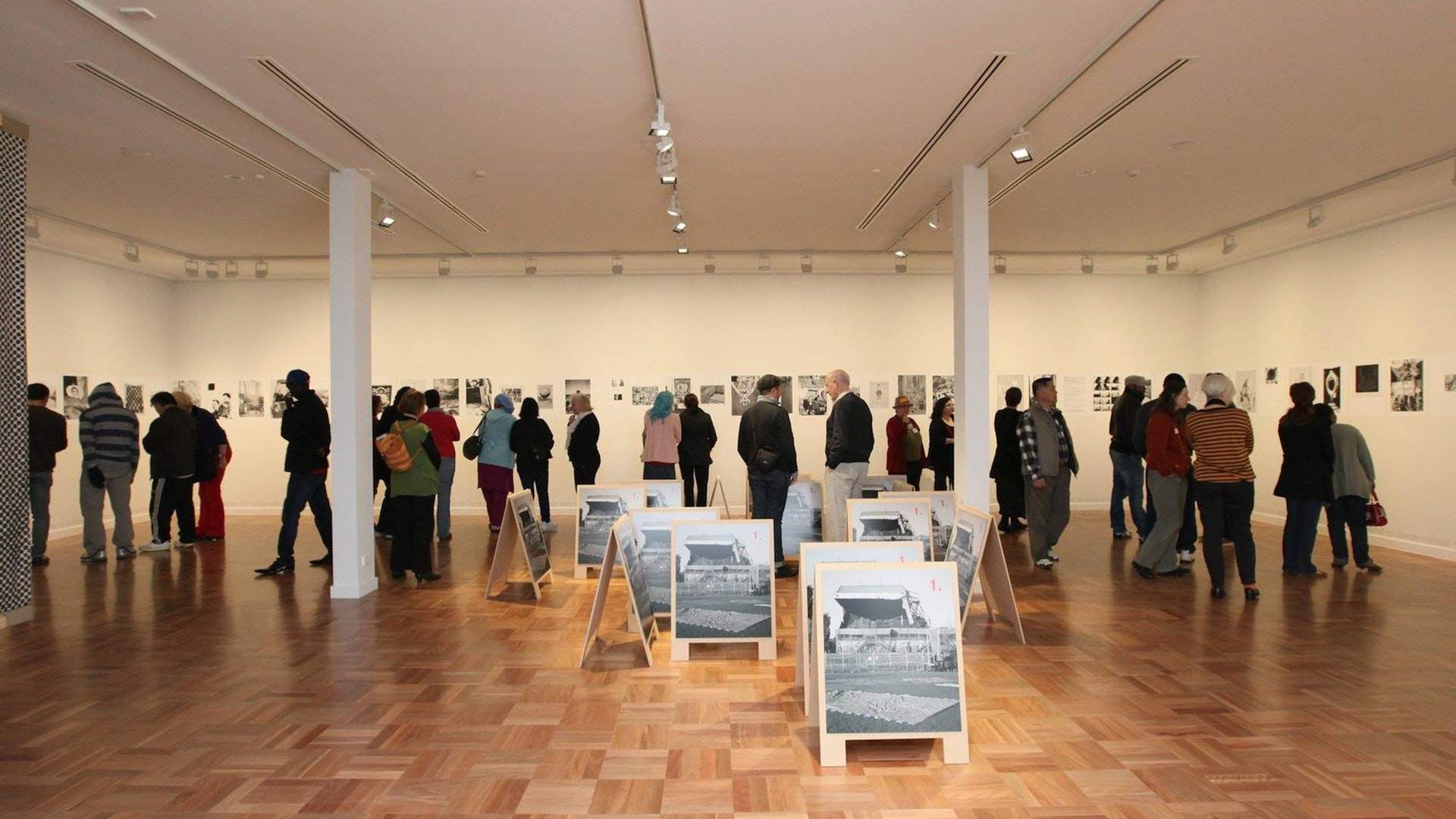 SHEPPARTON ART MUSEUM — SHEPPARTON, VICTORIA
If you're a maker, Shepparton Art Museum (known simply as SAM) should definitely be on your itinerary. It's home to the biggest collection of ceramics in Australia, which is added to every year via two acquisitive prizes: the Indigenous Ceramic Award and the Sidney Myer Fund Australian Ceramic Award. There are also numerous Australian drawings and paintings, as well as a dynamic temporary exhibition program. And, by 2020, SAM will move into a brand new $34 million home, designed by Denton Corker Marshall architects.
Where? 70 Welsford Street, Shepparton. How far? About two hours north of Melbourne.
Published on October 08, 2018 by Jasmine Crittenden