A Weekender's Guide to Albury
Blockbuster-capacity galleries, sculpture trails, designer hotels — Albury's shifted gear.
Traditionally, Albury hasn't made many a traveller's bucket list. Drivers tend to whizz past on their way to quainter spots, like the gold rush town of Beechworth or the alpine village of Bright. But, over the past couple of years, this 45,000-person city on the northern banks of the Murray River has transformed itself into a destination.
There's a blockbuster-capacity gallery, a sculpture trail, a designer hotel, and a slew of new restaurants, bars and cafes. In between art-ing and eating, you'll find mountain biking and paddling adventures a-plenty. So, next time you're racing along the Hume, stop over for a night — or three. Albury lies 462 kilometres southwest of Sydney and 326 kilometres northwest of Melbourne.
Let's get into all things Albury.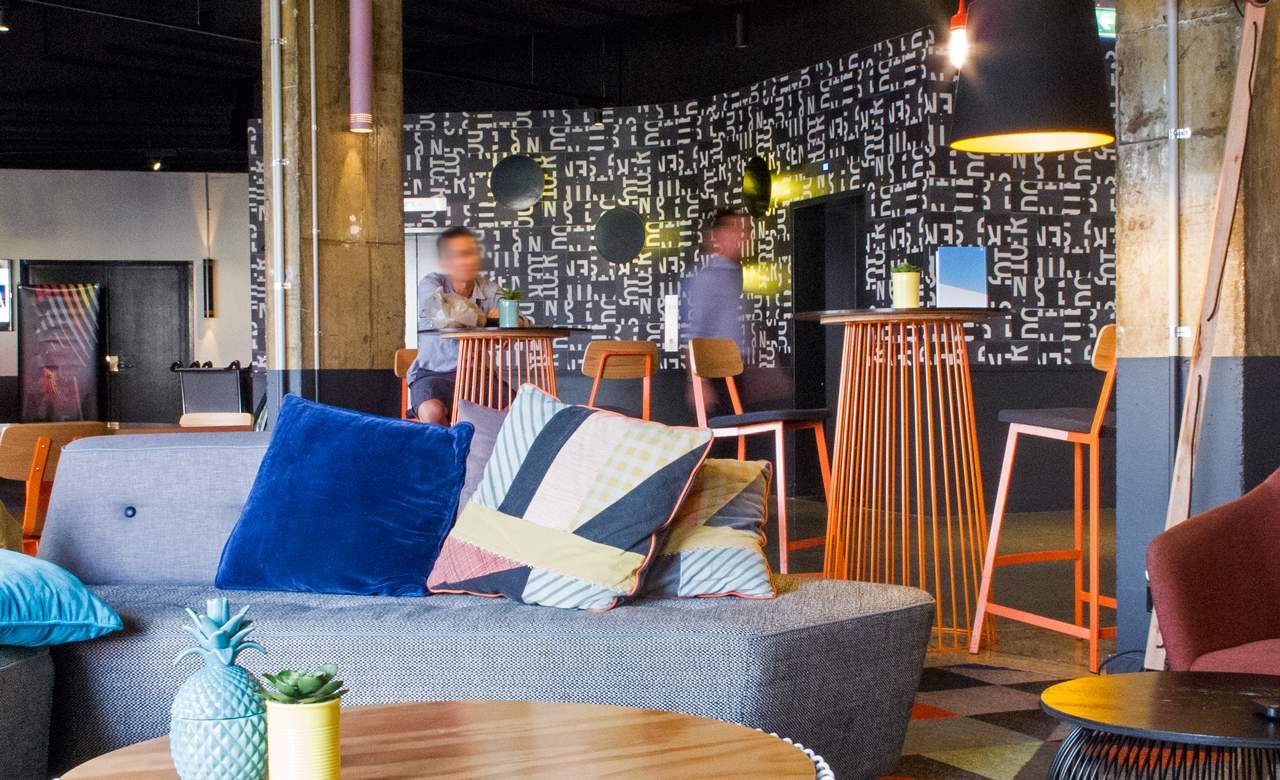 STAY
Stretch your legs after the easy drive and check in to one of Albury's best modern stays. With its oversized industrial light fittings, Scandi-inspired high stools, vintage-style bicycles and open plan, the Atura Hotel's foyer feels more like an inner-city warehouse than a hotel lobby you'd stumble across in Albury. And this is just what Atura, a brand belonging to the AHL Group (which also owns QT, Rydges and Art Series) is going for — more art and better design in regional places.
The reception 'pod' flows into the bar, where guests crowd around a retro-inspired pool table. The bar morphs into the Roadhouse Grill, dishing up popcorn prawns, braised lamb shanks and local Gundowring ice cream sundaes by night, and buffet breakfasts from 6.30am. Through the glass back wall, black and white NEMO face chairs look over an arc-shaped pool. Keep an eye out for inflatable pink flamingos around the place and Friesian cattle, who drop by occasionally.
For excellent views of Albury's motley skyline, ask for an east-facing room on the seventh floor. That said, each of the 140 rooms is decorated with the fun yet sophisticated aesthetic informing the entrance. You'll be napping in a king-sized bed, swinging a cat around in loads of space, cleaning up with Malin + Goetz toiletries in a mural-covered ensuite, sipping free coffee from your own machine and tapping into free wifi. To save some dosh, jump on one of Atura's packages, which top up your stay with gallery tickets, cocktails, movies and more.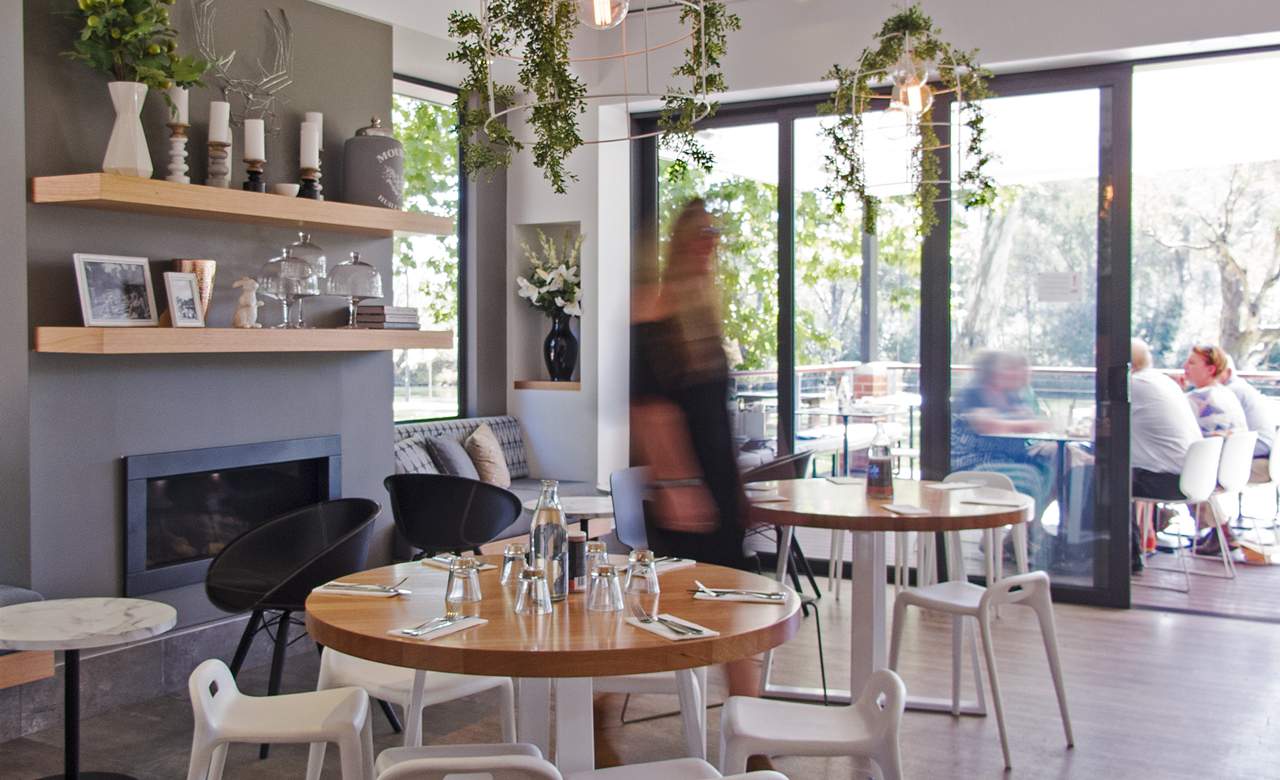 EAT AND DRINK
Make your first stop the River Deck Cafe, open daily for breakfast and lunch, and Thursday to Saturday for dinner. You'll find it right on the Murray, among the leafy plane trees of idyllic Noreuil Park. For years, there was only a kiosk here, but in May 2015, Alex Smit, who's been proprietor since 2011, transformed it into a 120-seater restaurant, bringing in Mauritian-born Ludo Baulacky as head chef.
Goat's cheese is turned into dollops of pannacotta, carefully arranged among pickled mushroom, baby beetroot, stonefruit and dukkah. For a light lunch, it's a good match with the herby quinoa salad, which comes with candied walnuts, honey dressing, tomatoes and olives. Among the share plates, there's a Milawa cheese platter and a salmon brushcetta with smoked salmon, crème fraiche and caperberries. If you're looking for a hearty main, try the seared barramundi with cauliflower and dill puree, pickle, clams, soy bean and chicken jus. A map in the menu shows you what produce comes from where — one of the River Deck's local mainstays is Rad Growers, a small farm in Bungowannah, twenty kilometres west of Albury.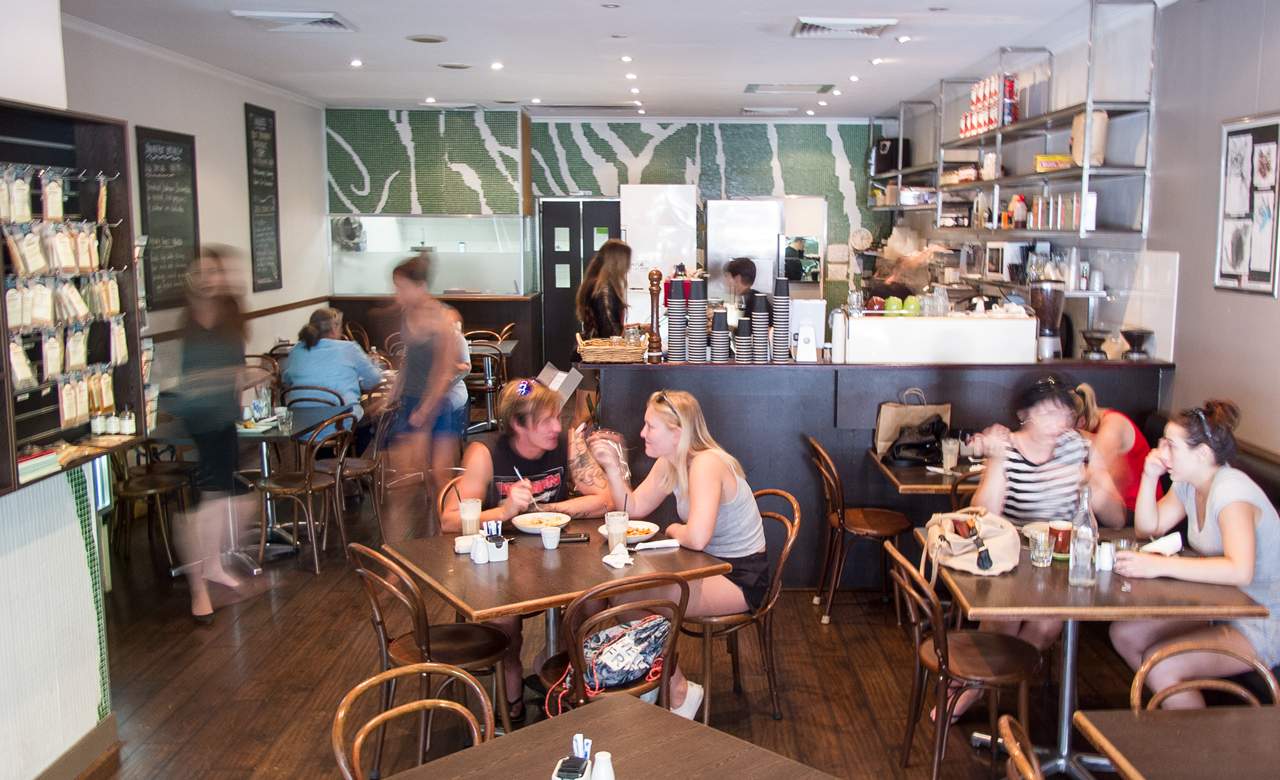 On the main drag, Green Zebra has been making housemade Italian food for 15 years. You can design your own dish by choosing from the pasta, sauce and ingredients menus. Do not stop yourself from ordering the lemon tart for dessert. On Townsend Street is The Proprietor, a friendly, pendant-lit, checkered-floored cafe, serving Padre coffee from Brunswick, and an all-day menu driven by local suppliers. Go for grilled haloumi and dukkah eggs with hummus, salty lemon, watercress and sourdough, or the mushroom toastie, with cheese spread, haloumi, garlic and green sauce.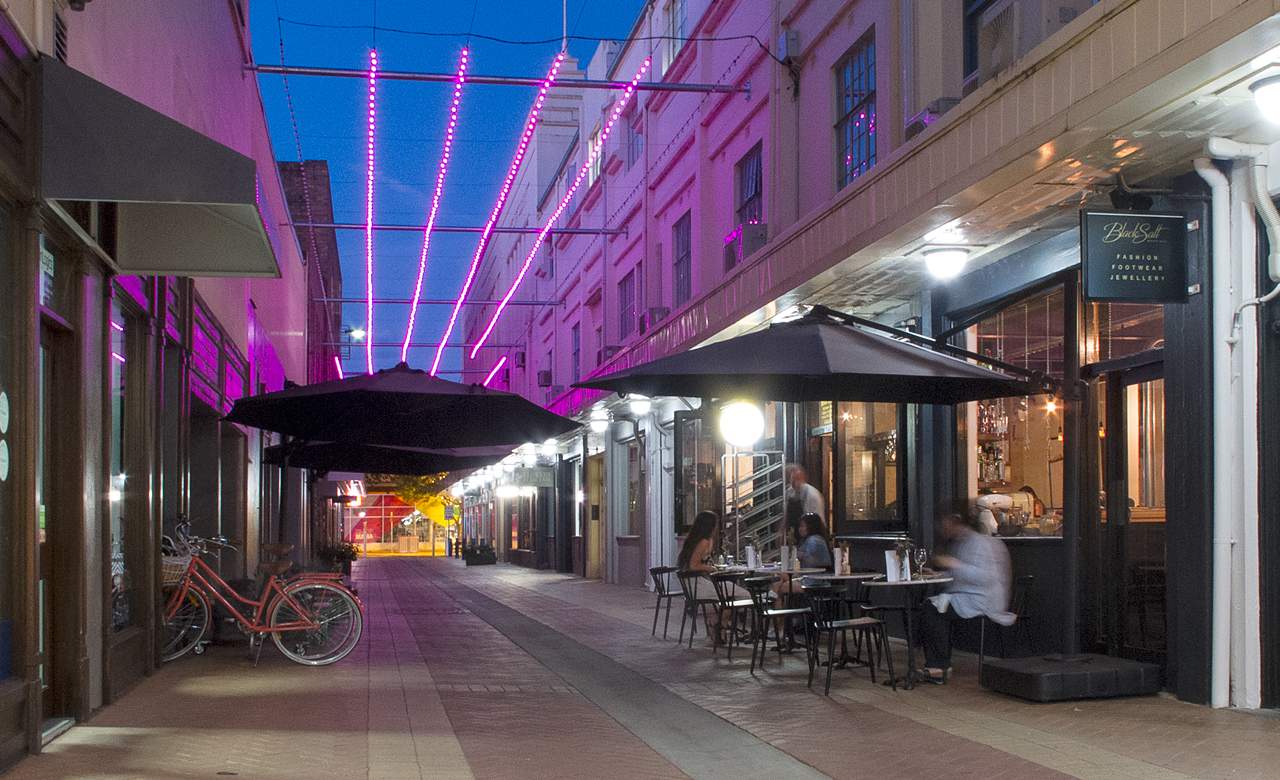 Another of Albury's outstanding new additions is Boom Boom. Tucked away in AMP Lane, this wine bar and eatery feels like a transplant directly from Melbourne. Owner Matthew Carrington has made sure that every element is on point — from the beautifully-curated, globe-spanning wine list to the impeccably-balanced cocktails to the in-house charcuterie and laidback soundtrack. The star share plate arrives crowded with wagyu bresaola, finocchiona-wrapped caperberries, pancetta, pickled grapes and oyster mushrooms. Unwilling to share? Go for a 'Big Thing', like the ling en papiotte with chilli, lemon, coriander and kipfler medallions, or the scotch fillet with potato rosti and tomato bourbon relish. You can relax in the laneway at a table for two, perch at the bar or take over a communal bench.
Another dinner option is the long-standing Border Wine Room. If wine bottles could speak, this place could tell a tale or two — the walls are dotted with empty Grange vessels. The a la carte menu changes monthly, while the six-course tasting menu is revamped fortnightly. Keep an eye out for special events — from French wine tastings to chocolate degustations.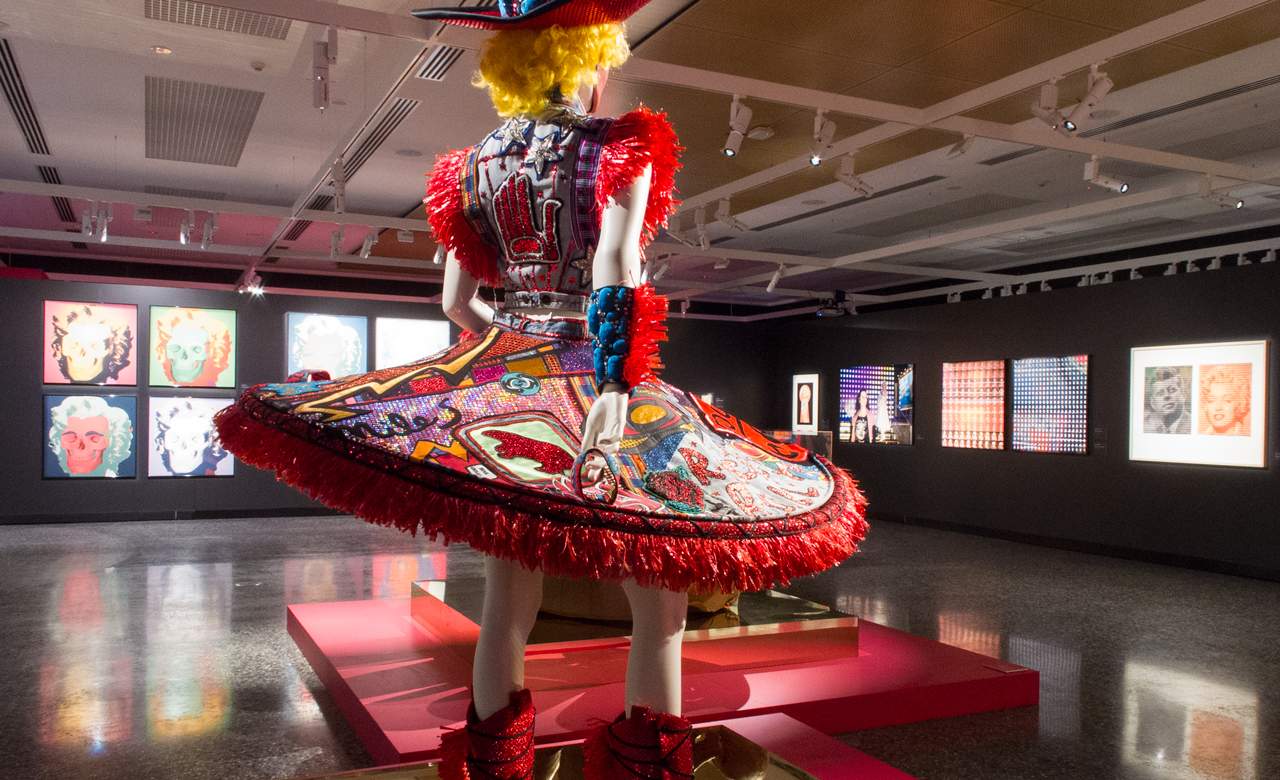 DO
In late 2015, after a $10.5 million makeover, the Albury Regional Gallery reopened as MAMA (Murray Art Museum Albury), with a 14-metre-high curved wall and a visionary director named Jacqui Hemsley, who's passionate about getting people excited and engaged. To that end, MAMA is currently hosting its first blockbuster: Marilyn: Celebrating an American Icon, showing till May 8. Live circus is coming up on April 22 and 23, and, on May 21, the MAMA Art Foundation National Photography Prize, worth $50,000, will move in.
The gallery also now has its own modern, casual eatery: Canvas. It's hidden away from the main street, overlooking a quiet, grassy square. Concertina windows allow natural light to stream into the high-ceilinged space, and the menu features luxurious twists on classics. Think coddled egg with truffled mushroom duxelle and brioche soldiers, and duck benedict with house-smoked duck ham, brioche, poached eggs, beurre noisette hollandaise and spinach. Canvas is open daily for brunch and lunch, and Wednesday-Saturday for dinner. Back alongside the Murray, you'll find the five-kilometreYindyamarra Sculpture Walk, stretching between Kremur Street and Wonga Wetlands. It's part of the Wagirra Trail, a work-in-progress that will ultimately consist of 70 kilometres of riverside shared paths. Every sculpture — from the giant-sized Maya Fish Trap by Uncle Tunny, Darren Wighton and Andom Rendell, to Reconciliation Shield by Tamara Murray — was created by local indigenous artists and is a response to the river. Whether you walk or cycle, take your mobile, to access augmented reality at each stop.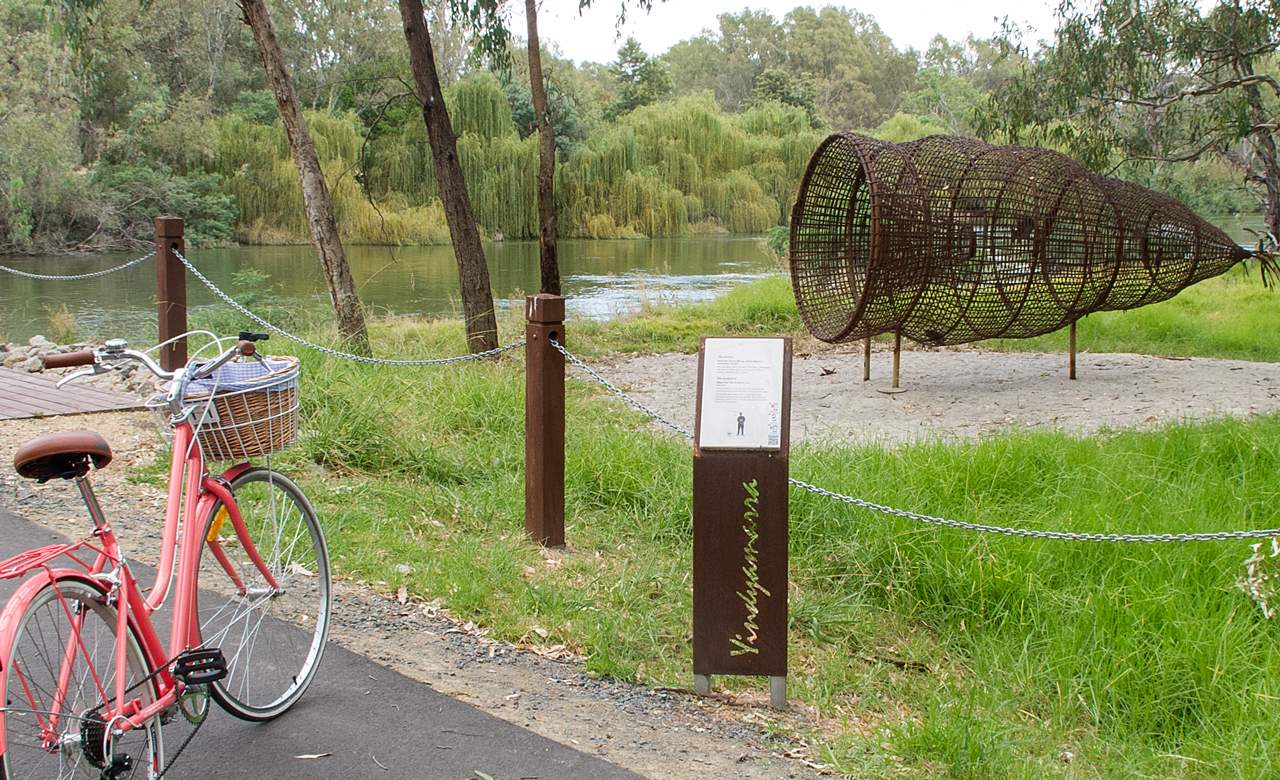 Despite Albury's sizeable population, wild places are easy to access. To get on the river, hire a canoe from Murray River Canoe Hire, who'll drop you eight or 12 kilometres upstream for an easy one-two hour paddle back to town. Prepare to meet cheeky flocks of white cockatoos, cormorants and white ibises — 350 bird species live along the Murray, which, at 2,700 kilometres, is the third longest navigable river in the world, after the Amazon and the Nile.
There's also some cracking mountain biking terrain. And, four years ago, elite biker Indi Boer, who's won 19 international and national titles, set up a coaching school named The Fastline Bikademy. If you're a beginner, sign up for a basic skills lesson and by the end of it, you'll be conquering scary dips and powering around corners. Experienced? She'll spend hours helping you to refine your skills, so you can take on tougher rides with more skill and strength.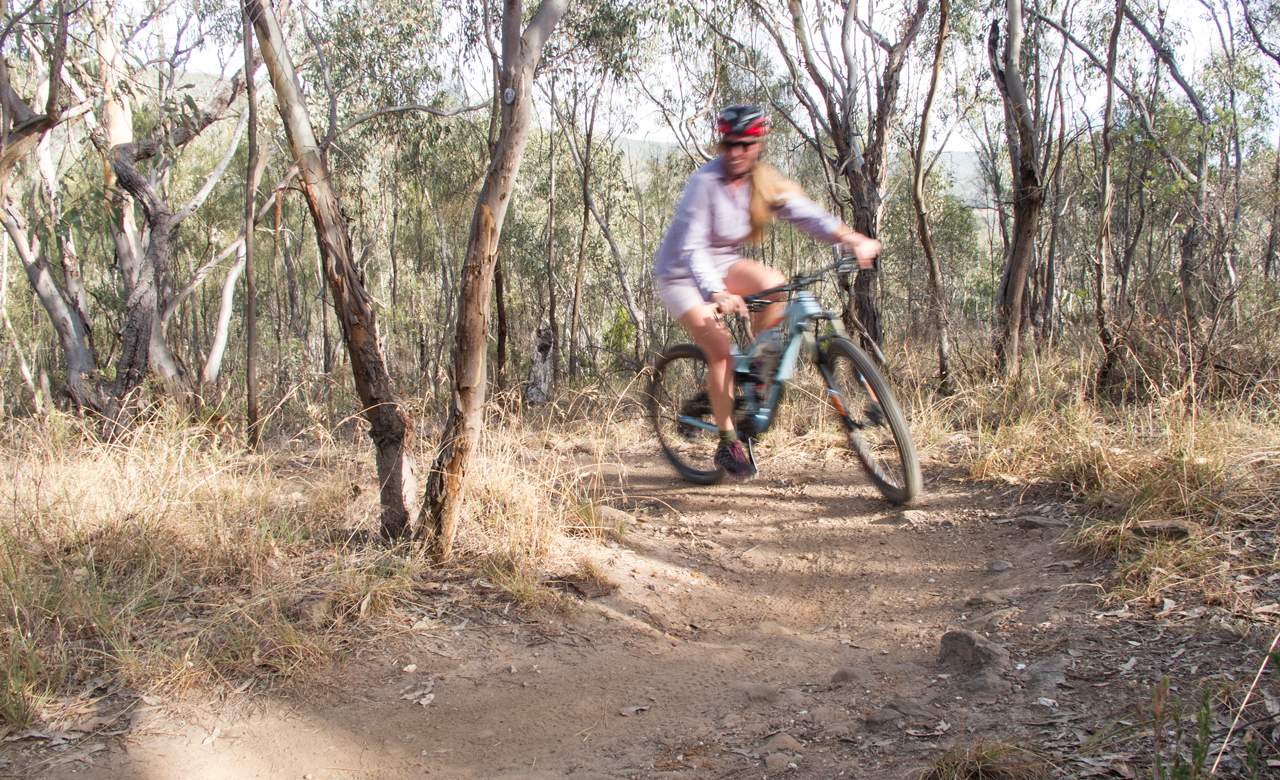 If you're looking for an excuse to head to Albury sooner rather than later, the annual Gold Cup is coming up on March 17 and 18. With more than 15,000 people expected to attend, it's the most popular country race in NSW — and an official public holiday for Albury residents. There'll be live music, craft beers and pop-up stalls peddling local produce.
LET'S DO THIS; GIVE ME THE DETAILS
By car: Albury is about six hours drive southwest of Sydney, and about three-and-a-half hours' drive northwest of Melbourne.
By train: The XPT takes seven-and-a-half hours to reach Albury from Sydney, and three hours and twenty minutes from Melbourne.
By plane: QANTAS, Virgin Australia and REX all fly the 80-minute route between Albury and Sydney. REX flies between Melbourne and Albury, taking about an hour.
Jasmine Crittenden travelled as a guest of Destination NSW. Images: Peter Saw (unless otherwise specified).
Introducing Concrete Playground Trips
Book unique getaways and adventures dreamed up by our editors