Regional Queensland's Man-Made Surf Lake Is Set to Expand and Open Its Waves to the Public
Whether you're a first-time surfer or a pro, you might be able to hang ten at Surf Lakes Yeppoon within 12–18 months — and eat, drink and glamp as well.
For a country that's girt by sea, as our national anthem reminds us, Australia has become rather obsessed with waves of the artificial kind in the past few years. Melbourne has its own Urbnsurf surf park, Sydney is set to score one this year, and the brand is looking to set up shop in Brisbane and Perth as well — while Melbourne also boasts a theme park with a wave pool, and other different man-made spots have also been earmarked for Sydney's north and the Gold Coast. Oh, and Kelly Slater is meant to be opening a surf ranch on the Sunshine Coast, too.
Indeed, "who needs real beaches?" seems to be the current line of thinking — and it's also behind Surf Lakes, a regional Queensland surf park that's been up and running for a few years, but only for testing. Now the operation has been given the go-ahead to develop its Yeppoon site by both the Queensland Government and the Livingston Shire Council, which puts it on-track to add facilities for the public. Yes, that means that within 12–18 months, it'll ideally be welcoming in anyone and everyone to live out their Point Break dreams beyond the ocean.
The Capricorn Coast venue was built as a prototype facility designed to give a new kind of technology a whirl, and uses a central mechanism that sends waves from the middle of its 200-metre by 150-metre lake towards the edge. With the water lapping over eight distinctive breaks, it produces more than 2000 surfable waves per hour, including some measuring more than two metres in height.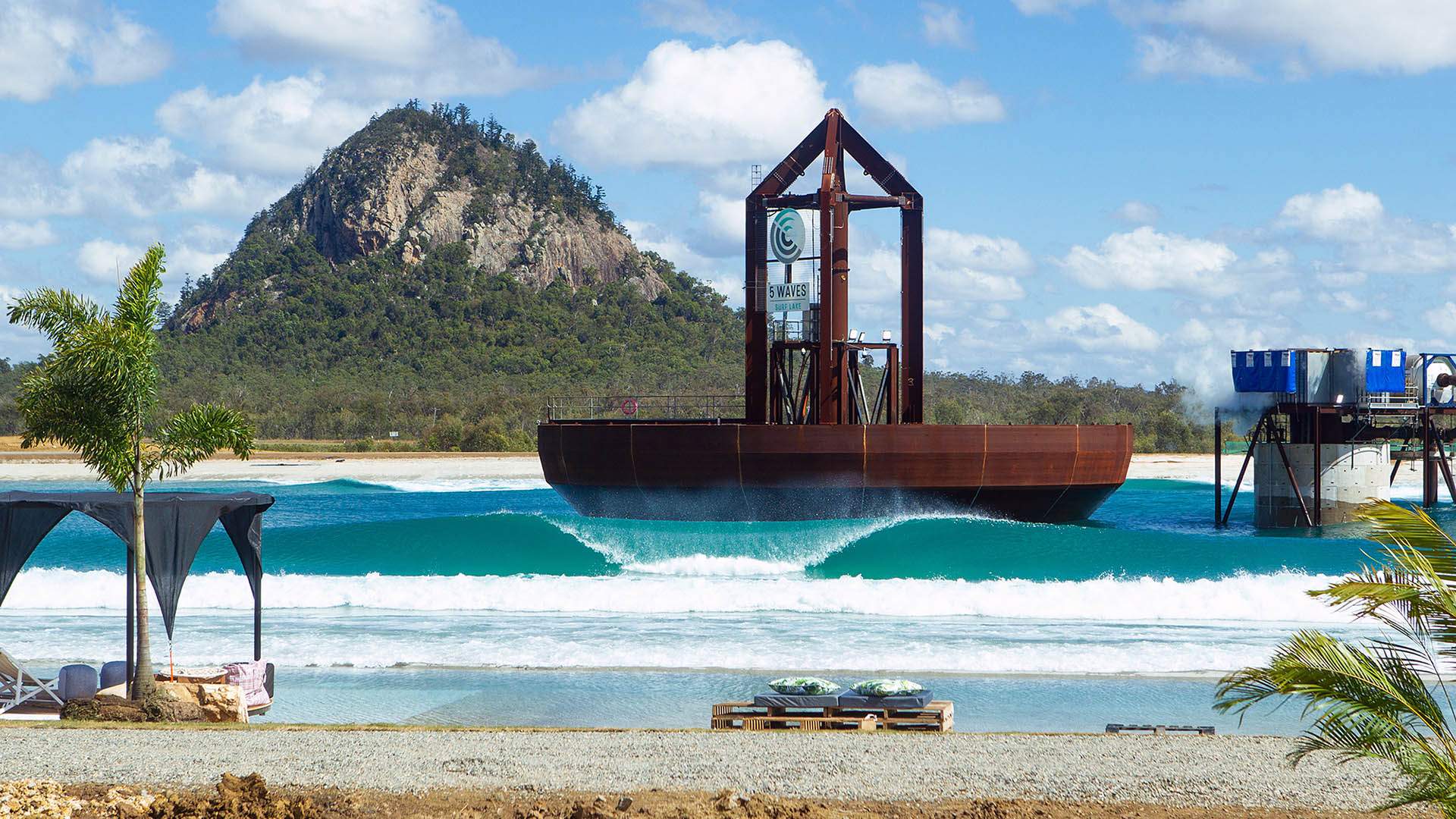 When it launched in Yeppoon, Surf Lakes also had some high-profile support, with Aussie surfers Mark Occhilupo and Barton Lynch the park's two ambassadors. But opening to the public was always floated as part of the venue's overall mission — and, depending on timing when it does open its doors to everyone, it might make it the first operational surf lake in the world.
Wannabe Johnny Utahs (because we all want to be Keanu, admit it) can expect a spot that'll cater for beginners and pros alike, covering folks who've never hopped on a board before — including via learn-to-surf lessons — plus those well-experienced at hanging ten. The site is also set to include shops, places to nab food and drinks, and other outdoor and fitness activities around the lake.
And, for those making the trip north for a holiday, there'll be glamping-style accommodation as well.
Announcing the news, Surf Lakes International Chief Executive Officer Aaron Trevis said "our long-term aim has always been to take our wave-making technology to the world, allowing people from all walks of life to be able to experience the joys of a surfing life in a safe environment. We hope the Yeppoon site can be one of, if not the first Surf Lake open to the public."
Surf Lakes is aiming to open its Yeppoon site at 662 Yeppoon Road, Mulara to the public within 12–18 months — we'll update you with further details when they're announced, and you can head to the company's website for more information in the interim.
Concrete Playground Trips
Book unique getaways and adventures dreamed up by our editors