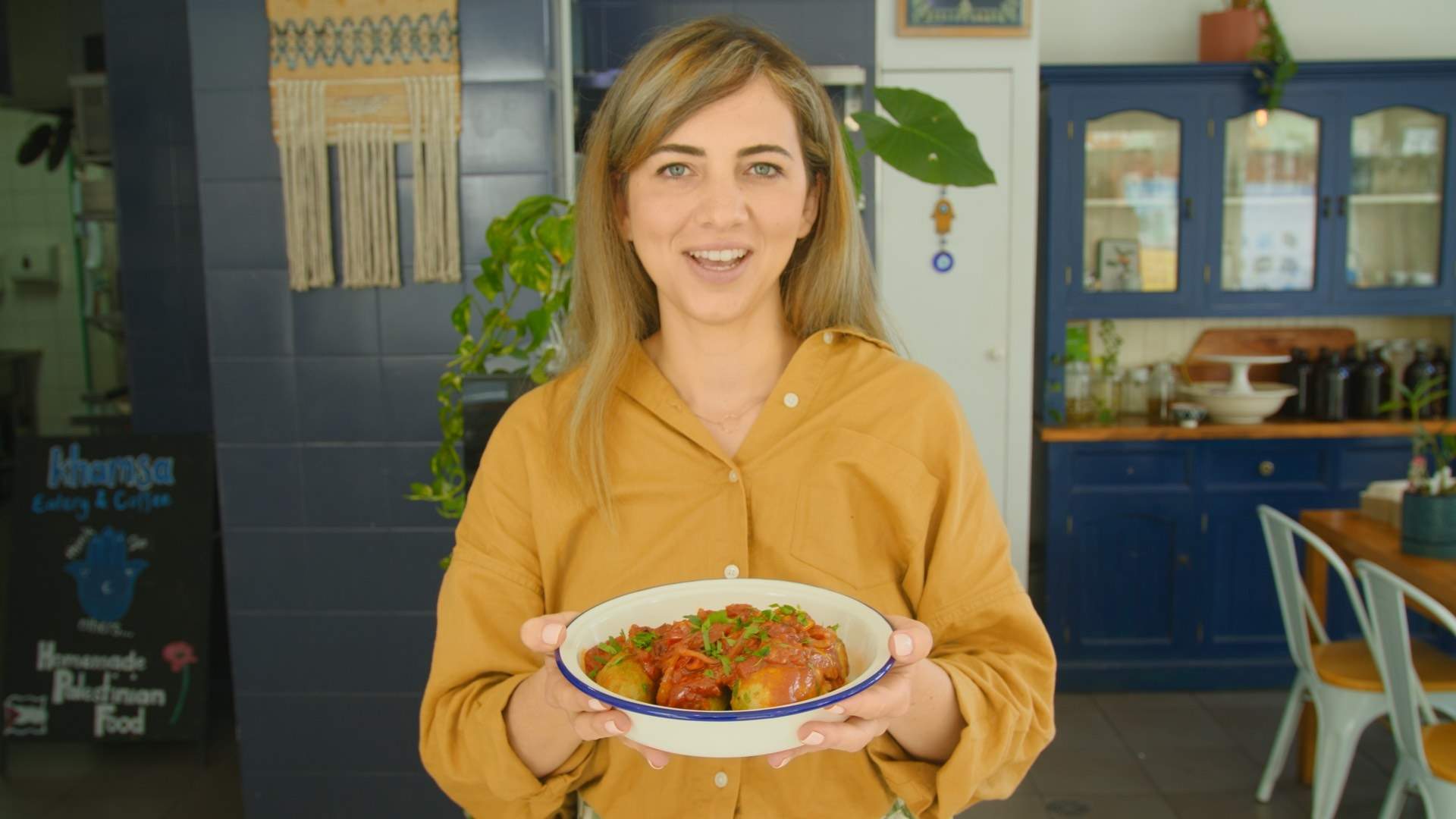 "
With Sarah Shaweesh of Newtown's Khamsa Cafe
How to Make Kousa Mahshi
A plant-based restaurant on King Street in Newtown might not seem all that revolutionary. The thoroughfare, after all, is dotted with a number of meat-free restaurants and cafes, not to mention vegan cheese shops, vegan patisseries, and even a vegan butcher.
But at Khamsa Cafe, an airy, light-filled corner cafe on the southern stretch of the street, chef and owner Sarah Shaweesh (pictured below) is staking an unassuming, yet determined, claim for change.
At Khamsa, Shaweesh plates up beautiful, progressive Palestinian dishes — that just happen to be entirely free of animal products.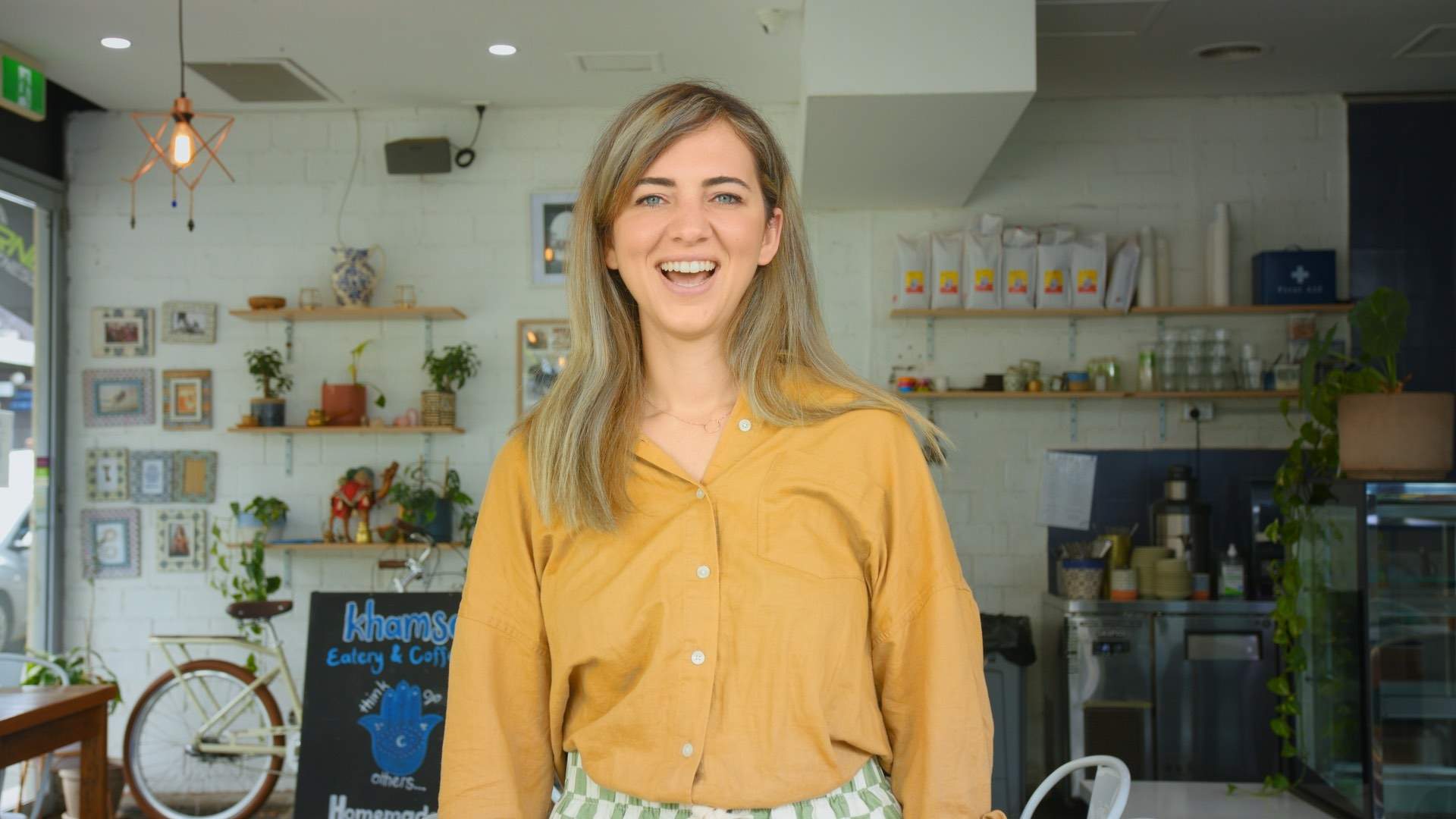 Middle Eastern cuisine isn't necessarily associated with huge amounts of meat, however Shaweesh has made it her mission to veganise classic regional dishes that are usually made with animal products.
She admits that when she first opened her doors a couple of years ago, there was a struggle to get her compatriots to understand what she was doing, given that most of the dishes on her menu would typically contain meat in them. She stuck to her guns, though, and Sydney's dining landscape is all the richer for it.
We've teamed up with Vegkit to ask Shaweesh how to make a plant-based version of kousa mahshi, a traditional stuffed zucchini in a rich tomato sauce. It's traditionally made with ground beef, but after one bite of Sarah's you won't feel like you're missing a thing.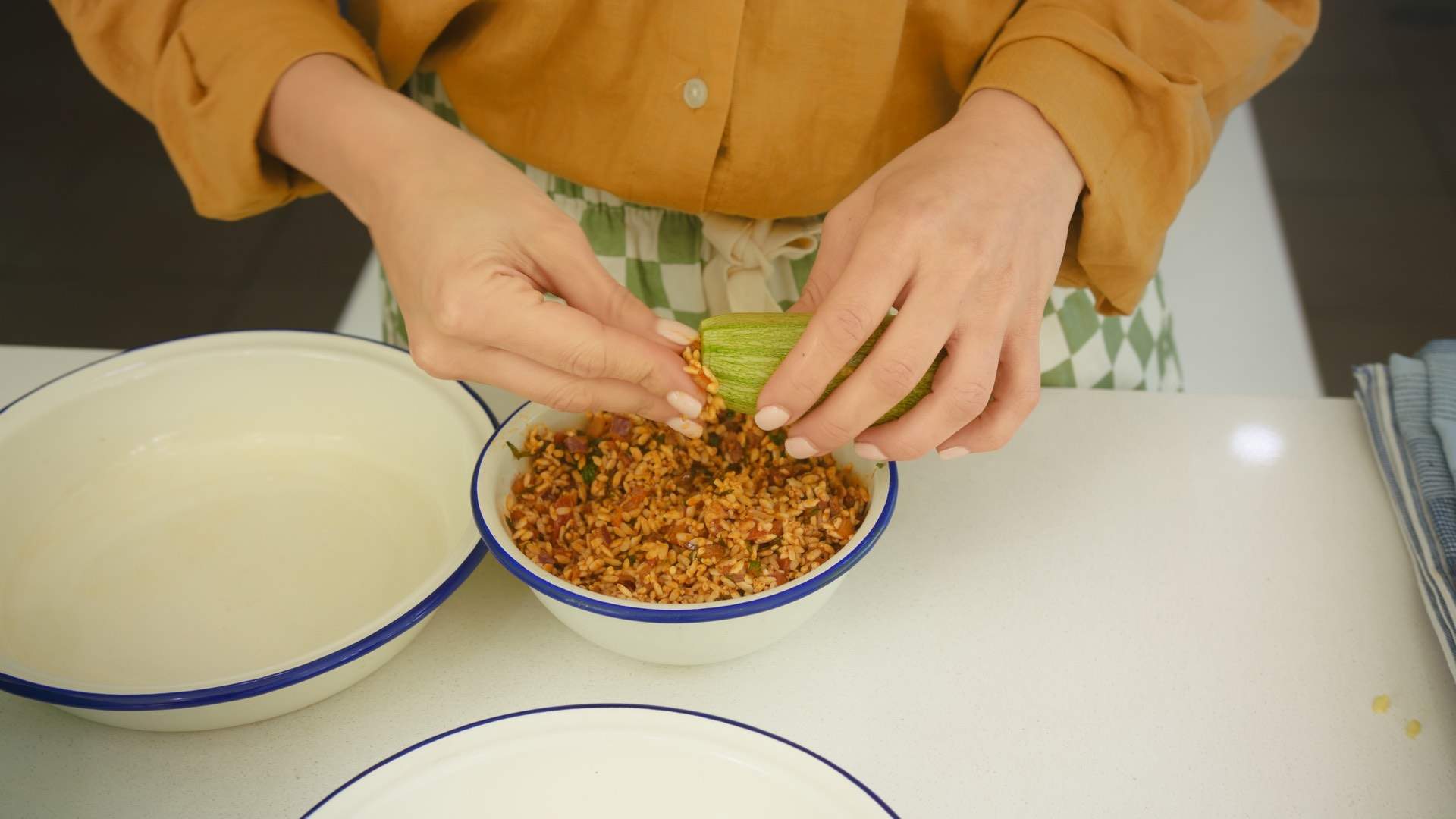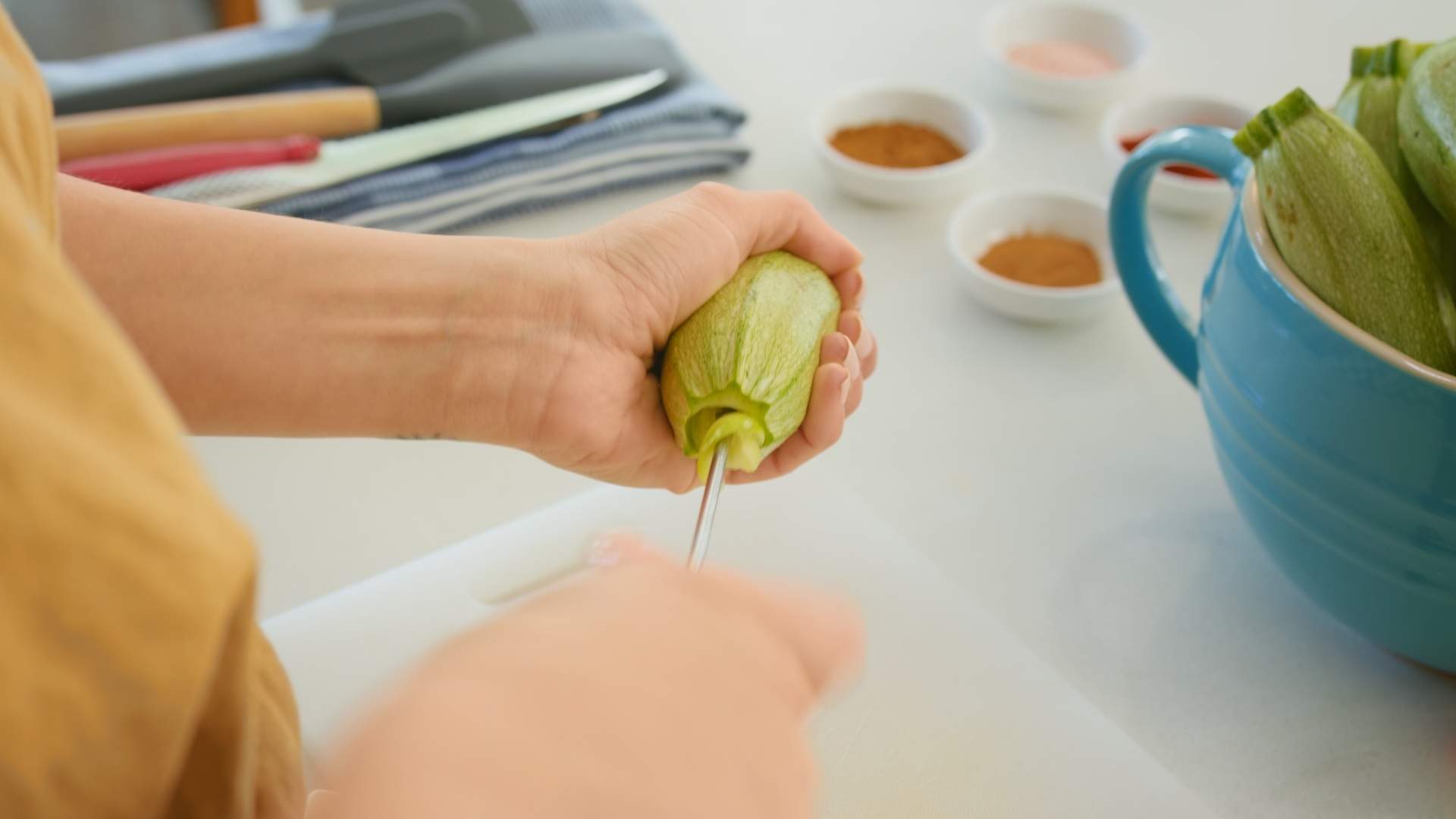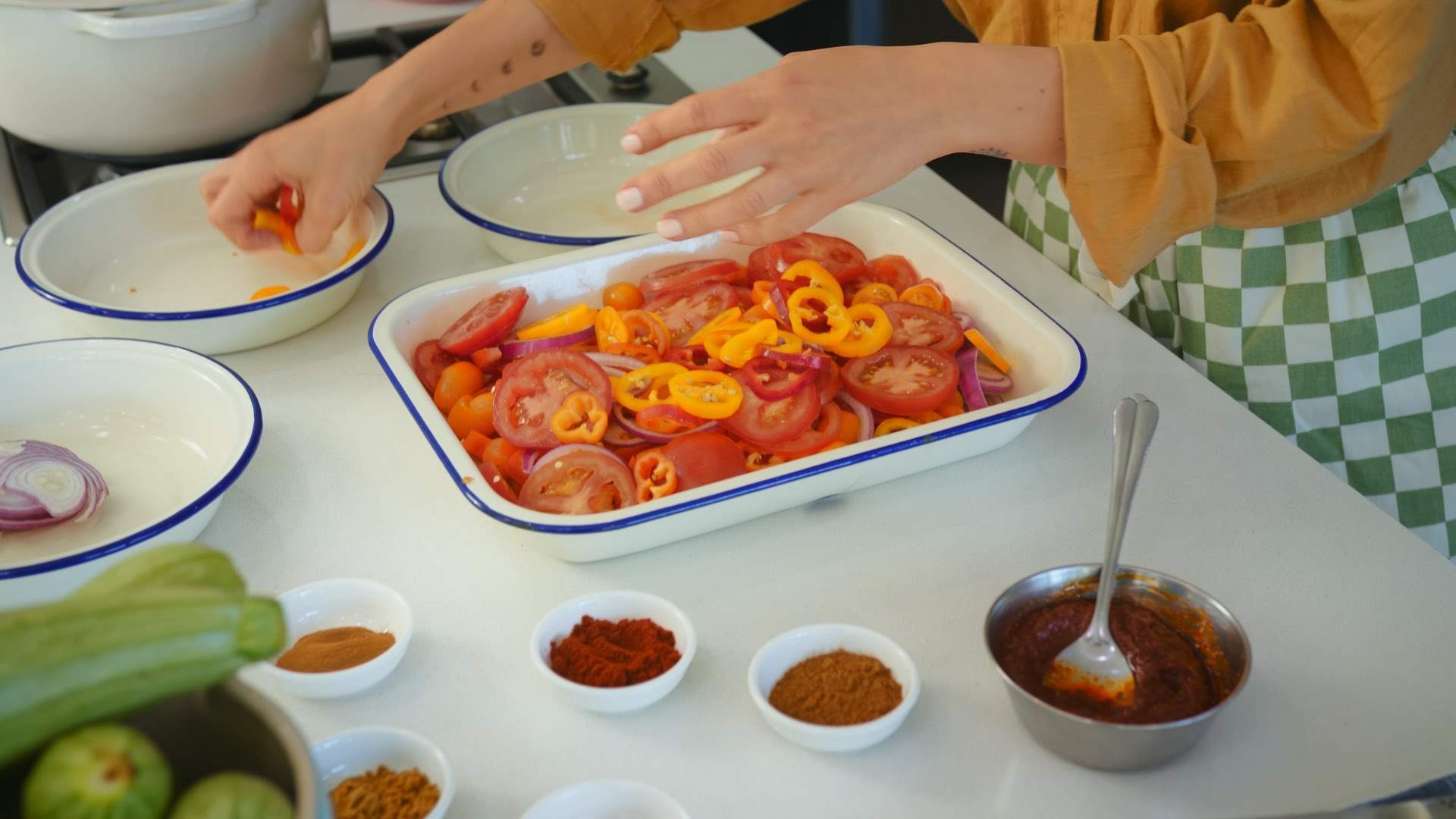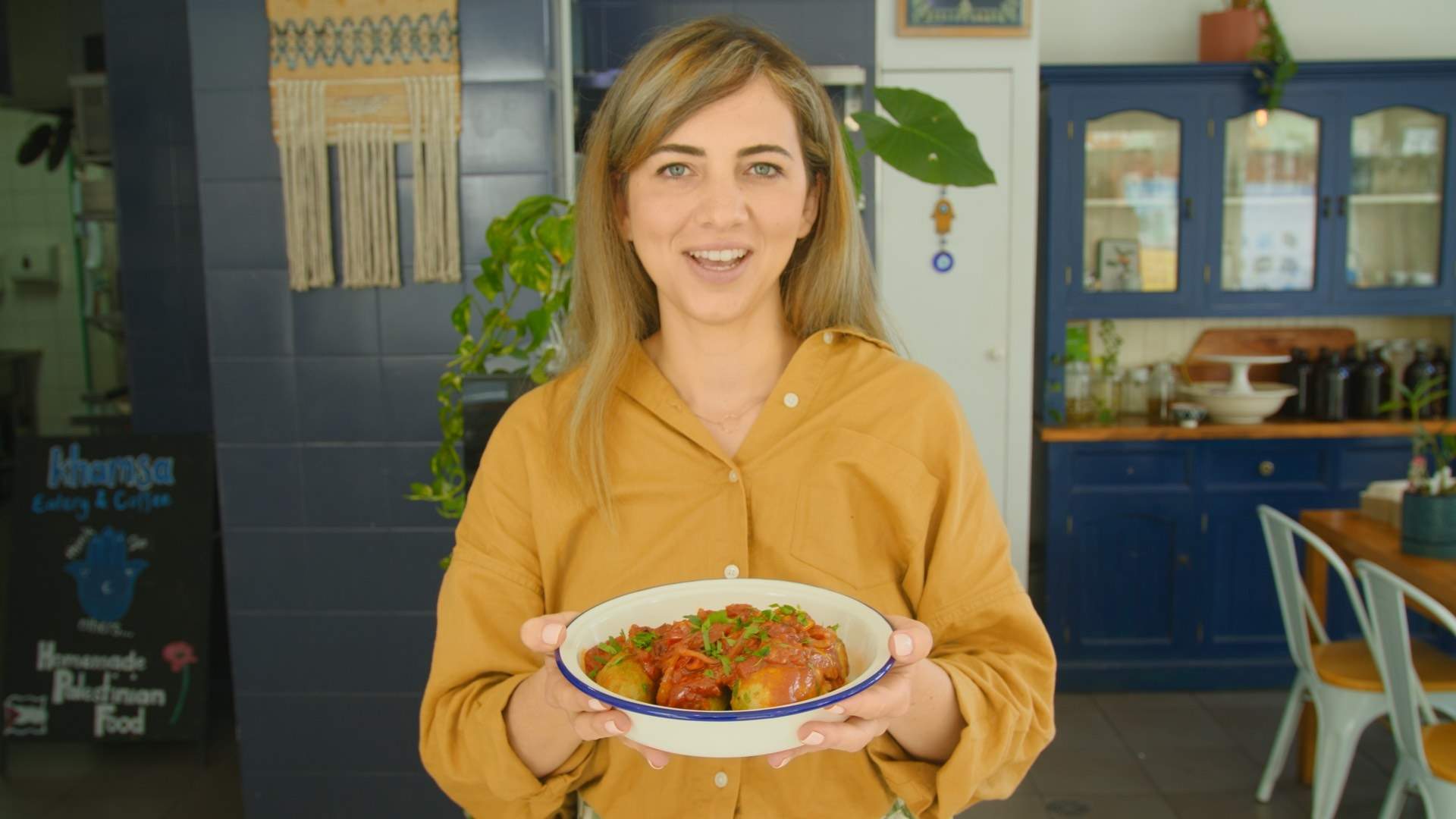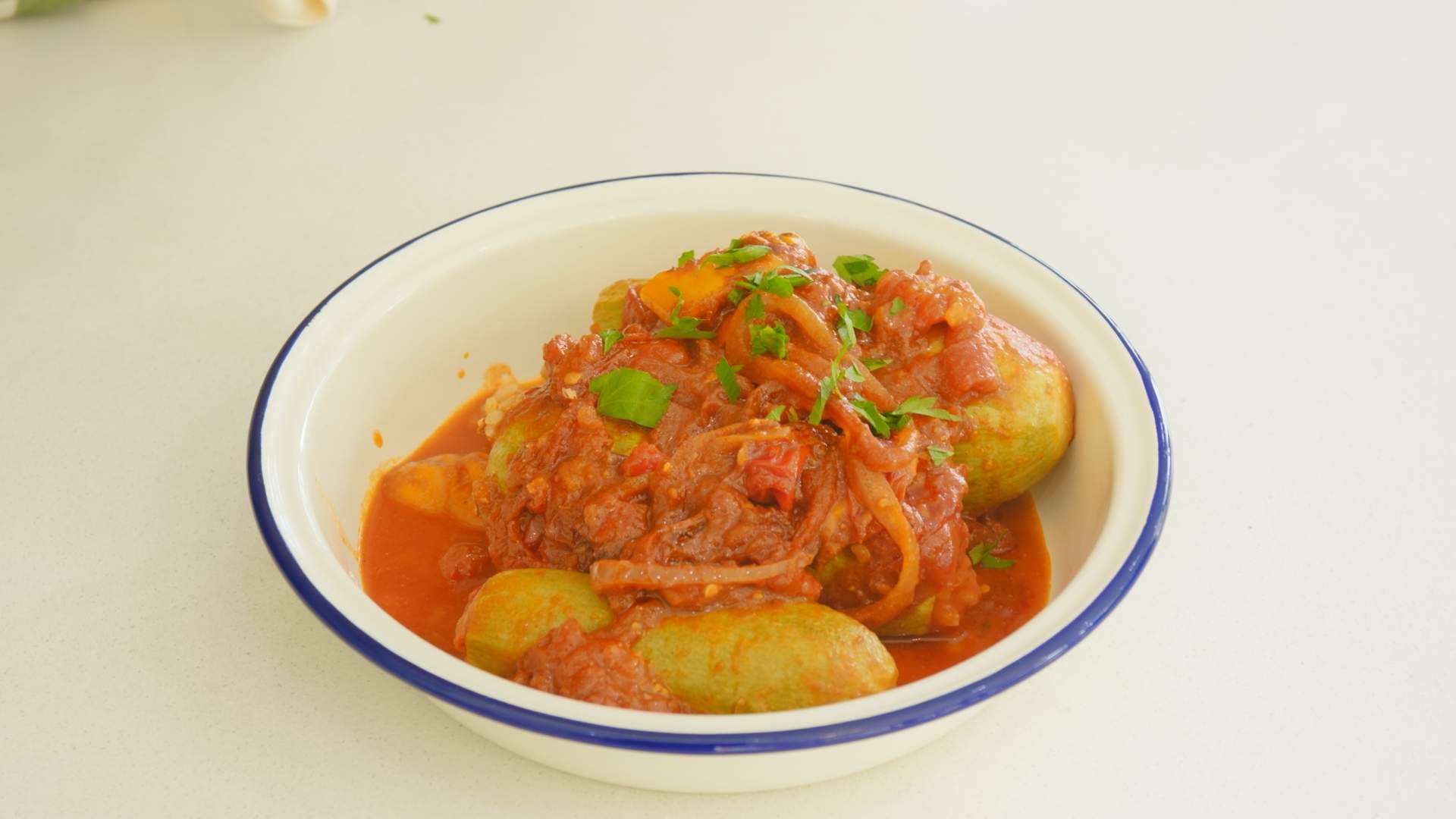 "
Stuffed Zucchini in a Rich Tomato Sauce
Kousa Mahshi
While this dish might have 'comfort dish' written all over it, its fresh and vibrant flavours make it a winner all year round. It'll take a bit of time to prep, sure, but the result — a multi-layered, flavour-packed and genuinely wholesome dish — will make your efforts more than worth it.
KOUSA
MAHSHI
Serves: 4–6
INGREDIENTS
ZUCCHINI FILLING
Three-quarters of a cup of fresh parsley, finely chopped
Quarter of a cup of fresh mint, finely chopped
1 red onion, finely diced
2 tomatoes, finely diced
2 cups of rice soaked in water for at least 30 minutes, then drained
1tsp paprika
1tbsp mixed spice
1tsp salt
2tsp olive oil
12 medium Lebanese zucchinis
TOMATO BROTH (in which to cook the zucchinis once they're stuffed)
6 ripe tomatoes
1 long red chilli
3 cloves of garlic
1 yellow capsicum with the core removed
2 cups of water
4tbsp tomato paste
1tsp paprika
1tsp cumin
Quarter of a teaspoon of cinnamon
Half a teaspoon of salt
1tsp mixed spice
Quarter of a cup of fresh lemon juice
2tbsp pomegranate molasses
RICH TOMATO SAUCE (for serving with the zucchinis once cooked)
6 large ripe tomatoes, sliced
1 punnet of golden yellow cherry tomatoes
1 Spanish onion, sliced into rounds
3 cloves of garlic, crushed
1 punnet of baby capsicums
3tbsp tomato paste
Half a teaspoon of salt
1tsp paprika
1tsp cumin
Quarter of a teaspoon of cinnamon
4tbsp olive oil
METHOD
Place the strained rice and all the ingredients for the filling, including the spices and a couple of teaspoons of olive oil, into a bowl.
Next, cut off the ends of the zucchini and carefully core the flesh out with a corer (Shaweesh recommends this one). To do this, place the corer at the bottom end of the zucchini, holding it from the bottom to feel where the tool is sitting, and gently twist up through the shaft without puncturing the veggie. Ensure that you take out as much of the flesh of the zucchini as possible.
One the zucchinis are cored, stuff them with the rice filling, making sure they're firmly packed. Leave around five-millimetres at the top to allow the rice to expand, and carefully place your stuffed zucchinis around a pot securely.
Prepare the broth next. To do this, blend all the ingredients — except the lemon juice and the pomegranate molasses — together. Pour the broth onto the zucchinis — you may need to add some water to ensure that the zucchinis are fully submerged, depending on the size of your pot. Bring the broth to a boil, then turn down the heat and place the lid on the pot. Check the pot every few minutes and, when the broth thickens, add the lemon juice and the pomegranate molasses. Put the lid back on and leave them on the stove until the rice has cooked well. When it has, turn off the stove and let the zucchinis rest in the pot.
While the zucchini is on the stove, prepare the tomato sauce. First, place all ingredients for the tomato sauce into a baking dish, massaging the oil, spices and salt onto the vegetables. Then, place them into the oven at 180 degrees for around 30-45 minutes, or until they are cooked and tender.
To serve, put two or three stuffed zucchinis onto a plate. Generously spoon the rich tomato sauce on top of the zucchinis, or on the side.
For more plant-based dining and recipe inspo, head to the Vegkit website.