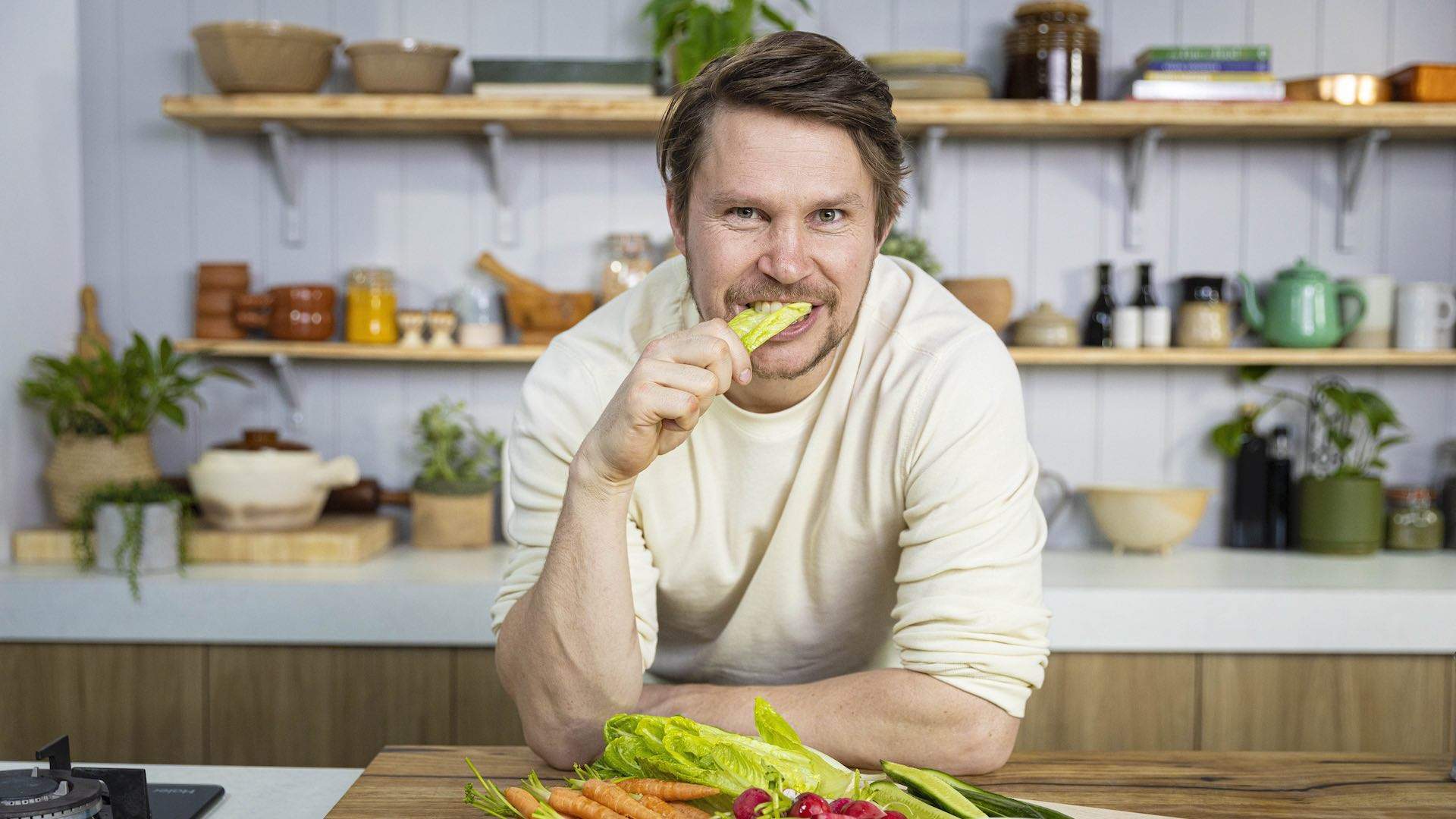 "
From MasterChef Australia's Simon Toohey
Three Easy (And Delicious) Plant-Based Breakfasts to Try
The MasterChef Australia alum shares three excellent ways you can start your day.
Even if you're not of the belief that it's the best meal of the day (you'd be wrong, by the way), breakfast is without doubt the most important. After all, a good breakfast can set you up for the day ahead — a good one keeps you fuelled at least all morning long, but a rushed (or, worse, a forgotten) brekkie could be all you need to throw you off your game.
Looking to mix up your morning routine? We've teamed up with Vegkit to ask MasterChef Australia alum Simon Toohey to share his three go-to breakfast plates. They're delicious, easy to put together and free of animal products — because is there a better way to start the day than by doing a good thing for the planet?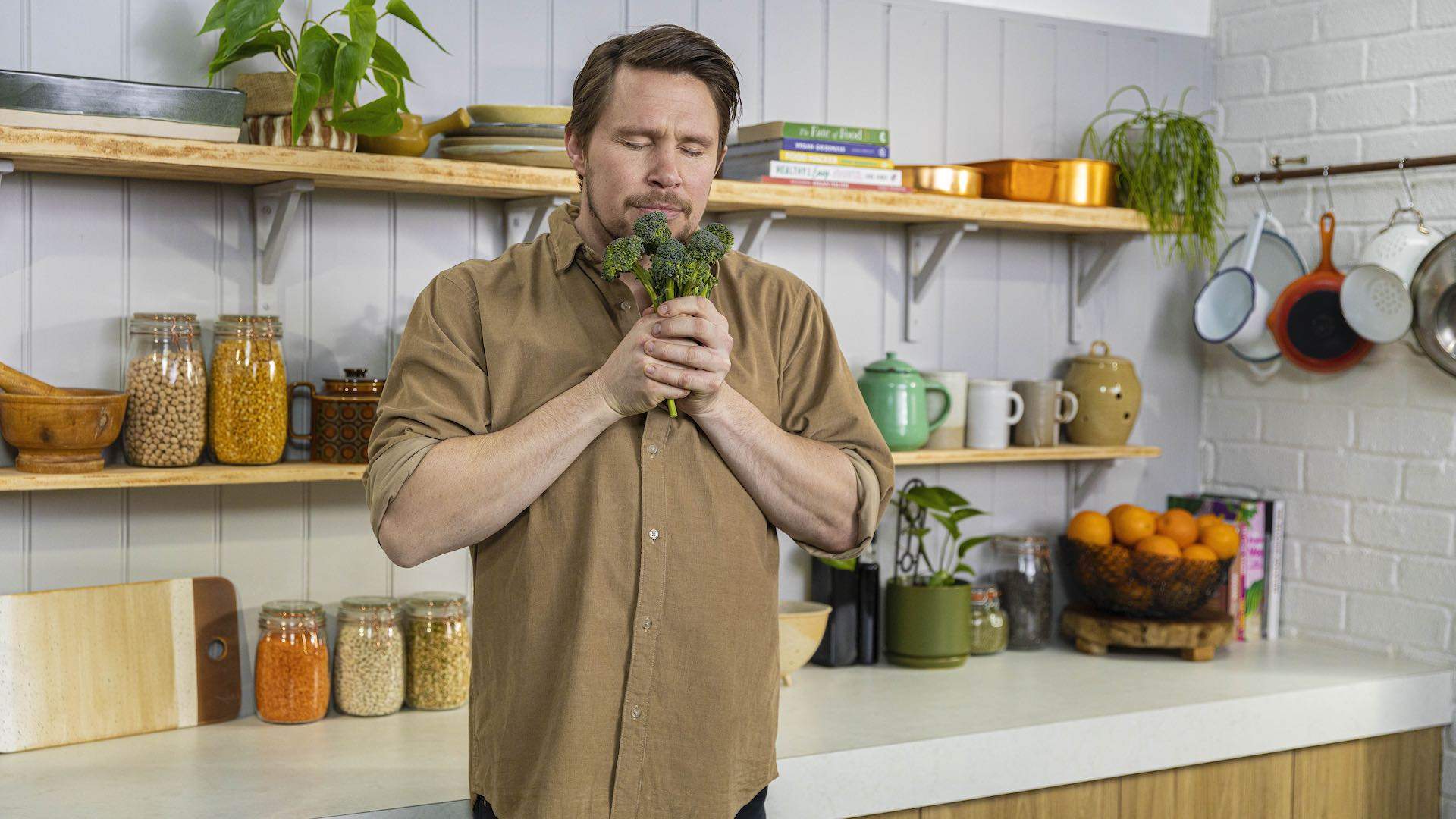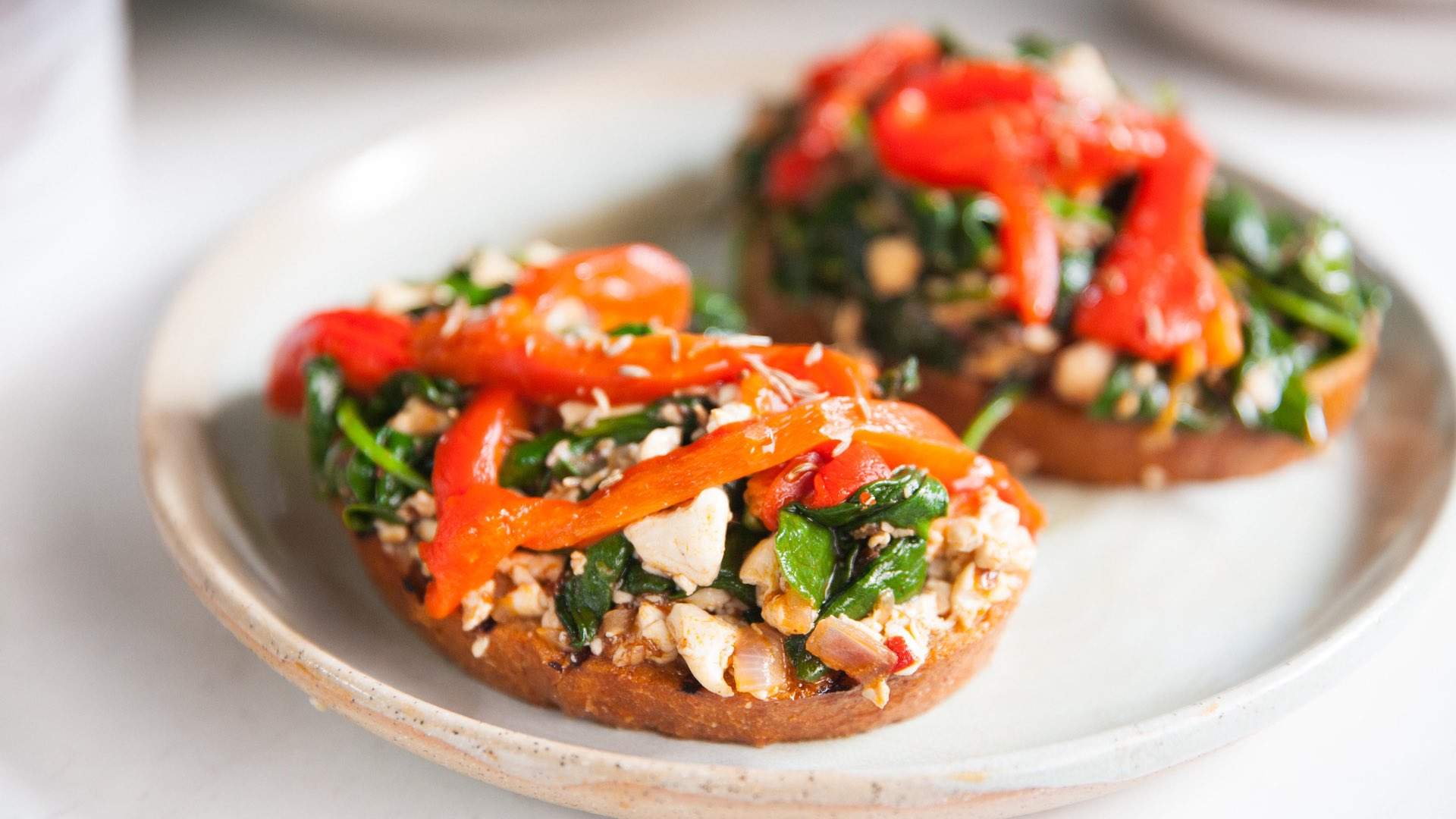 "
Rose Harissa Scramble
ROSE HARISSA SCRAMBLE WITH BABY SPINACH
Love a scramble to start the day? Trade out the eggs for tofu. It's not only better for the planet, but tofu is loaded with good things — it's cholesterol free, low in calories and high in protein, while also being rich in calcium and manganese. Another bonus: if you make too much, you can store tofu scramble in an airtight container for up to a week after you make it, making this a great option for brekkie meal prep.
"Scrambled eggs in the morning are a classic, and there is little to compare — until this epic tofu scramble came to the table," says Toohey. "It is seriously delicious and you will never miss scrambled eggs again. You can add whatever spices and flavours you like, there is no stopping you. This recipe is just a guide, so go forth and create my little kitchen wizards!"
INGREDIENTS
300g silken tofu
10ml vegetable oil
Half a red onion, diced
1tsp whole cumin seeds
1tbsp Josh & Sue rose harissa paste
1 roasted red pepper (from jar)
1 handful of chives
15ml extra virgin olive oil
Salt and pepper, to taste
2 slices of sourdough
Lauds cultured oat butter
1 clove of garlic
METHOD
Toast the sourdough bread. In the meantime, place a frying pan on medium-high heat and add the vegetable oil. Add the onion, and fry until it's caramelised. Next, add the cumin seeds and fry these off for about 20 seconds before adding the rose harissa paste. Warm it through briefly, then add the tofu, smashing and mixing it until it becomes like a scramble.
When the toast is done, oat butter it, rub it with garlic and add the tofu scramble. Top with slices of red pepper, chives and olive oil before serving.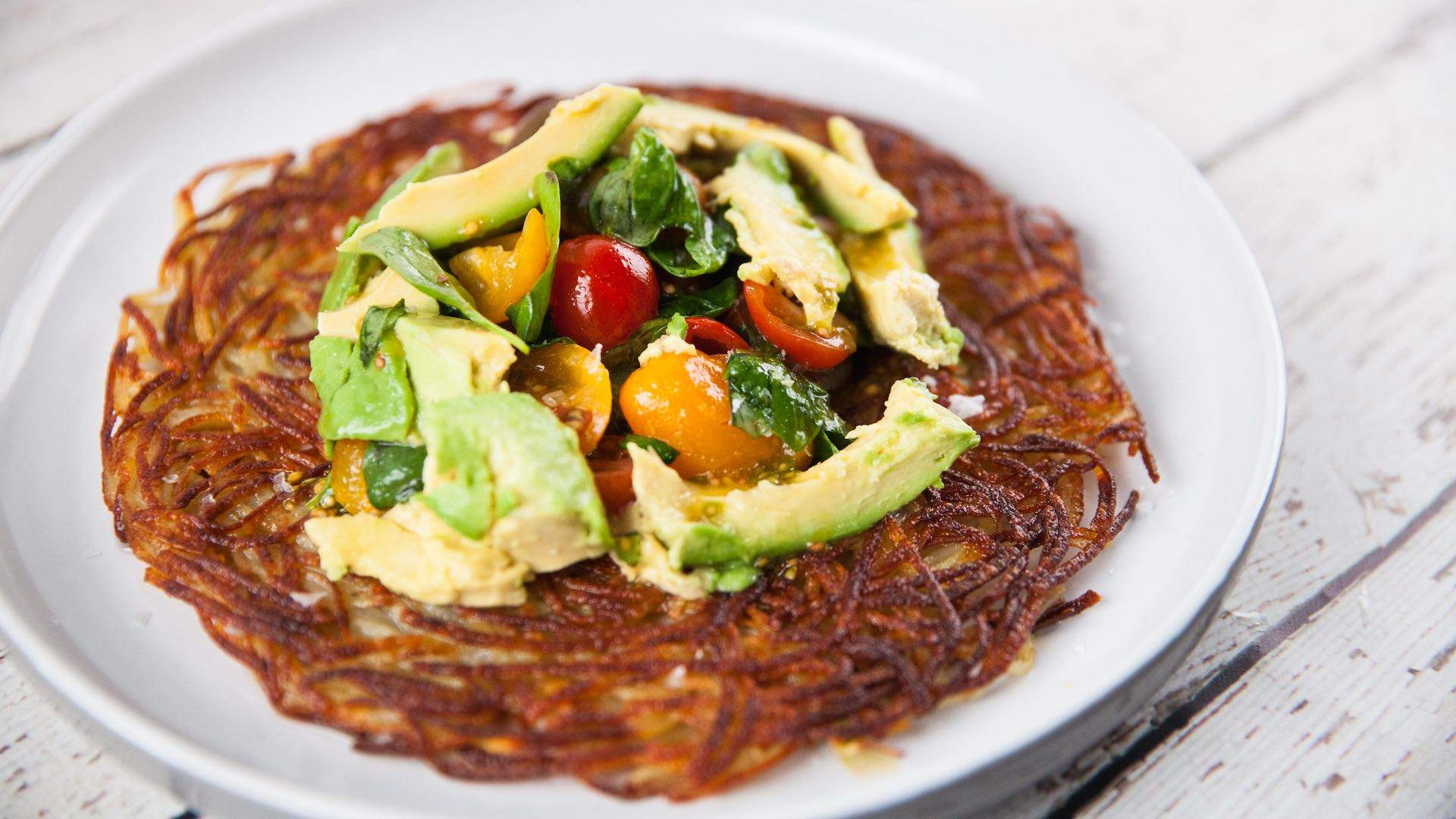 "
Potato Rosti
POTATO ROSTI WITH AVOCADO, TOMATO SALAD AND MISO MAYO
"Breakfast with friends and family on weekends always calls for something a little more fun," says Toohey. "Pancakes are always a classic go-to, but for me, making pancakes means I have to stand in front of the stove for ages, ladling in the batter, swirling, watching, flipping, scooping onto a plate and repeating this as many times as you can until everyone is full."
Flip the script — and not endless pancakes — with this easy, flavour-packed rosti. "One of the great things about this breakfast or brunch rosti is you put a grated potato or 2 in a pan, fry it, flip it, top it and cut it into pizza wedges for your guests. It's super easy and so much less hassle."
INGREDIENTS
2 Dutch cream potatoes
30ml olive oil
1 avocado
100ml aquafaba
1tbsp miso paste
Juice of half a lemon
2tbsp agave
250ml vegetable oil
100g cherry tomatoes (different colours if possible)
20g toasted hazelnuts
Salt and pepper, to taste
METHOD
Grate the potatoes (with a cheese grater) into a bowl, then salt liberally and let this sit for five minutes. In the meantime, cut the avo in half and gently scoop it out of its skin, without piercing the skin. Slice the avo into bite-sized portions as desired.
Next, make the mayo. Add the aquafaba, lemon juice, salt and pepper into a food processor and blitz. Add the miso when the colour starts to change a little and slowly pour in the vegetable oil. It might not look like anything is happening, but it comes together quite suddenly and just like that, you've got mayo. Once it's done, set aside.
Back to the grated potatoes. Squeeze out as much of the liquid as you can from this into another bowl — this can be used as fertiliser in the garden. Make a patty out of the potato before pouring the olive oil into a non-stick pan on a medium-high heat. Add the rosti and cook it until it becomes crispy. Flip it, and cook it again on the other side until it turns brown and crispy.
While the rosti is cooking, prepare the tomato salad by simply cutting the cherry tomatoes in half. When the cooking is done, slide the rosti on to a plate, top with the avo, tomatoes, miso mayo and hazelnuts before serving.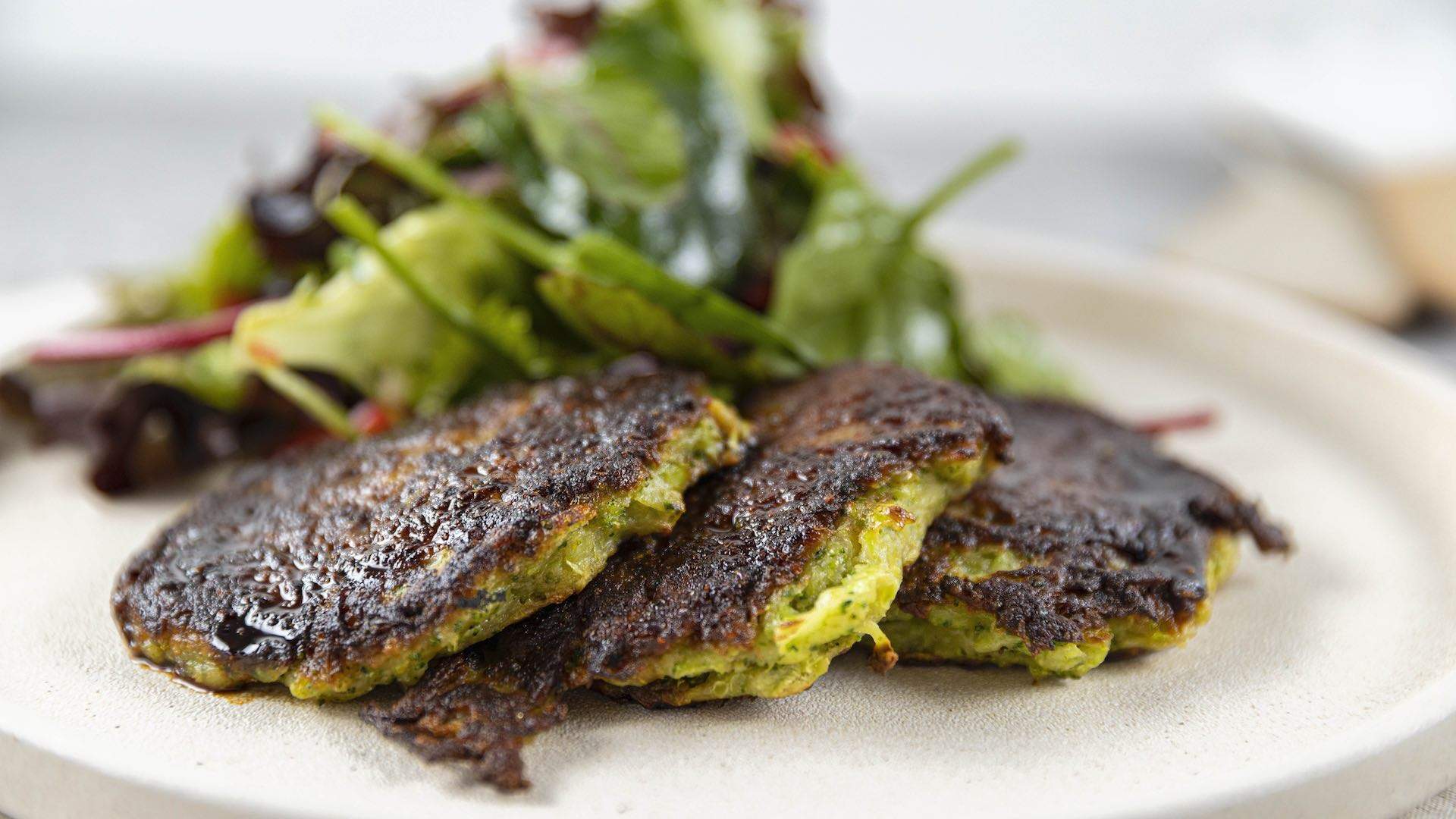 "
Broccoli and Miso Fritters
BROCCOLI AND MISO FRITTERS WITH SWEET AND SPICY GLAZE
Toohey calls this his "go-to breakfast dish", and it's not hard to see why. "It's colourful, great for you, something different and packs a lot of flavour. Fritters are something I always order out as I love them that much — now, though, I save my coin and just make them at home."
This version comes with an umami-laden sweet and spicy glaze that enhances the natural flavours of the veggies, while a punchy side salad is more than just an afterthought.
While this recipe will easily yield three to four fritters, feel free to add your own twist depending on what you've got on hand. "These are a great way to use up all those veggies in the fridge," says Toohey.
INGREDIENTS
1 head of broccoli
2tbsp miso
Half a cup of oat milk
Three-quarters of a cup of self-raising flour
30ml grapeseed oil
Salt and pepper, to taste
GLAZE
4tbsp soy sauce
2tbsp brown sugar
1tbsp chilli powder
1tbsp sake
SIDE SALAD
1 bunch mixed leaves
1 red chilli
1 bunch coriander leaves
1 bunch mint
20g roasted peanuts
Juice and zest of half a lime
20ml olive oil
METHOD
In a bowl, mix the miso and oat milk until the miso has dissolved. With a box grater, grate the broccoli — including the stem — place in the bowl with the milk, dust in the flour and season with the salt and pepper.
Next, prepare the glaze. To make this, mix all the ingredients in a bowl until the sugar has dissolved.
Now it's time to make your fritters. Add the oil into a non-stick fry pan on medium heat, then spoon in the batter and let it fry. Turn the fritter once it's set, and, once turned, paint the cooked side with the glaze. Turn it again and glaze, and keep turning it every minute or so, glazing each time, until the fritter is cooked through.
To prepare the salad, chop all the ingredients and mix them in a bowl before serving on the side of the fritters.
For more plant-based dining and recipe inspo, head to the Vegkit website.