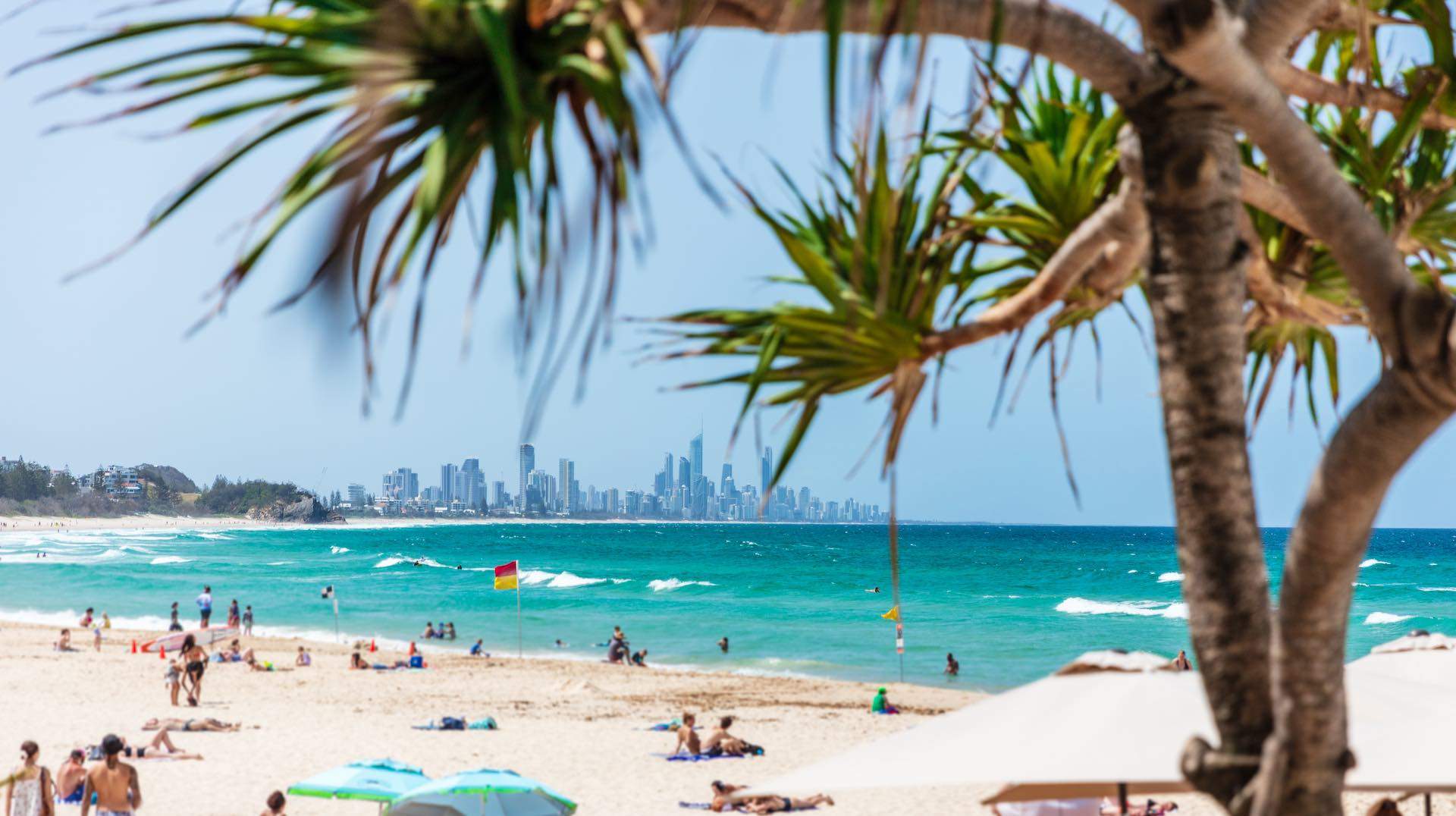 Warhol, Live Music and Poolside Lounging:
The Ultimate Guide to an Arty Weekend on the Gold Coast
Looking for a beachside break? Down for a party? Or, something more arty? There are plenty of ways to enjoy the Gold Coast.
Have you heard? It's all happening on the Gold Coast. There's some of the most exciting restaurants and bars in the state, big-name festivals and cultural events, luxury seaside getaways, poolside tropical cocktail culture — and an arts scene that's bursting with life. There's new galleries, huge cultural events, visiting exhibitions and lots of local opportunities for local makers to share their art and for us all to have a go at flexing our creative muscles.
This year, there are international exhibitions setting up their Aussie base exclusively on the Goldie, more emerging artist showcases, festivals at performing arts spaces and everything any artistically inclined individual needs to be intrigued and delighted.
So, whether you want to catch renowned pieces of work, discover new creators, relish the feeling of being in a crowd at a live performance or just gain a fresh, unique perspective on the arty world, the Gold Coast has you covered. Together with HOTA, the home of Pop Masters: Art from the Mugrabi Collection, New York, we've curated a list all the top spots for an arty weekend — plus some exquisitely aesthetic spots for you to lounge by a pool.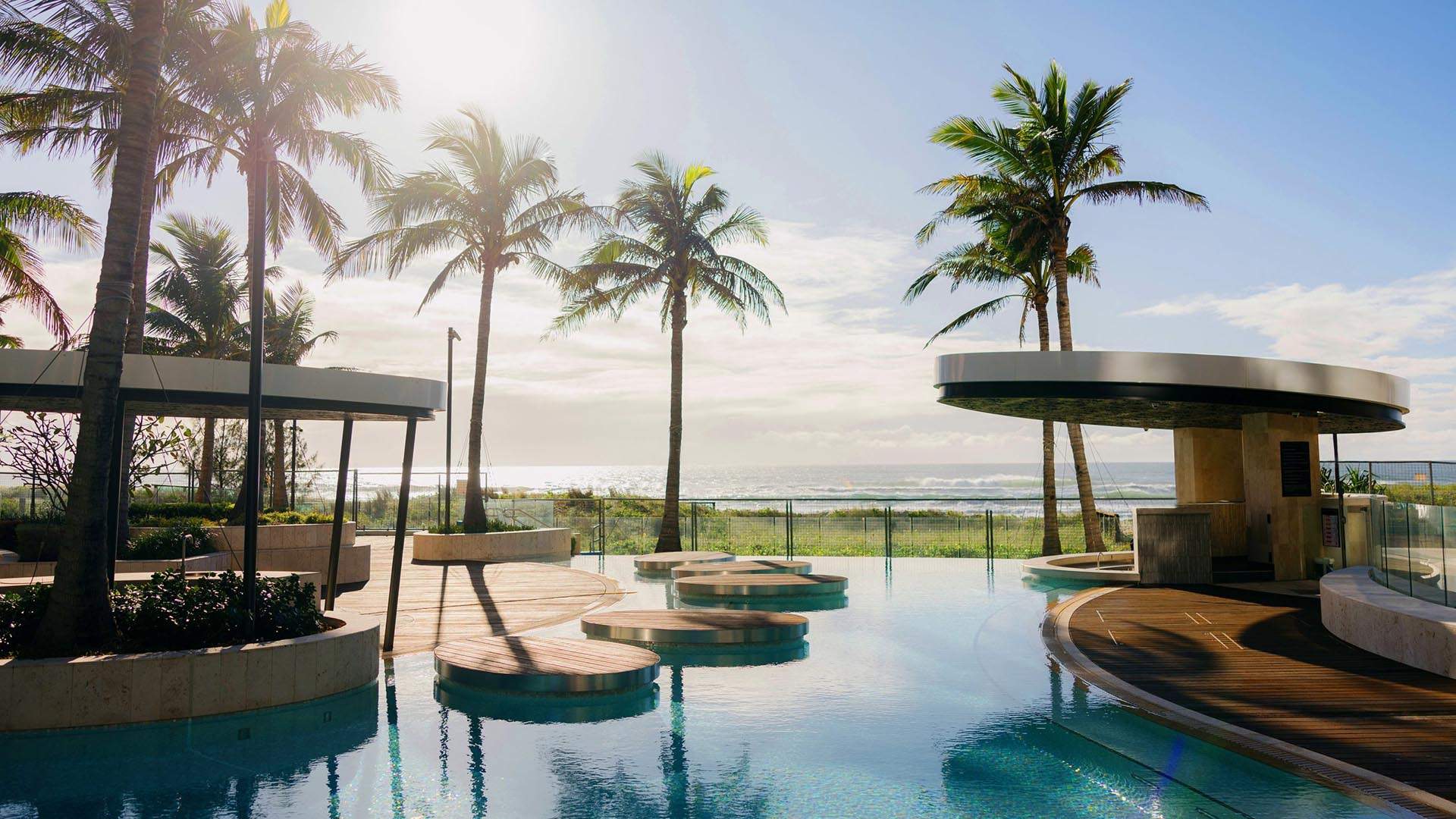 The poolside lounging
Before you dive into the art, you'll need to lock in somewhere to stay while you're on this sunny stretch of coastline — and we think your temporary digs should exude a similar amount of aestheticism as the rest of the trip. For a lap of luxury with a splash of sleek, The Langham (pictured above) offers five star stays by the beach. Relax in a suite or villa, laze in the turquoise pool (with a swim-up bar), for all-day dining with ocean views and fresh seasonal produce, head to Akoya; or opt for a signature cocktail service from 4pm at Palm Court.
For a more private (and intimate) affair, the Surfers Paradise qtQT cabins (pictured below) offer a collection of stylish cabins complete with a private balcony. Think, natural tones and linens, bright spaces, the perfect place to unplug and unwind in your own little oasis. Enjoy wine and snacks by the firepit, or head out to the culinary delights of the buzzy locale's hub.
Once your base is sorted, it's time to plan your creatively leaning activities.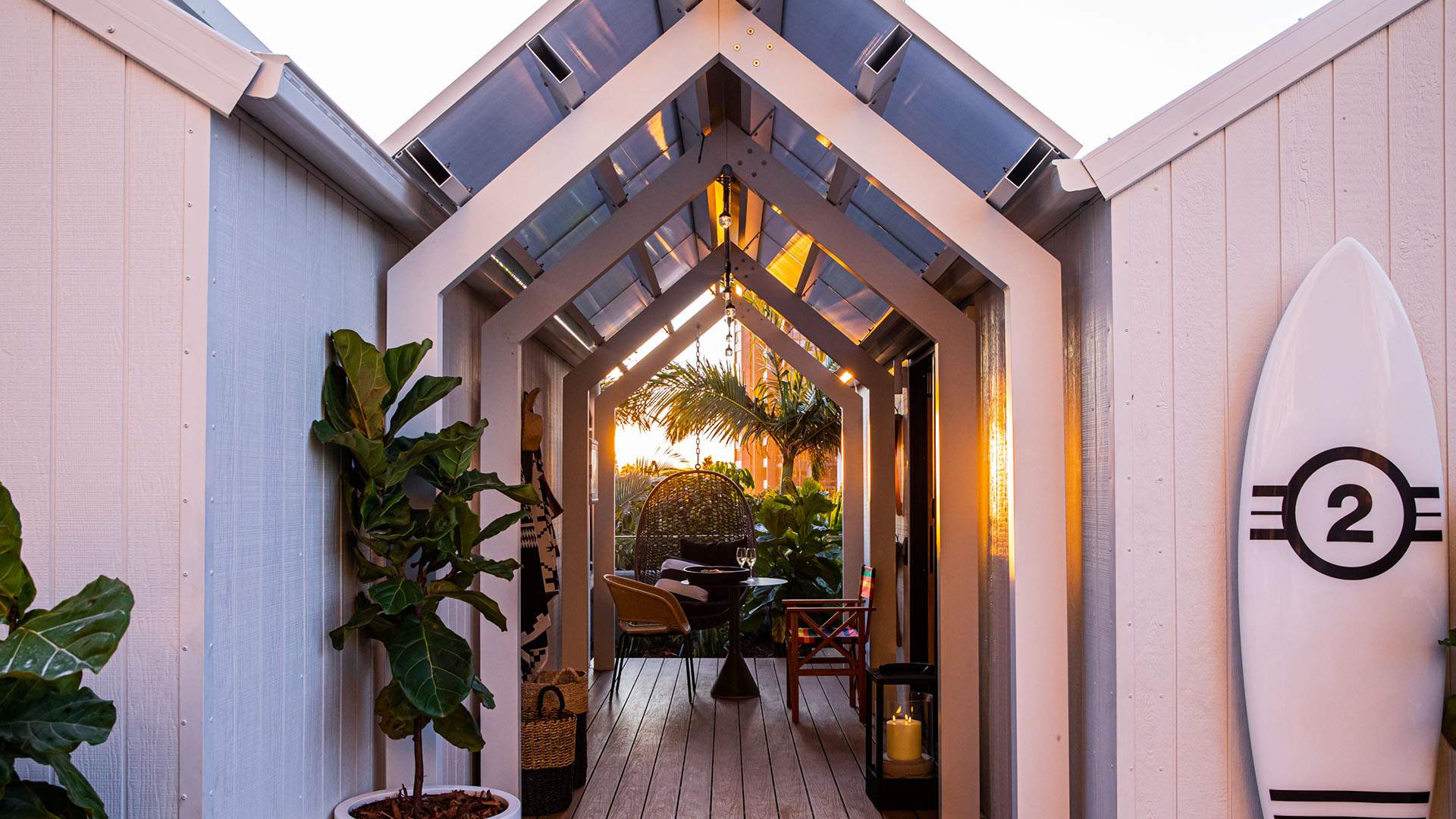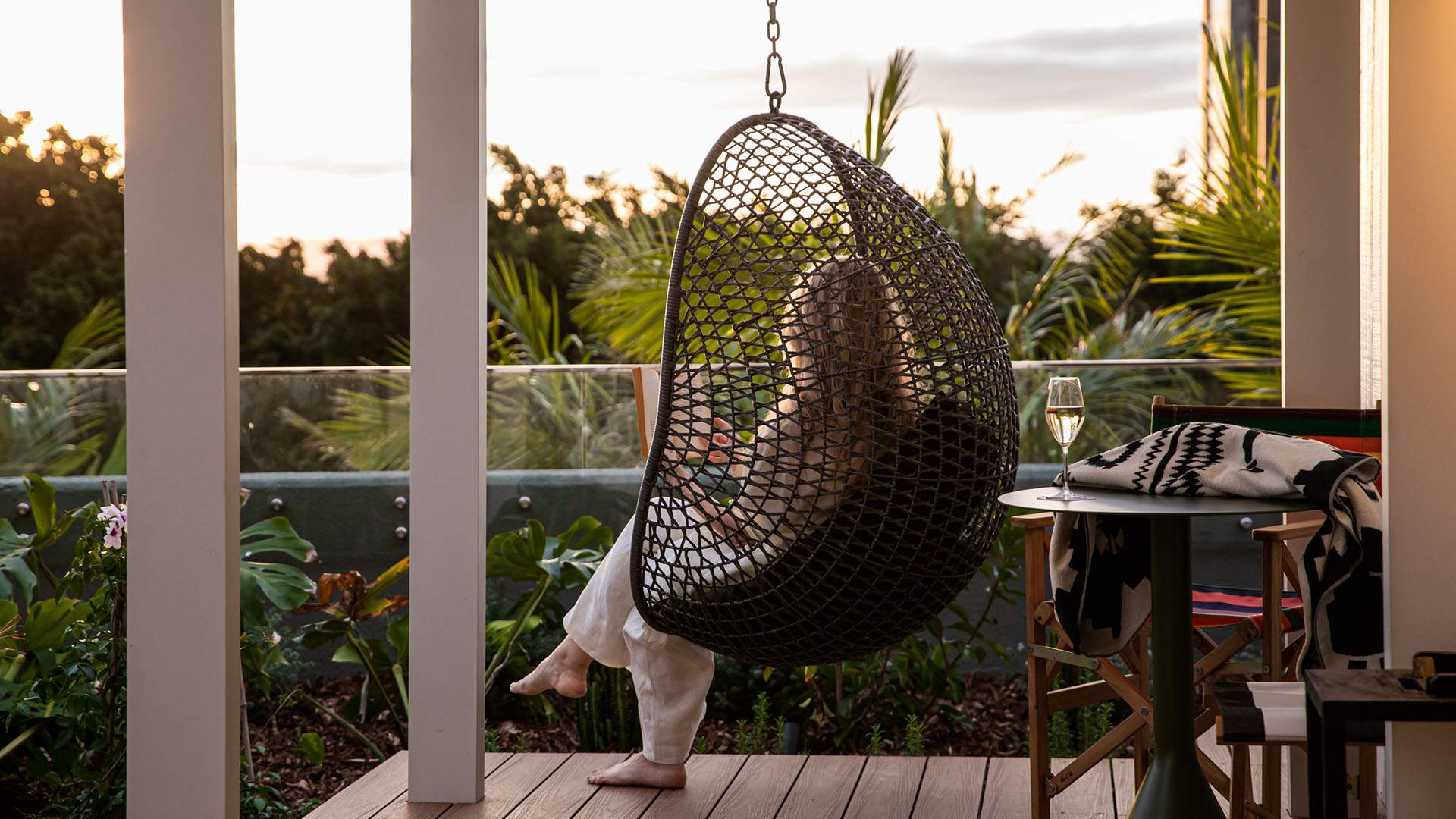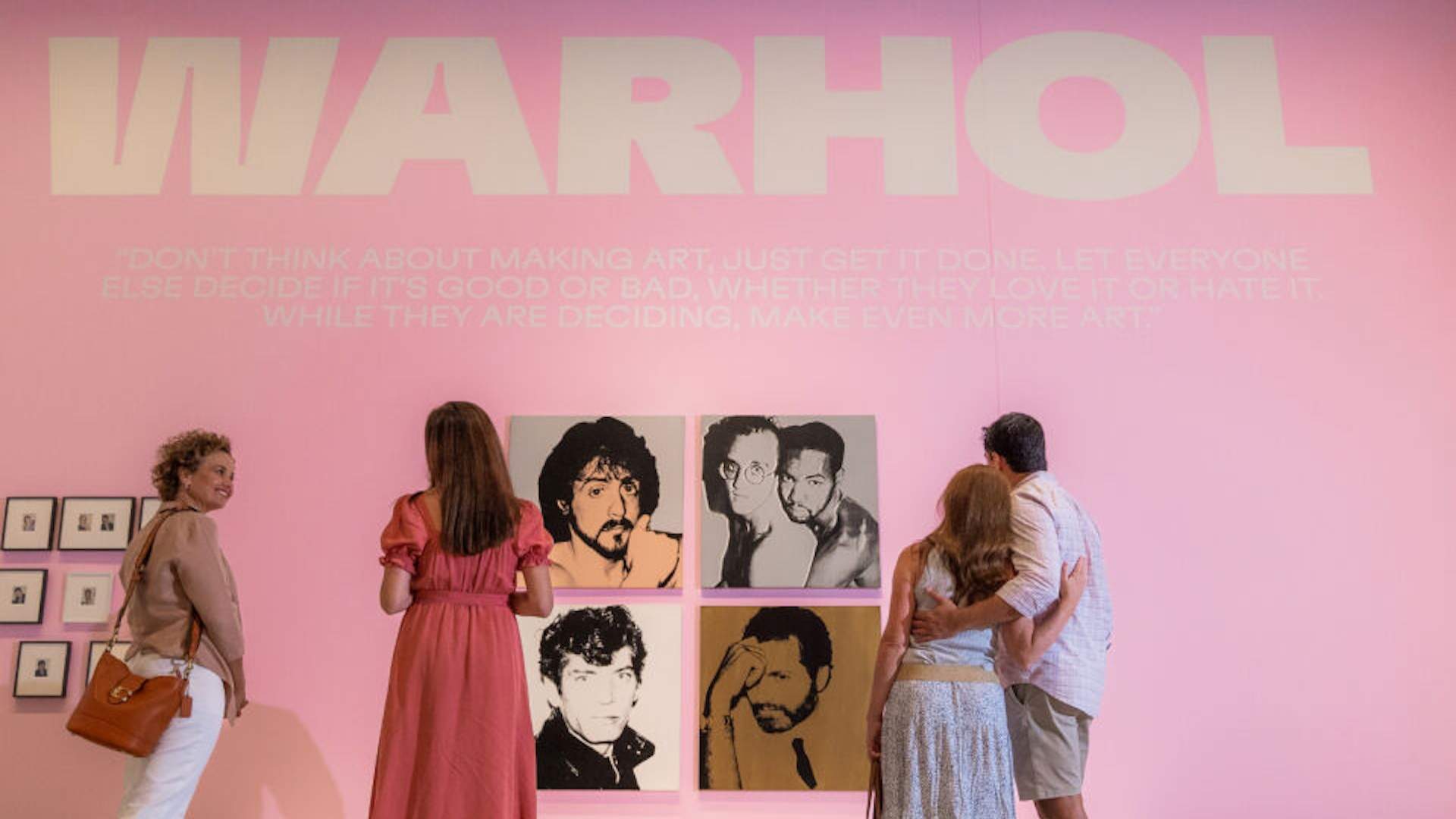 The Art
Now, trying to cram all of this into one weekend could be a tricky mission — but with a well-executed itinerary and plenty of energy, you'll be all but guaranteed a winning arty weekend. Love it all? Can't decide? Submit a day or two of annual leave and make it a long weekender.
POP MASTERS
HOTA — that's the Home of the Arts, for the uninitiated — is the only spot you need if you're hankering for some pop art in 2023. Until Sunday, June 4, the exceptional Gold Coast gallery and event space is playing host to Pop Masters: Art from the Mugrabi Collection, New York. This is your chance to see the big names: Andy Warhol, Keith Haring, Jean-Michel Basquiat, Damien Hirst and more. The exhibition covers 60 years of bold and playful pop art — from New York City all the way to the movement in Australia and up to the present day. The exhibition is supported by talks and workshops at all times of the day and night (if you don't want to miss out on any of that Queensland sun). Pop Masters Up Late will bring 80s Manhattan vibes to the Gold Coast. Expect delightfully different performances and music spanning from disco to new wave; grab refreshments from the New York Street food cart and party across multiple floors of the gallery, late into the night. Then, there's Poptails, which marries a guided storytelling of the art with bespoke cocktails.
HOTA EVENTS
HOTA's really for ALL of the arts — including film, live performance and festival events. The HOTA cinema screens critically acclaimed films and blockbusters, new releases and arthouse, plus docos you won't find elsewhere on the GC. And on the performance side? An eclectic range of live events. There's everything from cabaret to circus, classical music to comedy (with some big international acts like Dylan Moran and Jimmy Carr in 2023), as well as masterclasses and open mic opportunities. The theatre space comes alive with Australian original works, international dance troupes, reimaginings of Shakespeare and kid-friendly interactive installations. Musically, the gig offering is also varied, from blues and jazz to house music and lazy lawn sessions.
19 KAREN CONTEMPORARY ARTSPACE
Founded in 2008, this independent gallery provides a blank canvas for emerging, experimental and less established artists. It's a soaring warehouse cathedral of space, air, light and possibility, with an ever-changing rotation of artists. There's no single style or genre, with pieces ranging from mixed media, sculpture and painting to urban art. Mini solo shows are a focus, drawing in collections from a single artist, spotlighting their style or a core feature of their current work. Typically, these are artists outside of the mainstream, giving space to new and different works from both homegrown talent and internationally touring pieces. The constant rotation of multiple mini-exhibits means there's always a reason to come back whenever you're in town.
DUST TEMPLE
Dust Temple is a cafe, bar, gallery and performance venue, all rolled into one. A post-industrial space converted into a little family business in 2013, it's a community hub of creative pursuits. And "kick-arse coffee". There's a solid menu of brekkie regulars and toasties (including a few croissant toasties, too). The gallery space itself plays host to live performances and exhibitions, workshops and talks, open mic poetry nights and even vintage rummage sales on the last Sunday of each month. It's a lively schedule of events, with regular music nights in the courtyard on Fridays and free music sessions Saturday morning.

GOLD COAST ART & CRAFT MARKET
The Gold Coast Art & Craft Market (pictured above) is a series of creative markets spanning four locations. The Burleigh Heads iteration is the longest running creative market on the Goldie, with a 30-year history of bringing together makers and artisans on the last Sunday of every month. Get in touch with local creatives and take a Sunday wander by the sea; explore stalls of handmade clothes and jewellery, vintage and reclaimed treasures, unique art pieces and handmade homewares; as well as stock up on fresh produce and homemade food. The markets pop up in Broadbeach (first and third Sunday of the month), Coolangatta (second and fourth Sunday of the month) and Paradise Point (fourth Sunday) too, but each has its own unique community spirit and crafts to discover.
POT STUDIOS
Not content to just look at art? Fancy getting your hands dirty? Head to POT Studios in Tugun and discover the meditative, soothing experience of working with clay — while crafting your own homewares. Open to the public from Tuesday to Saturday, it's a whitewashed space that feels more like a seaside cafe than a nose-to-the-pottery-wheel workshop. Try a two-hour mini class, like the ever-popular mug workshop (who doesn't need a nice mug?); or if you want something larger, consider building your own salad bowl, vase or planter (if you're a green thumb with a creative streak). Impress your house guests (or just level up you're mealtimes) by firing up an entire dinner or breakfast set over five hours on select Sundays — with lunch included. Across the studio's offering, you'll have control over the style, the glaze — all while you're offered expert guidance. If you fancy a tipple while you create, you want the date night or Wine & Wheel workshop.
For a standout arty weekend on the Gold Coast, head to HOTA for Pop Masters: Art from the Mugrabi Collection, New York. For more information and to plan your visit, head to the website.
Concrete Playground Trips
Book unique getaways and adventures dreamed up by our editors