ARTS & ENTERTAINMENT
An Interactive Alice in Wonderland Exhibition Is Coming to New Zealand
Go down the rabbit hole at Te Papa and into the curious history of Alice's adventures in Wonderland through film, puppetry, CGI and more.
An Interactive Alice in Wonderland Exhibition Is Coming to New Zealand
Go down the rabbit hole at Te Papa and into the curious history of Alice's adventures in Wonderland through film, puppetry, CGI and more.
When Lewis Carroll first sent Alice down the rabbit hole back in 1865, he couldn't have guessed just where she'd end up. While the English mathematician-turned-writer obviously knew she'd be wandering around Wonderland, that was just the beginning of her white rabbit-chasing journey. Countless film, TV, comic book, game, stage, music, music videos and ballet adaptations have taken the famous character far and wide — and, come 2019, she'll be stopping by Wellington.
From 7 December, 2019 to 8 March, 2020, Te Papa will pay tribute to all things Alice in Wonderland, the centre's next major exhibition for the year. Developed by the Australian Centre for the Moving Image, the entirely original showcase will take fans through the screen history of Alice's Adventures in Wonderland, Through the Looking Glass, and What Alice Found There — aka the two Carroll-penned books that introduced not only the titular heroine, but the Mad Hatter, the Cheshire Cat, the hookah-smoking Caterpillar, and food and drink with "eat me" and "drink me" labels.
Visitors can follow Alice on her voyage through more than 40 cinema and 30 television versions, as well as through popular culture in general. Spanning her first big screen appearance in 1903 to 2016's Alice Through the Looking Glass, the exhibition will step through her different guises, and the technologies that have brought her story to life, all in an interactive, experiential way. That includes animation, puppetry, live-action cinema, video games, CGI, 3D and more, as well as playful environments, digital activities and behind-the-scenes glimpses.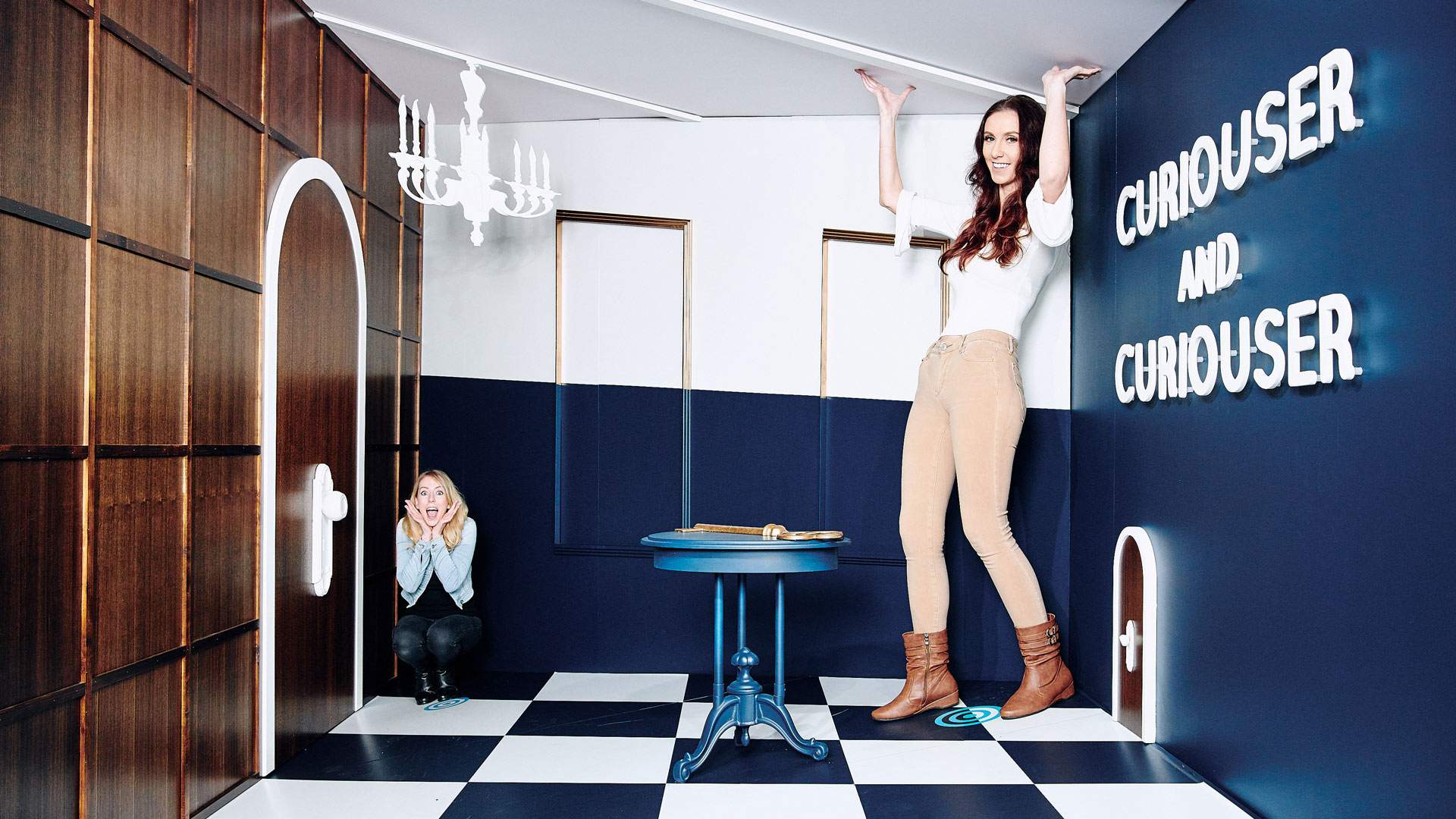 The exhibition begins in Lewis Carroll's drawing room, where visitors are handed their own Lost Map of Wonderland to navigate and unlock interactive parts of the exhibition. The Hallway of Doors, which contains more doors than strictly necessary, introduces Carroll, Alice Liddell and the key Wonderland characters, objects and places. The idea here is to open, shut, explore and get lost.
Visitors to the Te Papa exhibition are invited to take a seat at the digital and interactive Mad Hatter's Tea Party experience. What first appears as a white room is soon transformed into a stunning digital display with projected walls of lurid forestry and a table stuffed full of food and treats.
Elsewhere, visitors can scan themselves on to a large projection in the Queens Croquet Ground and see more than 300 objects including spectacular costumes, puppets, magic lantern projectors, props, concept drawings, first edition publications and illustrations.
The world-first exhibition at Melbourne's Australian Centre for the Moving Image attracted 165,000 visitors in six months. Tickets for Te Papa's Wonderland go on sale from 30 September.
Wonderland will run from 7 December, 2019 to 8 March 2020 at Wellington's Te Papa. For more information, visit tepapa.nz/wonderland.
Images: Phoebe Powell.
Published on July 22, 2019 by Sarah Ward