TRAVEL & LEISURE
The Best Swimming Holes Near Wellington
From kid-friendly wading pools to deeper swimming holes, here's where to have a refreshing weekend dip.
The Best Swimming Holes Near Wellington
From kid-friendly wading pools to deeper swimming holes, here's where to have a refreshing weekend dip.
---
Just because you're back at work, it doesn't mean summer is over. It means the weather is still warm and the nights are still long; making it the perfect time to head out of the city for a refreshing weekend dip. Lucky for you, Wellington has plenty of swimming holes nearby. From kid-friendly wading to deeper swimming holes, here's a few to get you started.


OTAKI FORKS
One of the main entrances to Tararua Forest Park, this site is surrounded by open river terraces and regenerating bush. It is 19 kilometres inland from Otaki township and approximately an hour and a half drive from Wellington or Palmerston North. Visitors can picnic at Boielle Flat, discover several swimming holes in the Waiotauru River, raft or kayak the Otaki River gorge, or enjoy short walks through Tararua Forest Park. The nearby campsite could make this the perfect weekend overnighter.

HUTT RIVER
There are several good swimming holes that take an adventurous nature to find. We'll give you a headstart with this one in Maroibank. The Hutt River at Maoribank Corner is publicly accessible from Awakairangi Park in Totara Park, Upper Hutt. It is a popular swimming and spot due to the deep pools located there. Take care, the water is cold and can be swift.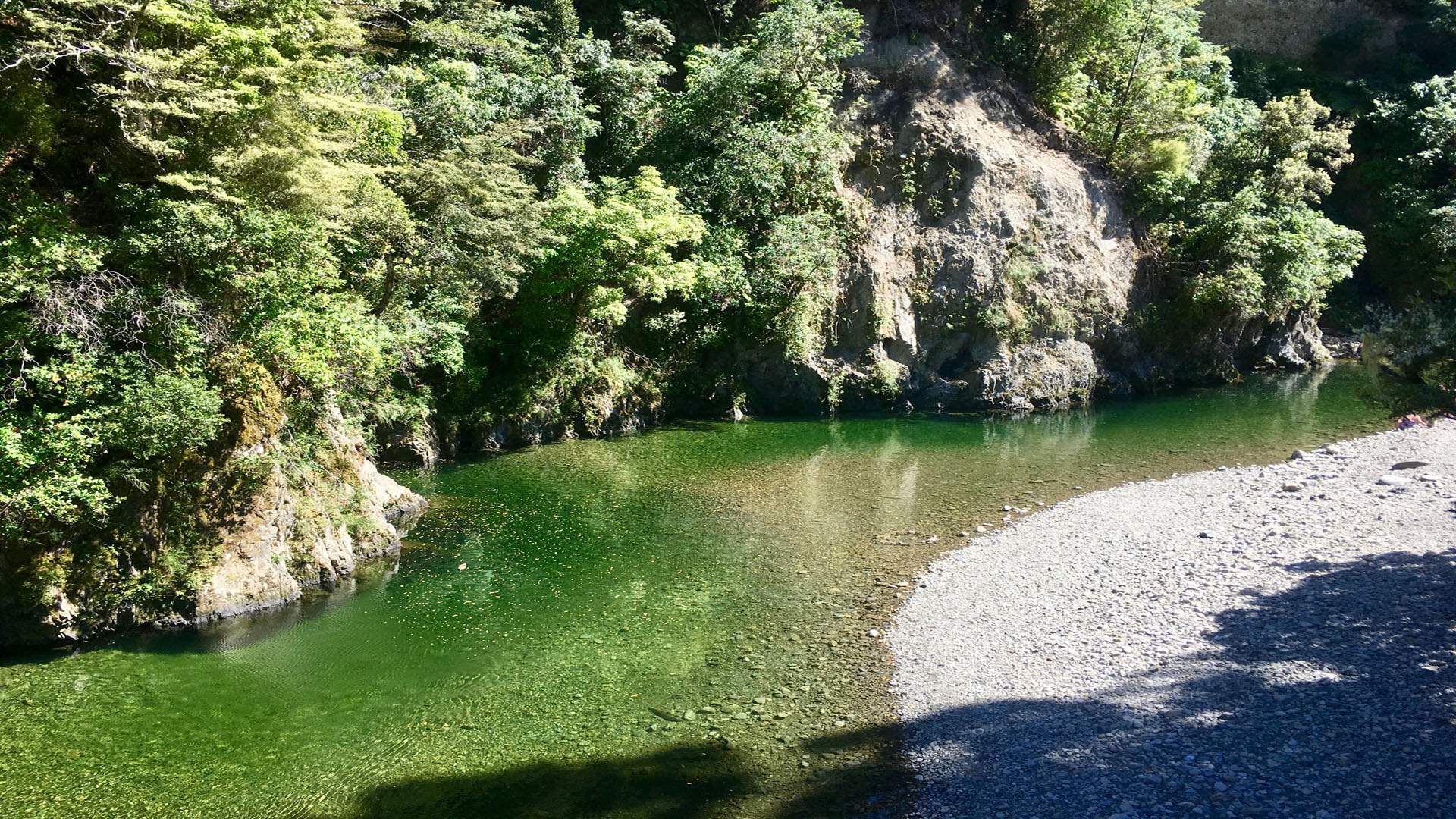 PAKURATAHI RIVER
This site is located in Kaitoke Regional Park, in the upper reaches of the Hutt catchment. The site is publicly accessible from the Eastern Hutt Road or the Hutt River Trail and is a popular picnic spot. The Pakuratahi River offers shallower paddling and swimming spots suitable for younger children. There are changing facilities at the Pakuratahi Forks carpark, under the bridge to Rivendell.

TUNNEL GULLY
Named for its link with the historic Remutaka Railway between Wellington and the Wairarapa, Tunnel Gully features the 253m long Mangaroa Tunnel, built between 1875 and 1877. The tunnel's working life ended in November 1955 when the new Remutaka Tunnel was opened. Tunnel Gully is now a popular spot for walking and tramping, mountain biking and picnicking. The shallow water of Collins Stream at the Tunnel Gully Recreation Area is ideal for paddling and swimming for young children. There is plenty of parking, and flush toilets are provided.


WAINUIOMATA RIVER
The Wainuiomata River at Richard Prouse Park is located in the upper catchment to the west of Wainuiomata. The site can be publicly accessed from Richard Prouse Park from Hine Road. It is a popular spot for swimmers due to the deep pools found there. Make a day of it by bringing a picnic basket and rug.

TAITA ROCK
Found just north of Fraser Park off Taita Drive, this swimming hole is known well amongst locals. For generations, children have been visiting the swimming hole in the Hutt River known as Taita Rock. Each year, ropes are attached to the side of the prominent rock on the riverbank and it becomes a popular swimming hole.

Due to low rainfall levels, toxic algae can be present in rivers during summer. Check out the Can I Swim Here page on the Land, Air, Water Aotearoa's website for weekly river warnings.
Published on February 12, 2019 by Kaylee Maclean