Michael Sheen and David Tennant Still Make a Supremely Heavenly Duo in 'Good Omens' Season Two
With the comedic fantasy series finally back to thwart another battle between heaven and hell, its lead casting couldn't be more divine.
Since 2019, witnessing David Tennant utter the word "angel" has been one of the small screen's great delights. Playing the roguish demon Crowley in Good Omens, the Scottish Doctor Who and Broadchurch star sometimes says it as an insult, occasionally with weary apathy and even with exasperation. Usually simmering no matter his mood, however, is affection for the person that he's always talking about: book-loving and bookshop-owning heavenly messenger Aziraphale (Michael Sheen, Quiz). With just one term and two syllables, Tennant tells a story about the show's central odd-couple duo, who've each been assigned to oversee earth by their bosses — Crowley's from below, Aziraphale's from above — and also conveys their complicated camaraderie.
Also since 2019, watching Tennant and Sheen pair up on-screen has been supremely divine. The actors clearly realised it themselves, spending lockdown making comedy Staged as versions of themselves, which they then continued for two more seasons. Great double acts feel like they've always been a twosome. They seems so natural that you expect them to continue the same routine off-screen as innately as breathing. They can be playfully parodied by themselves, as Staged does, and still just as winning. And, they're often the heart and soul of whatever project they're in. Good Omens, which hails from Terry Pratchett and Neil Gaiman's award- and fan-winning 1990 novel Good Omens: The Nice and Accurate Prophecies of Agnes Nutter, Witch, was always going to be about Aziraphale and Crowley. And yet, including in its second season on Prime Video from Friday, July 28, it's always been a better series because it's specifically about Sheen as the former and Tennant as the latter.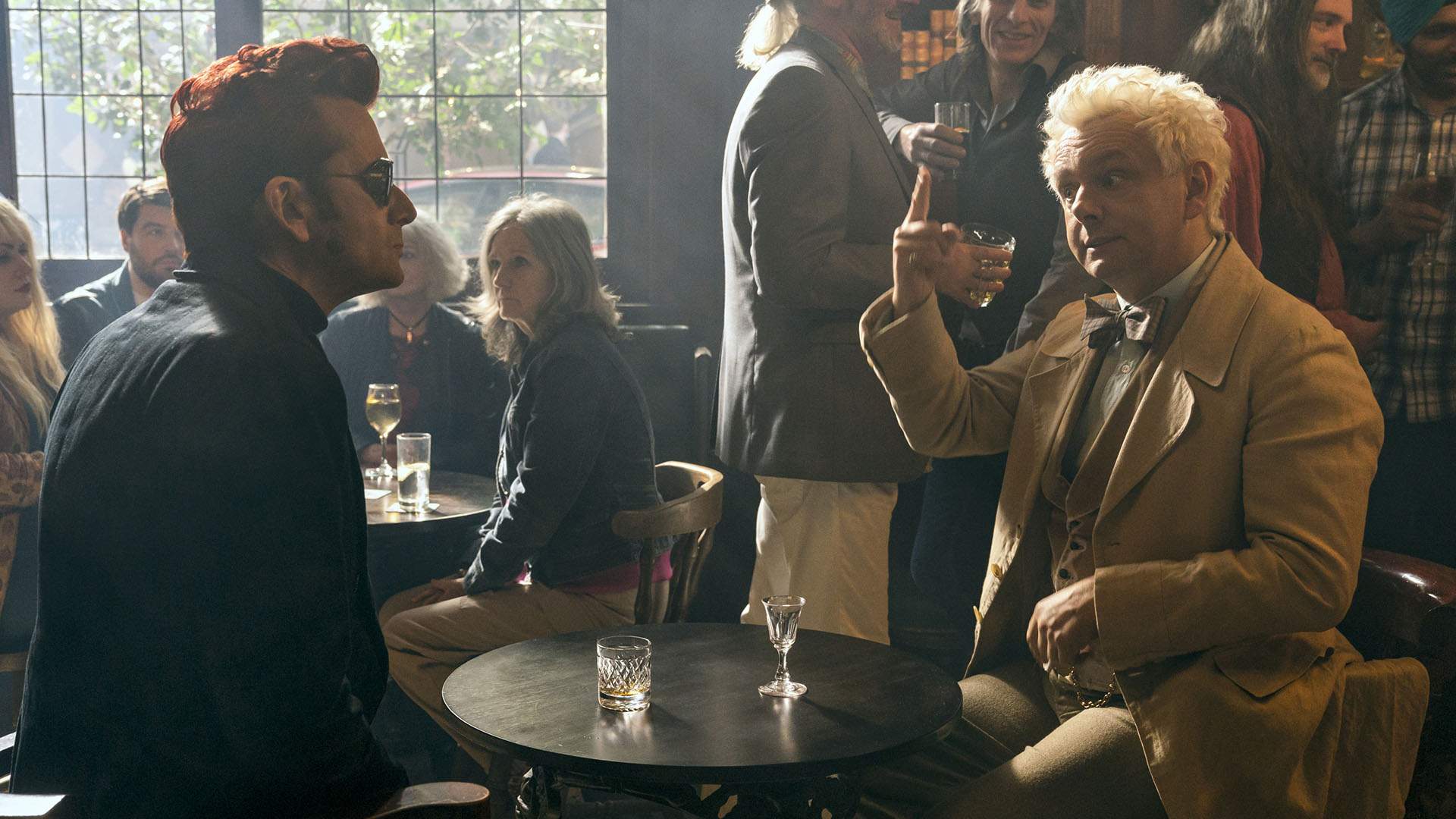 In the first season, the end of the world was nigh (the fact that Good Omens debuted the year before the pandemic arrived and life began to feel ominous in reality was pure coincidence). In the show's narrative, Aziraphale and Crowley faced their biggest test yet after observing humans since biblical times: the always-foretold birth of the antichrist and, 11 years later, cosmic forces rolling towards snuffing out the planet's people to start again. Hell, where Beelzebub (Anna Maxwell Martin, The Duke) led the forces, was primed for a fight to claim power. As guided by the archangel Gabriel (Jon Hamm, Confess, Fletch), heaven was up for the fray, too. But in a comedic fantasy involving satanic nuns, witch hunters, prognostications, hellhounds, the four horsemen, seances, and also the simple pleasures of two pals bickering and bantering, the crisis to end all crises was ultimately averted.
In the long-awaited second season, neither Aziraphale nor Crowley are beloved by their higher-ups or lower-downs thanks to their thwarting-the-apocalypse actions. One fussing over his store and remaining reluctant to sell any of its tomes, the other continuing to swagger around like Bill Nighy as a rule-breaking rockstar, they've carved out a comfortable new status quo, though, until a naked man walking through London with nothing but a cardboard box comes trundling along. He can't recall it, but that birthday suit-wearing interloper is Gabriel. He knows he's there for a reason and that it isn't good, but possesses zero memory otherwise. And, in the worst news for Aziraphale and Crowley, he has both heaven and hell desperate to find him.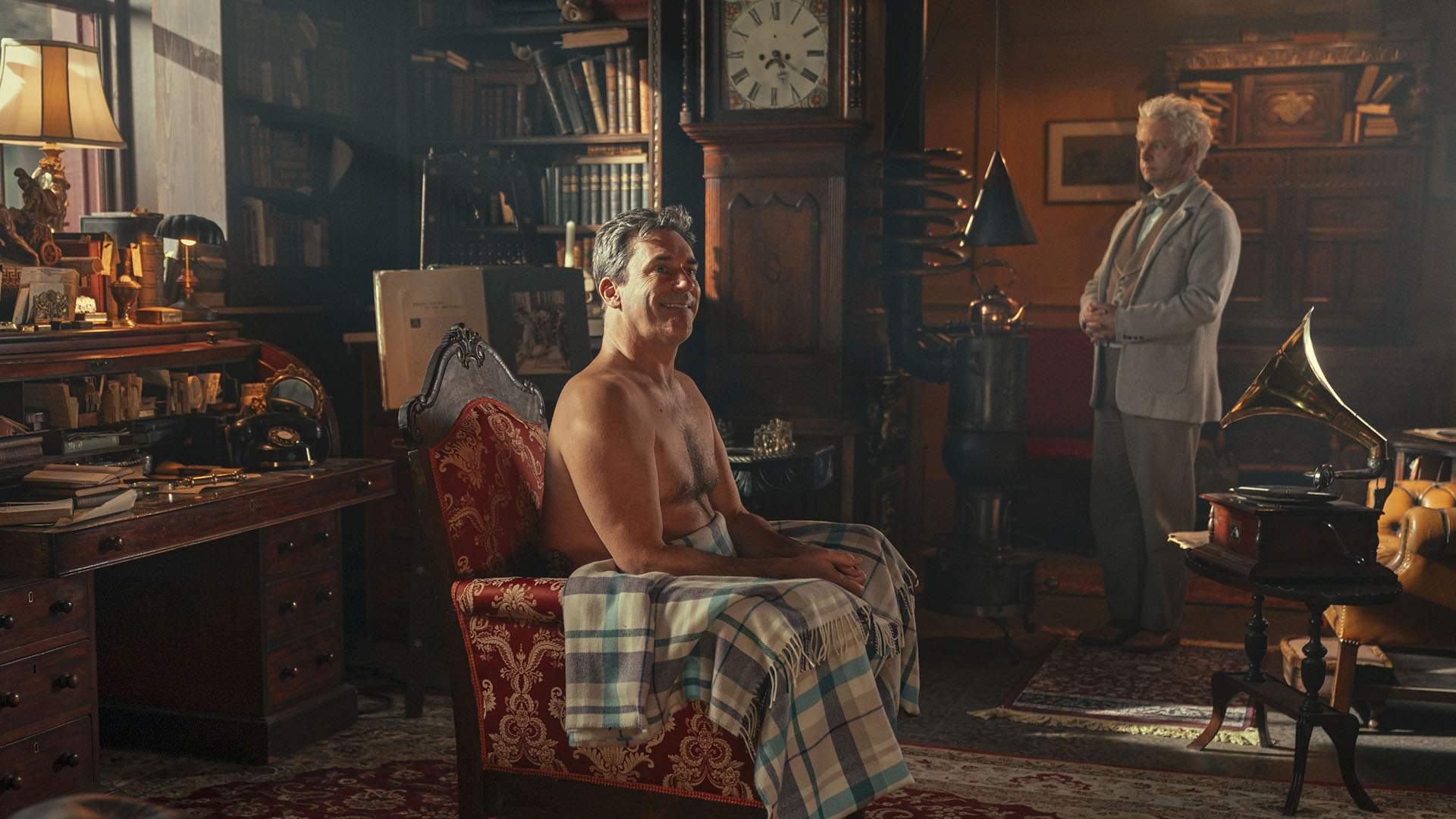 Returning for a second season saddles Good Omens with a considerable obstacle: when you've already told the tale that was laid out in print, what comes next? Thankfully, Gaiman is back as executive producer and co-showrunner, building upon his text with the late Pratchett by enlisting John Finnemore (That Mitchell and Webb Look) as his new co-scribe — and with director Douglas Mackinnon (a Doctor Who veteran) again helming every episode. The approach? A mystery, as Aziraphale and Crowley try to discover what's behind Gabriel's terrestrial visit. Gaiman crafts a missing-person search as well, including by the demon Shax (Rams' Miranda Richardson, switching into a new role from season one), and archangels Michael (Doon Mackichan, Toast of Tinseltown) and Uriel (Gloria Obianyo, Dune).
Good Omens season two also takes a few sizeable trips elsewhere, spending time with Job (Peter Davison, Gentleman Jack) in the Land of Uz, during the Victorian era when robbing graves was a key way that surgeons advanced medicine and among undead Nazis in the Blitz in 1940s England (Finnemore solely scripts the Job segment, Ten Percent's Cat Clarke the body stealing, and Ghost Stories' Jeremy Dyson and Andy Nyman the zombies.) Also crucial: a few romances, commencing with Aziraphale and Crowley trying to get coffee shop proprietor Nina (Nina Sosanya, His Dark Materials) and record store owner Maggie (Maggie Service, Life) to fall in love by cribbing from Jane Austen and Love Actually filmmaker Richard Curtis.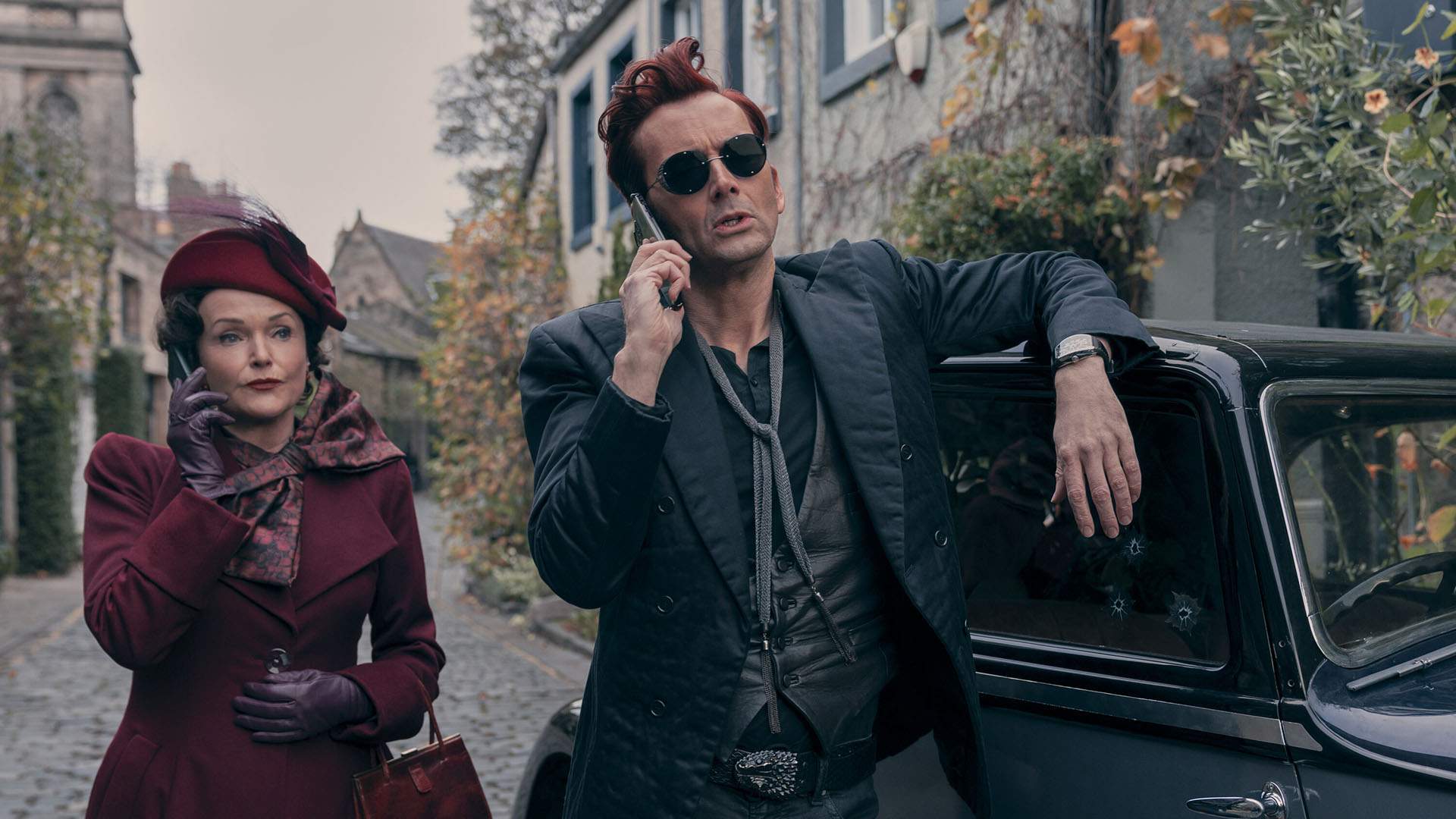 Any future season of Good Omens that purely regales audiences with Aziraphale and Crowley's past escapades would be a certain winner, but weaving such jaunts into season two still works a treat. For all of the show's drawcards — the irreverent battles for the fate of the universe, the heaven-versus-hell hijinks, the gleeful satirising of organised religion, the Paddington-esque aesthetic, the fact that anything and everything can occur (and does) in a comedy about angels and demons — Gaiman knows that Sheen and Tennant are its biggest. Cue more eager digging into Aziraphale and Crowley's bond, and more of Sheen and Tennant bouncing off of each other brilliantly. In the process, cue more unpacking the fact that Aziraphale isn't just pious and dutiful beneath his halo, nor fallen angel Crowley simply evil. And, also cue more examining what Aziraphale and Crowley mean to each other as an ever-wonderful chalk-and-cheese pair.
Sheen and Tennant are visibly having a ball again, with both expressing oh-so-much through gazes, glorious line readings and the vibe that sparkles during their patter. They aren't the only ones enjoying their Good Omens stints, with Hamm leaning into his comic side — see also:  30 Rock, Parks and Recreation, Toast of London, Unbreakable Kimmy Schmidt, Curb Your Enthusiasm, The Increasingly Poor Decisions of Todd Margaret, Childrens Hospital, Medical Police, Angie Tribeca, The Last Man on Earth, Wet Hot American Summer: First Day of Camp and Confess, Fletch — with gusto. Richardson is as much of a scene-stealing marvel as she's kept proving since her Blackadder days, Bridgerton's Shelley Conn relishes playing Beelzebub's new guise and Quelin Sepulveda (The Man Who Fell to Earth) is joyous as a daffy lower angel. Indeed, even when season two overtly puts the wheels in motion for a third spin, its cast ensure that too is a great and welcome omen.
Check out the trailer for Good Omens season two below:
Good Omens streams from Friday, July 28 via Prime Video.
Concrete Playground Trips
Book unique getaways and adventures dreamed up by our editors