Hannah Gadsby's Latest Stand-Up Show 'Body of Work' Is Being Turned Into a Netflix Special
The Aussie comedian has signed a multi-title deal with the streaming platform, which'll also include a special featuring gender-diverse performers.
When the time came for Hannah Gadsby to follow up international smash-hit show Nanette, that seemed a rather difficult task. After all, the one-performer stand-up show copped serious praise on its 18-month travels across Australia and the UK, even scooping the top honours at both the Melbourne International Comedy Festival and Edinburgh Festival Fringe — and spawning its very own Netflix special.
But, then Douglas was born, with the beloved Aussie comedian returning to the stand-up stage with a performance named after a pet pooch. While Nanette pulled apart the concept of comedy itself, dishing up an insight into Gadsby's past, Douglas took comedy fans on a "tour from the dog park to the renaissance and back". It toured stages across Australia and New Zealand in late 2019 and early 2020, and then hit Netflix in 2020 as well.
After that came Body of Work — first as a live show again, and now as a Netflix special, too. Gadsby and the streaming platform have announced that they're reteaming for a multi-title deal that includes bringing that last comedy set to the service, and also  producing a new multi-comic special featuring gender-diverse performers.
I am pretty excited to be filming my new 'feel-good show', Body of Work, at the Sydney Opera House...yep…I'm back at the scene of the Nanette 'crime'. The shebang of it all will premiere on @netflix....at some point… in the future, I suppose. pic.twitter.com/P53tDfqoqC

— Hannah Gadsby (@Hannahgadsby) September 26, 2022
With Body of Work, it'll be filmed live at the Sydney Opera House — this week, in fact, ready for a 2023 release. Exactly when it'll drop next year hasn't yet been revealed, however, but add it to your future must-stream list.
As for the special, Gadsby offered a few thoughts with the announcement. "In an effort to further open a door that I had to fight to get through myself, I will curate and host a line-up show on Netflix featuring six new, gender-diverse comedians," Gadsby advised in a statement.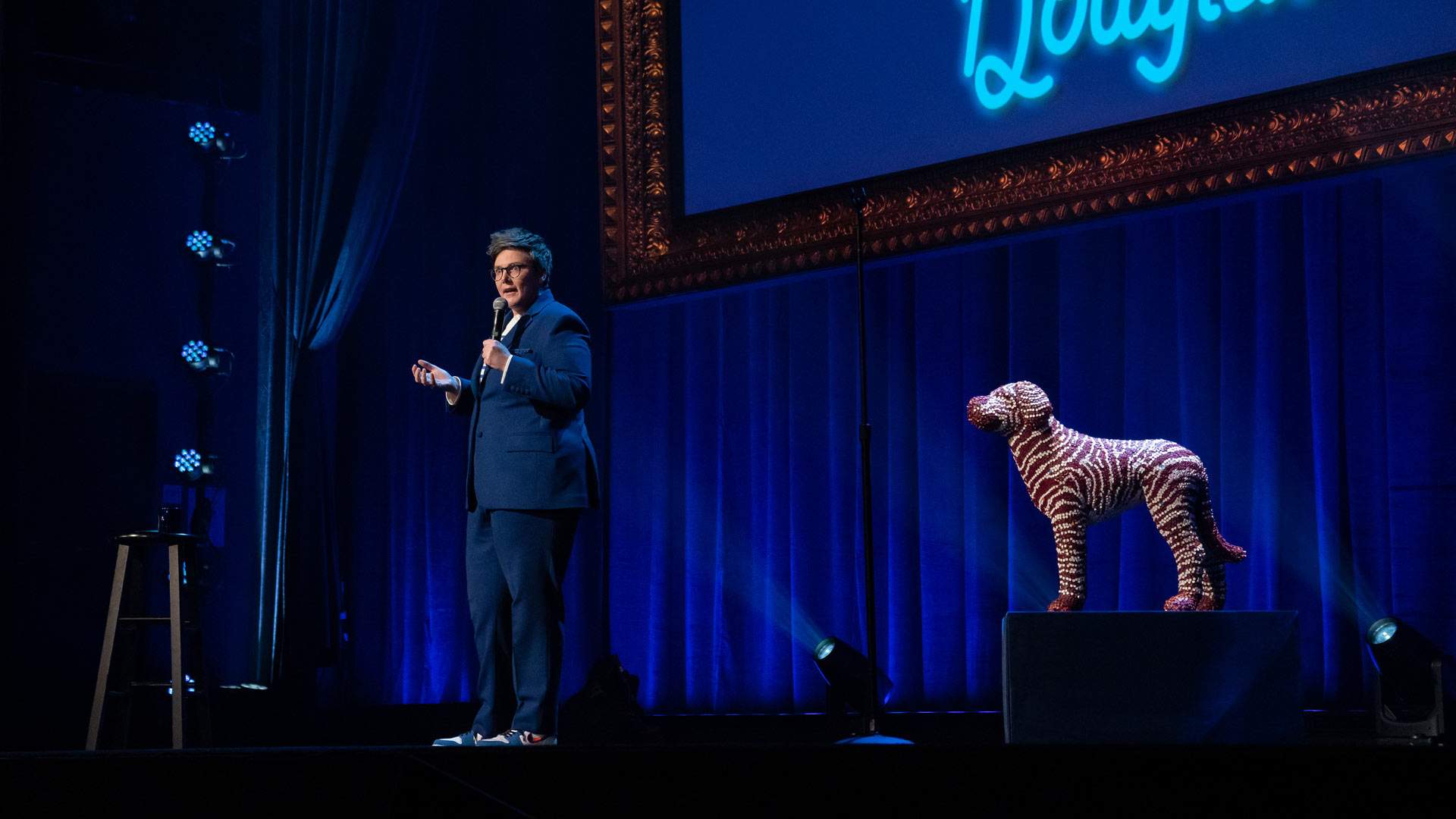 "In a notoriously transphobic industry, I am looking to broaden the scope of opportunities for genderqueer performers from around the globe, as well as expand the diversity of offerings to audiences on one of comedy's biggest platforms. Coupled with a mentorship initiative for these up-and-coming comics, the program aims to foster the professional development of a demographic that is still struggling to have their voices heard," the Aussie comic continued.
"Recorded in a single run in the UK in 2023, this will be a chance for the world to hear these voices for the first, but definitely not the last, time."
It's clearly too early for sneak peeks at all of the above — Body of Work hasn't been filmed for Netflix yet at the time of writing, and the multi-comic special won't be recorded until 2023 — but you can check out trailers for Nanette and Douglas in the interim below:
Hannah Gadsby's 'Body of Work' Netflix special will drop sometime in 2023 — we'll update you with an exact release date when one is announced.
Introducing Concrete Playground Trips
Book unique getaways and adventures dreamed up by our editors