ARTS & ENTERTAINMENT
Must-See Art Exhibitions to Check Out in Wellington This Winter
Take in some culture via Wellington's plethora of warm, dry art galleries.
Must-See Art Exhibitions to Check Out in Wellington This Winter
Take in some culture via Wellington's plethora of warm, dry art galleries.
The wonderful world of art in our city is constantly evolving and developing, and sometimes it can be hard to keep up. With new and exciting exhibitions popping up left, right and centre, the Wellington art scene has so much to offer. Examine the controversial work of historic artists or appreciate a fresh perspective on our environment, culture and sexuality. Get your fix of the latest Kiwi sculptors, photographers, painters and creatives in the capital before winter ends.


WOULDN'T IT BE NICE - CHRISTINA PATAIALII
Wouldn't It Be Nice is Christina Pataialii's first-ever solo exhibition. Partnering up with McLeavey Gallery at 147 Cuba Street, her latest collection of work will be available to view until 31 August.
With the earthy colours and tones of rural New Zealand, Pataialii's latest works instil a sense of nostalgia in viewers. With faint shapes and lines hidden beneath her painting style, images of classic Kiwi farm life immerge.
Born and raised in Auckland, Pataialii has been connected to painting and creativity from a young age. As the daughter of a house painter, she felt the drive to create art as soon as she was old enough to hold a paintbrush. She also traces her creativity back to her bicultural Samoan and Pakeha upbringing. Her works are mostly inspired by physical and cultural roots from her past and have a distinct Kiwiana feel to them.
Created from a mix of acrylic and house paint on drop cloth canvas, Wouldn't It Be Nice combines colour and texture to create beautifully abstract Kiwi art.


SPLIT LEVEL VIEW FINDER - THEO SCHOON
What has become one of this year's most controversial exhibitions, Split Level View Finder will be open until 3 November at City Gallery. Theo Schoon arrived in New Zealand in 1939 and made his mark on our country with his views and interpretation of Māori artwork.
Split Level View Finder is Schoon's first comprehensive exhibition in decades and since its opening, earlier this year, it has created quite a stir within the community, with a group of students banding together to boycott the exhibition at City Gallery due to Schoon's apparent appropriation of Māori culture.
Whilst Schoon's interaction with Māori art and culture was at times problematic, you're invited to make up your own mind about this controversial artist. This collection of Schoon's work combines his painting, graphics, photography and jade carvings with a modern view on his legacy in Aotearoa.
Split Level View Finder creates an open discussion and an opportunity to rethink the influence Schoon had on Kiwi art.


INTERSTELLAR - MAIANGI WAITAI
For a more playful, colourful and contemporary approach to Māori art, Maiangi Waitai brings her fresh perspective to The Dowse. Interstellar is a collection of Waitai's latest work, exploring the vibrant mysteries of the universe.
Born in Whanganui, Waitai has always felt connected to her roots in New Zealand. She works in a range of different mediums and the combination of her Kiwi upbringing and strong distinctive style creates something truly special.
Interstellar explores and re-imagines oral history traditions related to the Matariki constellation. With a wild imagination, Waitai has created superhero figures for each star, complete with their own vibrant pop-art style packaging. This exhibition considers ideas celebrated in Aotearoa during the Māori New Year in a completely fresh and unique way.
Open until 20 October, The Dowse invites you to immerse yourself in Maiangi Waitai's colourful universe of culture, expression and creativity.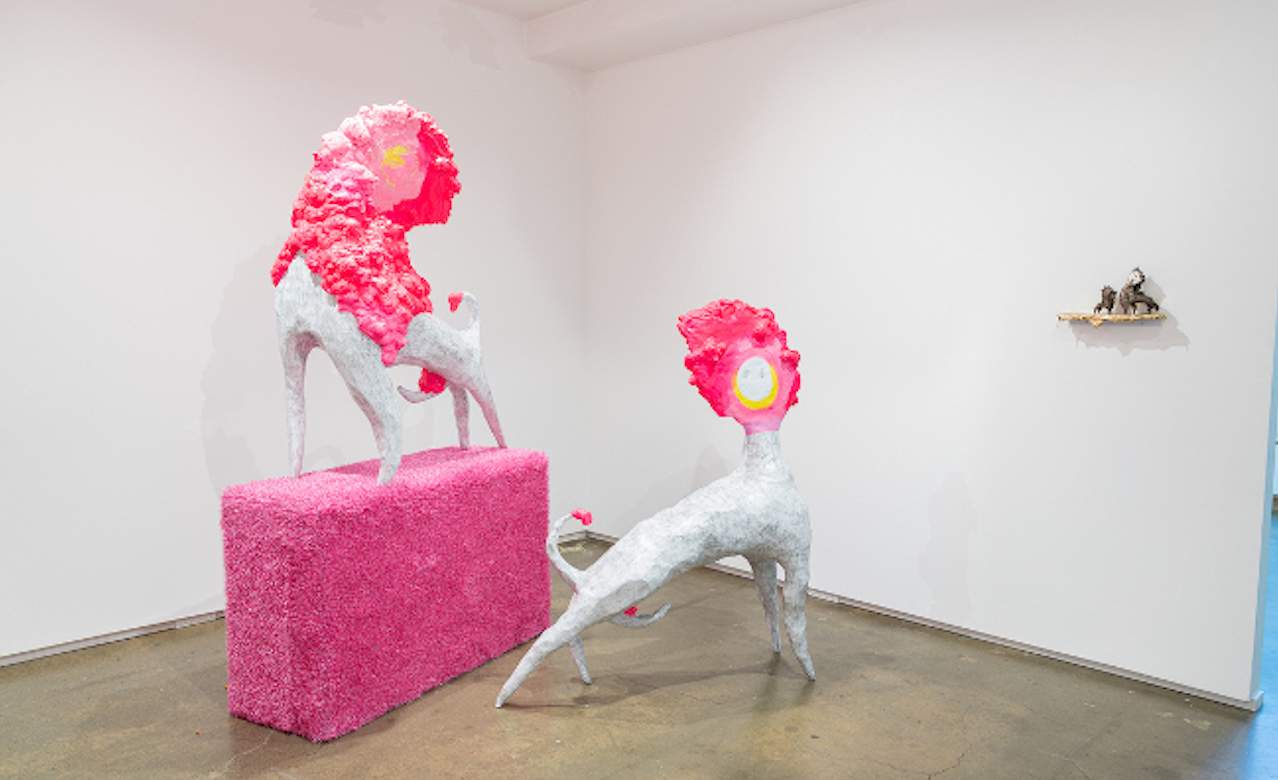 BOY OH BOY OH BOY OH BOY - SAM DUCKOR-JONES
This thoughtful, sensitive and outrageously expressive exhibition is an absolute must-see. Sam Duckor-Jones brings his colourful mind to life through a collection of cleverly sculpted artwork. On show at Bowen Galleries until 1 September, Boy Oh Boy Oh Boy Oh Boy is unlike anything you've ever seen.
Son of award-winning author, Lloyd Jones, Sam has published his own collection of poetry, along with an impressive array of sculptural artwork. He channels his own identity and sexuality into his work and as a self-confessed loner, he often uses art as a form of therapy.
Through a fluorescent pink lens, Sam examines his own fears, triumphs, daydreams and coping mechanisms in this latest collection of work. He uses an unusual mixture of bronze, paper mache, foam, paint, wood and a healthy dose of glitter to create his sculptures.
Playing with scale, colour and texture, this exhibition is a window into the mind of a live-alone quiet gay in 21st century NZ.


WATCHING, WAITING - BILLY CULY
Watching, Waiting is a thoughtful and aesthetically pleasing collection of Billie Culy's latest work. Her distinct style and colour palette shines through a range of still life photographs and colourful compositions. Showing at Precinct 35 until 1 September, this exhibition is an absolute gem.
With a combination of natural and man-made objects, Culy presents a series of photographs that reflect her thoughts on the current state of our environment. Culy admits to feeling overwhelmed by the state of our planet and its disarray. With constant information and imagery being thrown at us from the media, this is her attempt at making sense of it all.
After spending time near the ocean in Hawkes Bay, working out of the coastal community of Haumoana, Culy began to notice subtle changes in the environment, a fact which inspired her to create this collection of work. Her images are bright and playful, with complementary colours and contrasting objects setting the scene in her photographs.
Studying everyday objects that humans often discard, whilst analysing her own impact on the environment, Watching, Waiting is a colourful depiction of the issues our earth is currently facing, through the eyes of a young artist.
Published on August 27, 2019 by Bella Foster