FOOD & DRINK
Arnott's Has Just Released a Supremely Decadent Recipe for Tim Tam Brownies
The baking giant is releasing a new recipe every week until Australia's social distancing restrictions are lifted.
Arnott's Has Just Released a Supremely Decadent Recipe for Tim Tam Brownies
The baking giant is releasing a new recipe every week until Australia's social distancing restrictions are lifted.
Those currently working from home have probably seen two major changes to their routine: less shoes and more snacks. To help with the latter, Australia's much-loved biscuit maker Arnott's has been opening its vault and releasing some of its coveted recipes — for the first time in history.
So far as part of the snack expert's Big Recipe Release, it has unveiled its Monte Carlo, four-ingredient Scotch Finger and Iced VoVo recipes. Next up is a decadent twist on everyone's favourite chocolate-coated bikkie: the Tim Tam. While the company hasn't revealed exactly how to make the beloved biscuit, it is sharing how you can whip up salted almond Tim Tam brownies — aka the kind of snack you probably didn't know that you were craving until right now.
This recipe has been put together for home bakers by Arnott's Master Baker Vanessa Horton, and timed to celebrate a very apt occasion: World Baking Day, which falls on this Sunday, May 17. Of course, while that's a great excuse to make Tim Tam-flavoured brownies, you can obviously cook them up whenever you like — and however often, too.
Australia's oldest baker will continue to release a new recipe for one of its famous biscuits every week until social distancing regulations are lifted. Next up, will it be the Mint Slice? Pizza Shapes? Tim Tams themselves? We'll have to wait and see.
In the meantime, though, here's the Tim Tam Brownie recipe: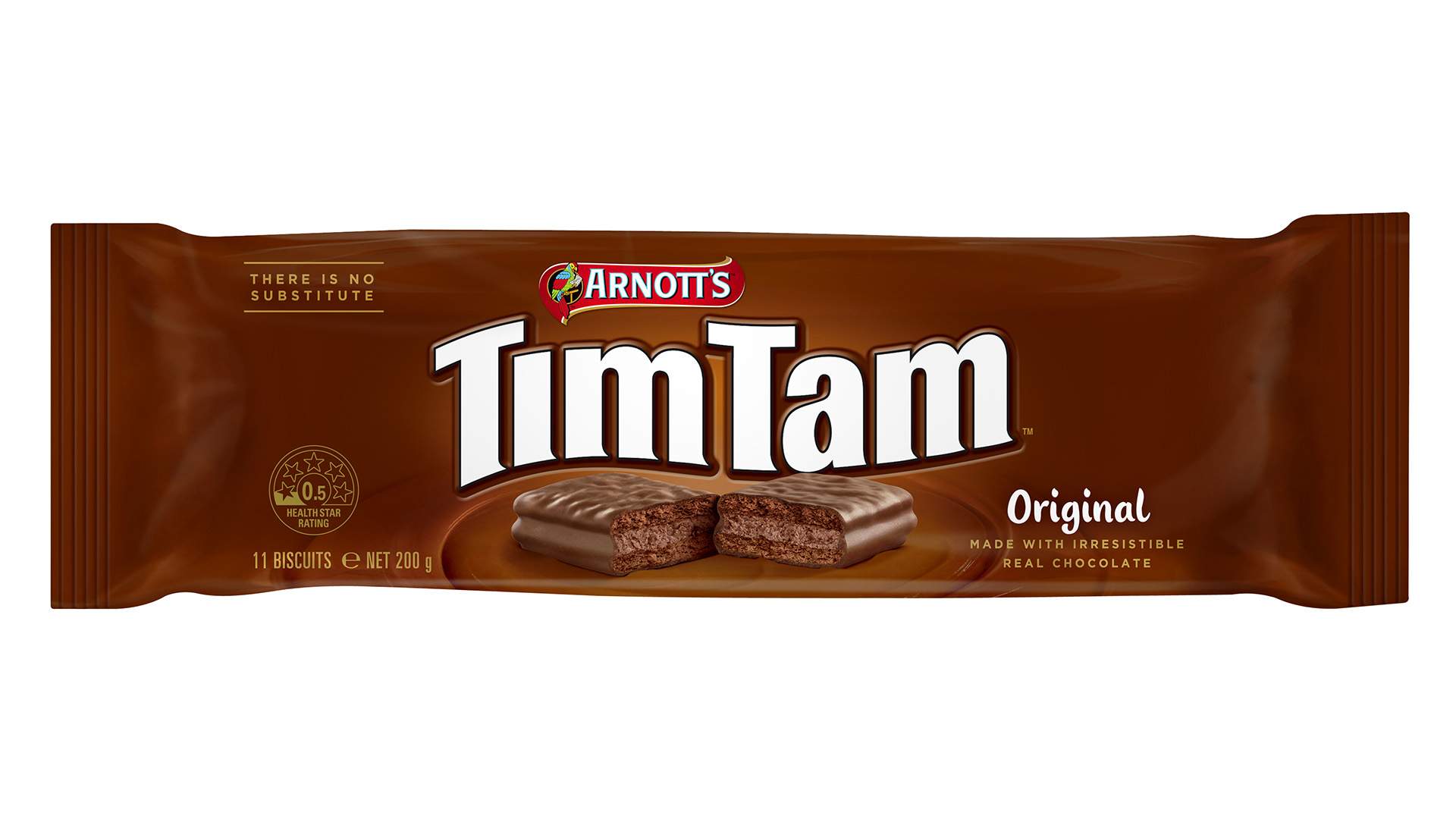 SALTED ALMOND TIM TAM BROWNIES
Melted butter, to grease
120 grams dark chocolate, chopped
120 grams butter
1 1/2 cups (400 grams) caster sugar
3 eggs
1 teaspoon vanilla extract
1 cup (120 grams) plain flour
1 tablespoon cocoa powder
1/2 teaspoon baking powder
1 200 gram packet of Arnott's original Tim Tam, chopped
1/2 cup almonds, chopped
1/2 teaspoon sea-salt flakes
Method
Preheat oven to 180ᵒC (or 160°C fan forced). Grease a square cake tin (20 x 20 centimetre) and line with baking paper.
Place chocolate and butter in a medium saucepan over low heat, then stir until melted and smooth. Allow to cool slightly.
Stir sugar into the chocolate mixture, then add the eggs one at a time — stirring well after each addition. Stir in vanilla.
Combine flour, cocoa powder and baking powder in a small bowl. Add flour mixture to chocolate mixture.
Stir until just combined. Stir through Tim Tam pieces. Pour batter into prepared tin. Spreading evenly, sprinkle with almonds and sea salt flakes.
Bake for 30 minutes or until firm. Set aside to cool completely. Cut into pieces and serve.
Published on May 15, 2020 by Samantha Teague