FOOD & DRINK
The #GETITIN Campaign is a Gateway to Leading a Healthier Lifestyle
And you can kick it off with a nutritious recipe courtesy of Simone Anderson.
We have grown to appreciate original, positive and interactive ideas that promote the benefits of a healthy lifestyle, so far with the likes of 'Junk free June' and 'Push Play' already advocating healthy living. And for February it's no different. This month, the team behind the 5+ A Day education and marketing initiative have come up with an exciting new campaign to encourage Kiwis to eat extra servings of fruit and vegetables every day for the month of February.
The 5+ A Day Challenge is as simple as this; anyone wanting to get involved can upload a photo or video showing how they get their fruit and veges into their diet by adding "#GETITIN" to their social posts. Every entrant goes into the draw to win 1 of 20 NutriBullet 600W packs, and you can expect to see some of our well-known peers amidst the participants, such as: Art Green and Matilda Rice, Kirsty Godso, Makaia Carr, Julia and Libby Matthews, and Simone Anderson.
You may recognise Simone Anderson as the fearless Aucklander who to date has lost a whopping 92kg throughout a public journey with weight loss. She has gained both national and international recognition for her staggering results, after committing to change and a healthier life. Simone says, "For me being an ambassador is so important because I don't believe enough people in New Zealand understand the importance of getting enough fruits and vegetables in your day to day diet. I truly believe it doesn't have to be boring or expensive either and that it is achievable to every single New Zealander."
For anyone wanting to make a change to a healthier lifestyle the #GETITIN campaign means an interactive platform to go at alone, with friends or social media peers. Simone adds, "For those wanting to make the change to a healthier lifestyle my advice would be keep it fun and exciting. Don't make two days the same and find pleasure in searching and discovering new exciting recipes so you are constantly excited to try new fun healthy recipes."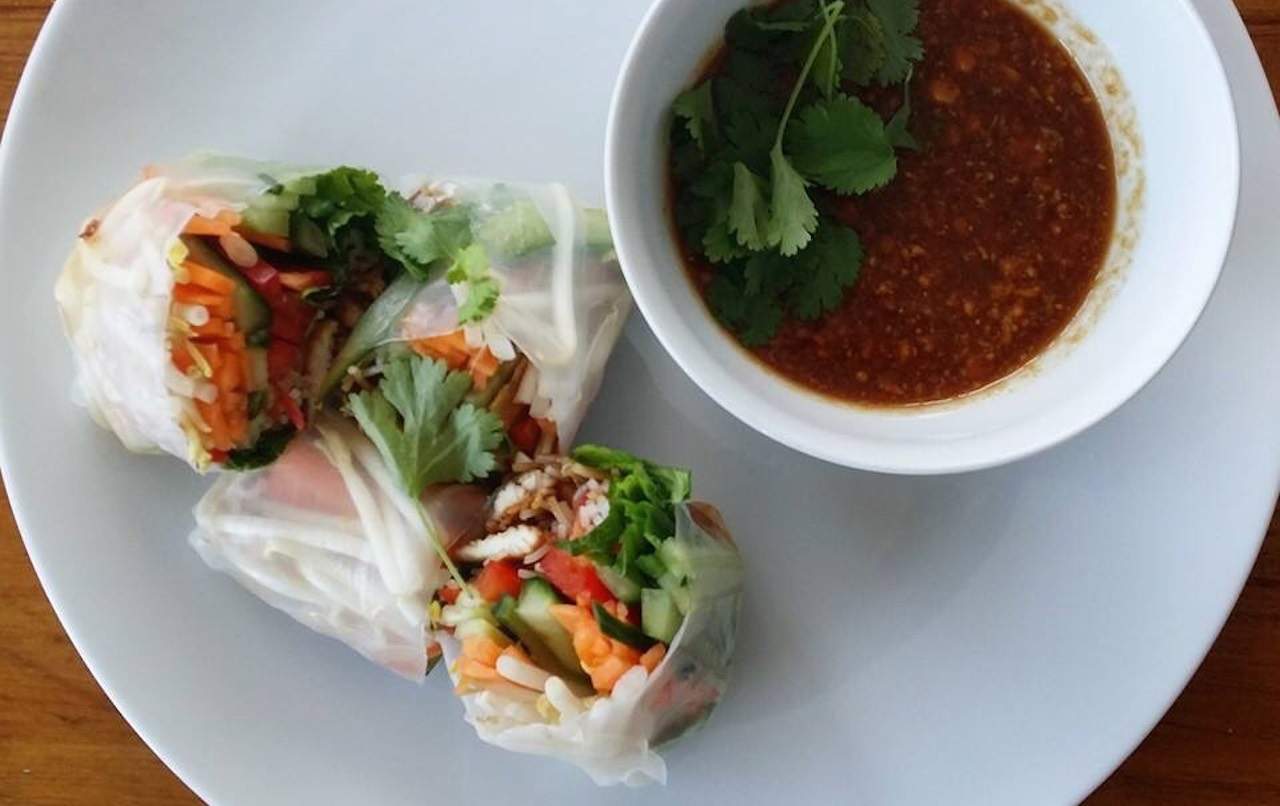 Simone Anderson's Teriyaki Chicken Rice Paper Wraps 
To celebrate the 5+ A Day Challenge, Simone has provided a recipe to kickstart your healthier eating and make it easier than ever to #GETITIN.
Ingredients
100g vermicelli noodles
1 tsp oil
1 chicken breast, chopped
2 tbsp low calorie teriyaki sauce
1 carrot, finely sliced into match sticks
1/3 telegraph cucumber, finely sliced into match sticks
1 capsicum (I used half a red and half a yellow), finely sliced into match sticks
1 small handful of mung beans
Fresh mint leaves
Fresh coriander
2 tbsp crunchy peanut butter
4 tbsp soy sauce
2 tbsp sweet chili sauce
1 tbsp lime juice
1 tsp minced garlic
1 tsp minced ginger
Rice paper wraps (you can find these in the international section of your supermarket)
Method
1) Boil some water. Place the vermicelli noodles in a bowl or pot and pour the water over them, enough to cover the noodles fully. Allow to soak for five minutes, and then drain the water. Set aside.
2) Place oil in a frypan and heat over medium heat. Add chicken and teriyaki sauce. Fry until the chicken is cooked through. Set aside.
3) Make your peanut dipping sauce by mixing the peanut butter, soy sauce, sweet chilli sauce, lime juice, garlic, ginger and boiling water together in a jug until the peanut butter has melted and the ingredients are well combined.
4) Pour some more boiling water on to a dinner plate, right up to the rim. Dunk one rice paper in to the water for just a few seconds, making sure every inch of it gets wet. It will soften, but don't let it get too soggy or it will be too difficult to work with.
5) Lay the rice paper out on a damp tea towel and place small amounts of your ingredients on to the bottom third of the rice paper. Fold the bottom of the paper up over the filling, tuck in each side, and then continue to roll the whole thing up. Repeat the process with the remaining rice papers, until you've used up all your filling.
Check out www.getitin.co.nz for more information.
Published on February 18, 2016 by Fiona Connor