The Best Glamping Sites to Hit Up Next Time You Go Road Tripping Around New Zealand
Choose from seaside glamping spots, campsites in the mountains and tents scattered about countryside farms full of roaming sheep.
New Zealand glamping sites are made for travellers who want to explore and stay amid the country's spectacular natural landscapes without having to rough it. Either hit a few of these as you road trip through the North and South Islands or find a location you love then stock up and stay for a good few days.
Whether you're after seaside glamping or a mountain escape, with fantastic lodgings scattered across the countryside, Aotearoa's best assets are on full display at these glamping destinations that get you closer to nature than any hotel (although there's no shortage of great hotels in New Zealand).
Editor's tip: if you're looking to see as much of New Zealand as possible, then book yourself into an unforgettable road trip holiday here (with breakfasts, car hire and accommodation all included).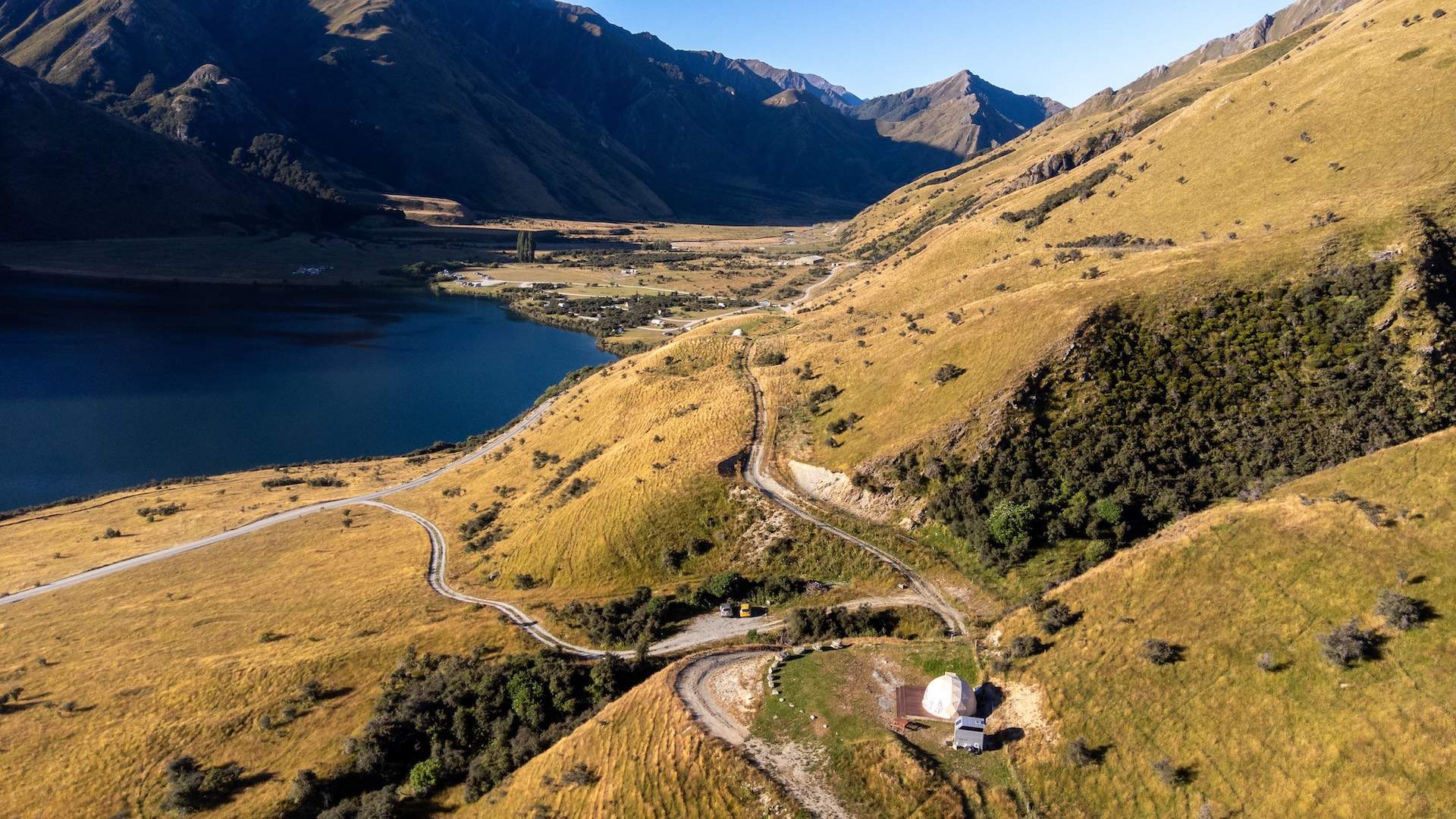 GLAM CAMPING, QUEENSTOWN
At Glam Camping, you'll find a collection of geometric dome tents perched along a hillside looking down on the green valley and lake just a 20-minute drive from Queenstown. During the day, take the 90-minute walk around Moke Lake or go horse riding. You can even join a morning yoga class or organise a wine tasting tour around one or many of Queenstown's famous vineyards.
But we are particularly excited about the Glam Camping's food and drink offerings. You can opt to cook your own food (with all the produce provided by the hosts) or let a private chef treat you and your travel buddies to a three-course feast on the property.
Editor's tip: if you're looking for the ultimate Queenstown getaway then book our specially curated trip here (including a scenic flight, gin tasting tour and mountaintop spa experience).
KAWAKAWA STATION, SOUTH WAIRARAPA
This sprawling farming property spans across rolling grassy hills by the South Wairarapa coastline. And until the end of April 2023, the Kawakawa Station team invites guests to stay in a series of large tents hidden within the pastures. But, unlike other bell tents, these have clear ceilings so guests can stargaze from the comfort of their own bed. It also has a fully equipped kitchen on the property, so you can prep your meals without needing to bring a heap of gear.
You can easily spend a few days here, hanging out among the sheep and strolling around the property. But, if you're after a proper adventure, Kawakawa Station also offers an epic hiking experience. The three-day hike along the Station Walk takes you through forests, along creeks and right down to the coast. The team will put you up in a bunch of different accommodations along the way, too.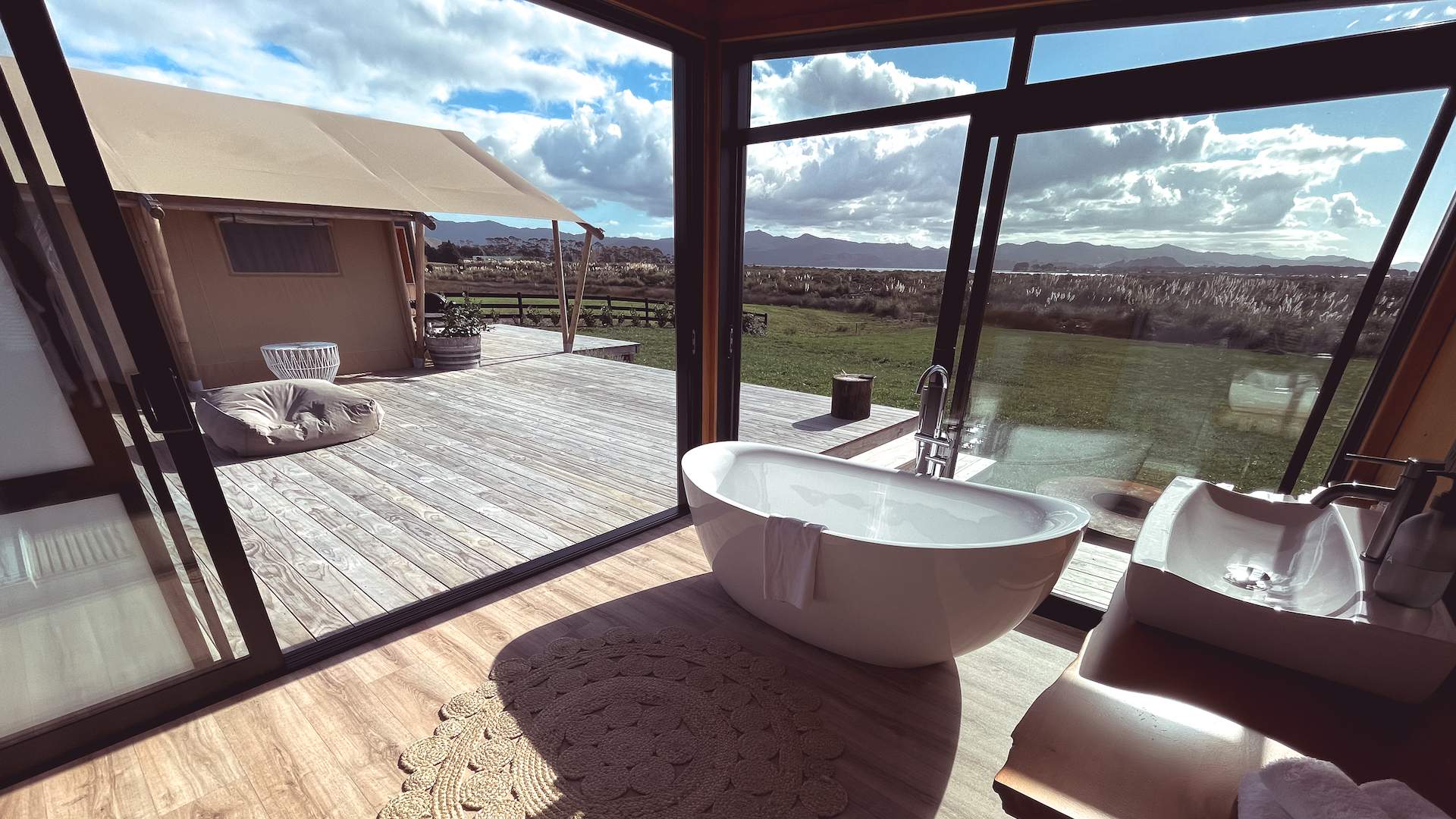 COROMANDEL LUXURY ESCAPES, COROMANDEL
It's in the name but still deserves being repeated — Coromandel Luxury Escapes is a truly luxurious glamping site. It is all powered and comes with a mini fridge, oil heater, large king bed as well as a private free-standing outdoor bath. A massive deck with a BBQ is also there for you when you want to cook up some locally caught fish.
Apart from the site, one of the biggest selling points is the location. It's close to some of New Zealand's best beaches, including the picturesque New Chums Beach. And, if you're up for a 50-minute drive, you've got to visit Hot Water Beach. Here, you can dig a hole in the sand to find naturally hot water bubbling up to the surface — just be careful when digging, as this water can reach temperatures beyond 100 degrees Celsius. Use Coromandel Luxury Escapes as your base when exploring the Coromandel region which is just a two-hour ferry ride from Auckland.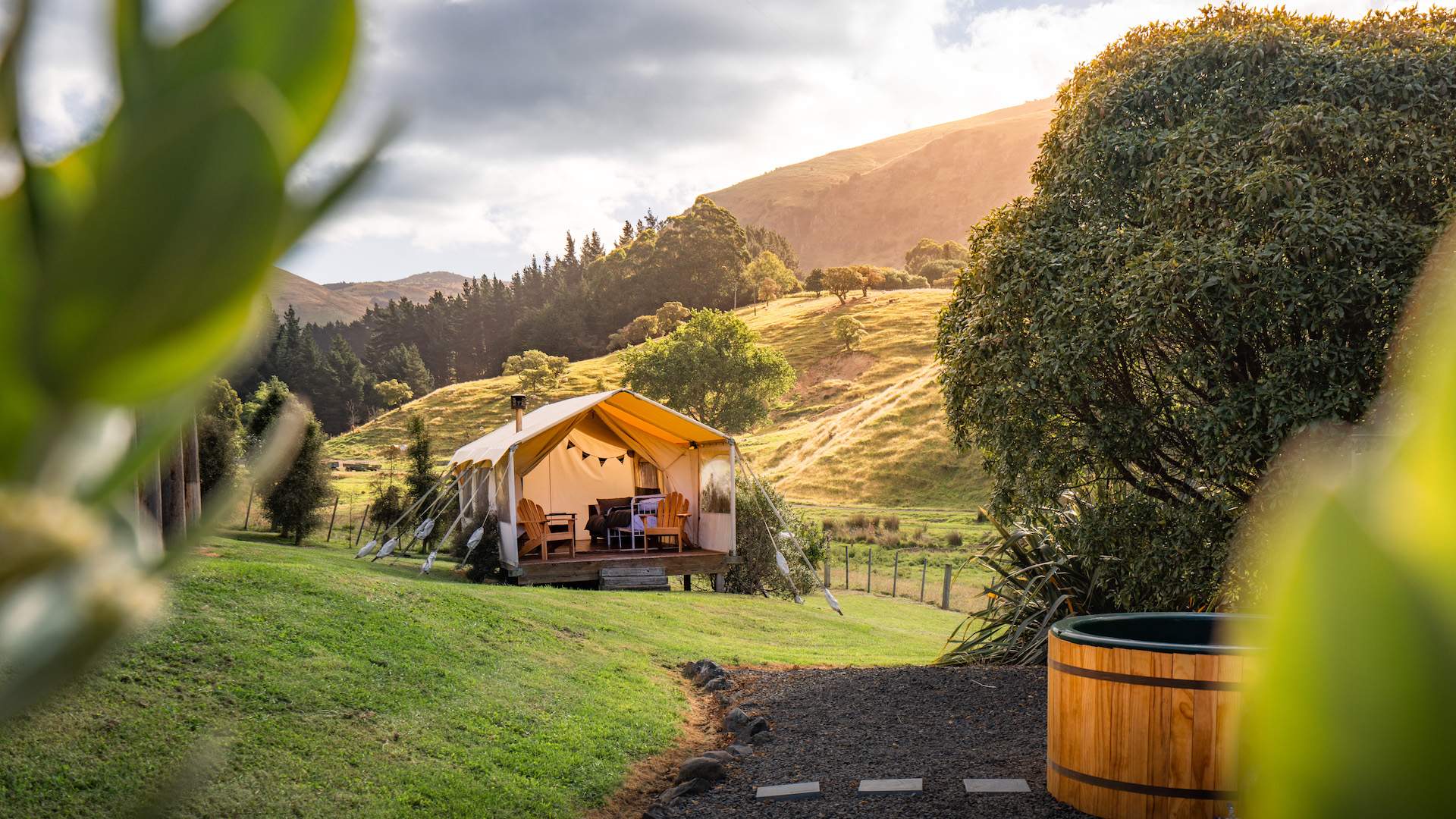 LAVERICKS BAY, CHRISTCHURCH
The Lavericks Bay glamping spot has two tents making up this wonderfully bucolic site. Seclusion is almost totally guaranteed. Apart from the property's wandering sheep. You'll feel as if you have the entire bay and rolling countryside to yourselves — for exploring or just sitting back and taking in the views. During the day, head to the beach for some leisurely swimming at the property's private beach to check out the resident dolphins and seals that tend to float past.
And, at night, you can't say no to a dip in the large wooden hot tub in which you can do some proper stargazing. There's no light pollution here, so you'll be guaranteed a stunning night sky.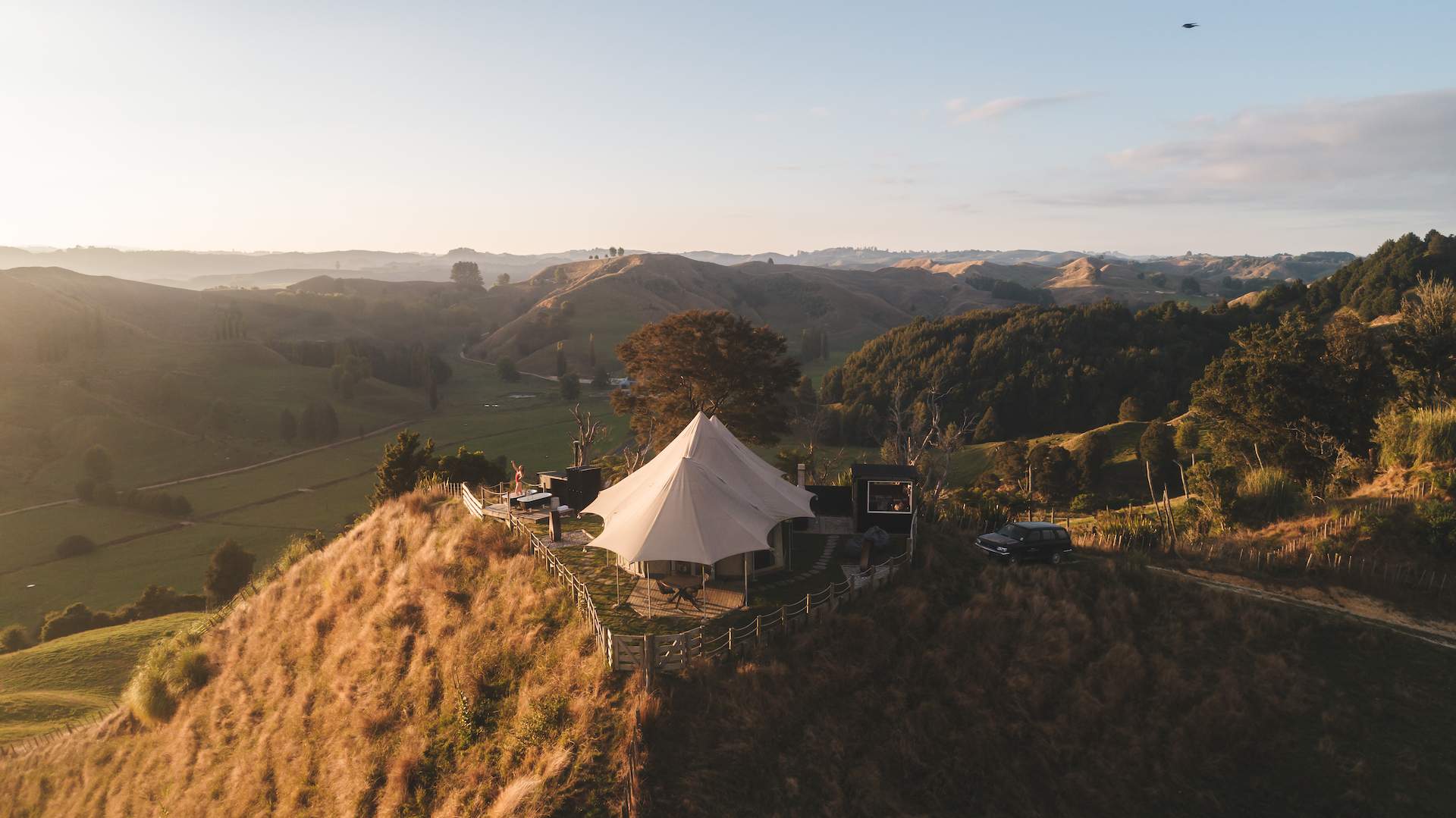 WAITOMO HILLTOP, WAITOMO
The Waitomo Hilltop glamping site feels like it's pulled from a fairytale. Atop a hill, in the green Waitomo countryside lies this luxury tent that's been kitted out with everything you could need. Cook up fresh pizzas in its woodfired oven, rug up by the fire pit watching movies via projector or take a dip in one of the outdoor baths overlooking the countryside.
Right now, there is only one glamping tent available, but Waitomo are in the midst of creating another equally luxurious site. The new campsite will have two tents joined together with a glass walkway — including three separate bedrooms, a lounge area and a massive kitchen and dining room. It will technically be a tent but look far more like a bricks and mortar home. It is slated to open in December 2022.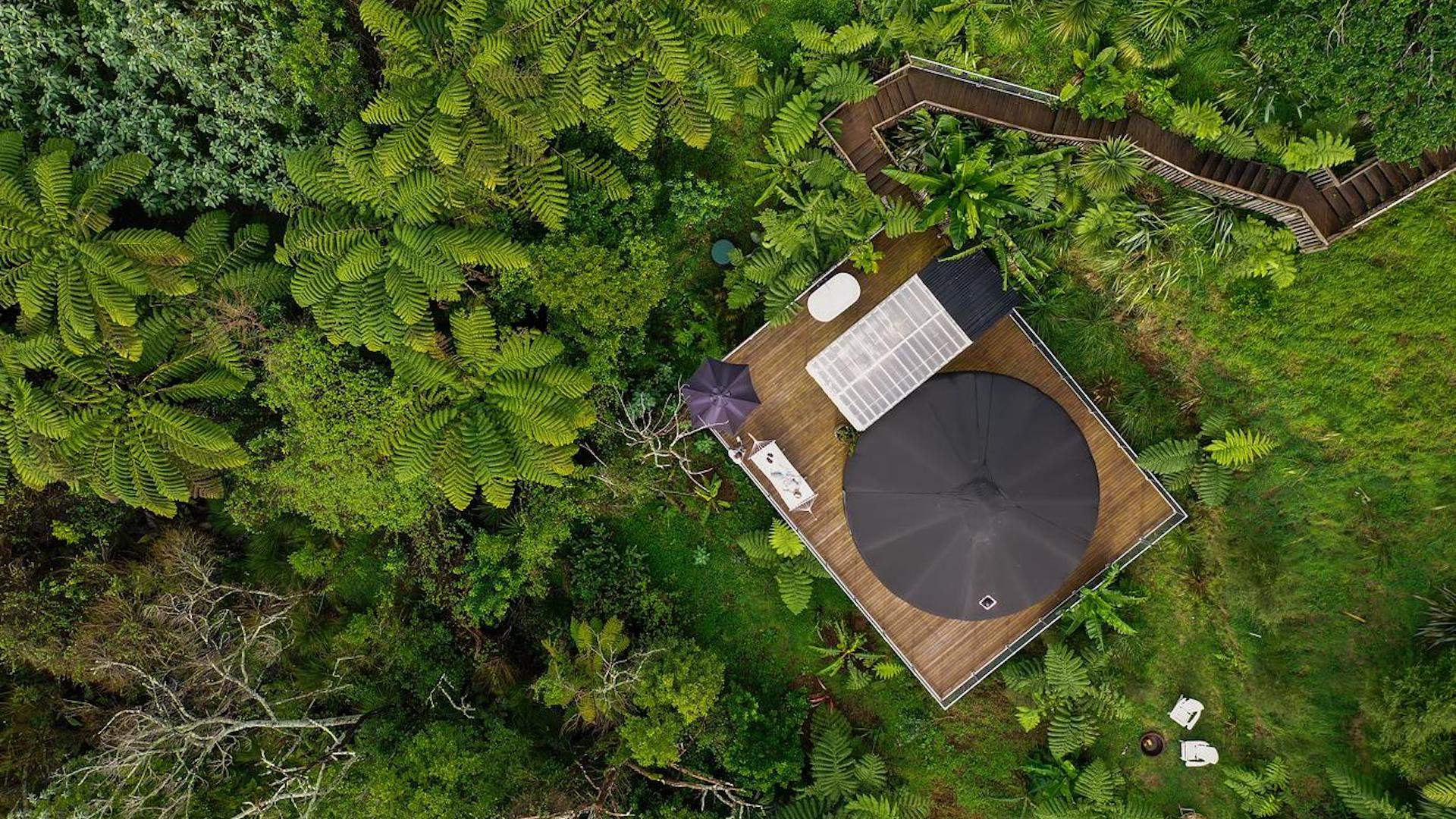 THE BLACK YURT, OAKURA
This one is for the keen surfers out there. You're a short walk away from Oakura's surfing beach which is known for having some fairly reliable swell. The Black Yurt is also close to town — walking distance from plenty of boutique stores, restaurants and bars.
It may be one of the least remote glamping spots on this list but it still feels miles away from crowds. The large yurt is surrounded by palms and native bushland, offering up some well-needed privacy. The interiors of the yurt are also extra cushy. There's a king bed, a queen futon mattress as well as some schmick bathroom facilities. And, if the weather is good, you can open the dome and windows to let the outside in.
TAWANUI FARM, CHEVIOT
It doesn't take long to find jaw-dropping vistas outside of New Zealand's main cities. Just an hour-long drive from Christchurch lies Tawanui Farm, a working sheep, cow and deer farm. Here, the Loughnan family have set up two geodesic domes, a central camp kitchen (with couches and cooking gear all provided) and a large hot tub looking out over the pastures. It's easily one of the best New Zealand glamping sites out there.
Each dome sleeps up to four people, and no matter how many guests you book for, you'll get the entire site — that makes Tawanui Farm great for larger groups. Either laze around playing boardgames and drinking in the hot tub or use it as a base to explore the rest of the region. You can fish at the local Hurunui River, swim and surf at Gore Bay or take an ATV farm tour to learn a little more about Tawanui Farm. Dealer's choice.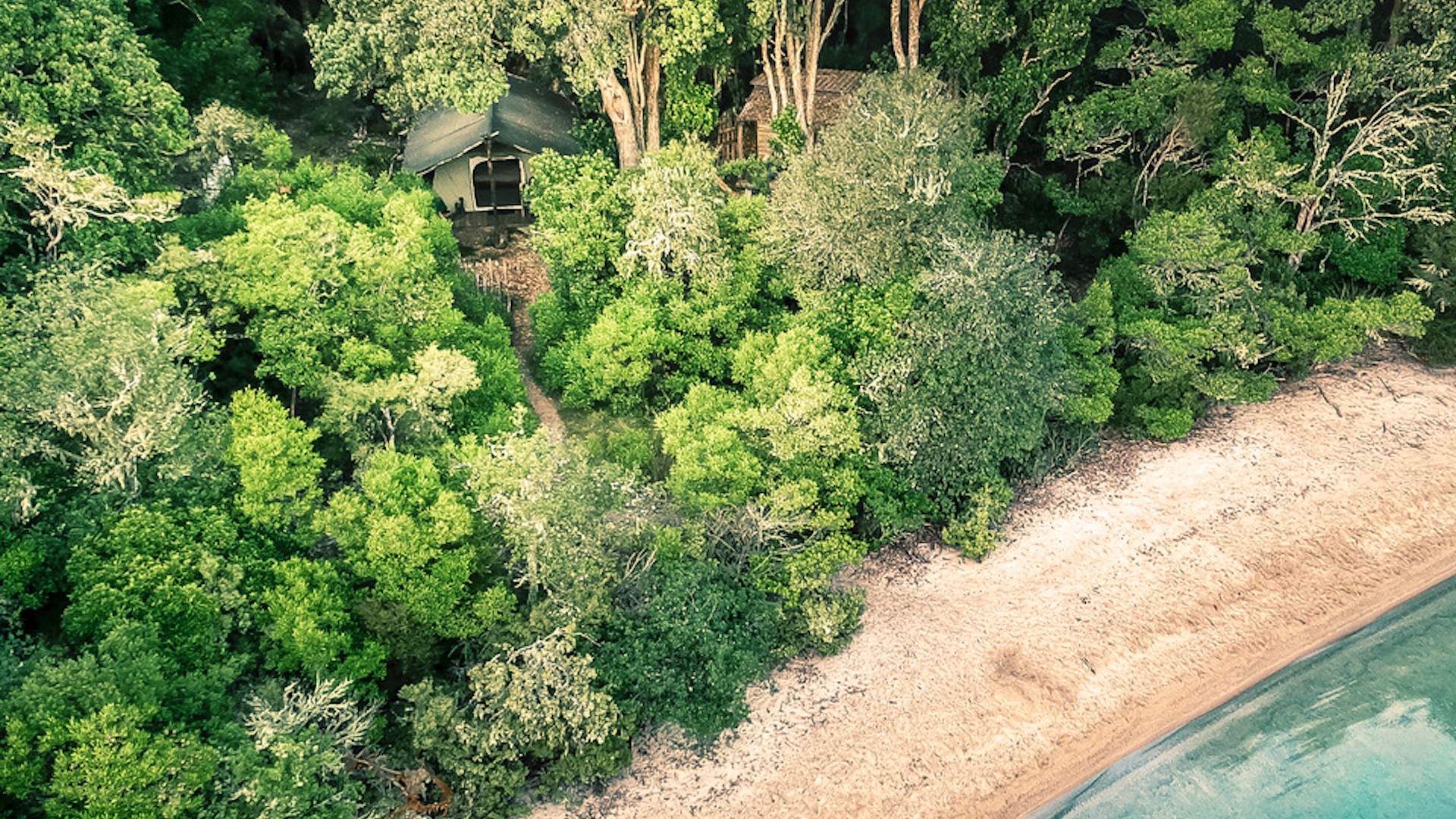 KANUKA, ROTORUA
This is just about as remote as it gets. A single Kanuka glamping tent is hidden up in the bush, right next to Lake Tarawera, and can only be reached by a boat ride or hike. The campsite comes with a large tent and queen-sized bed, a bush kitchen with everything you need to cook up some grub, a dining area as well as a separate bathroom. The essentials are sorted.
And, once you're all settled in, what you choose to do around here is totally up to you. The Kanuka team can provide a kayak for exploring the lake, there's a sandy beach less than 50 metres away and you can hike along a number of trails (with one leading to a natural hot pool in the bush). Ah, you've got to love New Zealand and all its thermal hot springs.
CAMP KERENGU, KAIKOURA COAST
If you're travelling with a bunch of mates or a big family, Camp Kerengu is perfect. Here, you will find three large tents, a group kitchen and a covered lounge area — all with uninterrupted sea views. But, be prepared for living it a little rougher than you might like. The entire glamping site is off grid. This will force you to fully unplug and enjoy nature.
You're a short walk from the beach, close to several walking trails and simply surrounded by wide open plains and rolling mountains. It's stunning. And is the perfect example of why people love to go glamping in New Zealand. Here, you get the best bits of Aotearoa's natural landscape all in one location.
Feeling inspired to book a getaway unlike anything else out there? Only through Concrete Playground Trips, our new travel booking platform, can you now purchase holidays specially curated by our writers and editors. We've teamed up with all the best providers of flights, stays and experiences to bring you a series of unforgettable trips at destinations all over the world.
Top images: Waitomo Hilltop
Concrete Playground Trips
Book unique getaways and adventures dreamed up by our editors