The Five Best Beaches for Learning How to Surf Around Wellington
Whether you're a first timer or looking to brush up on the basics, these locations offer the perfect beginner-friendly conditions for surfing.
When we think of surfing in New Zealand, Raglan's endless rides and the rugged rocks at Piha come to mind. Dirty Dunners packs a punch if you're willing to suit up. But Wellington is the last place you would think of hanging ten. Luckily for our ocean lovers, our capital is surrounded by captivating beaches with some funky beginner waves. Wherever you begin to paddle out, it doesn't come easy. Riding the waves is about the rush you feel when you're gliding. For some, surfing is a meditative practice, for others it's a chance to challenge themselves every step of the way. No matter what, there's so much stoke to be had, so stay safe and go get your toes soggy. Here are our picks of beginner beaches in the region. Remember, no dropping in, wear your leg rope, respect the locals and try not to be a dickhead. Now embrace your inner kook and let that foam board fly.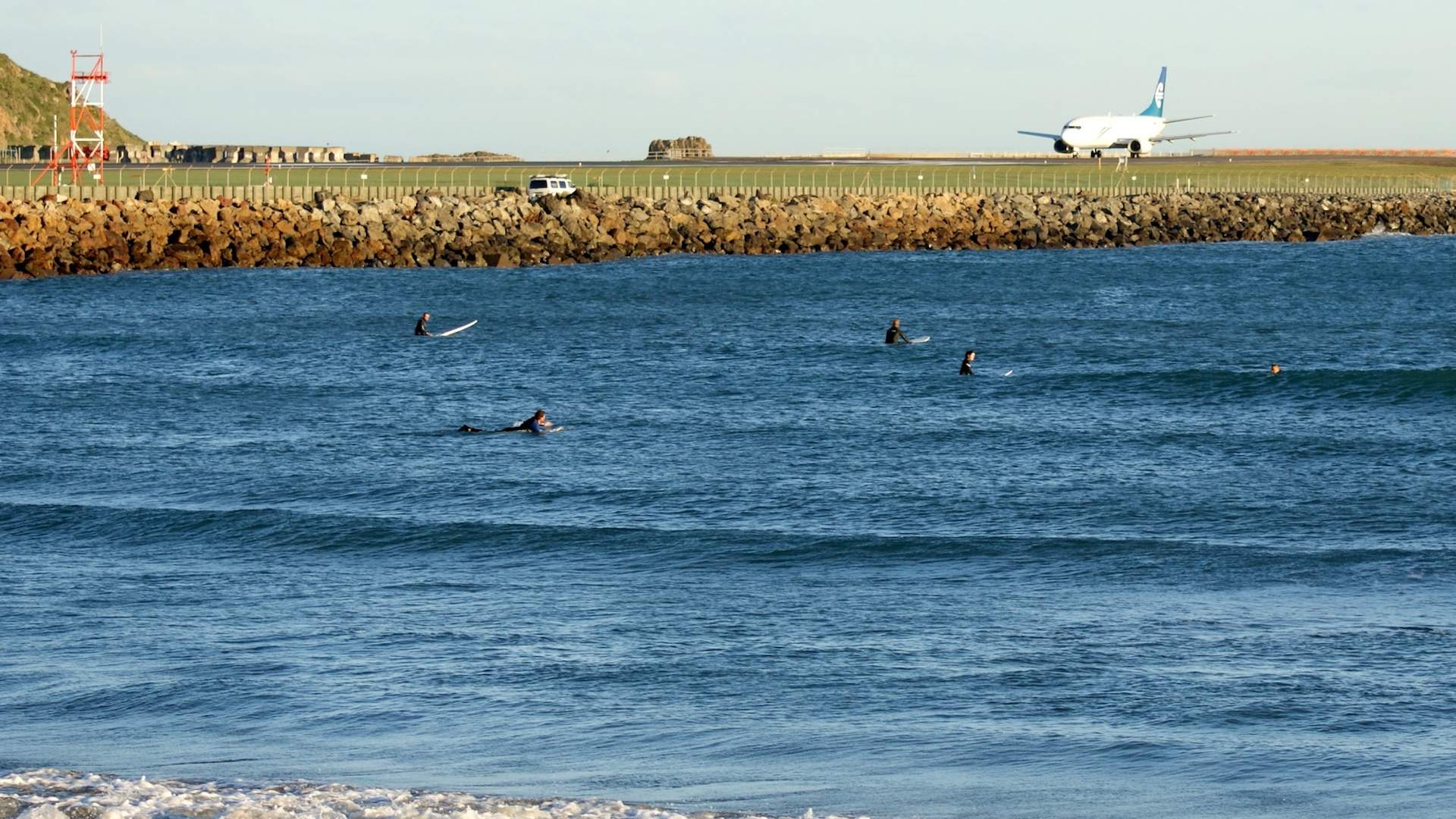 If it's your first time walking on water, head to the beach-breaking waves at Lyall Bay. When the swell is working, the city's surfers flock to this inner city spot by the airport. It can look intimidating at first. So paddle around in some of the whitewash in front of Spruce Goose while you learn to stand on two feet. The beach break offers good rights and lefts for beginners at any tide. When you come off, which you undeniably will, there's nothing but other surfers you'll have to watch out for. Lyall Bay has some reputable surf schools that are always happy to take new groms under their wing. Get googling and find the best teacher for you.
Head up the Kapiti coastline to one of the region's most reliable breaks for newbies on a board. It's sometimes crowded on a good day, but the trip out of the city ensures the lineup is only packed with people serious about growing their skillset. You'll find the best swell in this neck of the woods with a nor-westerly. It's a fun vibe with peaks along the beach and a mellower atmosphere than the inner city breaks. If you're frothing to get on a few more waves without worrying about any kooky behaviour in front of the masses, it's worth the 25-minute drive. You can even hop on the train if your board allows. Like Lyall, there's a handful of good instructors who work out of Titahi, so whether you're looking to get pushed onto a few or get barrelled, the Kapiti Coast is your one-stop-shop.
If you've started popping up on most of your waves and even started to throw in a few turns, head for Houghton Bay when the waves start pumping. The small beach is home to some of the cleanest waves I've caught in the city. There's always a chance of ending up on the rocks nearby, but locals are quick to send you the right way. The paddle out can be super cruisy and never too long, which I'm always stoked on, and the waves are always fun for a little play — cowabunga. It can get packed waiting out the back, but you can hop on a bus from the CBD so it's all the more worthwhile. Keep an eye on the wind though, because this break can go from primo to no-go in moments. Also, be careful of pollution — unfortunately, not everyone's a tidy Kiwi.
A town good for more than just the array of discount stores, Otaki is home to a fun little learner beach break that rarely ever draws a crowd — purely out of sheer distance from the city; it's a bit of a mish north. So grab a few mates and a few mals. You're in for a day with your toes on the nose on a break that almost always pulls through. With lefts, rights, and often never another surfer in sight, Otaki is any grom's paradise. The beach gets bonus points too because when you're all tuckered out from a long day in the water, it knows how to put on a sunset like no other.
If you've made it this far without any fin attacks or shark attacks, it's time for your first surf roadie. It's not technically Wellington, but it's close enough and beautiful enough to claim for our own. Castlepoint is home to breaks for any surfer of any skill and more often than not you've got the place to yourselves. The Gap tends to get crowded on good days, with hoards flocking from across the region for a chance barrel. But she's a beautiful right when she's pumping and you've got to risk it to get the biscuit.
Introducing Concrete Playground Trips
Book unique getaways and adventures dreamed up by our editors