Get the Most Out of Your Trip to Bali by Booking One of These Unique Travel Experiences and Tours
Level up your next Bali holiday by hiking up volcanoes, riding quad bikes through the jungle and swimming beneath hidden waterfalls.
Some visit Bali seeking romantic places to stay, where they can treat themselves to pamper packages within wild natural surroundings. Others want a tropical adventure — hiking up volcano craters, riding quad bikes through the jungle or swimming beneath hidden waterfalls. And, of course, there's the party atmosphere, from group day trips to places to dance the night away.
To help any kind of traveller have the best time in Bali, we curated a selection of local trips and tours that can be booked through Concrete Playground Trips. Read on to find a few of our favourites.
SUNRISE VOLCANO HIKE WITH THERMAL SPRINGS SWIM
This trek could quite easily become the highlight of your trip to Bali. You'll get up early to hike to the summit of volcanic Mount Batur to catch the sunrise and enjoy breakfast cooked over volcanic steam. It's not a difficult climb, but the natural hot springs waiting for you at the bottom are a magical treat. Enjoy the view of the volcano and the surrounding mountains while you soothe your muscles in the natural springs. Not a morning person? Book a midnight hike or a private jeep ride up to the volcano and into the crater instead.
RICE TERRACE CYCLING TOUR
When visiting Bali, go beyond the island's famous beaches and head inland to explore the untamed jungle and thousands of miles of rice terraces. While you can drive to many of them, the best way to see a bunch is by going on a cycling tour. This particular one focuses on the Bangli region. It is a less commercialised area, boasting some of the world's most beautiful rice fields with views of Mount Batur in the distance. Alight from your bike to walk between the terraces, little huts, tumbling waterfalls and quaint temples before sitting down to a big lunch overlooking the stunning scenery. We could think of worse ways to spend a day.
FIVE-DAY HOLISTIC RETREAT
Bali abounds with wellness retreats, and Y Retreats is one of the best budget-friendly options. That's why we teamed up with Y Retreats to sell some of the spots available on its upcoming Reset and Recharge retreat. Over the course of five days, you'll be immersed in a carefully curated combination of breathwork, cold exposure, yoga, self-development sessions, leadership and resilience workshops, physical adventuring and so much more. It's held at a secluded beachfront property in Tabanan and includes all your meals. It's the perfect place to relax and work on yourself.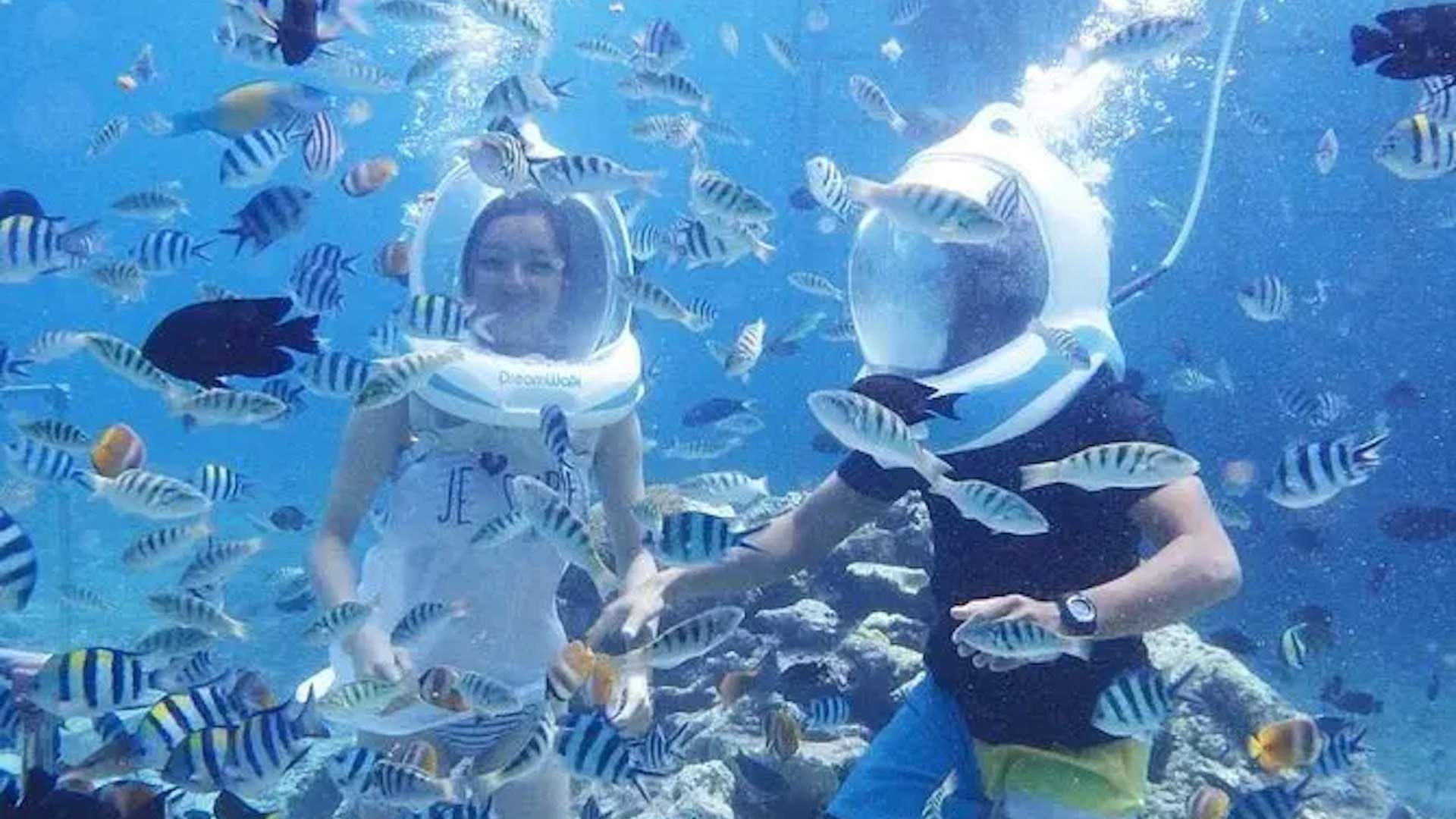 BALI SEA WALKER
This is a really random travel experience. But it's heaps of fun. You pop on a glass helmet that's fed oxygen via a long tube and walk along the sea floor spotting tropical fish swimming about coral reefs. It's much easier than proper scuba diving (no training is required for sea walking). Add this little activity to a day spent at the beach.
UBUD DAY TRIP
The Ubud region has become increasingly popular these days, but remains quieter than most parts of Bali. It has many picturesque temples, coffee plantations, rice fields, museums and small villages filled with markets and great places to eat. But seeing all its best bits can be tough without a guide. So, we teamed up with Candidasa Taxi to offer this unique private tour of Ubud that also includes a trip to Tegenungan Waterfall and Sacred Monkey Forest Sanctuary.
THREE-DAY GILI ISLANDS AND LOMBOK TOUR
The Gili Islands is one of our favourite places to go in Indonesia. These six small islets are all located by Bali's neighbour sister Lombok and offer up exceptional experiences. You can swim with turtles, explore small fishing villages, relax on long white sand beaches and simply escape the crowds of Bali. And if you book this Gili Island and Lombok tour, you'll get to take your time seeing all the best bits over three days — you'll really want to spend more than just a day in these parts. The tour will also pick you up from Padang, so it's a great addition to any Bali holiday.
REGIONAL BALI TOURS
Bali is a diverse place when it comes to culture, food and natural sites. That's why you shouldn't spend your entire holiday in just one place. But packing up all your things to stay in several different areas can also be tiring. The solution? Get on the day trip bandwagon. We have a bunch to help you see it all. Spend a day in the north, south, east or west of the island with each of these unique trips that take you to all the most popular parts — as well as a few hidden gems only locals know about.
NUSA PENIDA DAY TRIP
Nusa Penida is an absolutely stunning island located just off the shores of Bali. It's a beach lover's paradise, with countless hidden coves located all over. A great way to see them is by joining a day tour. This particular one takes you to Broken Beach, Angel's Billabong, Kelingking Beach and Crystal Bay. You can even book a really affordable private boat tour of Nusa Penida to see it all from the water.
QUAD BIKE ADVENTURE
As an ATV rider, you will be challenged to conquer some of Bali's rugged off-road terrain and muddy rock formations for 90 to 120 minutes. You'll see some great scenery, rice fields, rivers and beaches while zooming about with some mates. This will be followed by a two-hour snorkel trip that will take you to two different swimming spots. It's a two-in-one.
Feeling inspired to book a truly unique getaway? Head to Concrete Playground Trips to explore a range of holidays curated by our editorial team. We've teamed up with all the best providers of flights, stays and experiences to bring you a series of unforgettable trips to destinations all over the world.
Top image: Jamie Fenn (Unsplash)
Concrete Playground Trips
Book unique getaways and adventures dreamed up by our editors