Just one-hour drive from Queenstown over the dramatic Crown Range and through Cardrona Valley is Wanaka, a lakeside village offering an equal level of heart-stirring beauty as its larger sibling— only less congested with rubberneckers and transients looking for a quick thrill. Boasting its own microclimate, Wanaka regularly exceeds 30 degrees in summer, making a dip in the crystal-clear lake an alluring and rewarding prospect. Winter is a different story, and lake-goers should be prepared for an ice bath as the surrounding peaks become cloaked in snow. Here's how to soak up the very best of 'God's Country'.


SEE & DO
Driving through Cardrona en route to Wanaka you'll be greeted by a fence loaded with undergarments. The controversial Bradrona first came to light between 1998 and 1999 when four mystery bras appeared on a rural fence. Literally taking advantage of the 'No. 8 Wire' philosophy, it's since hooked bras by the thousands and become one of the most photographed attractions of the region— an ironic fact when you consider that the surroundings are stacked with mother nature's own beautiful lady lumps.
Beyond the bras you'll find the best new addition to the region: Cardrona Distillery. The family-owned business was born after Desiree Whitaker discovered on a spirit-making course that most "distilleries" simply plop their signature flavour into tubs of bulk ethanol. Instead, Cardrona makes its spirits completely from scratch, starting with the basics of malted barley, water and yeast.
A visit to the distillery is a treat for all the senses. During the backstage tour you'll be greeted by an aromatic cloud of botanicals, invited to stick your head in mash tuns, have a sniff of bubbling wort, meet copper whisky stills, and dip your finger into natural spirits— all before you even get to try the goods.
The natural approach and tender love and care has already proven its worth; the distillery most recently took home a gold medal at the New York World Wine & Spirits Awards for its 'The Source' gin that uses fresh botanicals like rosehip, juniper, angelica root, coriander, orange and lemon. We can also verify that it's an incredible full-bodied drop. And we're counting down the days until the cork is popped on the distillery's flagship whisky in November, 2025.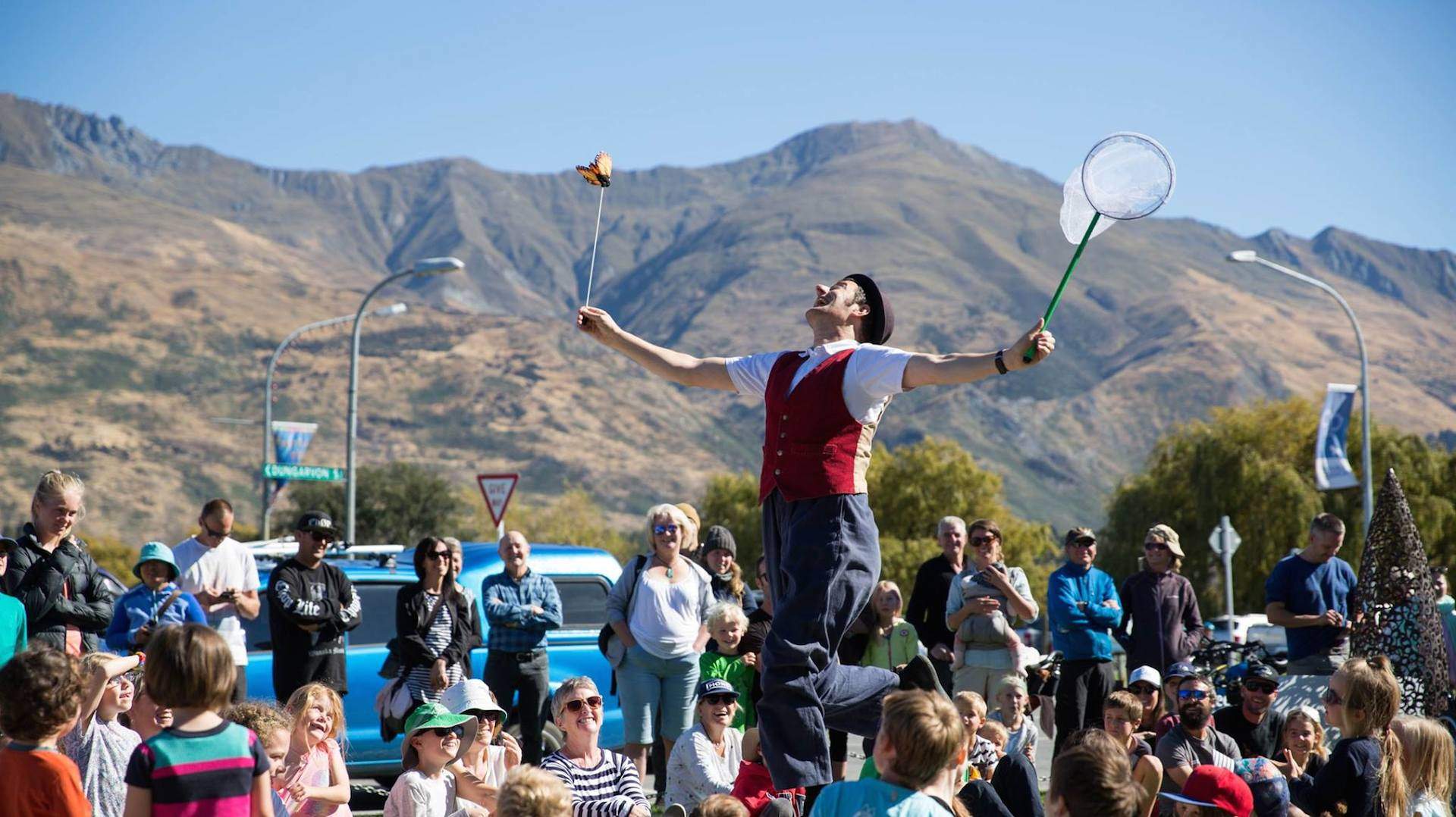 2021 will mark the ninth outing of Festival of Colour. Every year the festival brings together a lineup of local and international talent, all handpicked by festival program director Philip Tremewan from the likes of Edinburgh Fringe. Tickets are hot property with locals and surrounding cities, with practically every show selling out upon release.
Venues are in short supply, which only makes for a more intimate experience in local community spaces. Where else can you sit at arm's length from a world class orchestra and inhale dust flying off shredding violins? To rectify the lack of space, every year a spielgeltent is erected by just one man and an army of volunteers. The Crystal Palace is just as majestical as it sounds— and comes complete with draping red fabric, stained glass, an extravagant chandelier and lush booth seating around the tent wall. Next year's program is set to run from 12–18 April with an even bigger street program, following on from the success of the 2019 expanded street day.

EAT & DRINK
There's no of shortage of great eateries in Wanaka, and to the delight of most, there isn't a Maccas in sight either. Much like the rest of the country, the trend of using local and seasonal produce has swept into the lakeside village. Most establishments use the best of what's on their doorstep, from locally-brewed craft beer to sustainable bread made from stone-ground grains.
A visit to the Maude Wines Tasting Room is highly recommended. Situated directly above the Wanaka township overlooking the golf course, the family-owned operation has been in business for more than 20 years and is a must for wine lovers. The label is best-known for its Central Otago pinot noirs, chardonnay and riesling, though you can also take the opportunity to try the reserve selection from the Mt Maude Vineyard. While you're here get some snacks, or settle in for a full meal at the on-site restaurant, Bistro Gentil.
Local vegetarian joint Soul Food Organic isn't somewhere you'd first recognise as an eating establishment. Past the shelves of organics and health food products is a small cabinet offering everything from rice paper rolls, refried bean tacos, peanut butter cups, falafel wraps, and running with the zero-waste theme, yesterday's falafel wraps. Beyond that is an unexpected courtyard that may as well be someone's backyard. The dahl is served with what they call 'the best bread in Wanaka' from The People's Bread Co.— a grain-to-loaf sourdough bakery that uses sprout and stone ground grains. The iced coffee also isn't your traditional caffeine hit; it's served from a massive blender tableside into an equally generous glass— also perhaps using yesterday's bananas.
Kika is the kind of restaurant that would be ideal for a visit in the heart of winter; sitting in front of the open hearth fire, nursing a glass of Central Otago pinot noir and chowing down on the head-size portion of lamb shoulder. It's just as romantic in the warmer seasons and the entire menu lends itself very well to sharing— unless you'd prefer to tackle that mammoth hunk of lamb by yourself. For the indecisive, the restaurant also offers a 'Just Feed Me' option where you can leave your dining destiny in the hands of the chef. If you try anything, it should be the fried chicken with tomato sumo. The 'Tom Selleck' gelato stick is pretty good too.
Kai Whakapai is notably the busiest venue in Wanaka, and on any given afternoon you'd be hard pressed to find a seat/or standing room on the footpath. The name translates as 'food made good', which is a legitimate proclamation. The all-day eatery serves large portioned classics like eggs benny as well as unconventional breakfast items like cauliflower fritters which will leave you yearning for another forkful. After dark, it turns into an intimate community bar with pizzas pumping out of the kitchen, local craft beer flowing on tap and punters streaming out on to the pavement.
Federal Diner is one of those places you probably wouldn't find unless you have the advantage of local knowledge or you look further down the best eateries list on Google. Found off the main stretch, the café-style eatery feels like a place that locals go to escape the incoming tourists. The open kitchen pumps out bistro-style food, including charred eggplant, fish and prawn red curry, brioche French toast, and cheese scones that are apparently 'world famous in Wanaka'. Its large courtyard would serve well for some afterwork drinks, while the more relaxed, takeaway version of the eatery, Fedeli, is ideal for the morning fix of cabinet food and what several Wanakians report as the best coffee in town.
If you're after a cold one during your visit, Wanaka has no shortage of craft beer bars. Ground Up is a tasting room and shop serving small-batch experimental beers, Rhyme & Reason is an open-plan brewery offering ten taps and BYO food, Wanaka Beerworks is a boutique micro brewery, and B.effect is a local spot complete with an outdoor beer garden, upstairs mezzanine and tasting room.
Published on July 02, 2020 by Stephen Heard