TRAVEL & LEISURE
The Top Outdoor Adventures to Discover in Whistler
Make those ski dreams a reality, and head into the great Canadian outdoors.
in partnership with
Nestled among the Coast Mountains, Whistler is a magical township located a couple of hours' drive north of Vancouver, Canada. The snow-laden village is best known for the mighty Whistler Blackcomb, which is by far and away the biggest ski resort in North America, made up of two majestic peaks joined by the PEAK 2 PEAK Gondola, the highest and longest cablecar of its kind in the world.
Should you be planning a trip to this wintry wonderland, you'd be remiss not to involve some outdoorsy adventures, including a few days' skiing or boarding some of the world's most beautiful runs. Beyond carving and shredding your way down Whistler's mountains, however, there are bucket loads of other escapades to be had, from dog sledding in the stunning old growth forest of the Callaghan Valley and snowshoeing around ghost towns to ice skating on frozen lakes and ice fishing in secret water holes. There's plenty of adventure to be had in Whistler, so start planning your trip with our guide to the village's best outdoor winter activities.
---
SKIING AND SNOWBOARDING WHISTLER BLACKCOMB
At Whistler Blackcomb, you'll find 200 official runs, which means you can ski for days without covering the same ground twice. Plus, with over 8,000 acres of skiable terrain, Whistler and Blackcomb mountains offer something for every level and style of skier and rider. If you're a beginner, you're in luck, as 35% of Whistler Blackcomb's trails (covering almost 3,000 acres) have your name on them — the most beautiful being Burnt Stew Trail in the Symphony Zone on Whistler Mountain, which winds gently through open bowls and alpine forest. For intermediate skiers, 7th Heaven offers a suitably challenging terrain, with loads of trees and stunning panoramas. And if you're an expert on the slopes, then head to Couloir Extreme, rated as one of the planet's most terrifying (and thrilling) runs. There's also plenty of terrain accessible from the Peak Chair at the top of Whistler.
Something to mention about skiing at Whistler Blackcomb is that the pedestrian-only Whistler Village is nestled right at the base of Whistler and Blackcomb, meaning runs feed right into the village centre off both mountains. The transition from shredding and carving to après-ski is a total breeze — especially with the many après joints loved by visitors and locals alike.
---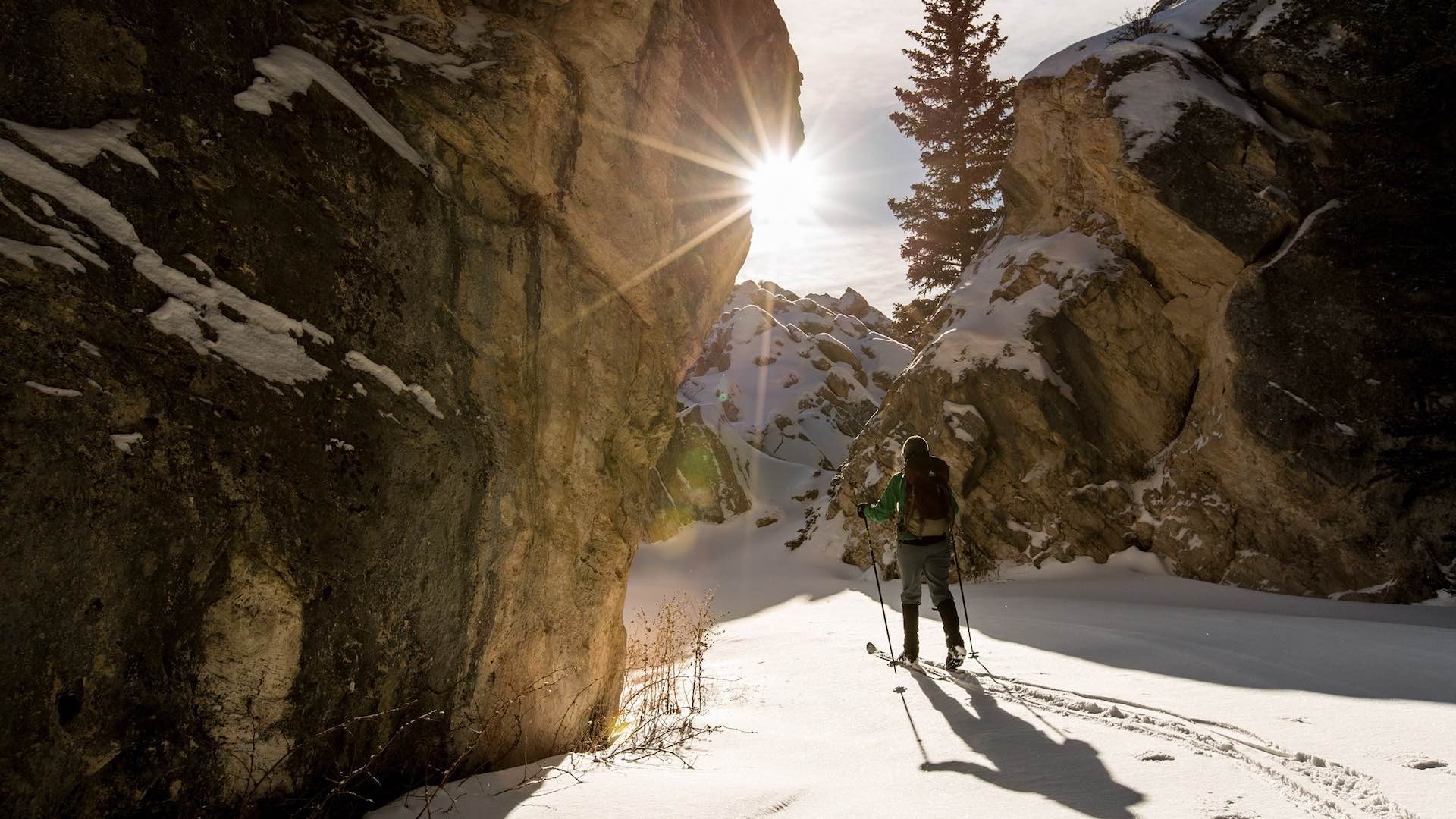 CROSS-COUNTRY SKIING
Lost Lake doesn't just sound like something out of a C.S. Lewis novel, it looks like it, too. You'll find this magical spot 15 minutes' walk from Whistler Village, so when you feel like a break from downhill thrills, and are ready to move at a slower, more exploratory pace, take a cross-country glide.
If you're after some exploration further afield from Whistler Village, then head to the extensive cross-country skiing trails out in the Callaghan Valley. The area offers picturesque, natural surrounds, and the Ski Callaghan Nordic centre is just a short shuttle ride from the heart of Whistler.
---
WALKING THE VALLEY TRAIL
You might think of hiking as more of a summer sport, but the Valley Trail makes trekking through Whistler's natural surrounds possible all year round. This 40-kilometre network dedicated to walkers is paved, cleared of snow, car-free and provides a connection between the area's many villages, lakes and parks. How you go about experiencing it is your call. With plenty of walks to choose from, you can take in many amazing mountain vistas, discover a forest of giant cedars and even check out a few local craft breweries on the way.
---
SOAKING IN STEAMY OUTDOOR HOT POOLS
After a day in subzero temperatures, there's no better way to wind down than with a dip in a hot pool. On the periphery of Whistler's Lost Lake Park forest, nestled among spruce and cedar trees, you'll find Scandinave Spa. Here you can hang out in a eucalyptus steam bath and Finnish sauna before plunging into a Nordic waterfall, then recovering in Hammock Haven. Any iciness left in your bones from a day in the snow will surely melt away. The spa also offers massages, plus has a cafe onsite just in case you need a little pick me up.
---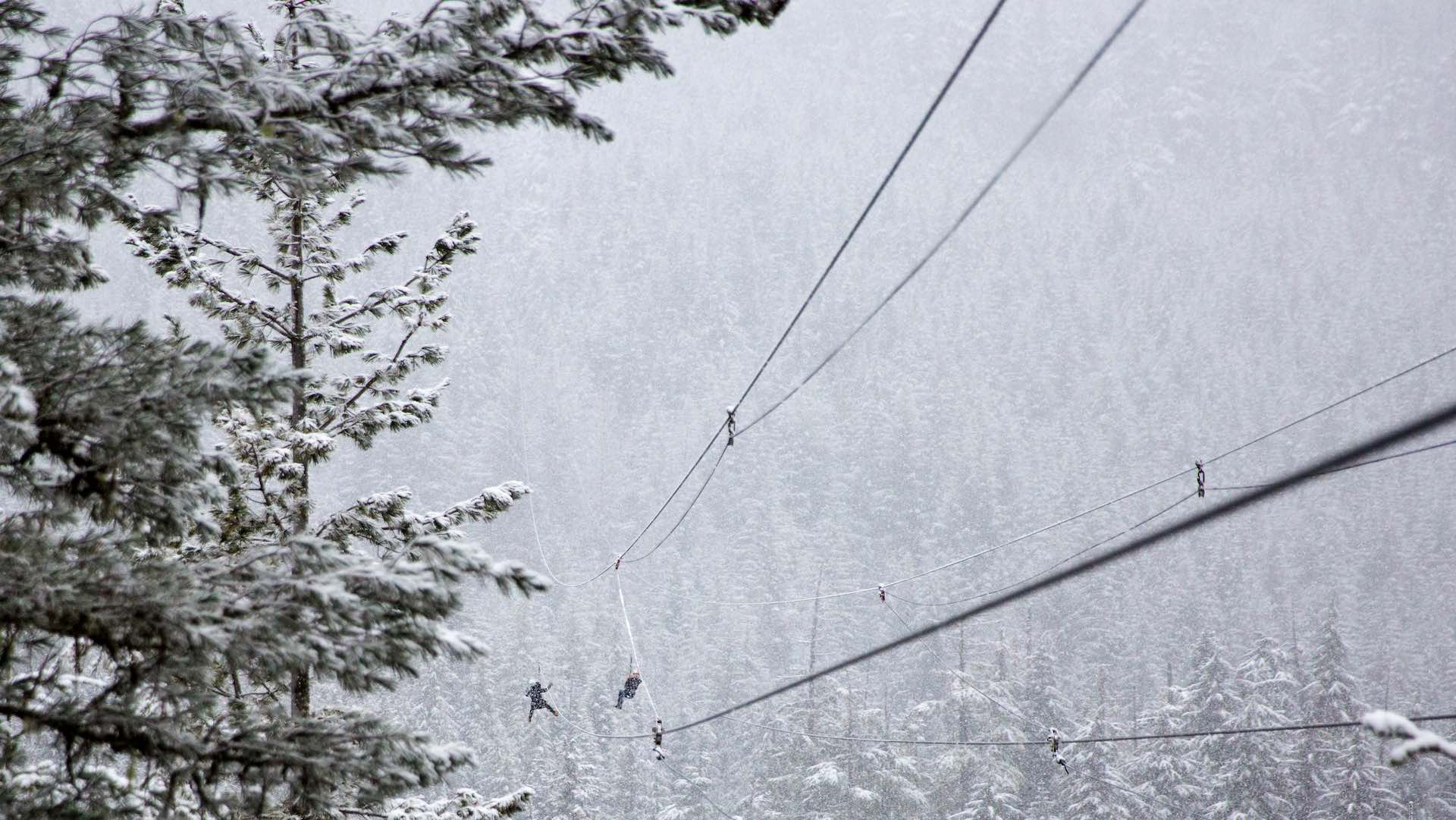 WINTER ZIP LINING
Yep, flying through the air at 100 kilometres per hour, 200 metres above the ground, in sub-zero temperatures is absolutely doable in Whistler; in fact, there's a stack of zip line tours to choose from. Go with Superfly, and you'll catch a 4WD up Rainbow Mountain, before taking off on a 1.3-kilometre long ride that spans deep valleys and old growth forests. Look to Ziptrek for several options, categorised according to adrenaline hit. For newbies, there's the Bear Tour, which covers five zip lines joined by treetop bridges, while hardened thrill seekers have the Mammoth Tour, which takes in ten zip lines, suspension bridges, boardwalks and trails.
---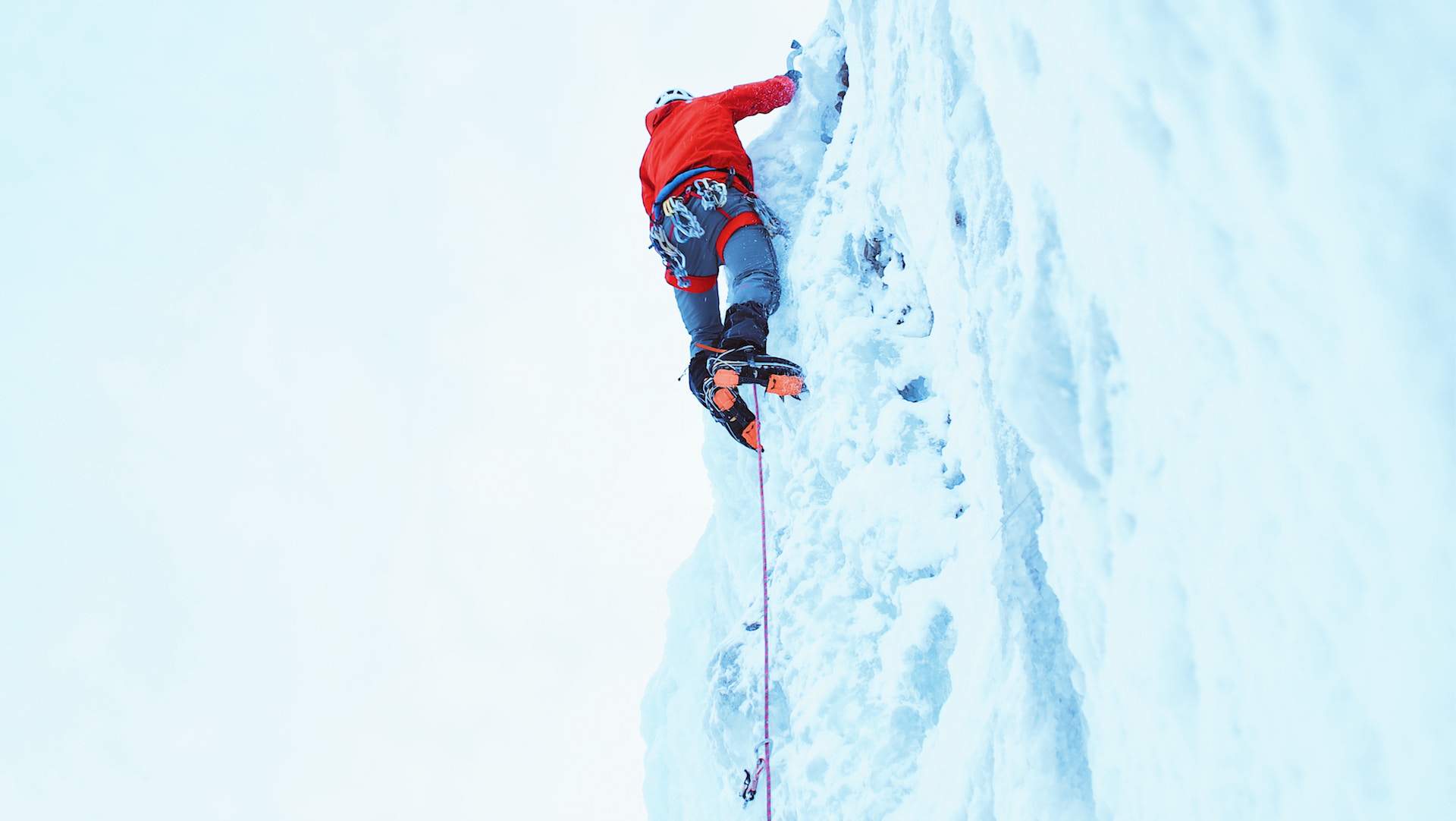 ICE CLIMBING BLACKCOMB MOUNTAIN
Whether you're new to ice climbing or quite accustomed to hanging off of a glacier, suspended by just an axe, there's a frozen vertical trek for you in Whistler. Novices get an introduction to climbing techniques and a safety pep talk before starting, while the more experienced are able to choose from a variety of routes, according to their ability. Both multi-pitch and multi-day tours are available, plus, at Blackcomb you can begin with a lift ride, conquer a couple hours of ice climbing, then ski back to base. Tour companies include Mountain Skills Academy and Coast Mountain Guides.
---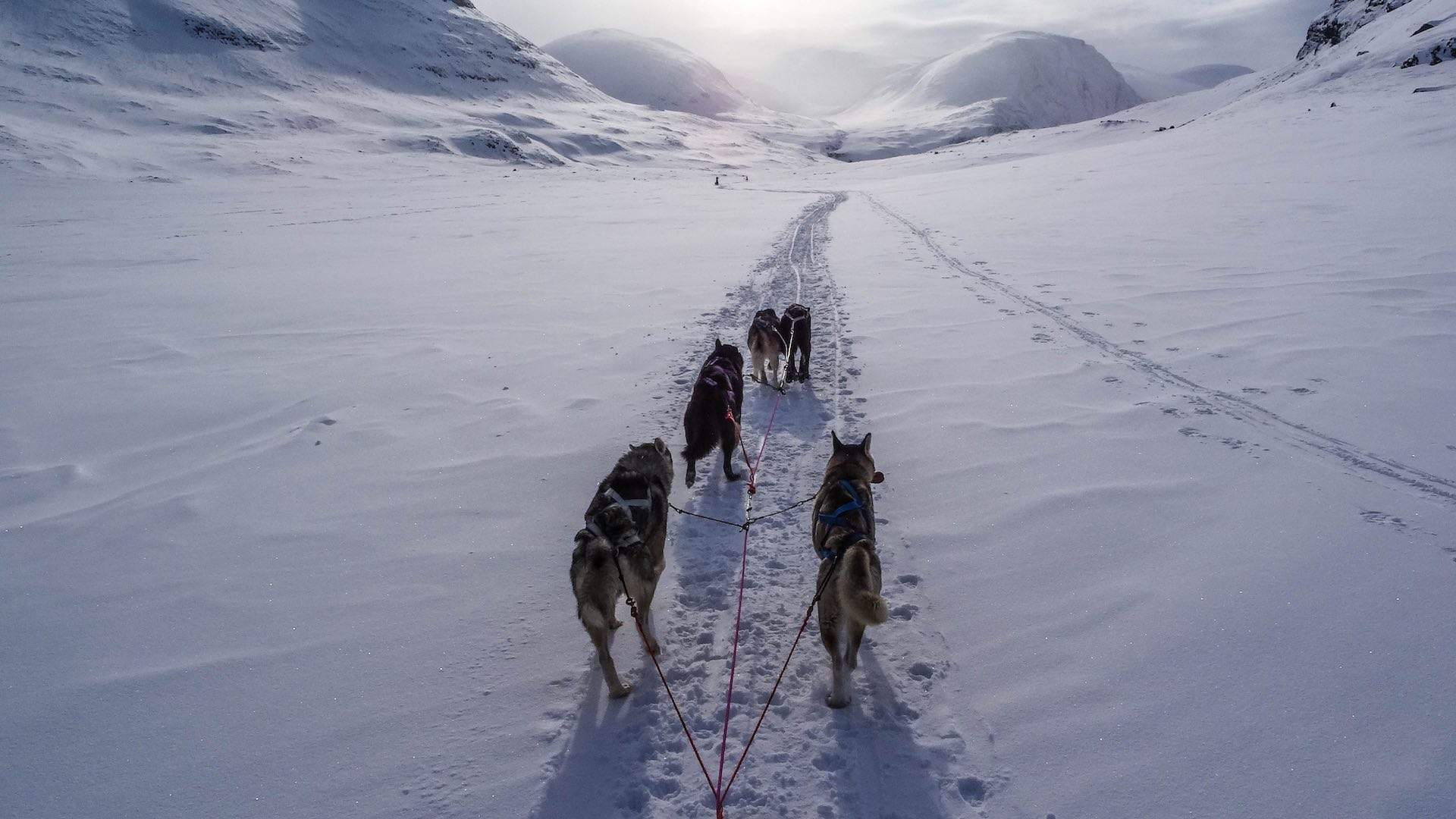 DOG SLEDDING SNOWY TERRAINS
If you're keen to explore, but don't want to do all the work yourself, enlist a pack of huskies and a sled, then kick back like a Snow Queen and relax. Canadians have been getting around this way for more than four thousand years now, and there are a few tour operators that'll show you how, including Canadian Wilderness Adventures and Blackcomb Dogsled. Both will take you on a journey into Callaghan Valley, a wonderland of old growth forest and lakes just fifteen minutes south of Whistler. If the surrounds look familiar, that's probably because you saw them during the 2010 Winter Olympics.
---
ICE FISHING
You haven't tasted fish until you've tasted it straight from the ice. On a Whistler ice fishing tour, your guide will pick you up, drive you to a remote alpine lake, frozen river or secret water hole, and take you through the tricky process of nabbing a bite. There'll be plenty of sitting about and admiring the scenery to be done, which also gives you a good chunk of time to learn more about the millennia-old art of ice fishing and how to improve your skills. Tours usually include transport and gear.
---
ICE SKATING
Smack bang in the middle of Whistler Village is a free, outdoor ice skating rink. All you need are your skates or six bucks to hire a pair — and if you're a beginner, maybe a push bar (or a friend's hand) to help you along. For a more exotic experience, head to a skate-able local lake, and maybe even pick up a game of hockey. Popular options are Alta Lake, with one square kilometre of ice to glide across, backdropped by mountain views, and to the north, the larger Green Lake at double the size of Alta. Lake ice skating runs informally only, so you'll need to take care safety-wise and bring your own pair of skates.
---
Plan an adventure into the great Canadian outdoors and discover all Whistler has to offer here.
Lead image: Tourism Whistler/David McColm.
Published on August 03, 2017 by Jasmine Crittenden