Making the First Live-Action Superhero Film with a Latino Lead: Ángel Manuel Soto Chats 'Blue Beetle'
Fourteen movies in, the DC Extended Universe charts new territory by bringing a lesser-known caped-crusader to the screen — and his culture and family.
Batman. Superman. Wonder Woman. Aquaman. Ask someone to name a DC superhero and one of these figures might be their first response. They're the characters that've also been anchoring the big screen's DC Extended Universe for the past decade. Shazam, Harley Quinn, Black Adam and The Flash each scored movies bearing their monikers over that period — some have popped up in Justice League and not one but two Suicide Squad flicks as well — but the franchise's best-recognised players still remain unchanged.
Enter Blue Beetle, which brings a lesser-known caped crusader to picture palaces, but one that dates back 84 years on the page to 1939. The DCEU's 14th entry also achieves a feat that no other caped-crusader film has before it, among the company's own flicks or the rival Marvel Cinematic Universe. It shouldn't have taken a decade since this specific franchise began, and 15 years after the MCU initially arrived, for the first live-action superhero movie with a Latino lead to hit. This important achievement shouldn't be forgotten from here on in, either.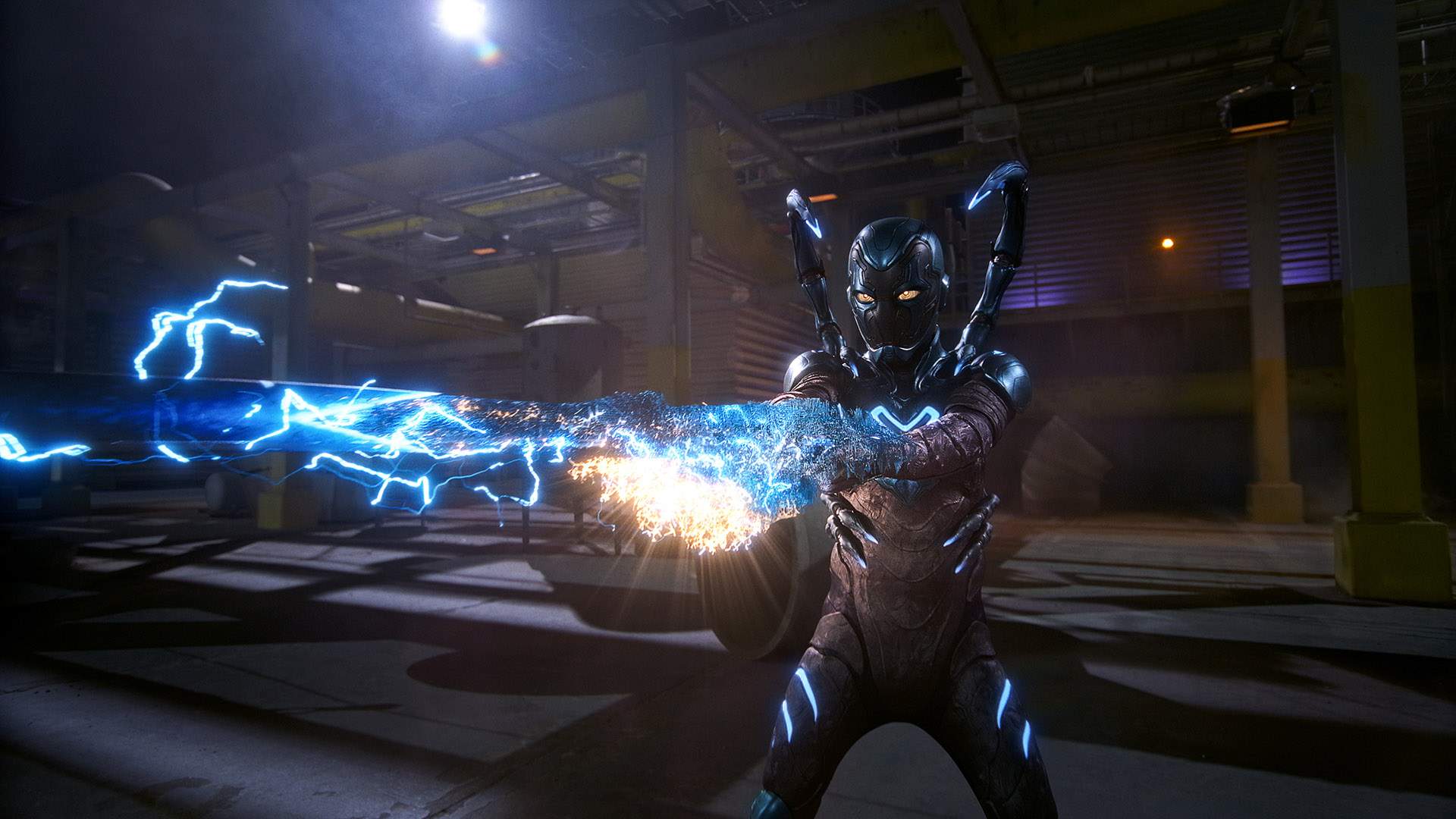 Blue Beetle's significance isn't lost on filmmaker Ángel Manuel Soto, who leaps from 2015 Puerto Rican drama La Granja and 2020 Sundance Film Festival standout Charm City Kings to helming Hollywood history. It isn't the type of feature he ever saw himself making, but it's an opportunity that he's wholeheartedly embraced. As he tells Jaime Reyes' (Xolo Maridueña, Cobra Kai) tale, charting his journey from ordinary Mexican American twenty something to Spider-Man-meets-Venom-meets-Iron Man-style hero, he tells of Latinx culture, of the importance of family, and of everyday experiences and struggles. Indeed, as he explains to Concrete Playground, that's the only way he could ever envisage spinning this story.
Accordingly, this is a caped-crusader flick that nods to 90s telenovela María la del Barrio, shoots a crucial scene like an immigration raid and knows how difficult keeping secrets can be in close Latinx families where the bonds of blood are everything. In dialogue around Jaime's name, it references Ángel's own experience having his moniker mispronounced daily. With a scientist played by What We Do in the Shadows' Harvey Guillén, it calls out racist tendencies to give everyone from a particular culture the same term.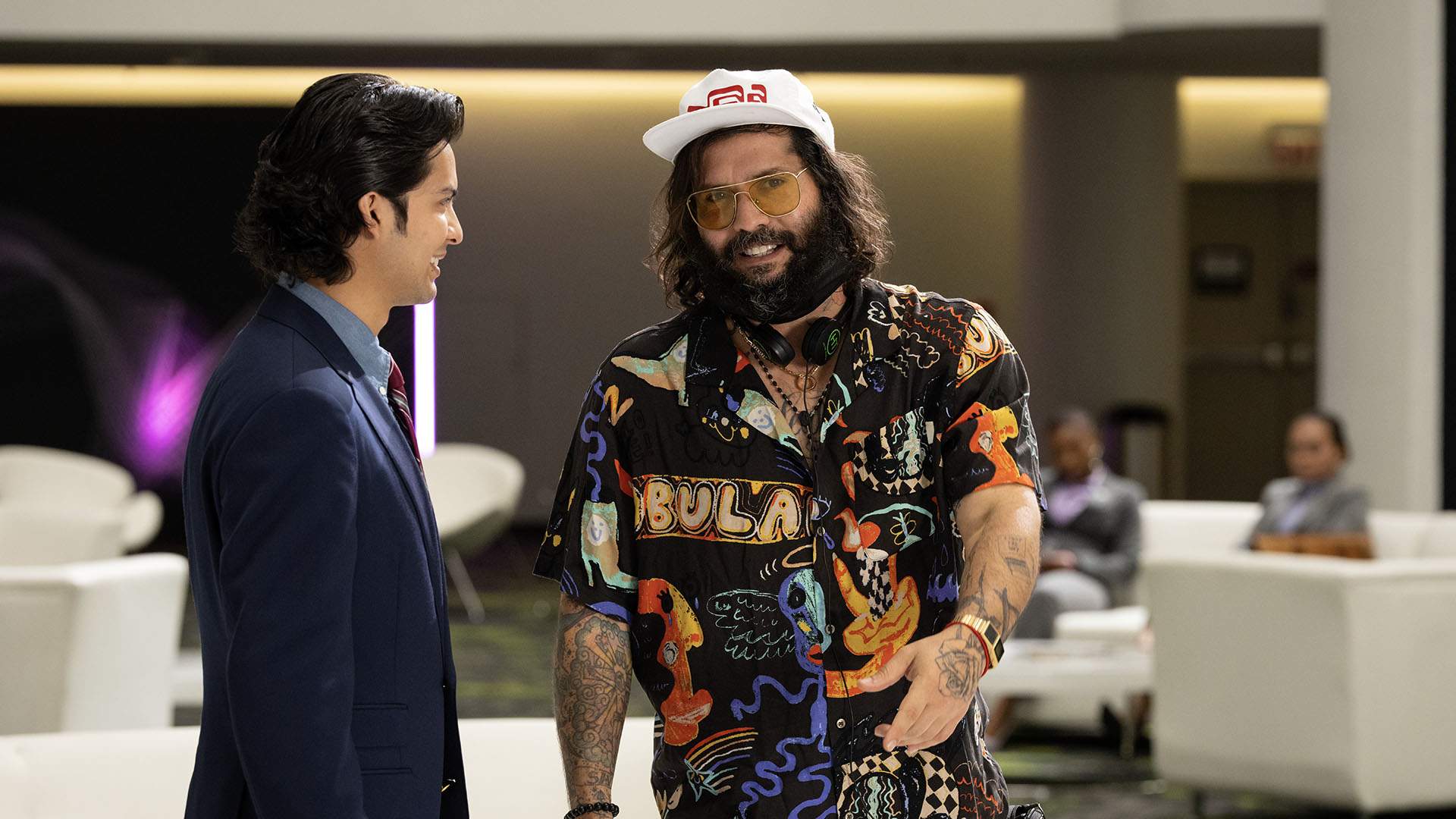 Again and again, Blue Beetle grounds its narrative in authentic details, all as Jaime comes into contact with an alien gadget that turns him into the titular figure. And, it does so with its protagonist's mother Rocio (Elpidia Carrillo, Guillermo del Toro's Cabinet of Curiosities), father Alberto (Damián Alcázar, Acapulco), sister Milagro (Belissa Escobedo, Hocus Pocus 2), Nana (Adriana Barraza, Penny Dreadful: City of Angels) and uncle Rudy (George Lopez, Lopez vs Lopez) always by his side.
With Blue Beetle in cinemas Down Under, we chatted to Soto about his journey from adoring cinema to his latest film, his approach to introducing a Latino lead to the superhero genre, building in that crucial authenticity and making a family drama as much as a save-the-world feature.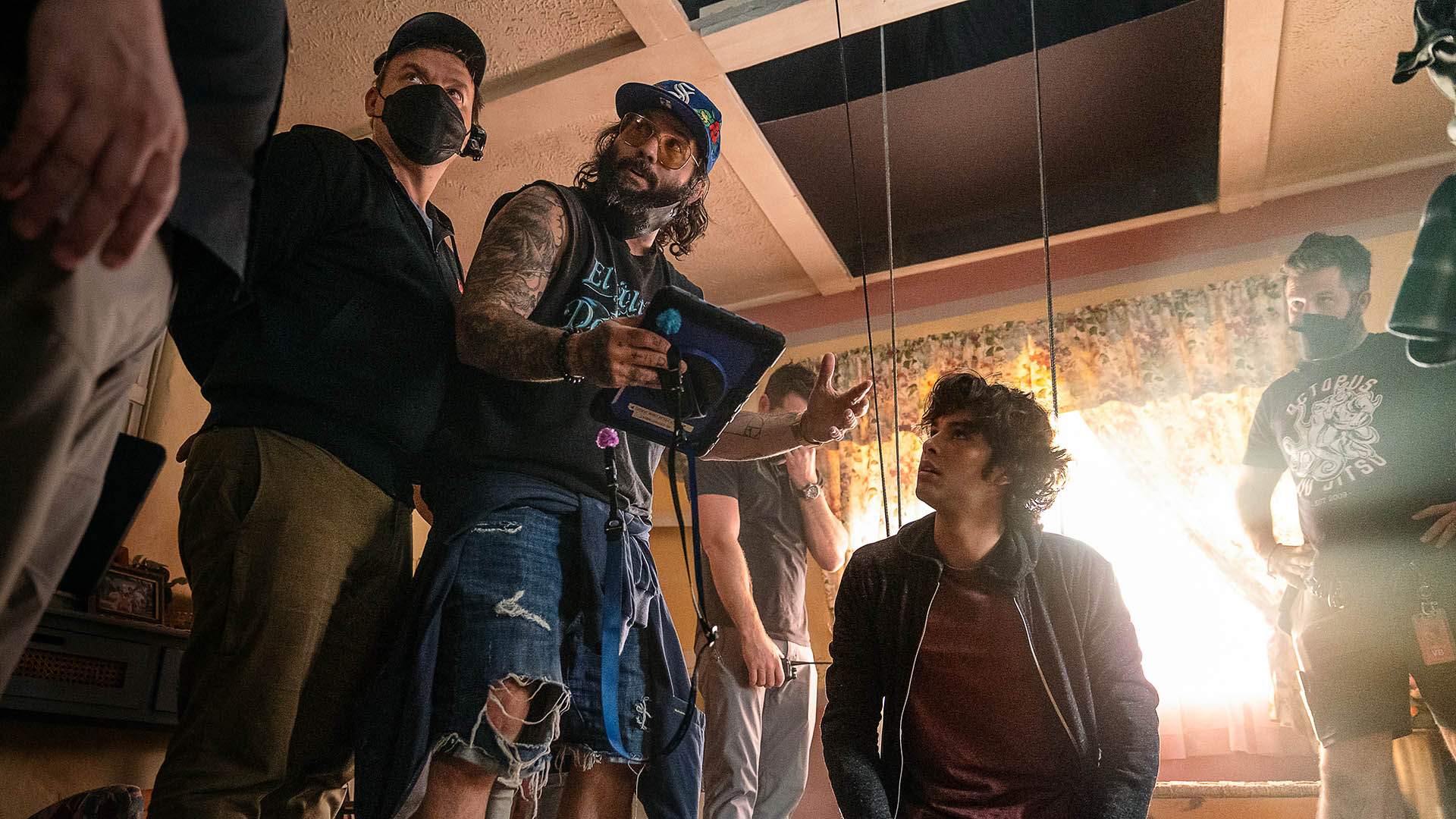 ON THE JOURNEY FROM GROWING UP LOVING MOVIES TO DIRECTING A SUPERHERO FILM
"I never saw myself making a movie like this. It's still — I have to pinch myself all the time because after Charm City Kings, I didn't know it was going to cause the impact that it did, and I didn't know it was going to draw that much attention. Because at the end of the day, I try to do everything out of love and and passion, especially for the communities that I represent in my films.
Having a movie like this happen was very humbling. Being able to also tell stories that I want to tell within the superhero genre is something that I'm going to be forever grateful for to the guys at DC, because they respected the stories that I wanted to tell.
At the same time, it gave me another another stepping stone in in my career to explore this passion that I have for my craft in a genre that's so beloved by many."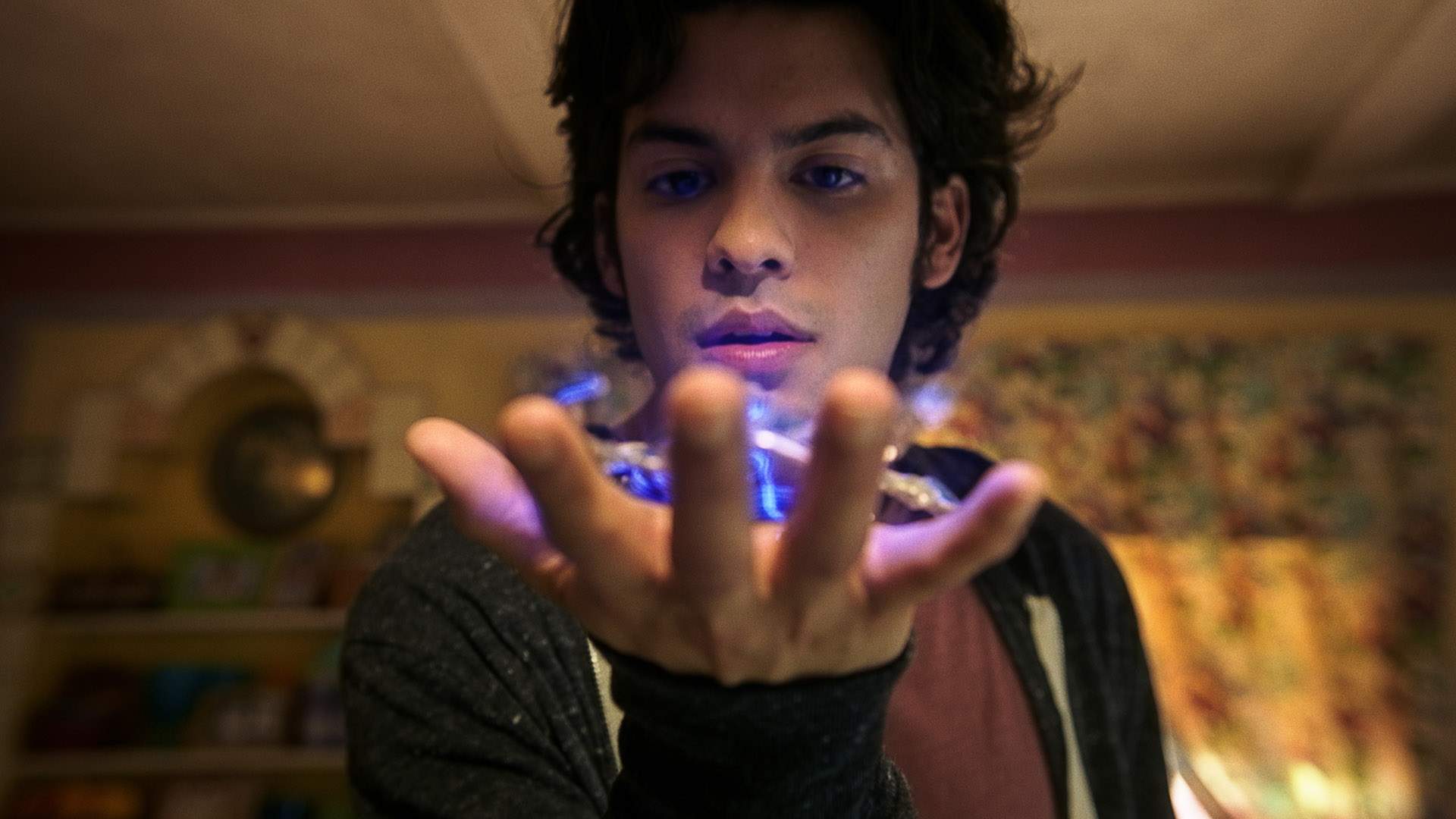 ON MAKING THE THE FIRST LIVE-ACTION SUPERHERO MOVIE WITH A LATINO LEAD
"That that was probably the reason why I accepted to do it — because it was introducing a Latino character to the DC world. It being the first live-action Latino superhero [film], I felt a great responsibility and an opportunity at the same time to be able to tell our stories in a way that is reflected through the lens and the eyes of a Latino as well.
It helped a lot to have the writer, Gareth Dunnet-Alcocer, be from Querétaro in Mexico. And he bringing his own authenticity to the script, and me coming with my experiences from Puerto Rico. And working together to create something that felt authentic to our experiences growing up — and translating that into Jaime Reyes and Blue Beetle, that made it very easy for us.
The whole team was onboard, and casting the right talents, and having them be from Mexico as well, was part of the plan. So we wanted to do it the right way. We cannot tell the story of of every Latino in the world, because one, we're not a monolith, and two, we're too many. But being able to tell at least one story of those, our hope is to hear and see and enjoy other stories from all over Latin America as well."
ON BUILDING AUTHENTICITY INTO EVEN THE SMALLEST OF EXCHANGES AND DETAILS
"Well, the truth is that the ongoing joke with Jaime is something that I experience daily. My name is Ángel. Some people call me Angel [Ángel pronounces it like the spiritual being]. Some people call me 'on-hell'. Some people call me Angel [Ángel pronounces it 'angle']. And the whole thing of trying to explain my name and how to pronounce it phonetically, it's a daily thing, so we wanted to to have fun with that and show what we have to deal with all the time.
Also, the way Victoria Kord [Blue Beetle's villainous CEO, as played by Maybe I Do's Susan Sarandon] treats Sanchez [her chief scientist, as played by Guillén] is something that as Latinos — and this happens with other communities as well — sometimes they they try to minimise us by calling us one name. You know, like "hey Jose, come here Jose", with a little bit of a racist, biased joke behind them.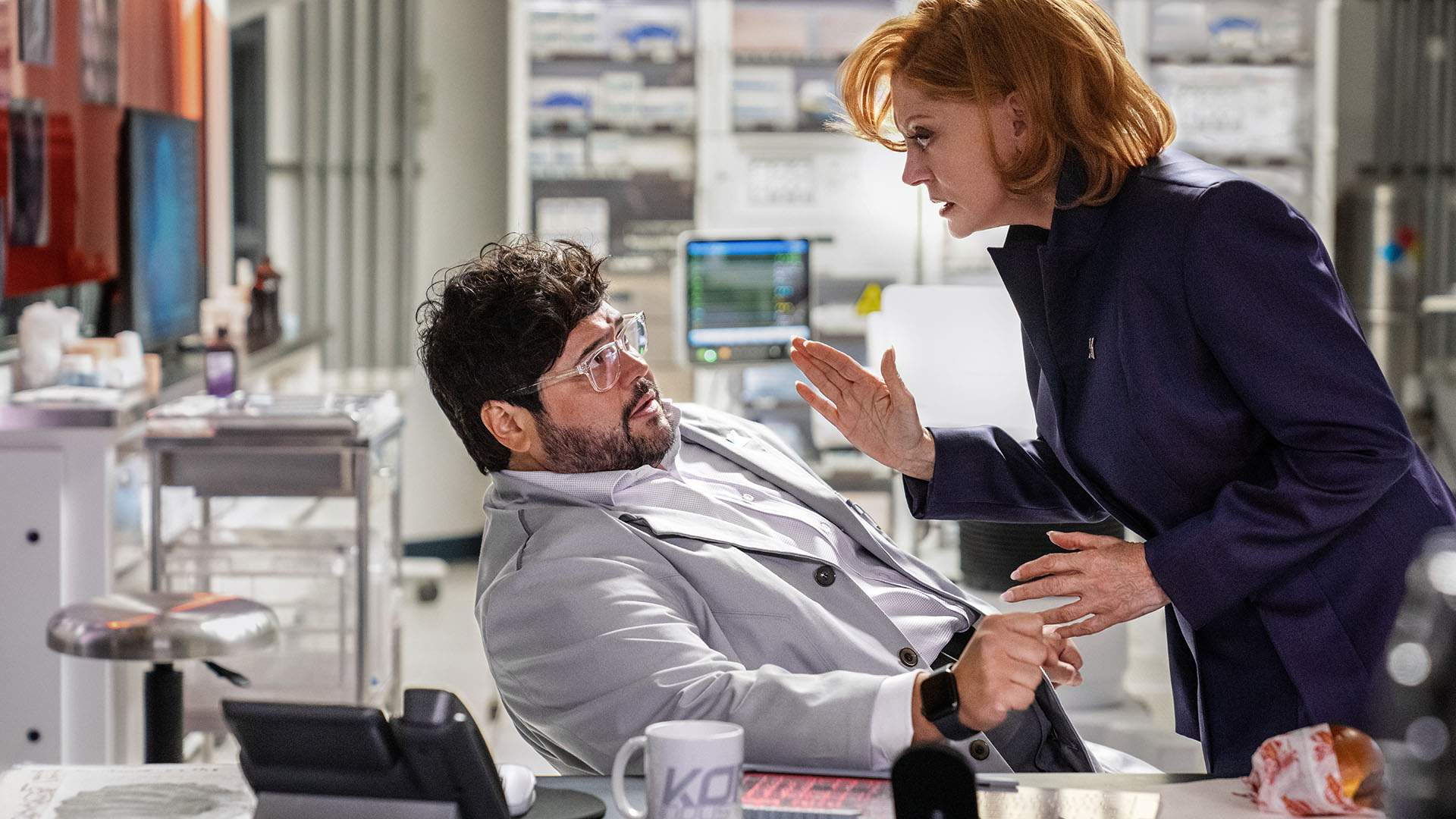 But we wanted to to really showcase in the case Doctor Sanchez that there is power to our name. And there's an individual power that everybody has, and our name carries that. Because our name comes from, especially in our culture — like, I go through Ángel Manuel Soto Vázquez — we have both our parents names. For us that means a lot because we honour our ancestors, and we try to go as far back as we can and wear that name with pride because we would never be where we are without them.
So it was very important to to give Doctor Sanchez that arc, because when he says his name, that's when he gets empowered, and that's when he actually becomes his hero of his story."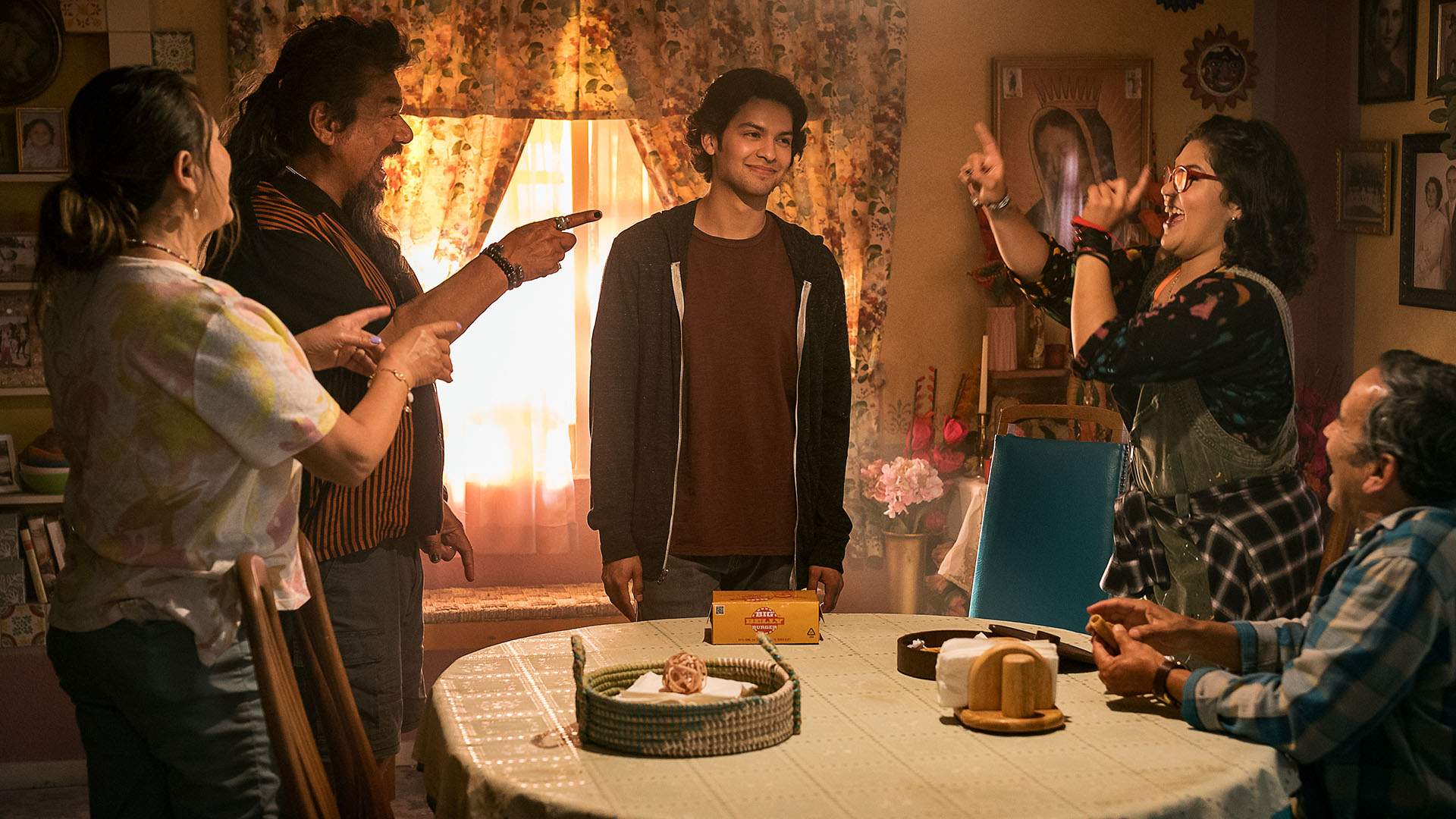 ON MAKING A FAMILY DRAMA AS MUCH AS A SUPERHERO FILM
"It was definitely very important for us to to tell the story of the whole family. We wanted to do a fresh take on the superhero origin story. And the writer and I, we were very keen to treat the first act like Latin cinema, where we spend time with our characters, with their environment, where you get to know bits and pieces of everyone so that before all the action starts to happen you're already invested  — not only in in our superhero, not only in our main character Jaime, you're also invested with the family. Because how they relate and everything that they're going to end up giving to the story and to the character of Blue Beetle, it's as important as the hero himself.
Another thing that we wanted to flip on its head a little bit is the fact that most superheroes, what happens to them happens in secret. And they keep this secret from their family, you know to protect them — and it does make sense.
But both the writer and my experience is that it's very hard to keep a secret from a Latino mother — and my parents and my family, they're very nosy. They still are. It was crazy for us to think that the family wouldn't have any involvement in the creation of the superhero.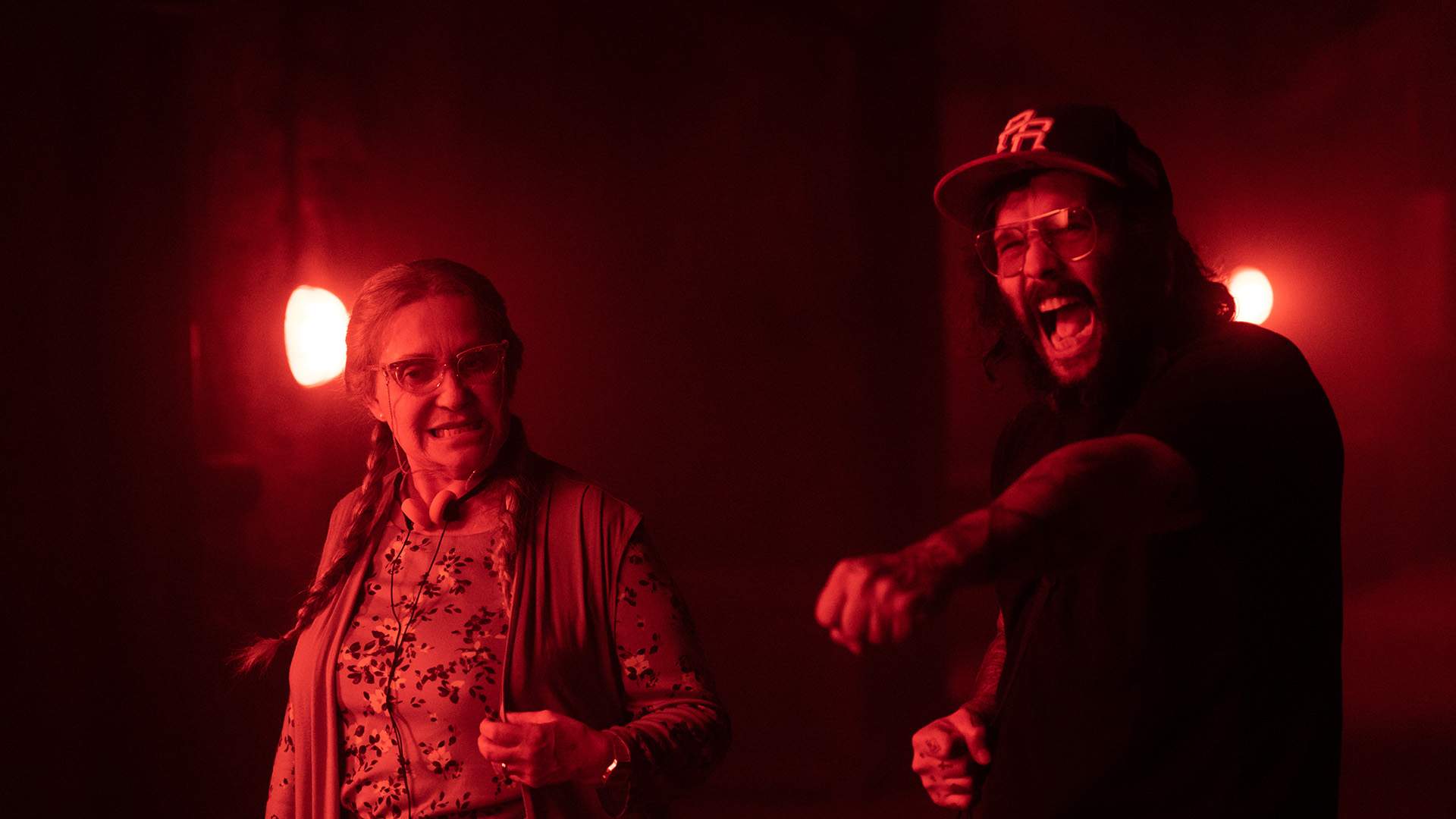 Like I mentioned before, what our parents and our ancestors have done for us make us who we are, and we wanted to honour that. So we really felt that that was something that we wanted to protect — and not just in terms of like teachings or mentorship; we also wanted them to have an active participation in the success of our hero, giving them all heroic arcs as they end up protecting and saving Jaime.
Part of that comes from the fact that we feel that way about our family. They're not just passive bystanders, they're actually active components to who we are and how far we're able to go. But also in this whole family adventure, we wanted every single family member from the youngest sister to the oldest grandfather to see themselves also in a movie that treats them with respect, but also sees them as heroes — so they can see themselves as heroes, too.
And to that end, we really focused it on trying to be like 'let's make this into a family adventure that does have these superhero elements'. And as an introduction to the world of Jaime and Blue Beetle, we felt like this is a beautiful first act to what his whole journey is going to be."
Blue Beetle opened in Australian and New Zealand cinemas on July 27. Read our review.
Concrete Playground Trips
Book unique getaways and adventures dreamed up by our editors