Five Romantic Auckland Date Ideas From Budget to Blowout
Just think of us as your cultural wingman.
Tired of the classic drink and dinner date night combo? Us too. That's why we're always on the hunt for new things to do, scouring the city for not-boring activities around the 09 — ones that are guaranteed to take your next date way beyond done-before beers at the pub.
Whether you're taking someone on a second date or doing your 100th with your significant other, we've got some killer (and, yes, cute) ideas for dates to go on this week, no matter how much money you've got to spend. Just think of us as your cultural wingman. You're welcome.
Top image: Takapuna Winter Lights Festival
FREE

ILLUMINATE THE NIGHT WITH THE INTENSITY OF YOUR LOVE
At this time of year, it can be tough to find an original date option on the far side of the bridge — after all, it's tough to suggest a walk along the beach when it's this chilly. But luckily the annual Takapauna Winter Lights Festival is back and better than ever. With larger-than-life light installations, music and performances, it's got all the ingredients for the perfect date night. Rug up warm and head to Hurstmere Green to check it out — and school up on acclaimed light artist Angus Muir to really impress your date.
If you're situated further south of the CBD, check out Light Up Onehunga instead — running each weekend until the end of the month, this free event sees illuminated displays of rainbows, underwater hues and moving lights projected onto the area's historic buildings and surrounding trees.
UNDER $50
GET A LITTLE CULTURAL — WITH A CONTENT WARNING
An art gallery sojourn is a great way to impress a date of both the creative or intellectual persuasion — and a provocative new exhibition at the Auckland Art Gallery is exciting enough to trigger chat (and perhaps debate) for hours afterwards. British artists Gilbert and George's new Tamaki Makarau exhibition comes with the warning that it "contains some content that may cause offence" which makes it worth checking out, in our opinion.
Touching on themes like religion, sex, addiction and violence, the exhibition might just be a great way to check you and your date are aligned on the important issues before things progress much further.
While you're at the gallery, check out this giant exhibition of ancient iconography also currently running.
UNDER $100

SNUGGLE UP IN THE SNUGS
If you've been through Aotea Square recently you will have seen The Snugs: a series of cosy igloos you can book to hole up inside for eating and drinking. The Snugs are the perfect date option during their run in this year's Elemental AKL Festival — but here's our top tip: while the evening sessions are often booked, take your boo to a weekend lunchtime session.
Prices start at $80 to book rather than the slightly jaw-dropping $130 they cost post 4pm and you're much more likely to nab a spot. Plus, the daylight is better so your date is better suited to bragging about the whole romantic situation on Instagram. It's a win-win.

PUT YOUR PROBLEM-SOLVING SKILLS — AND LOVE — TO THE TEST
Whether you're dating a true crime aficionado or just want to see really put them through their crime-fighting paces on the first date, this is a novel date idea sure to blow the old 'dinner and movie' combo out of the water.
Theatre group A Slightly Isolated Dog is putting on an interactive edge-of-your-seat whodunit called Safety In Numbers at Q Theatre this week — the audience helps solve the mystery and find the murderer, sticking together (get the name?) to solve clues along the way. It's a great chance to see if you and your date can work together to solve problems — and there are a few scary scenes promised that might require some hand-holding.
ONE BIG BLOWOUT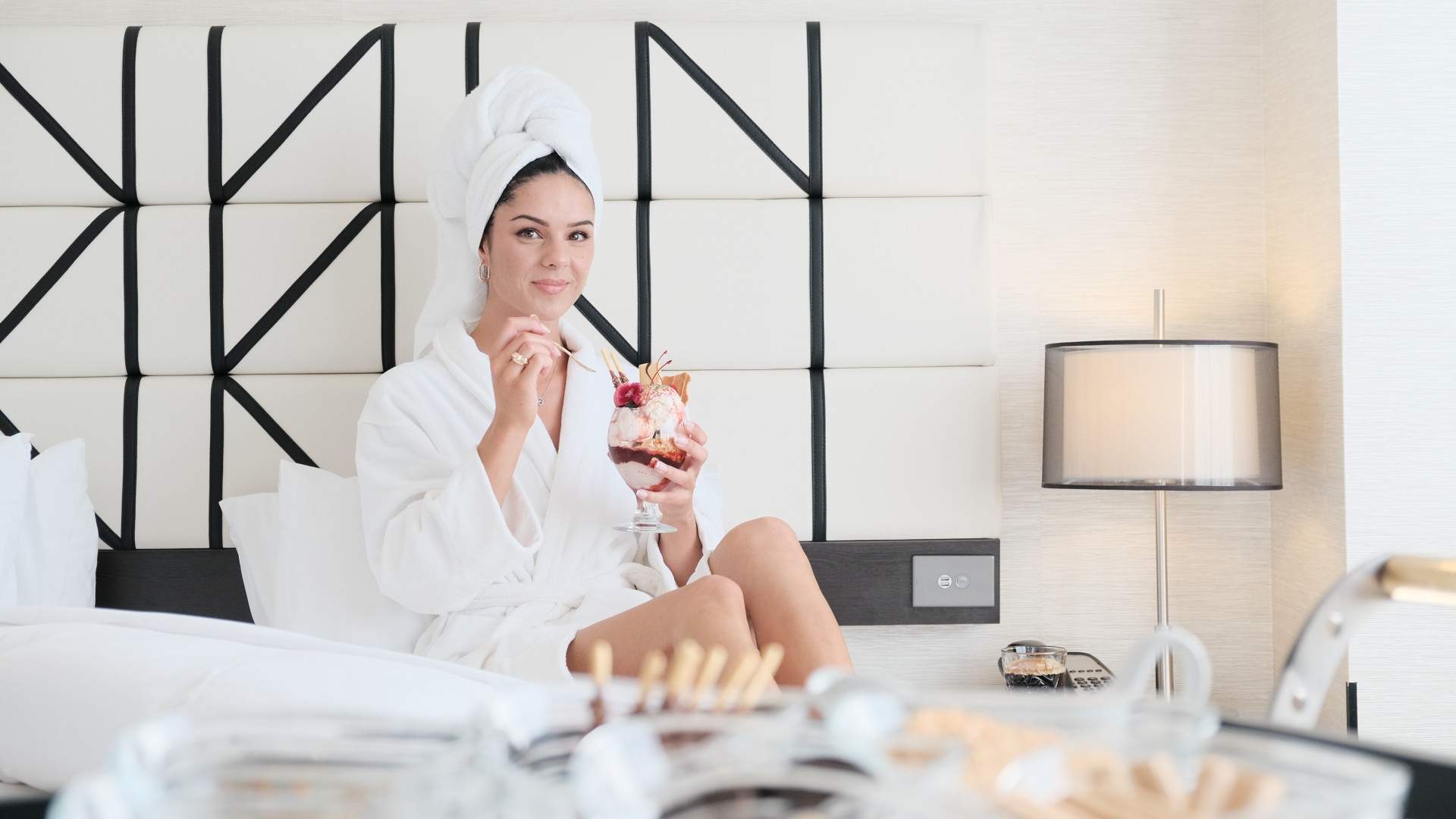 MAKE A DATE WITH MANY DESSERTS
Got a date with a sweet tooth? Why take them just out for dessert when you could treat them to a 24-hour dessert-filled getaway? The new Movenpick Hotel Wellington has just opened its doors in the capital and to say it's a chocolate-lovers paradise is an understatement. The hotel has a free chocolate hour every afternoon in the hotel lobby, where guests can enjoy live demonstrations of truffle rolling and cupcake icing. If you prefer to enjoy your dessert in bed, a 24-hour sundae service is also available, so if the pair of you have an ice cream hankering at 3am, you've picked the right hotel. (Come on guys, get your mind out of the gutter).
Introducing Concrete Playground Trips
Book unique getaways and adventures dreamed up by our editors