FOOD & DRINK
Six World-Class Wineries You Can Visit on a Day Trip From Auckland
Top notch vineyards in your own backyard.
Six World-Class Wineries You Can Visit on a Day Trip From Auckland
Top notch vineyards in your own backyard.
---
Day trips and wineries are the perfect pairing on seemingly endless summer days. Sure, melting while you are playing backyard cricket has its charms, and dragging half of Takapuna Beach's sand back into your car is worth it for the memories alone. But there's something to be said about hitting the road, exploring your surrounds, expanding your tastebuds and bringing a new bottle of wine home to crack open in time to watch the sun set.
Luckily for us, Auckland is spoilt for choice with a myriad of wineries within day-tripping distance. An influx of English, Croatian, Lebanese and Dalmatian immigrants to the area during the 19th century means that we are one of New Zealand's oldest wine regions. Some of these original winemaking families — Babich, Brajkovich, Corbans, Delegats and Nobilo — have built a name for themselves on the local and international stage. While our clay-rich volcanic soils and moderate climate suits an array of grape varieties, meaning that there is something to suit most palates. So whether you're after a scintillating chardonnay, stylish syrah or robust Cabernet from either a tried and true vineyard or an up and coming boutique, a day trip around some of these wineries will sort you right out.
Also, you'd hope it goes without saying by now — but please drink responsibly. Arrange a sober driver to take one for the team, or have an Uber or taxi on standby.

KUMEU
North of the Harbour Bridge is the Kumeu wine-growing district. Its humid, sub-tropical climate meant it was an immediate choice for some of our more established wineries, making it the grand dame of winery day trips.

Over the last decade, chardonnay has copped an unnecessarily bad rap. From Kath and Kim's proclamations of "Kardonnay is noice" to leafy-suburb dwelling chardonnay socialists. But given the grape's neutral flavour, it's perhaps the most popularist of all wine varieties, opening itself up to a world of possibilities through the soil its grown in and different wine making techniques.
Kumeu River Wines now sets the benchmark for non-Burgundy produced chardonnay worldwide. Given that it produces 250,000 bottles of the stuff annually, they are well versed in its creation and consistently win accolades both here and overseas. From light and crisp to buttery and bold, Kumeu River produces a chardonnay for everyone. Their cellar door just off of State Highway 16 will see you taste 11 wines ranging between $15–70 meaning there is something for all price points should you fancy taking a bottle home.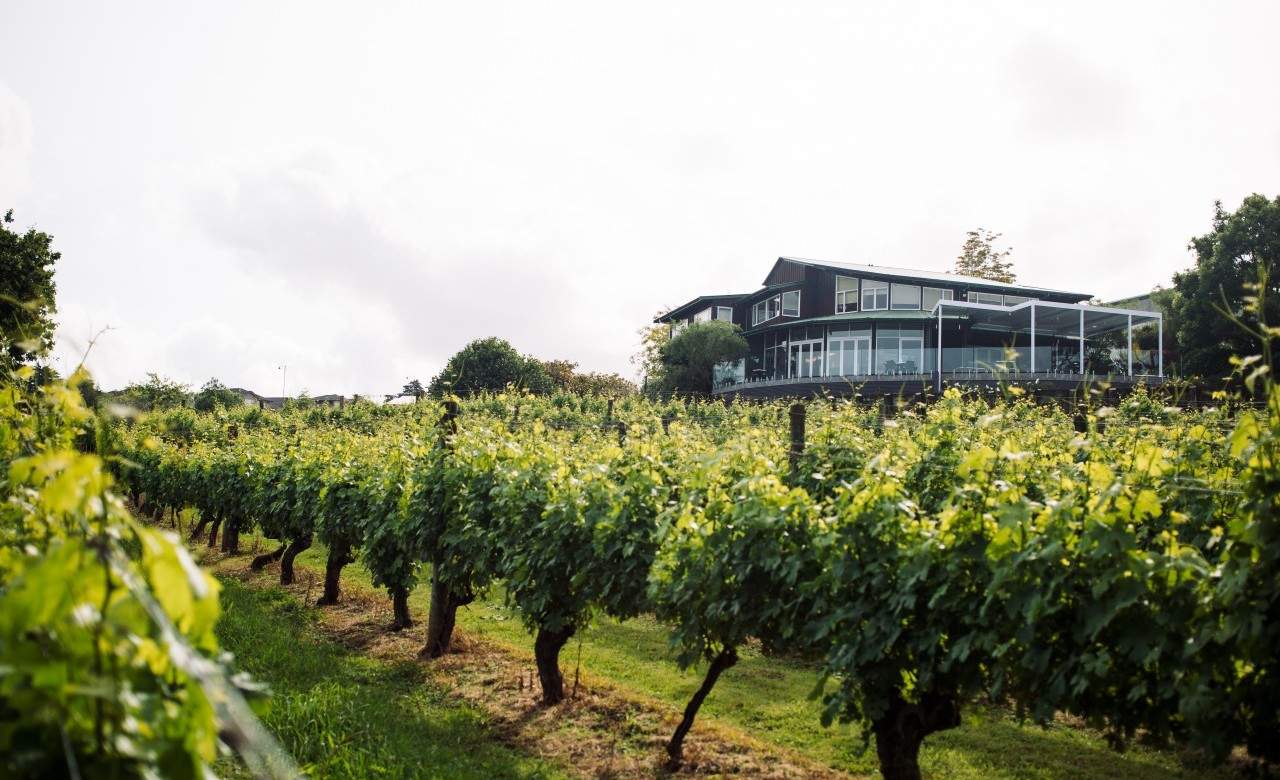 The Babich family are a stalwart of New Zealand's wine making past, present and future. Originally turning to wine making after the Kauri gum industry died out in 1916, it's a label that has gone from strength to strength. Particularly noted for creating easy-drinking sauvignon blancs and lighter style red wines, Babich's Cellar Door will introduce you to eight current vintage and speciality wines. Open six days a week, wine enthusiasts are welcome to take in the picturesque rolling countryside on Babich's outdoor deck or play a leisurely game of petanque over a glass of vino. You can pack a picnic or purchase a cheeseboard on arrival and they welcome groups for a small charge — or you can hire out their private room if you're feeling fancy.

WAIHEKE
Okay, it's not exactly a road trip, but a 90-minute ferry ride can take you away from the hustle and bustle of Auckland central to Waiheke Island. With its white sandy beaches and rich artistic/counterculture history, Waiheke feels a world away from downtown Auckland. It's the new kid on the block with its dry climate building a formidable reputation for Bordeaux style reds, light chardonnays and delicate pinot gris only in the last two decade or so. So if you're after something a little more cutting-edge, grab your togs and jump on the ferry to try some wines that are increasingly recognised as world class.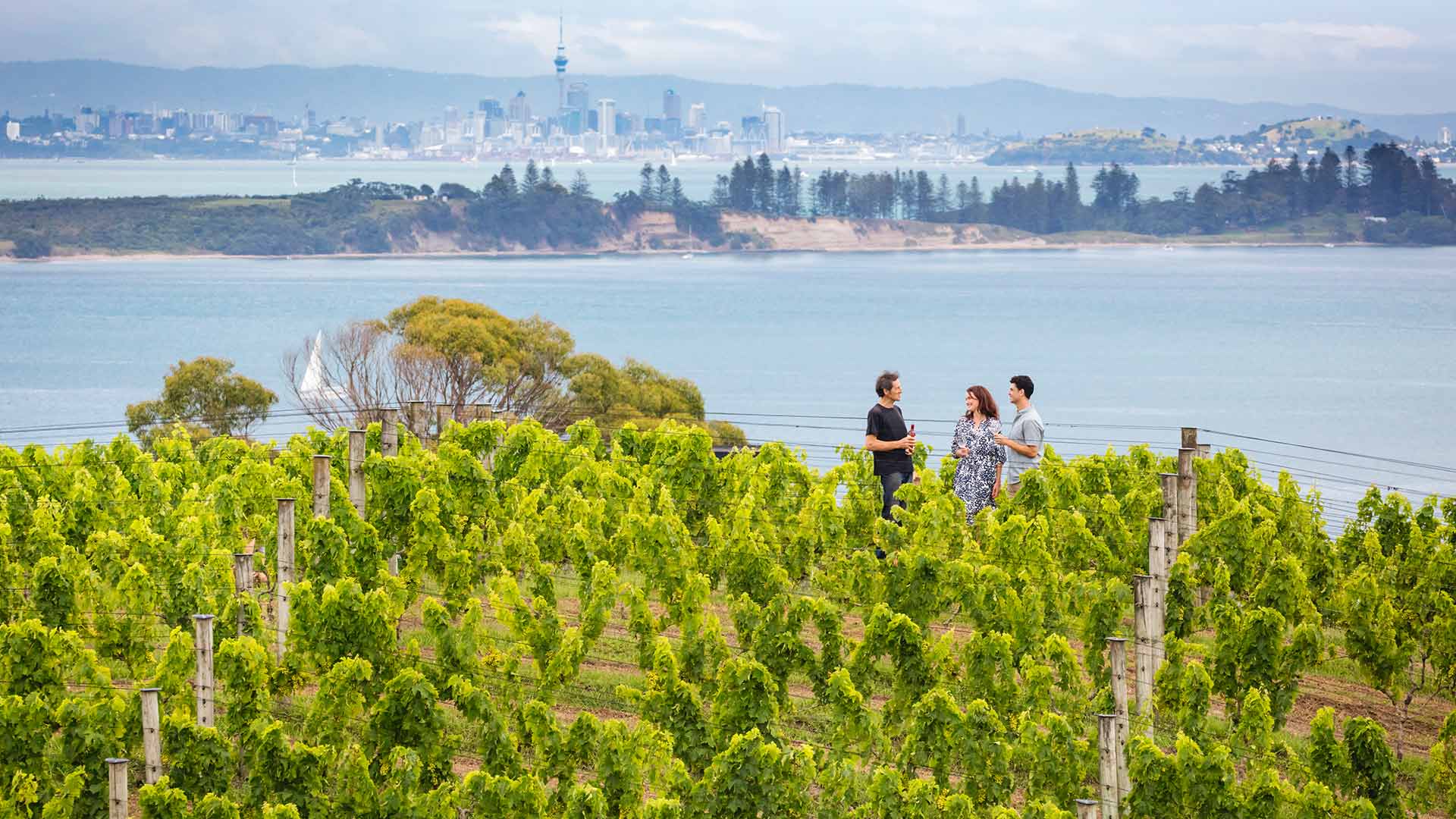 Cable Bay Vineyards is a classic triple threat — seemingly endless ocean views and vines are everywhere you look, award-winning restaurants and wine combining together to create an unforgettable package. Specialising in pinot noir, the criminally underrated viognier and syrah, Cable Bay proves that quality not quantity is a winning combination. Their cellar door is $10 to try four of their award-winning wines. If you're after something a bit more robust, a tour and tasting will set you back $20 and take you through the barrel rooms to the luxurious wine library before ending up at the cellar door to taste the spoils. You can cap your experience off at The Veranda, one of their award-winning restaurants onsite.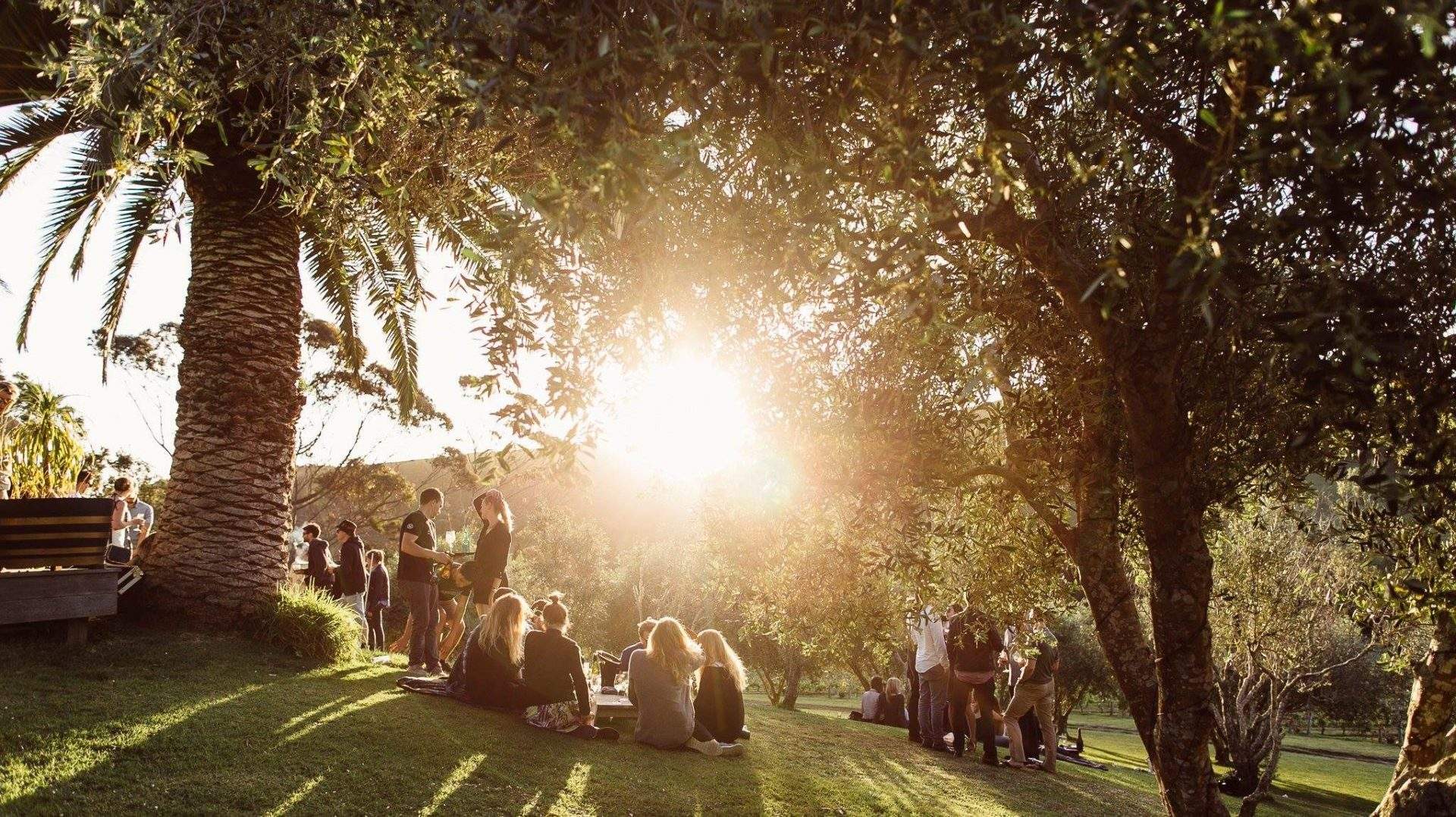 Nestled in a valley of olive trees and vines is Stonyridge, one of New Zealand's most respected wineries. Working to traditional methods, Stonyridge specialises in a myriad of cabernet blends and makes the most expensive bottle of red wine in the country. Tours of the cellar, vineyard and own personal olive grove are available on Saturdays and Sundays starting at 11:30am.

MATAKANA
Similar to Waiheke, Matakana has a warm, sunny climate that produces elegant red wines. A small but perfectly formed wine growing area, Matakana provides wine lovers with boutique vineyards dotted amongst the hillsides and bays. Less about commercialism and more about craft, this is a roadtrip for when you (and your tastebuds) are feeling adventurous.

This boutique winery sprawls across 200 acres of vines, a sculpture trail and an architectural award-winning restaurant nestled amidst a patchwork of native bush and farmland. For a little over 32 years, they have made a name for themselves making sustainable wines, notably their classic pinot gris and a berry-driven rosé. If that wasn't enough, they also produce honey, olive oil and chocolates onsite. Their dedication to sustainability and creating high quality handcrafted products has seen them win accolades from Le Parisien, Cuisine and Vogue to name but a few. If you want to see what all the fuss is about, tastings are held any time at Brick Bay's restaurant The Glasshouse for $8 before walking off the wines at the Brick Bay Sculpture Trail. A small fee will get you the unique opportunity to see work by some of New Zealand's top contemporary sculptors, including Paul Dibble, Terry Stringer and Judy Darraugh.

Heron's Flight is the only vineyard in New Zealand to specialise solely in Italian grapes. The winery was established 31 years ago by David Hoskins whose work as a chemist/philosopher/winemaker makes him a true renaissance man. They have been consistently committed to sustainable winemaking and can be found in the wine lists of top restaurants up and down the country. Heron's Flight work with two grape varieties. The first, sangiovese was a grape popular with Romans. Translating to "blood of Jupiter" it has red cherry notes to its flavour. While Dolcetto translates to "sweet little one" which is something of a misnomer as the wine is often dry and full-bodied. Its wine-making roots can be traced back to the 16th century. Tasting is available seven days a week, excluding public holidays.
Published on December 20, 2018 by Kate Powell