ARTS & ENTERTAINMENT
An All-Reality TV Streaming Service Is Launching In Australia Next Week
Get ready for All The Kardashians.
Were you planning on spending the long weekend wrapped in a blanket cocoon with a season of Keeping Up with the Kardashians and a packet of Malteser mini eggs? Well, even if you weren't, here's a good enough reason to do just that: an all-reality TV streaming service is launching in Australia on Tuesday, March 22.
hayu is the latest subscription video on-demand service to launch in Australia, and it's essentially Netflix but purely for reality TV. The service is part of NBCUniversal International, and will pull from their massive back catalogue of content to offer full 'box sets' of over 3000 episodes of shows like the Kardashians, Real Housewives and Made in Chelsea. Most new episodes will be available on the same day as their US release, and the platform will allow you to share snippets (i.e. Kardashian quotes) directly to your Facebook, Instagram or Twitter. It's either your worst nightmare or a vision of heaven you never thought would be socially realised.
"We're excited to be unveiling March 22 as the launch date for hayu in Australia," said NBCUniversal's Jay McNamara, EVP Strategy Development and Analysis. "Curated by reality experts for reality fans, hayu is fully integrated with news feeds and social media and, uniquely, its next-generation functionality will enable Australian fans to share some of the content they love."
Binge watchers of reality TV will be ecstatic (if not just secretly) over this news. As for all the haters..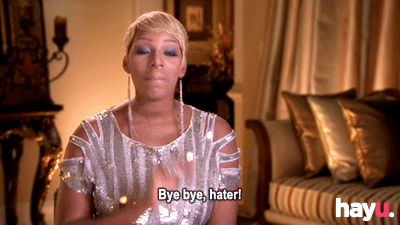 hayu will launch on Tuesday, March 22. You'll be able to get a 30-day free trial, with the subscription costing $5.99 per month thereafter. For more info, visit hayu.com.
Published on March 18, 2016 by Lauren Vadnjal