FOOD & DRINK
The Ten Best Bircher Mueslis in Brisbane
There is a lot of Bircher-diversity out there, so we've broken it down.
Let's face it. The Brisbane climate is, on the whole, quite warm and humid all year round. So when it's too hot for porridge (which is, like, a lot of the time) and a bowl of All Bran just won't cut it, what do you turn to? A kick-butt Bircher.
Generally, a Bircher takes your average oats or untoasted muesli, introduces it to natural or Greek yoghurt, invites juice or milk along for the ride, gives them ample time to mingle and to get to know each other, until it's all just one big melting pot of creamy love. Plus-one invitations are also extended to the likes of dried or fresh fruit, nuts and seeds or superfoods.
Despite cooler weather approaching, plenty of Brisbane cafes are still dishing up Bircher daily, putting their own unique twist on a traditional breakfast. There is a lot of Bircher-diversity out there, so we've broken it down for you, making it easier for you to hone in on which party you want your spoon to crash.

Berries: berry nice match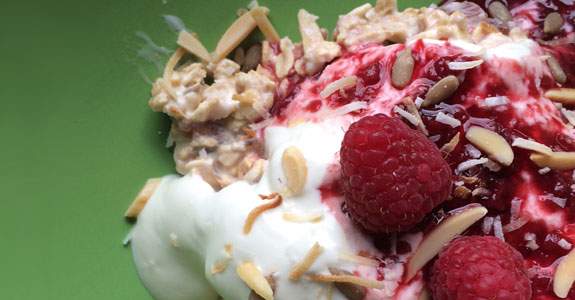 Chow House
Chow House serves what is quite possibly Brisbane's best Bircher going round right now. With tart rhubarb and fresh raspberries smashed up throughout, the texture of the oats and quinoa means it's soft but still slightly chewy. And the fact it's finished with delicious house-made coconut yoghurt is just a bonus.
39 James Street, Fortitude Valley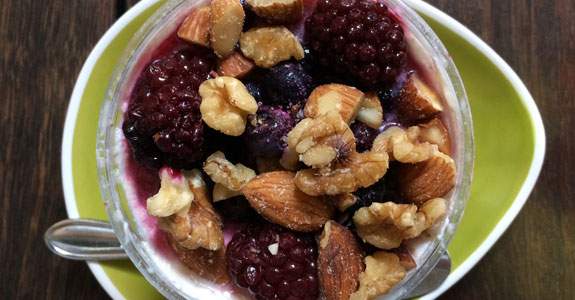 Bellissimo Coffee
Sitting pretty in the glass cabinets at Bellissimo Coffee every morning are their berry topped Bircher cups. These babies are made with mango nectar, chunks of pineapple and coconut, which means each mouthful tastes like a tropical island. It's perfect for a quick smash-and-grab en route to work with your morning coffee.
30 Wandoo Street, Fortitude Valley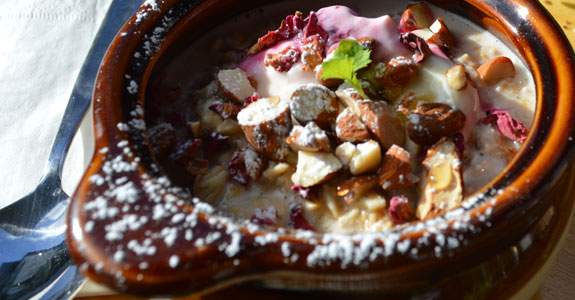 Samson & Sophie
Samson & Sophie have only been around a few months, but already their Bircher (which, please note, is only a special offered on occasion) is a favourite with locals. Quite wet and not overly sweet, it comes swirled with raspberries and another spoonful of yoghurt and is topped with almonds, edible rose petals and a dusting of icing sugar.
Shop 1, 2 Macquarie Street, Teneriffe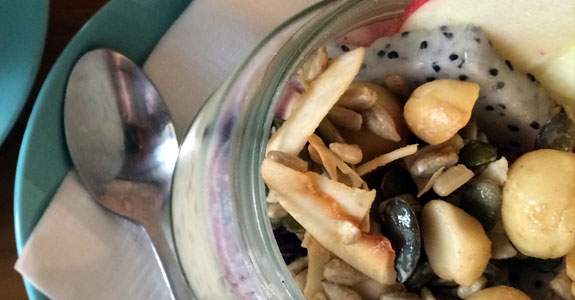 Felix for Goodness
Felix for Goodness in Burnett Lane delivers you your chia- and Maleny yoghurt-laced Bircher in an adorable mason jar that will leave hipster-haters cringing. But one bite of this beauty and even they won't be able to stop themselves scraping the bottom of the jar.
50 Burnett Lane, Brisbane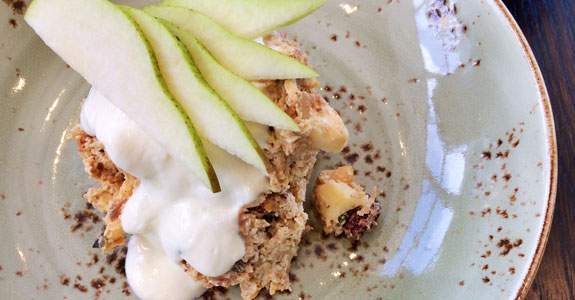 Nantucket Kitchen & Bar
Nantucket Kitchen & Bar is the new kid on the block (the Indooroopilly Shopping Centre block to be precise), but their Bircher is a unique twist on the classic. Made with orange juice and milk instead of apple juice, it's heavily doused with dried apricot, dried apple rings, sultanas, cherries, slivered almonds and pepitas and is finished with tangy lemon myrtle yoghurt that helps to cut through the sweetness.
Shop MM5 Indooroopilly Shopping Centre, Station Rd Indooroopilly

Grated Apple: oldie but a goodie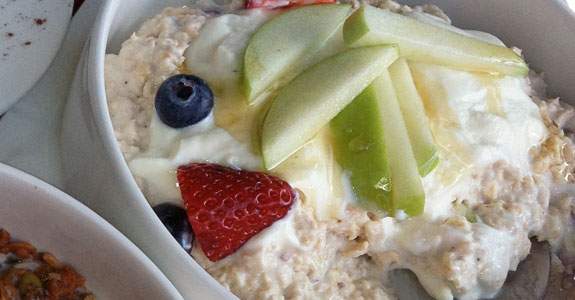 Sourced Grocer
The Bircher at Sourced Grocer has become somewhat of an icon and returns to their menu every season. Whether it's their local produce, organic Barambah yoghurt or their market-fresh Granny Smiths that go into the making of this dish (or an incredible knack for plating — it looks identical every time it is served), Sourced's Bircher is guaranteed to satisfy.
11 Florence Street, Teneriffe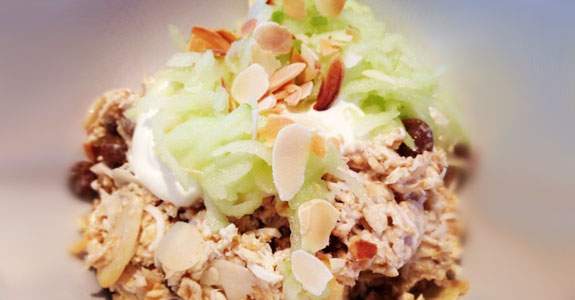 The French-inspired Au Cirque makes their Bircher the traditional way with milk, apple juice and Greek yoghurt-soaked oats. It's mixed together with dried apricots, sultanas and roasted almond slivers and topped with grated green apple and another blob of yoghurt. You'll find each mouthful sweet, rich and filling.
3/618 Brunswick Street, New Farm

Reef Seafood + Sushi
Unexpected from a seafood restaurant, but Reef Seafood + Sushi actually dishes up incredibly tasty sweet and savoury non-fish dishes for brekkie. In particular, its epic Bircher, which is made with half/half oats and quinoa soaked in oat milk and sprinkled with plump and flavoursome fresh berries. It's creamy and not overly sweet, so polishing off your bowl is far too easy a feat.
Gasworks Plaza, Skyring Terrace, Newstead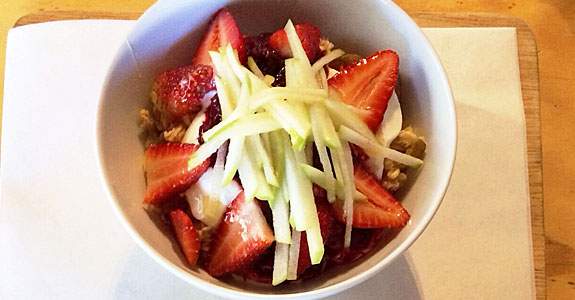 Stalled Espresso
Tucked away in the industrial area of Albion is a satisfying and filling little delight of a Bircher. Stalled Espresso's version is also a mix of quinoa flakes and whole oats and is not too dry or too wet from the yoghurt-y apple juice mixture it's soaked in. Finished with zingy freshly grated apple and sweet strawberries it's a traditional take with a textural twist.
38 Collingwood Street, Albion

DIY: when payday is too far away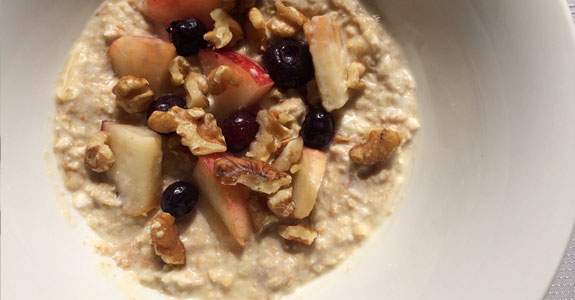 We don't always have the luxury of breakfasting out, so when that craving calls and you find yourself staring at the fridge, just grab your key ingredients and whip up a Bircher with whatever you fancy. We adapted this Taste.com recipe to make the one above, adding in some fresh nectarines for good measure. Easy peasy.

Photography: Mimi Hyll.
Published on June 02, 2014 by Mimi Hyll