The Ten Best Places to go for Valentine's Day in Brisbane
We have searched and found you Brisbane's top ten places to go for Valentine's Day this year, so that you can shower them with delicious food and drinks. You're welcome, lovers.
Valentine's Day, apparently the most romantic day of the year, can also be marred by unmet expectations and forgetful partners. If you have a significant other who you do not want to disappoint this year  and are looking to show them how much you adore them, then we are at your service. We have searched and found you Brisbane's top ten places to go for Valentine's Day this year, so that you can shower them with delicious food and drinks. You're welcome, lovers.


Voted the best new restaurant in Queensland in 2012, Public has made a huge and incredibly positive impression on Brisbane residents in the last year. Their inventive and flawless menu has diners returning to try their favourite dishes over and over. This Valentine's Day they continue to please with an $80pp menu which includes a cocktail on arrival and five courses of delicious food: an amuse bouche of red melon, crab remoulade, pork belly, BBQ wagyu and chocolate and berries for dessert. No one will be disappointed at the end of this night.
Upper Level 1, 400 George St, Brisbane; 07 3210 2288; http://www.lovepublic.com.au/


There is something very sensual about eating with chopsticks, which is why Sake is a wonderful place to go for Valentine's Day. Not only are the utensils sexy, but so is the food. Presented exquisitely and with exciting and unusual Japanese flavours, the food at Sake will give you plenty to be ecstatic about. Accompany this with some of Sake's unique cocktails and it will be a very special night out. We highly recommend trying the Godzilla to start off your night with some fun (and absinthe!). Sake have a special Valentine's Day banquet menu for $90pp, otherwise feel free to pick and choose your favourite dishes.
Level 1, 45 Eagle Street, Eagle Street Pier; 07 3015 0557; http://www.sakerestaurant.com.au/brisbane


Located in Toowong, Brents is the ideal location for an intimate, romantic dinner for two. Brents has a comfortable and relaxed feel with award-winning service and mouth-watering French cuisine. Their romantic package for two is a wonderful option for Valentine's Day. For $175 per couple you will receive six courses and a bottle of French wine. The degustation starts with an amuse bouche followed by wild mushroom cappucino, your choice of an entree and main, a sorbet and a chocolate dessert. For those living on the west side it is the perfect location close to home, avoiding the romance-killing city traffic.
85 Miskin St Toowong; 07 3371 4558; http://www.brentsrestaurant.com.au/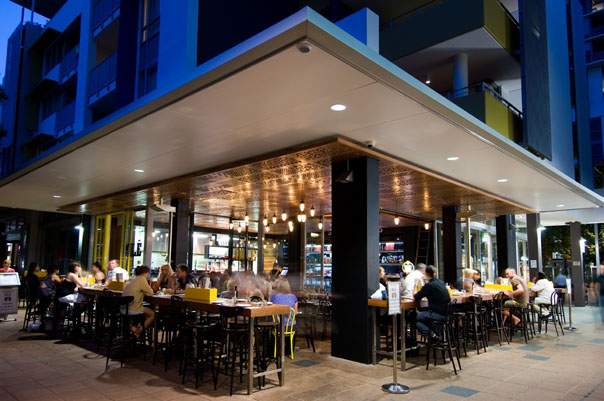 For some Spanish flair added to your romantic evening, celebrate La Fiesta de San Valentin at Olé Restaurant South Bank. You can choose from two fiesta packages both featuring two hours of jugs of Red or White Sangria as well as wine and beer selection to choose from throughout the night. Package uno ($79pp) features a selection of tasty tapas followed by braised beef cheeks; package dos ($89pp) also has the tapas but followed by a seafood paella. Either way you are in for amuy delicioso night out.
Shop B12, Little Stanley Street, South Bank; 07 3846 1201; http://olerestaurant.com.au/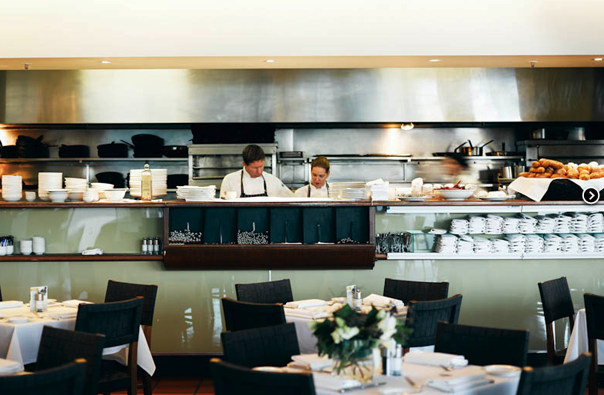 Located along Eagle Street Pier is Il Centro, Brisbane's eternally loved waterfront venue. The Italian menu is decadent, the wine list extensive, and the service impeccable without being stuffy. There are two banquet options for Valentine's Day - an early bird option with a main and dessert ($85pp), or the later option with 3 courses ($110pp). Dishes you can choose from are the famous sand crab lasagne, a Kimberly beef tenderloin or slow cooked duck leg, and a pistachio semifreddo and a chocolate tart.
Eagle Street Pier, 1 Eagle Street, Brisbane; 07 3221 6090; http://www.il-centro.com.au/


For an evening with a view of the beautiful Brisbane River, head to Cove to share an incredibly reasonably priced three-course meal with your significant other. For $99 per couple you will receive an entree of seared scallops with fennel and lemon; your choice of a sirloin of prime beef or the fish of the day; and for dessert a chocolate parfait with wattle seed shortbread and a honey and cornflake milkshake. All meals are designed to share, just like the love that you share for each other...or at least that's the line you can use. You will also receive a glass of sparkling on arrival.
River Quay, Sidon Street, South Bank; 07 3844 3993; http://www.covebardining.com.au/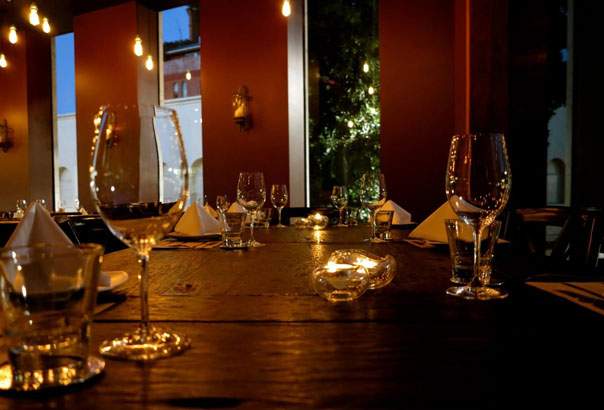 For all of you high-flyers out there, head to First Class, the Sky Room's new lounge dining experience and enjoy their exquisite cocktails and decadent share plates. They have two sittings, one for those of you who like to eat early from 5:30 (must be out by 8pm) for $64. This includes a 4 course set menu including a glass of Louis Roederer on arrival. Those wanting to dine later will pay $79 for the same offer. Possible dishes are the hot smoked salmon, grilled ox tongue, beef and ricotta gnocchi and jerusalem artichoke risotto.
Level 1, 234 Wickham Street, Fortitude Valley; 07 3852 6337; [email protected]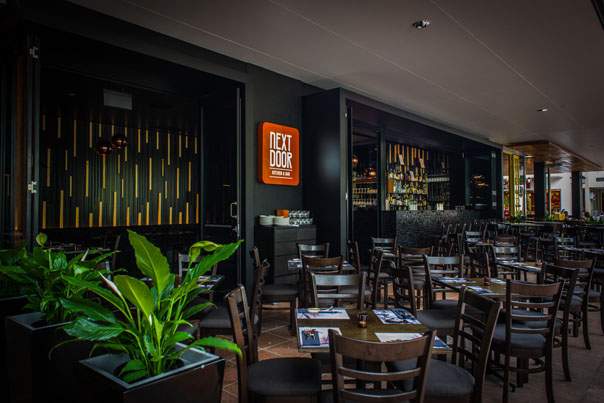 Known for its 1920's vibe, Next Door Kitchen & Bar has an enticing burlesque performance by renowned dancer Sunday Lucia for your entertainment on Valentine's Day. Matching the performance with a set four-course meal and glass of bubbles, and you've lined yourself up for a pretty special night! The menu includes their delicious Russian roulette peppers, cured ocean trout and slow-cooked lamb. Dessert is a decadent dark chocolate marquis. For $95 per person this will be a Valentine's night out to remember.
Shop B11, Little Stanley Street, South Bank; 07 3846 6678; http://www.nextdoorkitchenbar.com.au/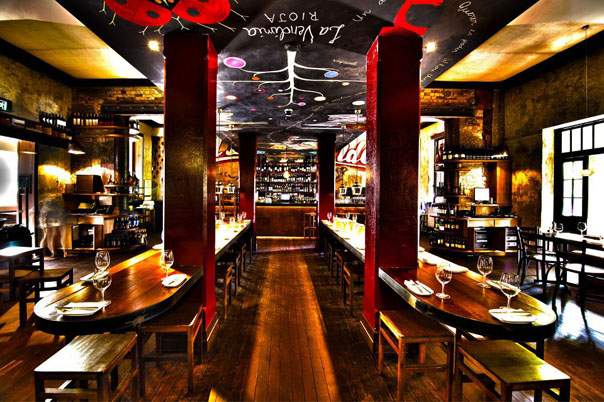 Enjoy the gorgeous ambiance of Peasant while feasting on their Valentine's Day banquet. This includes njuda croquettes, Hervey Bay scallops, your choice of trout confit or slow-cooked lamb, and a chocolate and raspberry tart. For food lovers who want to keep it simple (besides choosing the wines to match) Peasant will serve you an unforgettable feast that is certain to please.
61 Petrie Terrace, Brisbane; 07 3367 8066; http://www.peasant.com.au/home.html


One of Brisbane's favourite food institutions, E'cco has always been regarded as an intimate, comfortable and delicious dining venue. The waitstaff are experts with food, wine and people, knowing how to make your night a special one. The food is perfection with Philip Johnson's signature 'keep it simple' style. You may bring your own alcohol to E'cco, so pick a special bottle from the cellar and make it a cracking night.
100 Boundary Street, (Cnr Adelaide Street), Brisbane; 07 3831 8344; http://www.eccobistro.com/default.html