Irish Delight 'Bad Sisters' Is Your New Murder-Mystery (and Pitch-Black Comedy) Obsession
Led by 'Catastrophe' star Sharon Horgan, this darkly funny revenge fantasy follows four siblings who plot to kill their brother-in-law.
Family feuds are a deadly business in Bad Sisters, Apple TV+'s latest must-see. Just don't believe the first word in its title for a second. Starring, co-written and co-developed by Sharon Horgan, as Catastrophe was before it, this ten-part streaming series focuses on the Garvey girls, a quintet of Irish siblings who became bonded by more than blood when they were orphaned years earlier. Horgan's Eva took on the matriarch role and has doted on her siblings Grace (Anne-Marie Duff, Sex Education), Ursula (Eva Birthistle, The Last Kingdom), Bibi (Sarah Greene, Normal People) and Becka (Eve Hewson, Behind Her Eyes) ever since, even now that they range from their late twenties through to their forties. Used to doing whatever they must for each other, there's nothing bad about their sisterly devotion — but it just might include killing Grace's husband.
A pitch-black comedy, a murder-mystery and a family drama all in one — an Irish riff on Big Little Lies, too, although it's actually adapted from Belgian TV's Clan from back in 2012 — Bad Sisters ponders two questions. Firstly, it wonders what lengths loyal siblings would truly go to to protect one of their own. Secondly, it contemplates what comeuppance women pushed to their limits will exact upon the source of their misery. Indeed, it's a darkly funny revenge fantasy as well, and a puzzle to compulsively sleuth along with. Do the Garveys get their wish? How will they try to make their dream a reality? Will their various murder plots work? What'll go wrong next? These queries also keep coming, and unfurling the answers makes for equally riveting, entertaining, empathetic and amusing viewing.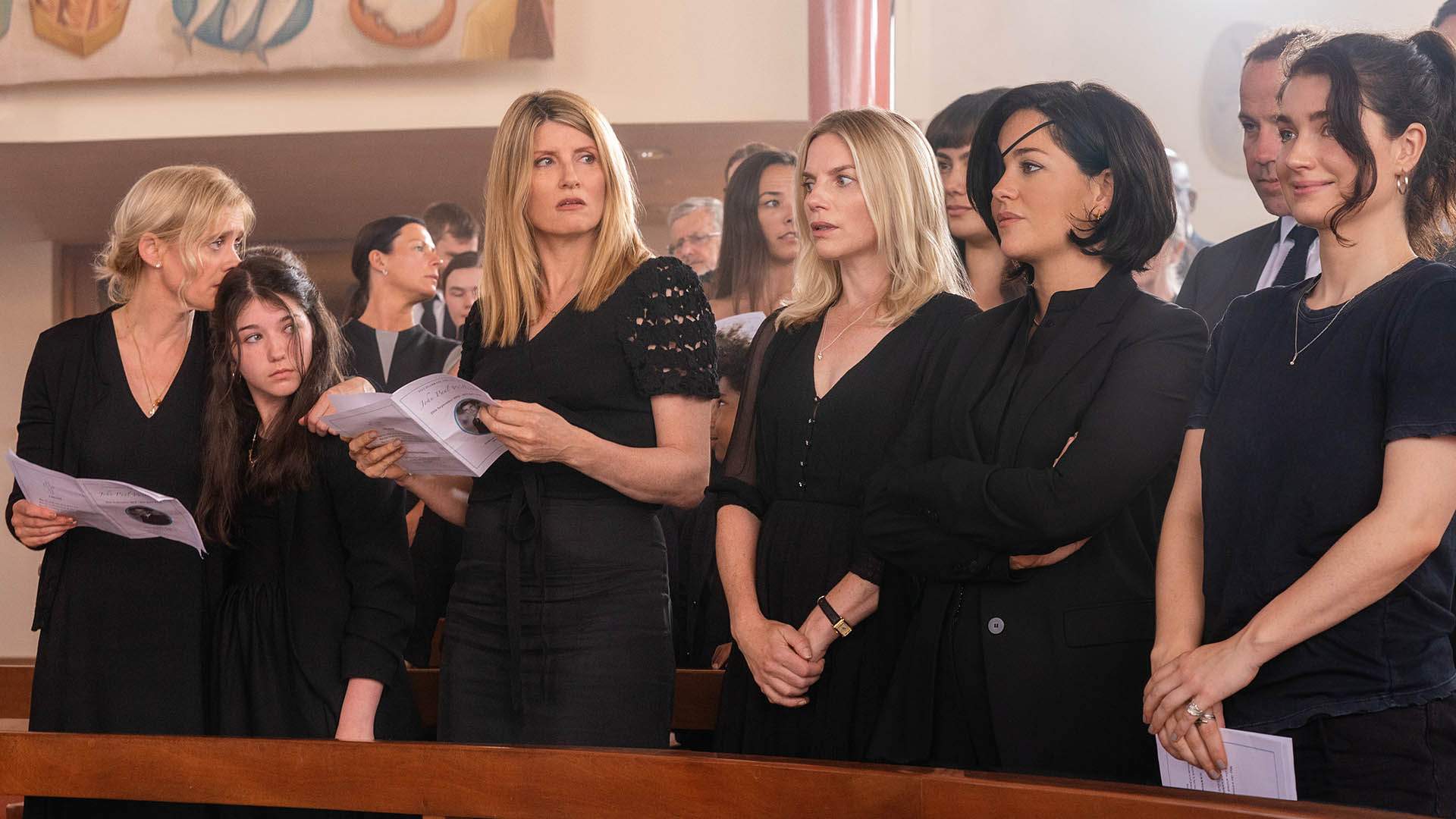 Bad Sisters begins on the day of a funeral, farewelling John Paul Williams (Claes Bang, The Northman) after Grace makes sure that his erection won't be noticed first. Her dead husband has long been nicknamed 'The Prick' anyway, with his four sisters-in-law all thoroughly unimpressed, to say the least, about the toxic way he openly treated his dutiful wife. They're all sick of the underhanded abuse he also directed towards each of them, as well as anyone he didn't like, and the unearned air of superiority that always came with it. Calling him manipulative, callous, misogynistic, racist, narcissistic, spiteful, vicious, pitiless, ruthless, flat-out intolerable — they all fit. When a guest offers condolences at JP's wake, Eva's response is: "I'm just glad the suffering's over". When she's then asked if he was ill, she replies with a blunt and loaded "no". 
Relief lingers during JP's sendoff, but so does tension. Eva, Ursula, Bibi and Becka long wanted The Prick dead and, as flashbacks show, had been planning to bring about that very end. Complicating matters: two insurance agents, aka half-brothers Thomas (Brian Gleeson, Death of a Ladies' Man) and Matthew Claffin (Daryl McCormack, Good Luck to You, Leo Grande), who start nosing around as John Paul is being laid to rest. Their family-run outfit is meant to pay out on his life insurance policy, but it's a hefty amount of cash and will bankrupt the firm. And with Thomas' wife Theresa (Seána Kerslake, My Salinger Year) heavily pregnant and on bed rest, the Claffins already have their own share of family stresses.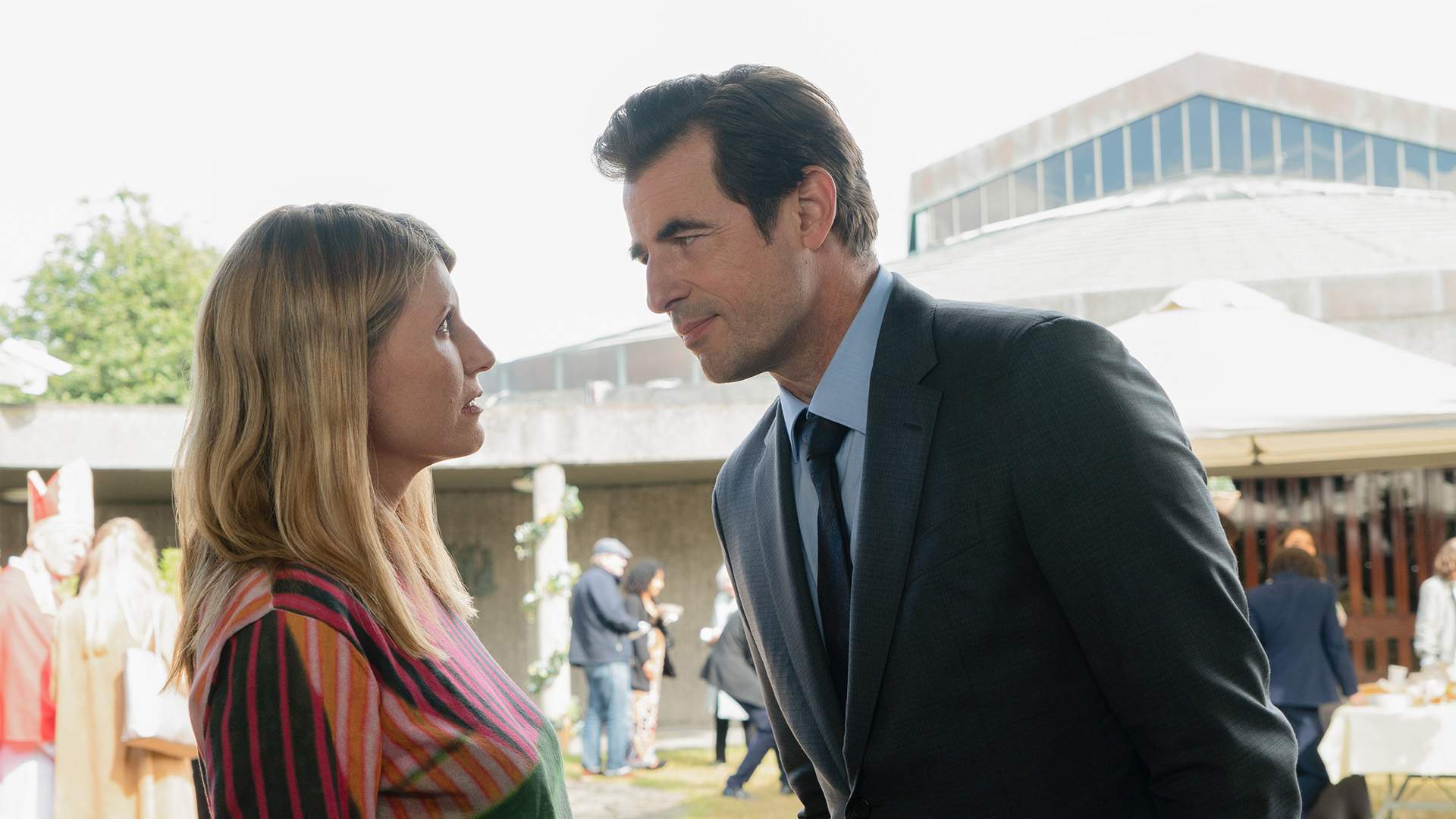 As brought to Apple TV+ by Horgan with United States of Tara, New Girl and 30 Rock's Brett Baer and Dave Finkel, Bad Sisters uses that insurance investigation to justify its jumps backwards — and it's a savvy tactic. In its weekly instalments, the series works through JP's awfulness and the Garveys' campaign of vengeance in two directions, contrasting the sisters' motivations in the months leading up to their brother-in-law's death with the aftermath. That said, exactly how Grace ends up a widow, who's responsible and which of the siblings knows what all drive the show's whodunnit angle, sharply and entertainingly so. Bad Sisters teases out the precise reasons that Eva, Ursula, Bibi and Becka can't stand JP, too, because The Prick's abysmal behaviour made enemies out of everyone around him over and over.
Boasting a devilish setup is just one of Bad Sisters' drawcards. What a premise it is, though. The whole 'offing your arsehole brother-in-law' idea may seem obvious at the outset, but this is a series with both bite and warmth as it unpacks what happens when women don't have any other options but potentially breaking bad — and sticking together. The pervasive feeling: wish fulfilment and catharsis, as Grace's siblings attempt to make everyone's lives better, even if it requires one of the most drastic moves there is. Just as Horgan inhabits her part with fierce affection, as characters played by the This Way Up star tend to sport, the entire ten-episode run bubbles with unfailing determination. It's dedicated to seeing the horrors of coercive control and the harrowing ordeal that is life with someone like JP, but it's as devoted to maintaining hope in the Garveys' sense of sorority.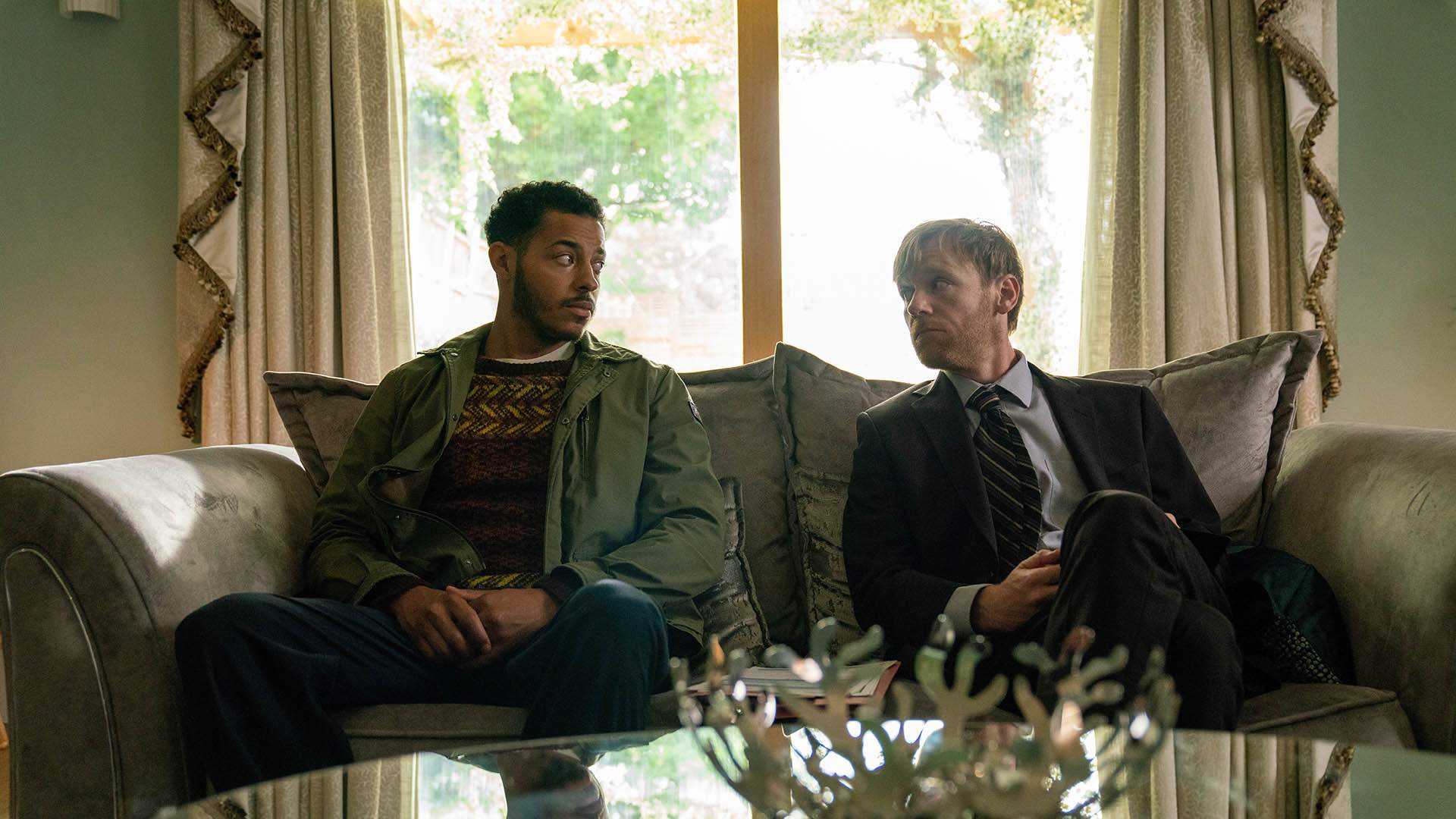 Bad Sisters is also unflinching about perfecting the right balance between twisted, heartfelt, weighty, amusing, sincere and audacious — as resolute as it is about filling its frames with scenic Irish sights. The show's roster of writers and directors, which includes Dearbhla Walsh (Tales From the Loop), Rebecca Gatward (The Spanish Princess) and Josephine Bornebusch (Love Me) behind the lens, ensure four outcomes: lapping up every twist and turn; wishing you're a Garvey yourself; planning a getaway to Ireland; and feeling seen if you've ever been treated terribly by someone you love or even someone you know, be it a relative, friend, neighbour, boss, colleague or acquaintance of an acquaintance.
There's no doubting the impact of Bad Sisters' on-screen talents in making it such an instantly addictive Irish delight, however. It isn't merely the central murder-mystery that lures viewers in — and the comic way the series cycles through the Garveys' schemes — but also the show's wonderful leading ladies. From Horgan through to Hewson, the eponymous sisters are exceptionally well-cast, with all five actors conveying the clan's strengths, flaws, differences, fights and camaraderie, including at an individual level and together. Duff is especially heartbreaking as the spouse who has convinced herself that her husband's exploitation and cruelty is normal, while the Bang ensures that the potently odious, easily despised JP is abhorrent on every level but never cartoonish. They're all ably supported by the charmingly bumbling Gleeson and just charmingly charming McCormack, who help reinforce that every family has its ups and downs — including when no one is contemplating homicide.
Check out the trailer for Bad Sisters below:
Bad Sisters streams via Apple TV+.
Introducing Concrete Playground Trips
Book unique getaways and adventures dreamed up by our editors