Pop Star Sitcom 'Girls5eva' Keeps Finding the Hits in Its Delightful and Hilarious Second Season
Executive produced by Tina Fey, this laugh-a-minute comedy about a reunited 90s girl group is just as smart and funny the second time around.
Whether it sports a catchy beat, an intoxicating riff, a punchy melody or instantly quotable lyrics, a brilliant pop tune never gets old. As Girls5eva demonstrates with its second season, the same proves true for smart and hilarious sitcoms about pop stars who climbed the charts, lived the late-90s/early-00s girl group fantasy and, two decades later, are trying to become more than one-hit wonders. And yes, this Tina Fey-executive produced sitcom — which shares the same joke-avalanche approach that 30 Rock, Unbreakable Kimmy Schmidt, Great News and Mr Mayor do, too — is also filled to the brim with ridiculously infectious songs.
When it first hit streaming in 2021, Girls5eva introduced viewers to the eponymous band when reclaiming their fame wasn't even a blip on their radars — until, unexpectedly, it was. Dawn Solano (Sara Bareilles, Broadway's Waitress), Wickie Roy (Renée Elise Goldsberry, Hamilton), Summer Dutkowsky (Busy Philipps, I Feel Pretty) and Gloria McManus (Paula Pell, AP Bio) had left their days as America's answer to the Spice Girls behind, barely staying in contact since the group split and their fifth member, Ashley Gold (Ashley Park, Emily in Paris), later died in an infinity pool accident. But then rapper Lil Stinker (Jeremiah Craft, Bill & Ted Face the Music) sampled their single 'Famous 5eva', and they were asked to perform backing vocals during his Tonight Show gig. 
Jumping back into the spotlight reignited dreams that the surviving Girls5eva members thought they'd extinguished long ago — well, other than walking attention-magnet Wickie, who crashed and burned in her attempts to go solo, and was happy to fake it till she made it again. Dawn had settled into life as a mother (to four-year-old Max, played by debutant Julius Conceicao), wife (to school guidance counsellor Scott, played by Billions' Daniel Breaker) and manager at her brother's (Dean Winters, Joe vs Carole) Italian restaurant. Summer was an Insta-celebrity among conservatives and Christians thanks to her longstanding marriage to ex-boy band member Kev (Andrew Rannells, The Prom). And Gloria was a successful dentist whose other claim to fame since Girls5eva was being part of the first gay couple to get divorced in New York City.
It's a glorious premise, as brought to life with a pitch-perfect cast — there's zero weak links among Bareilles, Goldsberry, Philipps and pell — with Girls5eva's first eight-episode season bopping through the group's contrasting personalities and their shared dynamics. As they reunited, Wickie's oversized ego, Dawn's uncertainty, Summer's seeming ditziness and the now-forthright Gloria's engrained trauma from pretending to be straight back in the day all swirled around. So too did a cavalcade of clever and perceptive gags about the show's two favourite topics, unsurprisingly: the ludicrous chaos of the entertainment industry, in the 90s and now alike; and the way not only showbiz but the world in general treats women, especially anyone beyond their 20s.
Arriving on Stan in Australia and TVNZ On Demand in New Zealand on Friday, May 6, dropping three episodes at once before unfurling weekly afterwards, season two picks up where its predecessor left off, in narrative, vibe and themes. It's also back with more rapid-fire pop-culture references and digs; the same knowing, light but still sincere tone; and a new parade of delightful tunes composed by Jeff Richmond, Fey's husband and source of music across every sitcom she's produced. Having stormed the Jingle Ball stage at the end of the last batch of episodes, Girls5eva now has a new record deal on their own terms, with Dawn penning all of their songs. That said, they're signed to a label owned by the Property Brothers, they've been given just six weeks in the studio by their assigned executive (Grey Henson, Suburgatory), and Gloria busts her knee during a show as they're hitting the publicity circuit.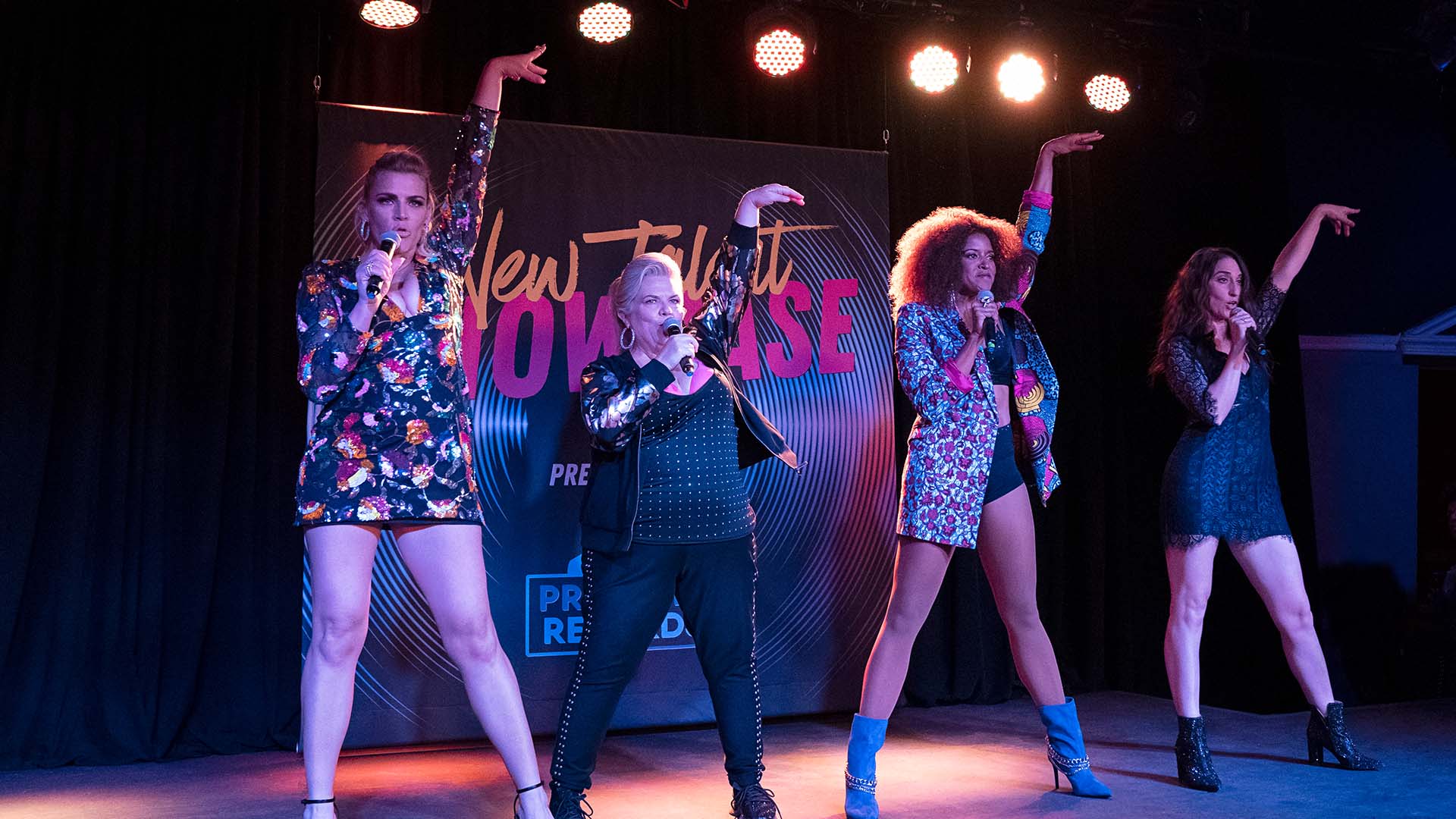 One of the joys of Girls5eva — one of many — is how gleefully absurd it skews, all while fleshing out its central quartet, their hopes and desires, and their experiences navigating an industry that treats them as commodities at best. That silliness is as much a trademark of Fey-produced comedies as Richmond's soundtracks, and it's a template that creator/showrunner Meredith Scardino clearly learned while writing for Unbreakable Kimmy Schmidt and co-scripting the Unbreakable Kimmy Schmidt: Kimmy vs the Reverend movie. It's easy to watch Girls5eva and spot similarities with 30 Rock, Kimmy and the like as a result, but the devil is in the detail in everything with Fey's name attached. Wickie boasts plenty in common with 30 Rock's Jenna Maroney and Kimmy's Titus Andromedon, for instance, but feels like a sibling, not a clone. She's a new song from a familiar band, rather than a cover version — and the same can be said of Dawn, Summer and Gloria, all of whom have counterparts in fellow sitcoms that feature Fey's fingerprints. 
Girls5eva has always been about second acts, second chances and new beginnings — and wading through the baggage that can hinder all three — so the fact that it hums to a recognisable refrain has never been anything but extremely fitting. The show's sophomore season finds much to satirise with that in mind, while also diving deeper and pushing Wickie, Dawn, Summer and Gloria to grow. Another of its supremely apt underlying riffs: how difficult it is to follow your own heart and let your light shine when life keeps putting you in the same old box. That pulsates through as Wickie falls in love with someone other than herself, Dawn keeps trying to balance her home and work commitments, Summer adjusts to singledom and Gloria woos back her ex-wife (Janine Brito, Wine Country), only to wonder if that's what she really wants.
Along the way, there's an onslaught of goofy gags for every occasion (Wickie's boyfriend is a "lunch lord", for example), as well as a tune. Sometimes, Dawn is trying to work all 430 definitions of the word 'set' into a song. Elsewhere, the group belts out bangers such as immediate earworm 'BPE (Big Pussy Energy)'. At one point, they take cues from The Beatles and hit up a rooftop to play the anthemic 'Bend Not Break', which is actually about Gloria's knee injury, to the NYC streets. And season-one highlight 'New York Lonely Boy' gets an equally melancholic and lovely sequel called 'New York City Moms', too. There's power and self-reflection, ridiculousness and earnestness, determination and heart in everything about this series, music, jokes, characters and storylines included — and it just keeps proving a laugh-a-minute gem to watch.
Check out the trailer for Girls5eva season two below:
The first three episodes of Girls5eva's second season hit Stan in Australia and TVNZ On Demand in New Zealand on Friday, May 6, with new instalments dropping weekly afterwards. Read our full review of season one.
Images: Stan/Peacock.
Concrete Playground Trips
Book unique getaways and adventures dreamed up by our editors