Marvel's New Oscar Isaac-Starring Series 'Moon Knight' Is the MCU's Most Intriguing Show Yet
Here's something we've all been waiting for: a new MCU show that doesn't feel like homework.
Now streaming on Disney+, Moon Knight arrives as the latest chapter in a seemingly non-stop franchise that's near monopolised popular culture over the past decade and a half. The newest episodic series to join the Marvel Cinematic Universe, it adds yet another tale to the saga's ever-expanding web of superhero stories — this time focusing on a character first seen on the page back in the 70s; hardly as well-known as the likes of Iron Man, the Hulk, Captain America, Thor and Captain Marvel; and otherwise wholly unseen in the MCU so far.
Moon Knight also starts unfurling as the latest instalment in another trend. For the second time in less than a year, Oscar Isaac stars in a must-see streaming series. In cinemas in-between, he's also added Dune and The Card Counter to his resume, too, because the compulsively watchable actor pinballs between projects vast and intimate — and between blockbusters and character-driven pieces. His two most recent small-screen projects couldn't demonstrate that chasm better, although Moon Knight has more in common with 2021's Scenes From a Marriage than it might initially seem. Or, to be accurate, it boasts one very specific and important shared trait: it wouldn't be what it is without Isaac's magnetic performance.
Make that performances. The setup: in this six-episode miniseries, Isaac plays Steven Grant and Marc Spector. They're one and the same due to a case of dissociative identity disorder, although this is news to mild-mannered British gift-shop employee Steven. Usually, he wishes that he could lead tours at work, obsesses over studying Egyptian history and, thanks to a sleeping disorder, chains himself to his bed at night. But as gaps in his days lead him to learn, he is also American mercenary Marc Spector — or, to be exact, vice versa. Complicating matters further, he's the on-earth conduit for the Egyptian moon god Khonshu (voiced by Mythic Quest's F Murray Abraham) as well.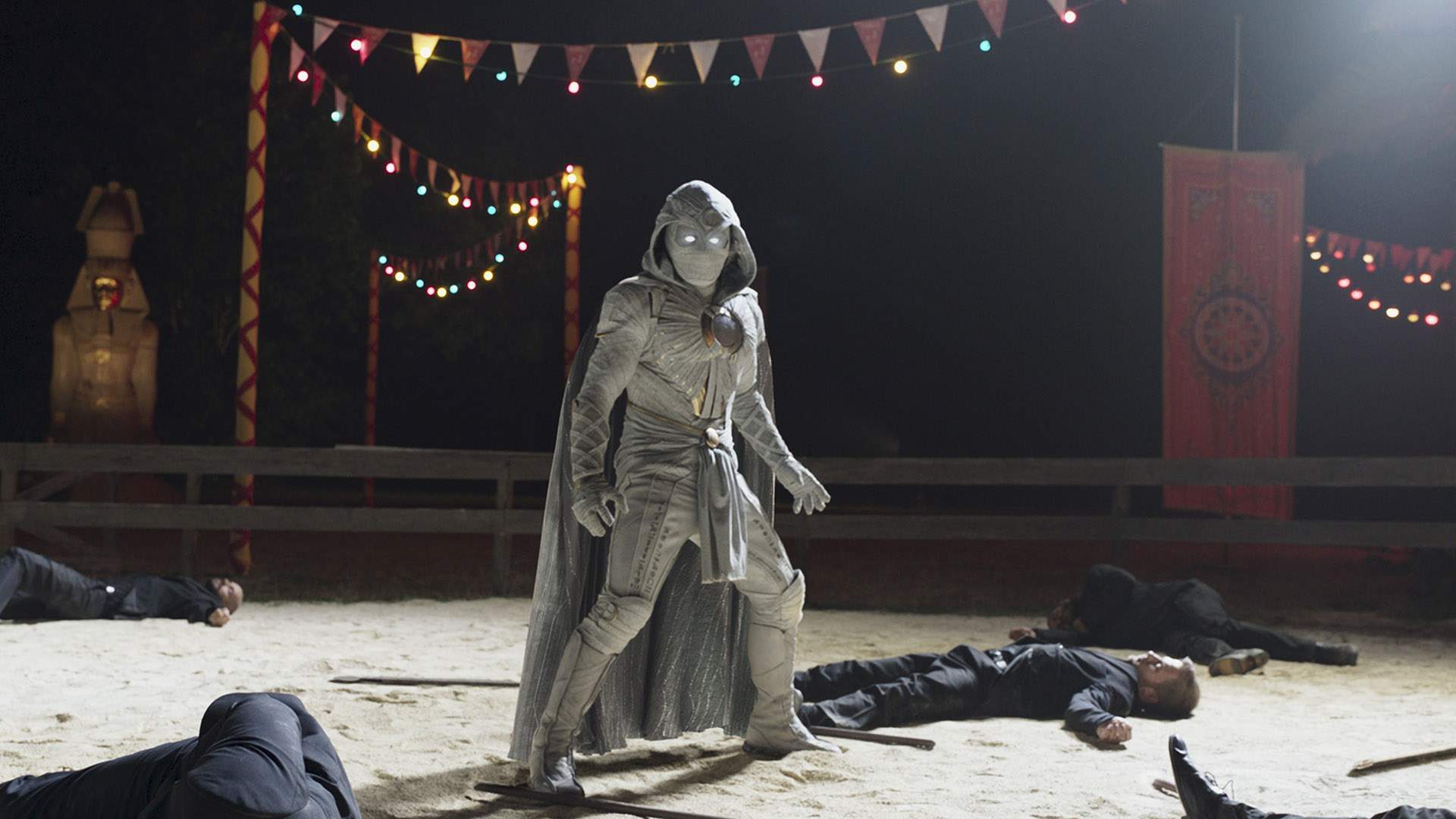 Already struggling with being able to tell the difference between being awake and asleep, Steven's role as the moon god's offsider is a source of stress, unsurprisingly — especially with shadowy cult-like figure Arthur Harrow (Ethan Hawke, The Good Lord Bird) hanging around. Character-wise, the Steven/Marc combo swiftly proves as complex as the MCU has delivered so far in Moon Knight's first four episodes, as deepened even further during a continent-hopping mystery-adventure that has him doing Khonshu's bidding. That's where Harrow comes in, complete with unfinished business with the moon god and big plans of his own. Archaeologist Layla El-Faouly (May Calamawy, Ramy) also adds another layer, sporting ties to Marc's past that Steven is initially unaware of, and sparking a patch of romantic rivalry.
Even within franchise confines, Isaac is mesmerising playing duelling dual personalities in Moon Knight, turning in the kind of portrayal that the MCU has been lacking. It isn't known as an actor's showcase, which is why even this far in — 27 movies and now six Disney+ series — the sprawling saga's standout performances make a splash bigger than throwing mjölnir into an ocean. It's what made Tom Hiddleston a hit in his big-screen outings, and also in fellow streaming show Loki. Also on the small screen, the greater texture served up by Elizabeth Olsen and Paul Bettany, and the scene-stealing perfection of Kathryn Hahn as well, ensured that WandaVision left an imprint, too. Isaac bests them all; while Marvel's knack for casting has long been one of its superpowers — even with simply entertaining rather than necessarily meaty performances resulting — it flexes those talents magnificently in Moon Knight. Indeed, it's as shrewd a casting move as has been made to-date in this pop-culture behemoth.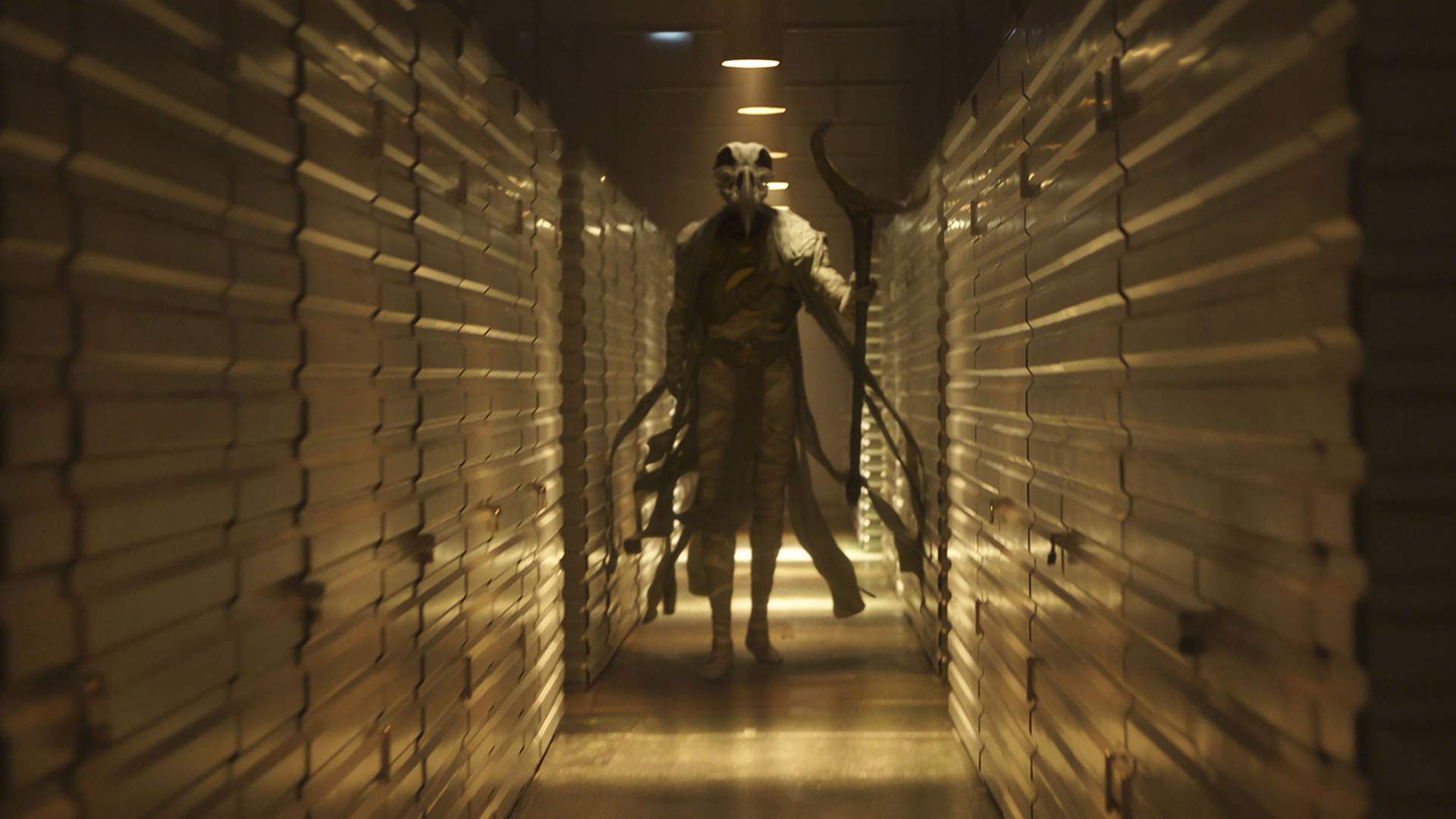 The fact that Moon Knight also tasks Isaac with playing someone that film and TV fans aren't already acquainted with is also pivotal. Welcomely, the Marvel formula feels fresher here. The series still spins an origin story, and will undoubtedly tie into the broader narrative to come. It also often falls back on a template between daring to be stranger and weirder. And yet, by branching off with a previously unseen protagonist, this is the first MCU Disney+ series that doesn't feel like homework. That isn't a slight upon WandaVision, The Falcon and the Winter Soldier, Loki and Hawkeye, but recognition that reaching in new directions reaps considerable rewards.  Moon Knight doesn't lack in star power, of course — there's a reason that Isaac is rarely seen suited up with his face covered, Hawke is also fantastic, and they bounce off of each other compellingly — but it hasn't enlisted its big-name MCU newcomers to merely go through the by-the-numbers motions.
Similarly leaving an impression: having Egyptian filmmaker Mohamed Diab (Clash) direct four episodes, and getting American sci-fi/horror wunderkinds Justin Benson and Aaron Moorhead (Synchronic, The Endless, Archive 81) to helm the other two. Both help ensure that Moon Knight's biggest thrills come from its best asset, especially given that he's doing double duty in a Dr Jekyll and Mr Hyde-style premise — and the scenes where Steven and Marc bicker with each other about who gets to control their shared body (which happens via reflective surfaces such as mirrors and puddles, and are shot with not just flair but boldness), are the show's clear highlights.
The Indiana Jones nods, and the swings in The Mummy's direction, are clunkier, but the end product is still easily the most intriguing small-screen Marvel effort so far. Actually, when Moon Knight does ultimately end up overtly linking into the MCU in its final two episodes — and if it smoothes itself down in the process — that'll feel like a let down.
Check out the trailer for Moon Knight below:
The first episode of Moon Knight is available to stream via Disney+, with new instalments dropping weekly.
Images: courtesy of Marvel Studios. ©Marvel Studios 2022. All Rights Reserved.
Concrete Playground Trips
Book unique getaways and adventures dreamed up by our editors