Kurt and Wyatt Russell, Godzilla and Globe-Hopping Family Drama Make a Great Combo in 'Monarch: Legacy of Monsters'
The 'Monsterverse' successfully hits the small screen in this engaging spinoff that jumps between the 1950s and 2010s.
Godzilla is still big, but the picture around cinema's most-famous kaiju gets smaller in Monarch: Legacy of Monsters, the Japanese-created creature's new TV series. This ten-episode show sits within the American Monsterverse, which has previously filled movie theatres with 2014's Godzilla, 2017's Kong: Skull Island, 2019's Godzilla: King of the Monsters and 2021's Godzilla vs Kong — and it hits streaming, arriving on Apple TV+ from Friday, November 17, with a scaled-down focus on family drama. People matter in Monarch: Legacy of Monsters, far more than they have in any of the US franchise's instalments so far. The folks hopping around the globe chasing the giant critter and its fellow titans are also worth caring about. As a result, there's nothing little about how engaging Monarch: Legacy of Monsters proves. Getting Kurt and Wyatt Russell involved helps.
The real-life father-son pair portray the same character — not for the first time; see: 1998's Soldier when Wyatt (Under the Banner of Heaven) was still a child — with not just ease but charisma. That isn't surprising; as the younger Russell's resume keeps demonstrating through Cold in July, Ingrid Goes West, Lodge 49, The Falcon and the Winter Soldier and more, the apple hasn't fallen far from the tree when it comes to acting talent. Wyatt slips into Lee Shaw's military uniform in the 1950s, Kurt (Fast and Furious 9) plays the retired elder version in the mid-2010s, and jokes reference how well the pivotal figure has aged to make the maths work out (in the later timeline, Shaw has to be in his 90s). Needing to make that gag is worth it for such stellar and captivating casting.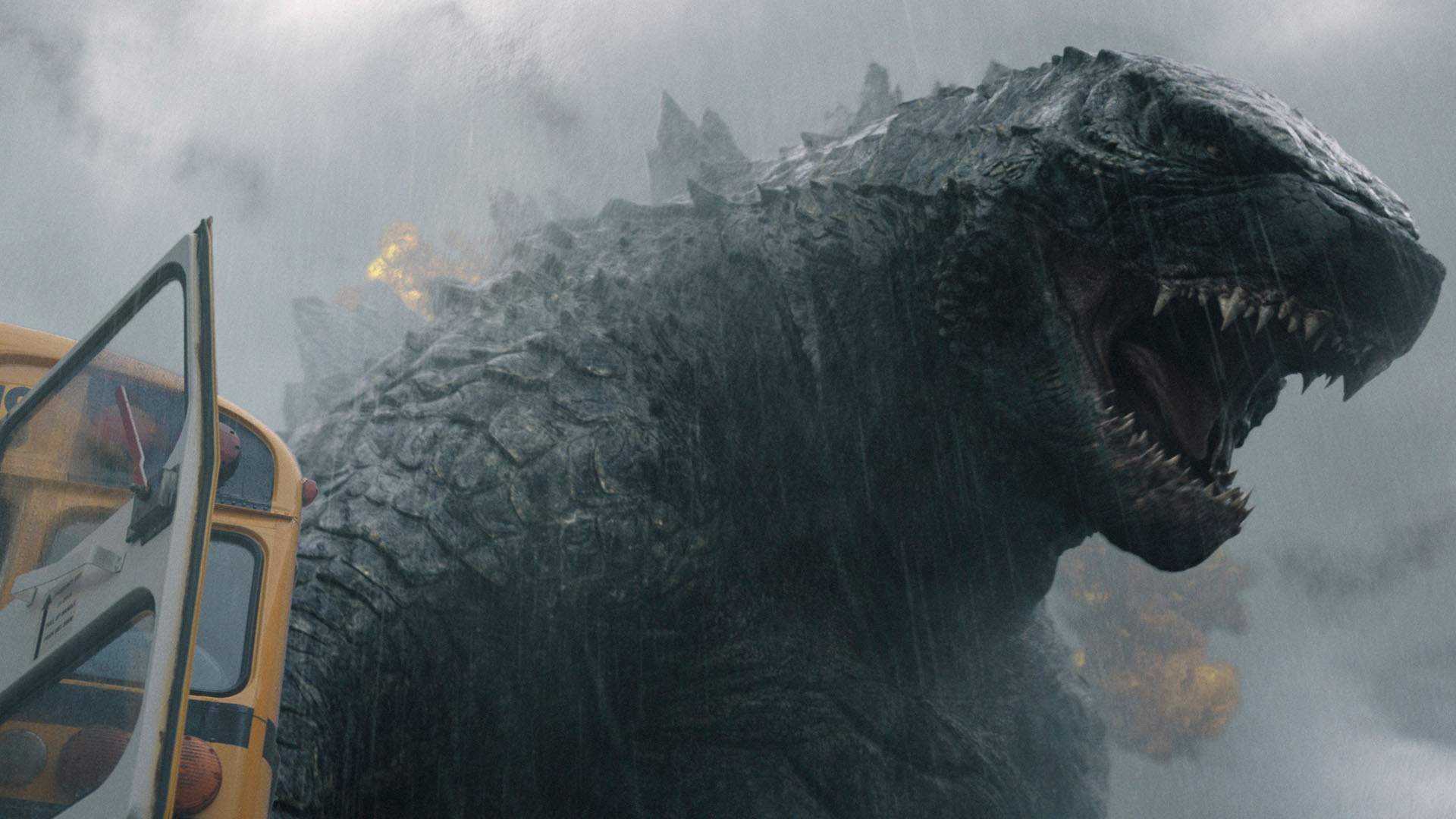 Monarch: Legacy of Monsters isn't about Shaw's family, however — at least not as bonded by blood. In 2015, a year after the G-Day events of the 2014 film, San Franciscan teacher Cate Randa (Anna Sawai, Pachinko) is suffering from kaiju-inflicted PTSD and mourning her missing father Hiroshi (Takehiro Hira, Gran Turismo: Based on a True Story), making a trip to Japan to pack up his Tokyo apartment challenging several times over. There, she finds artist Kentaro (Ren Watabe, 461 Days of Bento), a shared history and links to secret government monster-hunting organisation Monarch. Those ties comes courtesy of a satchel filled with documents that Bill Randa (John Goodman, returning from Kong: Skull Island) is seen tossing into the sea in a 70s-set prologue; having possession of it sparks chaos for not only Cate and Kentaro, but also the latter's hacker ex-girlfriend May (Kiersey Clemons, The Flash).
When a shadowy international outfit is on your trail, who can assist? Given that Shaw was a 50s-era colleague of Hiroshi's parents Keiko (Mari Yamamoto, also Pachinko) and Bill (played by Inventing Anna's Anders Holm in the earlier timeline), his help is swiftly needed. Amid Cate, Kentaro, May and Shaw's attempts to evade the "like the CIA, but for Godzilla" operation pursuing their every move, Monarch: Legacy of Monsters also dives into Shaw, Keiko and Bill's backstory. Shaw is enlisted into the monster realm exactly because he's enlisted, then deployed to ensure Keiko's safety as she follows her research into strange radiation trails in The Philippines — a phenomena that fellow scientist Bill is also interested in.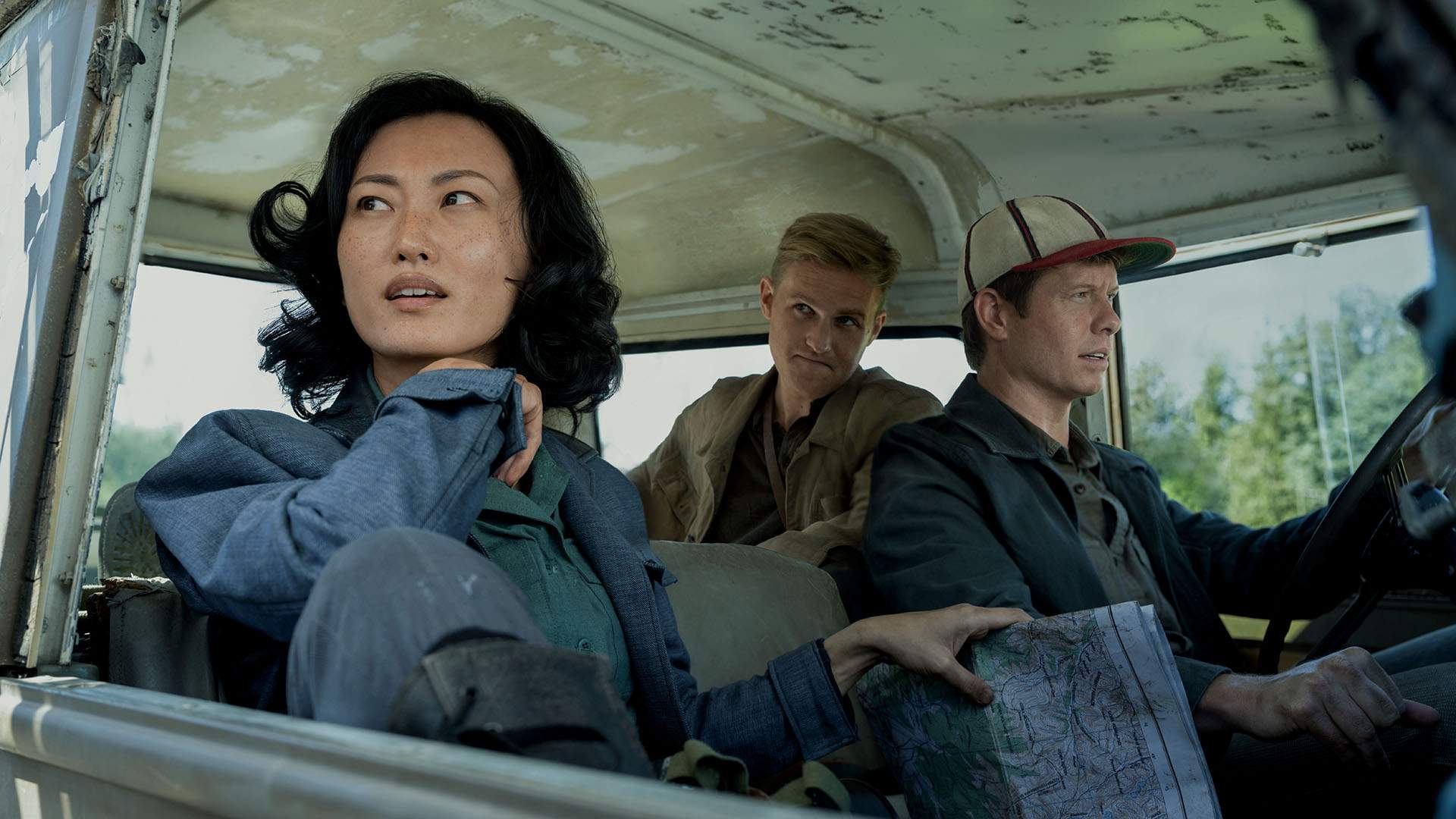 While the Russells provide Monarch: Legacy of Monsters with its biggest names, and add depth to Shaw's emotional journey by perfecting the same mannerisms and line deliveries — not to mention letting that family charm kick in — series co-developers Chris Black (Severance) and Matt Fraction (Da Vinci's Demons) have cast their show well across the board. When beastly behemoths are simply being talked about rather than sighted, the human story never feels like filler padding out the frame until the next monster melee, which stems as much from the performances as the commitment to ensuring that pixels aren't the sole attraction. Each with their own Russell, both groups provide space for everyone's part of the narrative, plus the portrayals that go with it, to make an impact. Screenwriting convenience and cliche comes into play in fleshing out some backstories, but Clemons and Yamamoto especially have no trouble selling it.
In addition to excellent casting, the series welcomely makes an even better move: taking the Monsterverse back where all things Godzilla started off-screen, aka Japan. When the creature that has multiple Tokyo statues devoted to it, plus a dedicated store as well, first erupted into cinemas in 1954 to spark a 33-film homegrown saga, it was in the shadow of World War II as an indictment of nuclear conflict's destruction and consequences — and those origins get the most meaningful nod yet in the US franchise through Keiko, Cate and Kentaro. All things Godzilla thankfully haven't moved to America IRL. Godzilla Minus One returns the kaiju to live-action Japanese movies in 2023 for the first time since 2016's exceptional Shin Godzilla, while three animated flicks (2017's Godzilla: Planet of the Monsters, and 2018's Godzilla: City on the Edge of Battle and Godzilla: The Planet Eater) have filled the gap in-between. But there's been an emptiness to the Monsterverse when it has barely cared about that history, even if making titans a worldwide threat and noting that Zilly doesn't respect national boundaries has merit.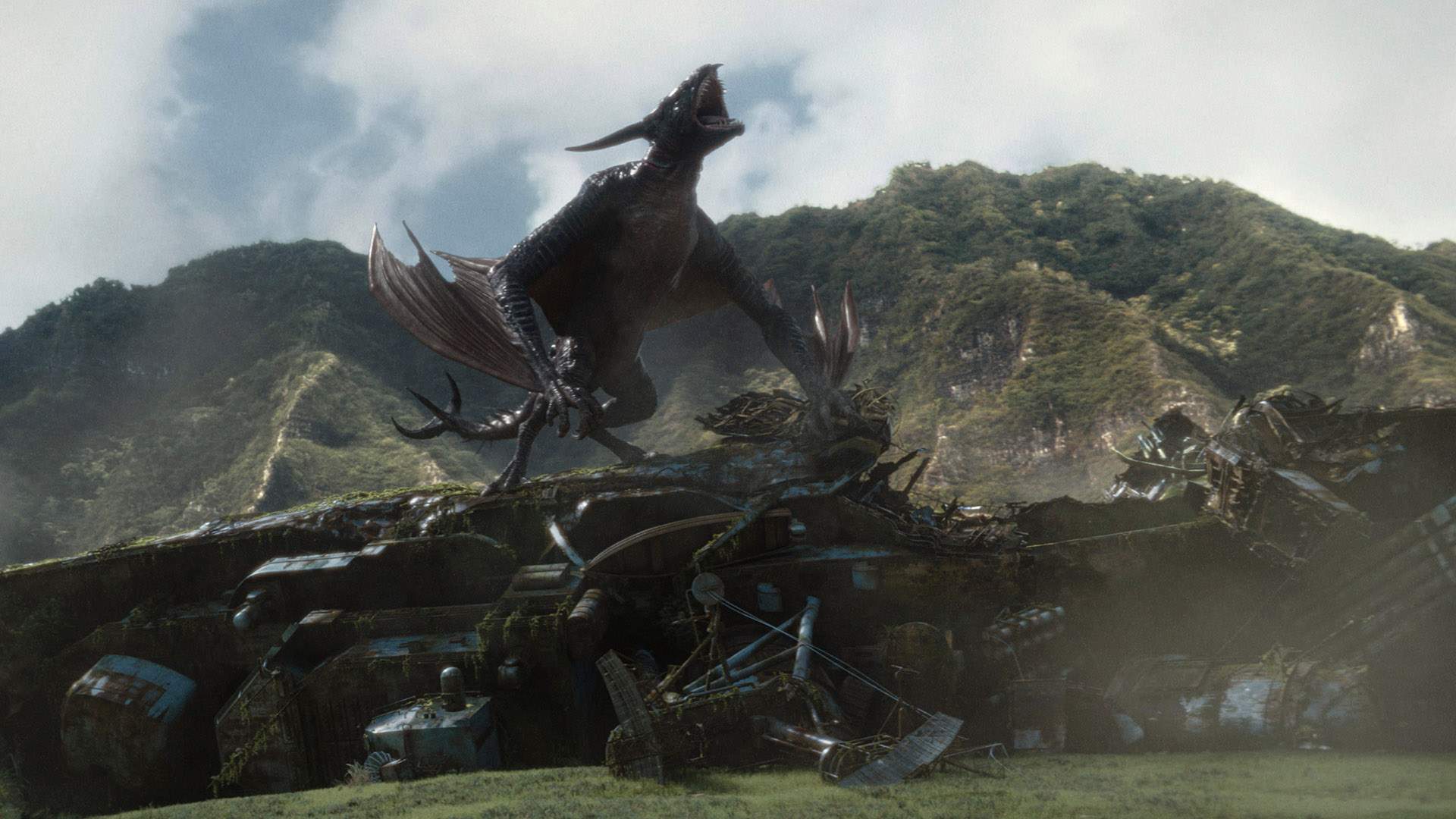 Call them kaiju, call them titans, call them massive unidentified terrestrial organisms (or MUTO): they're as meaningful as they've always been in Monarch: Legacy of Monsters. While the show's main attention might reside with two eras of people on two different searches, Godzilla and its fellow critters aren't ignored. They wander, smash and swim. They cause awe and fear alike. They tower, sleep, destroy and — with Zilly in particular — protect. As Monarch: Legacy of Monsters hones in on people, in fact, it explores the array of reactions that Godzilla can inspire, the range of thinking as well and, as intended for almost seven decades, the self-reflection about atomic bombs and warmongering that the very idea of Godzilla was designed to conjure up.
Balancing heart and weight while feeling grounding amid gargantuans isn't a tiny task. Making sure that people and titans are equally as important to the narrative isn't a minor feat, either. Nor is using special effects to wow with onslaughts and dwarf with scale, getting a theme tune echoing into earworm territory almost as much as the stone-cold classic original Godzilla music and making a TV entry to a franchise that plays like the main attraction. Whichever Godzilla tales that Japan spins will always be the kings of the saga, and long may they continue charging onto screens — but Monarch: Legacy of Monsters puts down a giant footprint for Hollywood's dalliance with the atomic lizard, and a much-needed one given that more will only keep coming, including the silver screen's Godzilla x Kong: The New Empire in 2024.
Check out the trailer for Monarch: Legacy of Monsters below:
Monarch: Legacy of Monsters streams via Apple TV+ from Friday, November 17, 2023.
Concrete Playground Trips
Book unique getaways and adventures dreamed up by our editors