The 'Ted Lasso' Crew, Jason Segel and Harrison Ford Turn 'Shrinking' Into Apple TV+'s New Kind-Hearted Gem
This comedy about therapists is Harrison Ford's second-ever regular small-screen role — and he's unsurprisingly exceptional.
One of the enduring joys of staring at a screen, big or small, is the nifty knack that movies and TV shows can have for delivering treasures viewers didn't know they needed. We should've realised we had to see Michelle Yeoh hop across dimensions to save the world before Everything Everywhere All At Once arrived, for instance. We should've gleaned that Timothée Chalamet would make a compelling cannibal prior to Bones and All, too. And, it should've been obvious that Adam Scott plunging into an office nightmare would be instantly addictive viewing, but it took Severance to make it plain. Now, Shrinking joins the list by giving the world what we've truly been lacking: a delightfully gruff Harrison Ford co-starring in a kind-hearted sitcom. 
Creating this therapist-focused series for Apple TV+ — with its first two episodes hitting on Friday, January 27, and the remainder of the ten-episode first season dropping week by week afterwards — Bill Lawrence, Brett Goldstein and Jason Segel didn't miss Shrinking's immediate potential, though. Lawrence and Goldstein add the show to their roster alongside Ted Lasso, which the former also co-created, and the latter stars in as the also wonderfully gruff Roy Kent to Emmy- and Golden Globe-winning effect. It too bathes in warmth amid chaos, all while understanding, exploring and accepting its characters as the flawed folks we all are. As for Segel, he's no stranger to playing the type of super-enthusiastic and super-earnest figure he inhabits again here, as seen in Freaks and Geeks and How I Met Your Mother.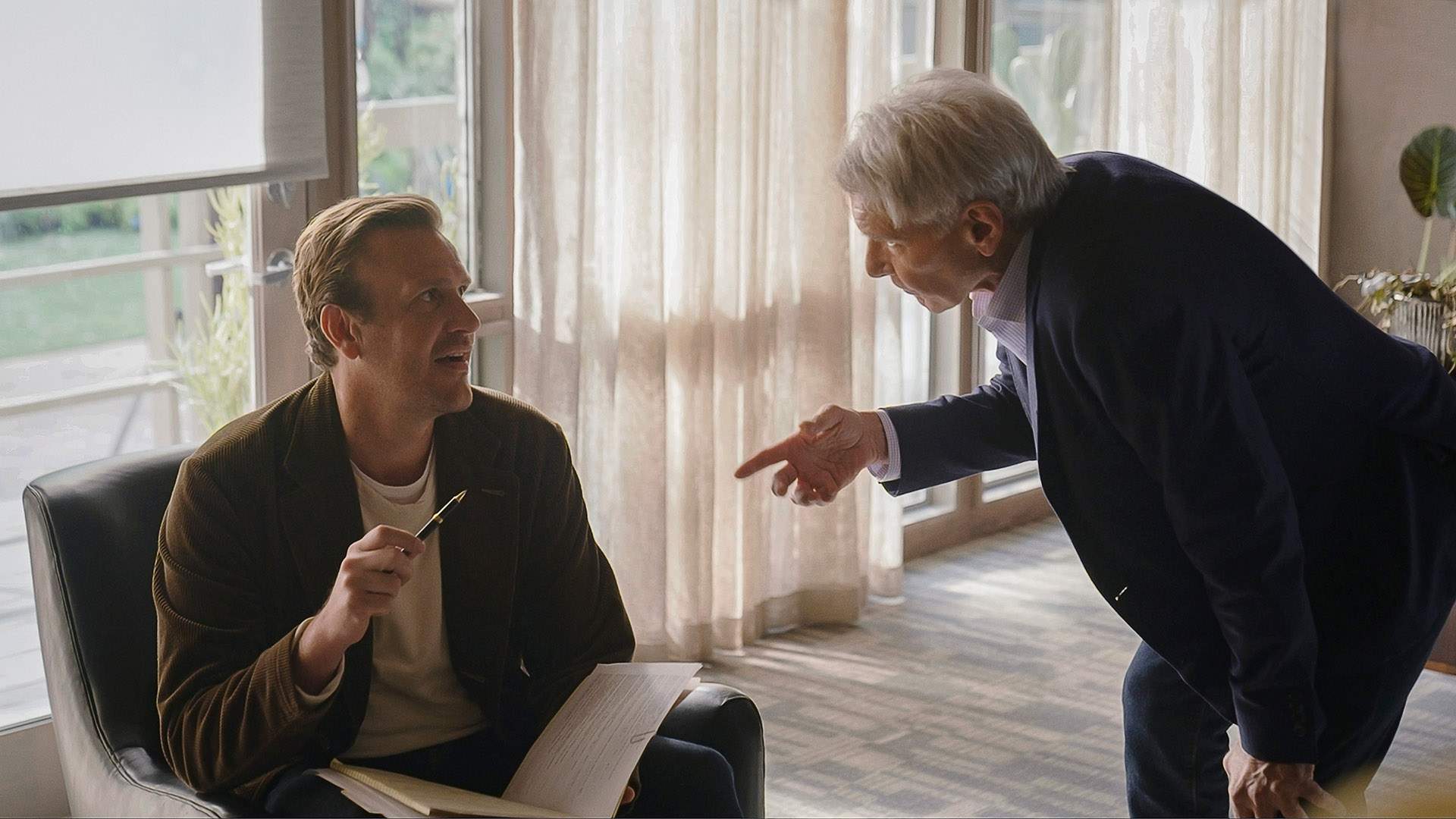 If Ted Lasso downplayed the soccer, instead emphasising the psychologist chats that were a pivotal part of season two, Shrinking would be the end result. Also, if Scrubs, another of Lawrence's sitcoms, followed doctors specialising in mental health rather than working in a hospital, Shrinking would also be the outcome. It's worth remembering that Scrubs featured a very funny and clever nod to Ford, which likely makes his casting here a dream come true for Lawrence. Round up all of these familiar elements, details brought over from elsewhere and past references, and Shrinking turns them into a series that's thoughtful, supremely entertaining, well-cast and well-crafted — and an engaging and easy watch.
Ford is the biggest name among Shrinking's many recognisable faces, because a career forever tied to the Blade Runner, Star Wars and Indiana Jones franchises will do that, but he's in supporting mode. Segel (Windfall) leads the show as Jimmy Laird, a therapist who is initially seen waking up his empty-nester neighbour Liz (Christa Miller, a Scrubs alum and also Lawrence's wife) in the deep of night while hanging out with sex workers and self-medicating around his backyard pool. She's not mad, however, because he's been like this for some time — and she's been helping keep his life running, primarily by being a surrogate parent for his teenage daughter Alice (Lukita Maxwell, Generation). A year back, Jimmy's wife Tia (Lilan Bowden, Murderville) passed away; saying that he's struggling to cope is an understatement.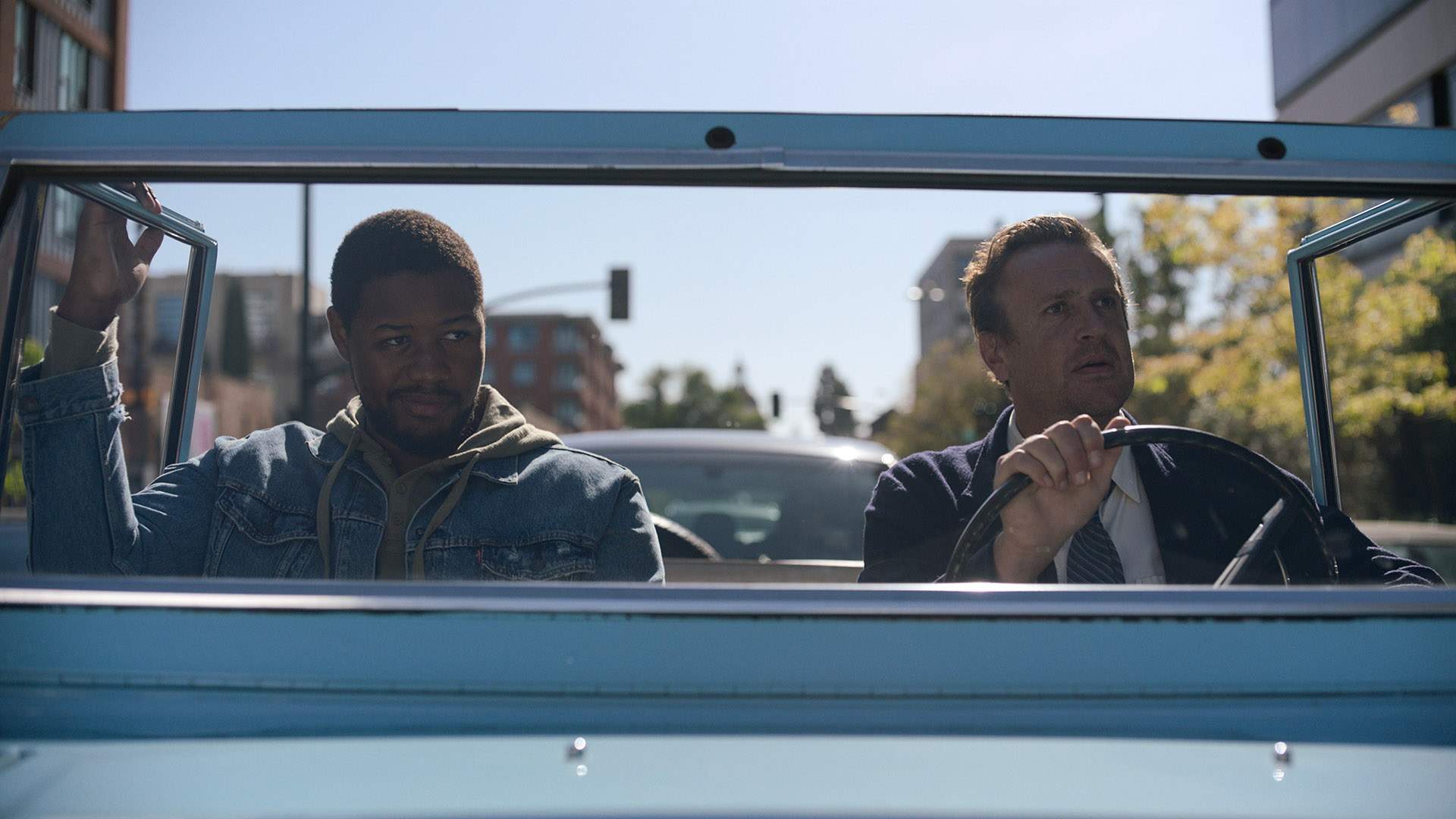 As overused and irritating as the dead-wife trope is — men can flounder all by themselves without a deceased spouse to blame — Shrinking thankfully unpacks the concept. It explores how Jimmy's all-or-nothing attitude has always been part of his persona, questions his idealised view of his marriage, and establishes that his faults weren't suddenly sparked by going through what nobody ever wants to. Co-scripting as well, Lawrence, Goldstein and Segel also ensure that Shrinking examines how loss affects more than just middle-aged white men unexpectedly without wives, courtesy of not just Alice but also Jimmy's colleague and Tia's best friend Gaby (Jessica Williams, Fantastic Beasts: The Secrets of Dumbledore). And, while never underplaying the existence-altering weight of grief, it spies how everyone is the sum of their best and worst experiences, including Jimmy and Gaby's boss Paul (Ford, The Call of the Wild), Liz, Jimmy's estranged pal Brian (Michael Urie, Younger) and Jimmy's patients.
Shrinking isn't called Shrinking without capturing its therapists in action; add it to the pile of recent fare, such as The Patient and The Shrink Next Door, that jump on and off the couch. Shrinking's twist: after taking his Liz-interrupted evening as a wakeup call, and attempting to work through his mourning and be an attentive dad again, he decides to ignore ethics, get frank and shower his patients with tough truths. Tired of discussing their woes endlessly without seeing changes, and suffering from compassion fatigue, he makes drastic moves — threatening not to be Grace's (Heidi Gardner, Saturday Night Live) shrink any longer if she doesn't leave her abusive husband, for example, and taking new patient Sean (Luke Tennie, CSI: Vegas), a young war veteran with anger issues who'll soon be living in Jimmy's pool house, to box out his feelings in the ring.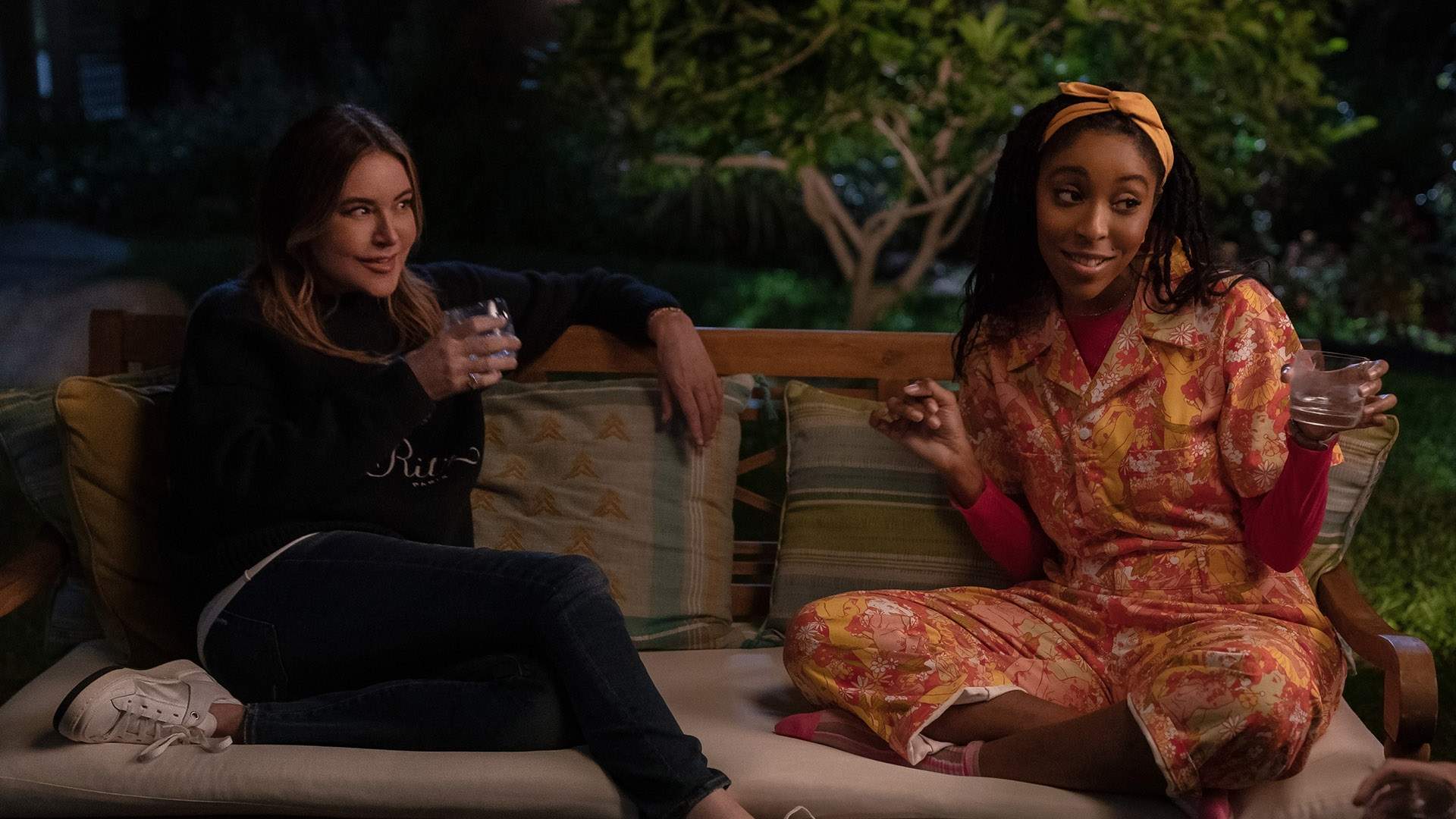 Both sweetness and melancholy linger in Shrinking as it finds as many ways as it can to layer in one of therapy's key takeaways: that working through everything that life throws your way, and also working on yourself in the process, is never simple. Talk reigns supreme, whether Jimmy is desperately trying to get back on Alice's good side, Alice is confiding in Paul instead, Paul makes what he says count, Gaby gets drawn deeper into Jimmy's dramas or Sean is endeavouring to move on from his military service while avoiding confronting its impact. An embracing, cosy, feel-good vibe radiates, too — in a series that's another hearty hug, as Ted Lasso is, but one that's sharper about the pain that everyone carries for their own multitude of reasons.
Shrinking could've just gifted viewers Ford's second-ever regular small-screen role in his almost six-decade career — arriving swiftly after his first in Yellowstone prequel 1923, in fact — and been happy coasting on Ford's presence. He's unsurprisingly exceptional, and wanting more of his no-nonsense but soft-hearted veteran shrink if a second season eventuates springs exactly as expected going in. He's pitch-perfect as the show's resident grump, and at fleshing out the reasons why. He's fragile when diving into Paul's own troubles and regrets, warmly wise dispensing advice to Jimmy and Alice, and hilarious when he's getting blunt and also singing terrible tunes. And he's just one terrific component that makes Shrinking click, alongside knowing that being alive is constantly juggling an array of components and making the most of whatever you can.
Check out the trailer for Shrinking below:
Shrinking streams via Apple TV+ from Friday, January 27.
Concrete Playground Trips
Book unique getaways and adventures dreamed up by our editors