Ten Excellent and Exciting New Films to Add to Your 2021 Must-See List
Including likely Oscar-nominees, long-awaited animated releases and big-name sequels — and Nicolas Cage's latest, too.
Every trip to the movies serves up multiple delights, from the excuse to tuck into a choc top to whatever big-screen release has earned your attention at that very moment. But one aspect of cinema's magic has hit home particularly hard over the past year: the ability to switch off from the world, forget everything else for a couple of hours, ignore your phone and the news, and completely lose yourself in a film.
In 2020, we all indulged in that escapism on our couches, as well as in cinemas. That said, it felt particularly special when projectors started whirring again post-lockdowns in picture palaces around the country. In 2021, here's hoping that the latter sensation will continue — because there are plenty of brand new movies vying for your attention this year.
Whether you're eager to check out Australia's latest on-screen reckoning with the past, a drama about four friends testing the idea that humans actually need more alcohol in their blood or the revival of a beloved sci-fi franchise, 2021's upcoming film slate has you covered. There's no such thing as a bad year for movies, because there's always something new to see; however, getting particularly excited about the next crop of releases heading to the silver screen is completely understandable — including these ten highlights that we've either seen and can heartily recommend, or we're especially looking forward to.

HIGH GROUND
A high-profile Australian cast and an acclaimed local director traipse through the country's colonial past in High Ground — and while that description applies to a growing number of Aussie films (Sweet Country, The Nightingale and The Furnace, just to name three recent examples), it'll never get old. Indeed, while Stephen Maxwell Johnson's (Yolngu Boy) frontier western feels like a natural addition to this growing genre, it also makes its own imprint. The setup: on what's supposed to be a routine expedition, almost an entire Indigenous tribe is wiped out by northern Australian police. Their leader, ex-World War I sniper Travis (Simon Baker, Breath), isn't responsible for the carnage, but it weighs heavily on him in the aftermath. In this gorgeously shot, deeply contemplative drama, that especially proves the case twelve years later — when Travis is enlisted by his superior (Jack Thompson) and his ex-partner (Callan Mulvey, Avengers: Endgame) to track down one of its revenge-seeking survivors, all while accompanied by the boy-turned-tracker (debutant Jacob Junior Nayinggul) who also lived through the slaughter.
High Ground releases in Australian cinemas on January 28, 2021.

THE NEST
Over the past decade, Carrie Coon has amassed a resume that'd make many other actors envious, with Gone Girl, The Leftovers, Avengers: Infinity War, Avengers: Endgame and Widows all to her name. Her exceptional performance in The Nest should turn many of her peers green-eyed, too — as should the fact that she stars in this unsettling marital thriller about a couple's unhappiness when they uproot their 80s-era, New York-based lives for a new start in the UK. Coon plays Allison O'Hara, who'd prefer not to move halfway across the globe. But her British trader husband Rory (Jude Law, The Third Day) is adamant that it's the best choice for his career, for their bank balance, and for her teenage daughter Sam (Oona Roche, Morning Wars) and their younger son Ben (Charlie Shotwell, The Nightingale), too. Their tale is told with exacting precision and dripping unease by filmmaker Sean Durkin, making his the long-awaited second feature after 2011's Martha Marcy May Marlene, so it should come as little surprise that little is what it seems in this exquisitely shot, emotionally devastating movie.
The Nest releases in Australian cinemas on February 4.

ANOTHER ROUND
Last time that Mads Mikkelsen (Arctic) teamed up with filmmaker Thomas Vinterberg (Kursk), 2012's The Hunt was the end result — and the difficult drama about a school teacher accused of acting inappropriately with one of his kindergarten students was one of the best movies of that year. In Another Round, the actor and writer/director have joined forces again. Screenwriter Tobias Lindholm (A Hijacking, A War) is back on co-scripting duties as well — and Mikkelsen yet again plays a school teacher, too. In this instance, however, a different subject comes to the fore: the idea that perhaps being constantly under the influence of alcohol is actually better for humans than remaining sober. Martin (Mikkelsen) and his fellow Copenhagen teacher pals Tommy (Thomas Bo Larsen, Veni Vidi Vici), Peter (Lars Ranthe, Warrior) and Nikolaj (Magnus Millang, The Commune) decide to put the theory to the test, chaos ensues, and so does an astute drama about four men weathering a midlife crisis in an extreme way. Also, you've never seen a movie ending quite like this one — and you're unlikely to ever again.
Another Round releases in Australian cinemas on February 11.

MINARI
Remember the name Lee Isaac Chung. Minari isn't the writer/director's first feature — with 2007's Munyurangabo, 2010's Lucky Life and 2012's Abigail Harm already on his resume — but it's the kind of intimate, heartfelt and resonant movie that no one will forget quickly, and that cements its filmmaker as a top cinematic talent to watch. Remember the name Alan S Kim, too. The child actor makes his film debut here, but he steals every scene he's in. Considering that he's acting opposite Steven Yeun (Burning), who turns in his latest excellent performance and will probably nab an Oscar nomination for his efforts, that's no minor feat. Remembering Minari in general is a given, actually. It's so detailed, vivid, honest and tender, and yet also so universal at the same time. Based on Chung's own upbringing, it follows the Yi family as they move to Arkansas to start their own farm, and it's a movie about chasing the American Dream — but don't go thinking that you've seen this tale before, or seen any similar story told with such feeling either.
Minari releases in Australian cinemas on February 18.

EARWIG AND THE WITCH
Since 2016's The Red Turtle, the cinema-loving world has had a Studio Ghibli-shaped hole in its heart. But that'll change in 2021, thanks to Earwig and The Witch — its first new movie in five years. Directed by Hayao Miyazaki's son Goro Miyazaki (who previously directed Tales from Earthsea and From Up On Poppy Hill), the film also marks the animation house's first feature completely made using CGI. It's also based on a novel written by British author Diana Wynne Jones, who penned the book that Howl's Moving Castle was adapted from, too. In terms of story, Earwig and the Witch focuses on a girl at an orphanage in the British countryside, whose world changes when she's chosen to live with a couple — including a witch. Earwig doesn't know that her own mother also had magical powers, so she's thrust into a strange new world, all while trying to do what she's always wanted: belong to a family. In its English-language version, the film will feature voice work by Richard E Grant (Can You Ever Forgive Me?) and Dan Stevens (Eurovision Song Contest: The Story of Fire Saga), plus newcomer Taylor Paige Henderson.
Earwig and the Witch releases in Australian cinemas sometime early in 2021, with its exact release date yet to be announced.

ETERNALS
Another year, another Marvel movie. That actually didn't prove true in 2020, thanks to the pandemic, but 2021 promises to pick up the slack. Indeed, the Marvel Cinematic Universe is set to drop no fewer than four films this year — Black Widow, Shang-Chi and the Legend of the Ten Rings, Eternals and the latest Spider-Man flick — however, Eternals might just be the pick of the bunch. The fact that it focuses on an immortal alien race is certainly interesting. The cast, spanning Angelina Jolie (Maleficent: Mistress of Evil), Kumail Nanjiani (Stuber), Salma Hayek (Like a Boss), Barry Keoghan (Calm with Horses), Gemma Chan (Captain Marvel), Brian Tyree Henry (Superintelligence) and Game of Thrones co-stars Richard Madden and Kit Harington, is too. But it's the involvement of filmmaker Chloe Zhao that's the most exciting part. She's working on a far bigger scale than seen in her past two movies, The Rider and Nomadland; however, there's a sense of empathy and a knack for observation to her features that'll hopefully make the much-needed jump to superhero territory.
Eternals releases in Australian cinemas on October 28.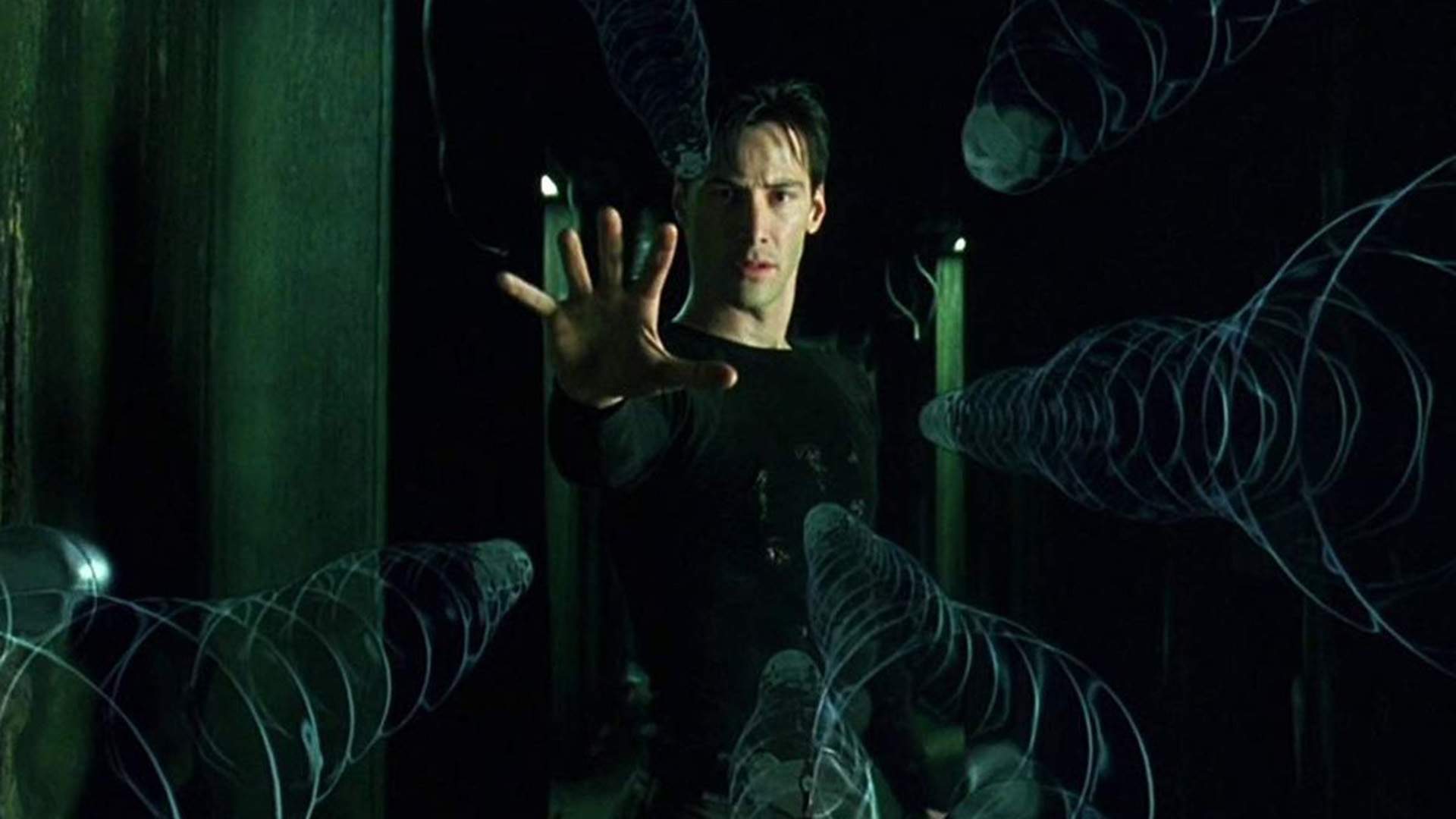 THE MATRIX 4
It's enough to make you say "whoa!" — which Keanu Reeves will hopefully exclaim multiple times. Yes, The Matrix franchise is coming back, its mind-bending dystopian sci-fi story will get another chapter, and not only is Reeves returning, but so is co-star Carrie-Anne Moss (Jessica Jones) and filmmaker Lana Wachowski (Jupiter Ascending). That should whet everyone's appetite for The Matrix 4, which will likely get a better title before it releases. The original is a science fiction classic, after all. And while sequels The Matrix Reloaded and The Matrix Revolutions don't reach the same heights, they still definitely have their moments. Jada Pinkett Smith (Girls Trip) will also pop up again, and the rest of the cast spans everyone from Yahya Abdul-Mateen II (Watchmen) and Neil Patrick Harris (A Series of Unfortunate Events) to Jonathan Groff (Mindhunter) and Priyanka Chopra (Baywatch). She may be directing solo this time around, but Wachowski doesn't make movies that can be confused for anyone else's work — and six years after her last feature, she's finally making her big-screen return.
The Matrix 4 is expected to release in Australia in December 2021.

THE GREEN KNIGHT
After filming two of his last four movies in Australia (Lion and Hotel Mumbai), and also stepping into a Dickens classic set in Victorian England (The Personal History of David Copperfield), Dev Patel is heading somewhere completely different. Jumping back to medieval times, he's delving into the fantasy genre, messing with Arthurian legend and swinging around a mighty sword, all thanks to the dark and ominous The Green Knight. Based on the 14th-century poem Sir Gawain and the Green Knight, the film casts Patel as Sir Gawain. Nephew to King Arthur (Sean Harris, Mission: Impossible — Fallout), he's a knight of the Round Table and fearsome warrior. The character has popped up in plenty of tales, but here, he's forced to confront the green-skinned titular figure in an eerie showdown. Patel is in great company, too, with The Green Knight also starring Alicia Vikander (Earthquake Bird), Joel Edgerton (Boy Erased) and Barry Keoghan (Calm with Horses). And, it's the latest film by impressive — and always eclectic — writer/director David Lowery, with his filmography spanning everything from Ain't Them Bodies Saints and Pete's Dragon to A Ghost Story and The Old Man and the Gun.
The Green Knight doesn't currently have an Australian release date.

NIGHTMARE ALLEY
What's better than one new Guillermo del Toro-directed movie this year? Two, of course — if everything goes as planned, that is. The filmmaker won the Oscar for Best Director for 2017's The Shape of Water, and his work has been absent from our screens since; however, 2021 is currently set to deliver his stop-motion animated version of Pinocchio, plus his new thriller Nightmare Alley. The latter is set in a carnival, where a man called Stanton Carlisle (Bradley Cooper, The Mule) has just started working. His new place of employment leads him to psychologist Lilith Ritter (Cate Blanchett, Where'd You Go, Bernadette), and that's just the start of the story. Based on the 1946 novel of the same name, this isn't the first film adaptation of Nightmare Alley — but no one makes movies quite like del Toro, as everything from Cronos and Pan's Labyrinth to Pacific Rim and Crimson Peak have proven. And to help, he has enlisted a stacked cast that also includes Rooney Mara (Mary Magdalene), Toni Collette (I'm Thinking of Ending Things), Willem Dafoe (The Lighthouse) and his regular collaborator Ron Perlman (Monster Hunter)
Nightmare Alley doesn't currently have an Australian release date.

PRISONERS OF THE GHOSTLAND
Nicolas Cage has starred in some out-there movies in his time. Yes, that's obviously an understatement. Some of his films are so over the top, they're an unhinged delight, like Vampire's Kiss. Some seem as if they should fall into that category, but just end up being bland and clunky beyond Cage's involvement, as seen in 2020's Jiu Jitsu. But combine the inimitable actor with Japanese filmmaker Sion Sono, and something distinctive is bound to happen. Sono's movies, including Love Exposure, Why Don't You Play in Hell?, Tokyo Tribe and Tokyo Vampire Hotel, always fit that description anyway — and, like Cage at his manic best, have to be seen to be believed and truly appreciated. The director makes his first English-language feature with Prisoners of the Ghostland, and Cage plays a bank robber busted out of prison to find a warlord's missing granddaughter. The end result is premiering at this year's Sundance Film Festival, has been described as a western, samurai flick and dystopian thriller combined, and is certain to serve up one helluva ride.
Prisoners of the Ghostland doesn't currently have an Australian release date.
Introducing Concrete Playground Trips
Book unique getaways and adventures dreamed up by our editors