'That '90s Show' Is Exactly the Right Amount of Nostalgic — for 'That '70s Show' and for the 90s
Say "hello Wisconsin!" to a new era of teens hanging out in a basement, all thanks to Netflix's sequel series to 'That '70s Show'
The teenagers of Point Place are at it again: hangin' out down the street, that is, usually in the Forman family basement. This time, decades have passed on- and off-screen since the world first met a group of high schoolers happily doing the same old things they did last week in the fictional Wisconsin town. Netflix's new That '90s Show picks up just over 15 years after That '70s Show's timeline, embracing all that the mid-90s had to offer from raves and Alanis Morissette's initial fame to video stores and Donkey Kong. (Yellowjackets isn't the only series going all-in three decades back right now.) For viewers, the 1995-set series arrives 17 years after its predecessor said farewell.
The years might've changed, but the basics stay the same in a wave of familiar places, faces, scenarios and themes — and the overall formula. From 1998–2006, Eric Forman (Topher Grace, Home Economics), girl-next-door Donna Pinciotti (Laura Prepon, Orange Is the New Black), and pals including Michael Kelso (Ashton Kutcher, Vengeance), Jackie Burkhart (Mila Kunis, Luckiest Girl Alive) and Fez (Wilmer Valderrama, NCIS) earned That '70s Show's attention as they chatted through their hopes and dreams, got stoned frequently, and tried to work out who they were, who they loved and what they wanted. Now, doing the same is Eric and Donna's 14-year-old daughter Leia (Callie Haverda, The Lost Husband), plus the new friends she makes while visiting her loving, supportive but sometimes embarrassing empty-nester grandparents.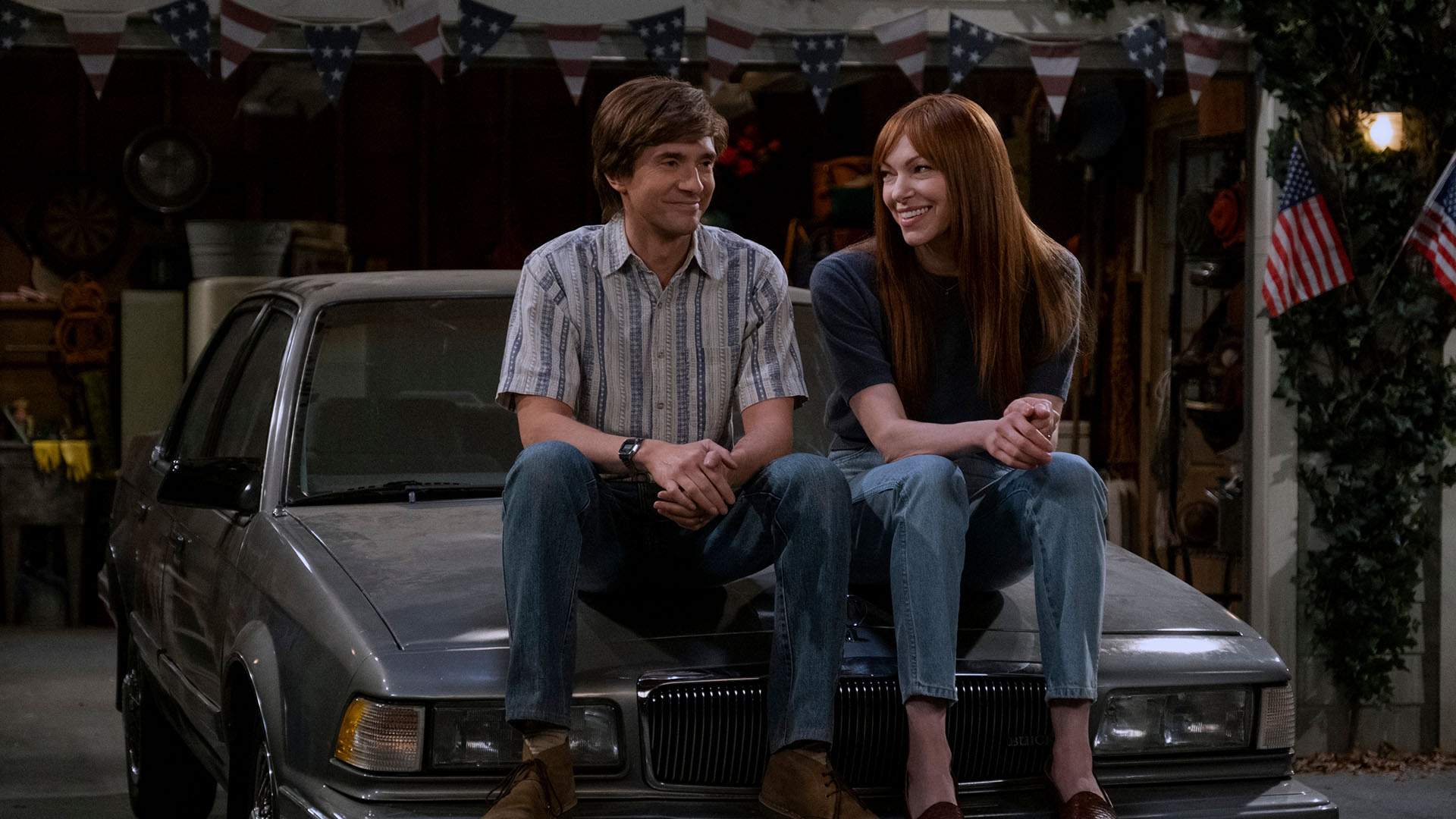 It's during a July 4th weekend stopover at Kitty (Debra Jo Rupp, WandaVision) and Red's (Kurtwood Smith, The Dropout), aka her dad's childhood home, that Leia finds something she doesn't have in Chicago: peers that truly understand her. Despite dashing Eric's dreams of a father-daughter space camp trip just as Red is informing him and Donna that they're now "upstairs people", Leia decides to stay in Point Place for the summer. As perky as ever, Kitty is thrilled to have the house — all levels — filled with kids once more. The perennially cantankerous Red doesn't share or even feign her enthusiasm, but he is eager to start threatening another generation with an emphatic kick in the rear — and to call them all "dumbass".
Those new teens? The elder Formans' neighbours Gwen (Ashley Aufderheide, Four Kids and It) and Nate (Maxwell Acee Donovan, Gabby Duran & The Unsittables) — one a feisty riot grrrl getting Leia to rebel for the first time in her life, the other the airhead successor to Michael Kelso — and their existing friends. There is a genuine Kelso, too, in the form of hunky ladies' man Jay (Mace Coronel, Colin in Black & White), who's firmly his dad's son. Rounding out the gang: the witty Ozzie (Reyn Doi, Barb and Star Go to Vista Del Mar), the openly gay member of the group, and Nate's super-smart girlfriend Nikki (Sam Morelos, Forgetting Nobody).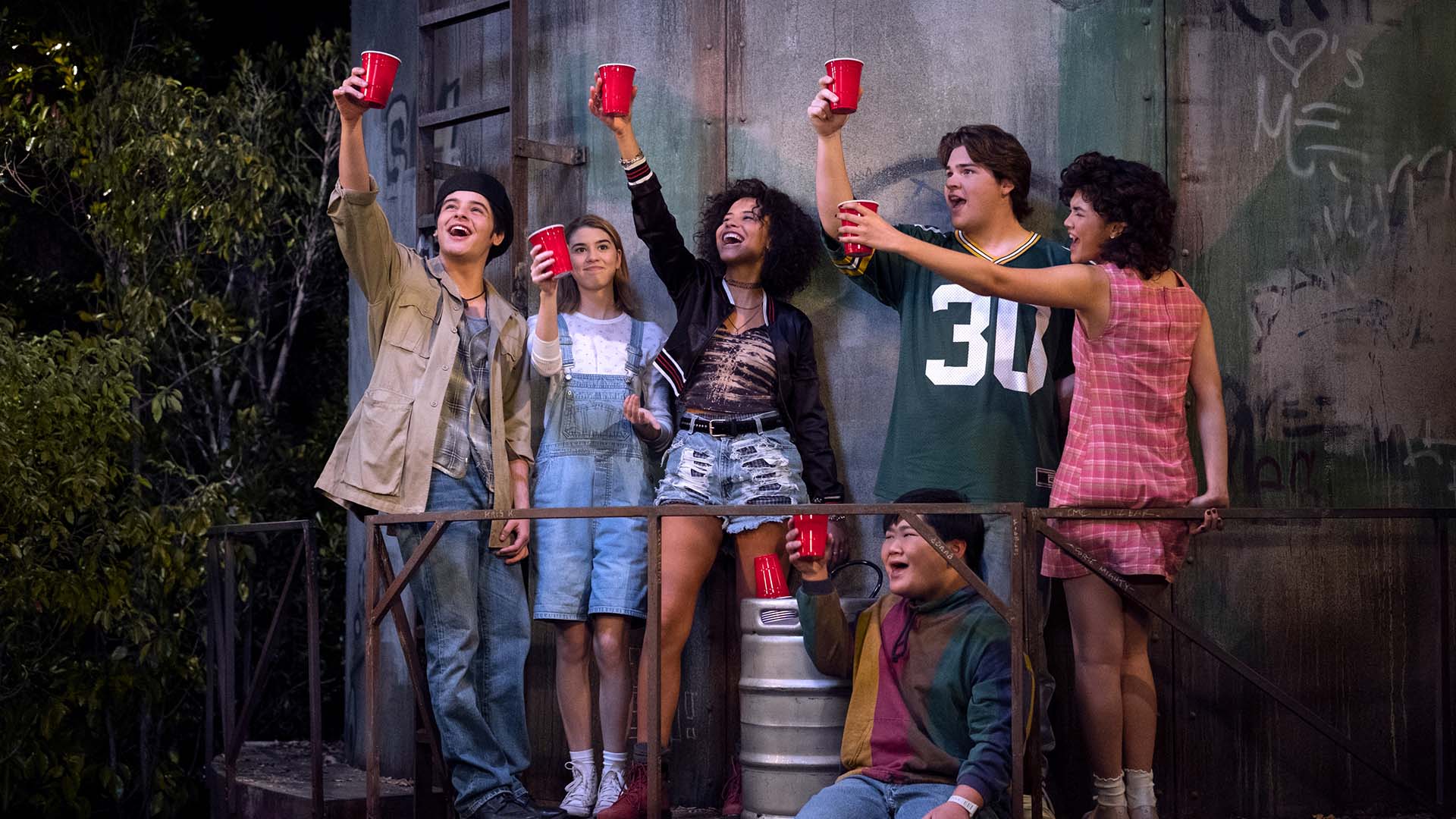 Including recognisable character traits and the entire new pot-smoking, basement-dwelling crew's dynamic, as well as their hijinks — and spanning the chaos brought by Gwen and Nate's mother Sherri (Andrea Anders, Ted Lasso) as a replacement for Eric's elder sister Laurie, plus the return of the same theme tune (but given a decade-appropriate makeover), the stoner circle and each episode's interludes — That '90s Show is the blatant doppelgänger of TV sequels. Reviving teen-centric hits from decades back is one of pop culture's favourite recent trends, covering everything from Saved by the Bell and Gossip Girl to Bel-Air, but this comeback is deeply determined to give exactly what worked the first time — and for 200 episodes at that — another spin.
In a series developed by That '70s Show creators Bonnie Turner and Terry Turner alongside their daughter Lindsey Turner and also That '70s Show producer Gregg Mettler, cue layer upon layer of nostalgia — for That '70s Show and for the new series' own titular decade alike. Entertainingly for fans of the original, That '90s Show's love of nods and references to its predecessor is as vast as Eric's still-buzzing love for Star Wars (see: Leia's name, and Eric's job as a professor exploring the religion of Star Wars). Obviously, the Netflix continuation couldn't be called That '90s Show if it didn't embrace its namesake as well, complete with references to Clerks, Home Alone and Free Willy, and a Beverly Hills 90210-inspired fantasy sequence. The extra dose of nostalgia? Not only getting viewers thinking about That '70s Show and the 90s, but recalling watching it in the 90s and 00s, and also wading through its affection for the 70s at the same time.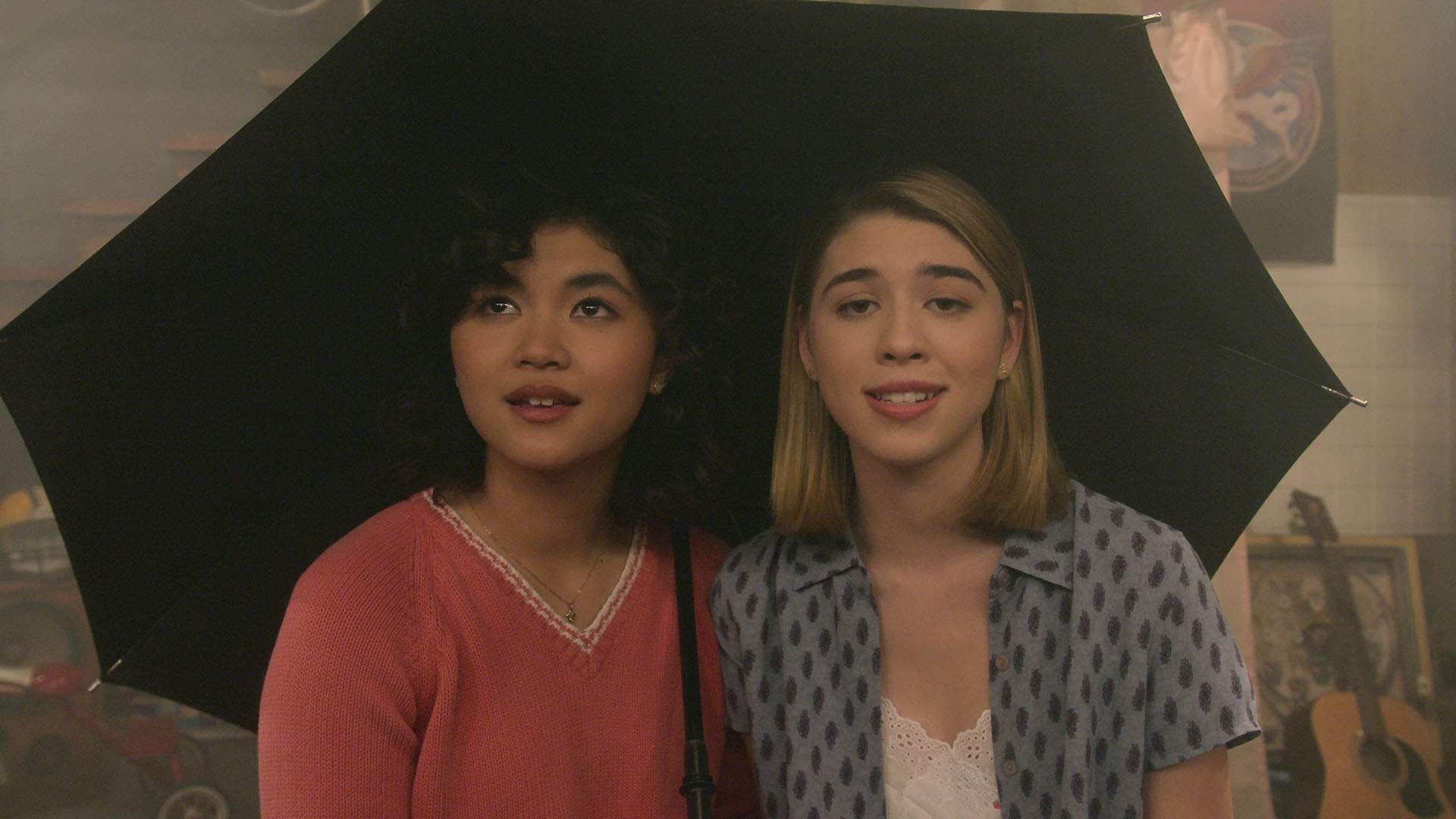 Here, nostalgia and familiarity are in, making any big new moves is out — other than for Leia when she decides to stay with Kitty and Red the summer, putting herself out there to make new friends and chasing her heart. Sticking with what this franchise knows could've been unambitious and straightforward, but it couldn't suit both That '70s Show and That '90s Show better. Before it made stars out of Grace, Prepon, and the now-married Kutcher and Kunis, a considerable part of the first series' appeal was its low-key vibe; it was a show to hang out with, just as its main players did with each other while they navigated recognisable and relatable suburban teen life. This follow-up knows not to depart from that key trait, just as it knows that the mechanics of being in high school haven't shifted no matter how long has passed.
Could this be a continuation of That '70s Show if the old gang didn't show up at various points, including the OG Kelso, Jackie, now-celebrity hairdresser Fez and always-high hippie Leo (Tommy Chong, Color Out of Space)? Of course not. Could this new series escape the temptation to have Leia fall for Jay and use that will-they-won't-they situation as one of its ongoing threads? Of course not again. That '90s Show is an endearing, laidback, easily bingeable throwback all the same — well-cast, too, although Doi and Morelos deserve more focus if it returns for a second season — and one that gets its levels of dripping nostalgia exactly right. Case in point: when it opens, it's with Kitty dancing in her kitchen to the apt 'Groove Is in the Heart', that 1990 Deee-Lite hit that hailed back to the 70s.
Check out the trailer for That '90s Show below:
That '90s Show streams via Netflix.
Images: Patrick Wymore/Netflix © 2022.
Concrete Playground Trips
Book unique getaways and adventures dreamed up by our editors