Biting HBO Satire 'The White Lotus' Is One of 2021's Best Shows — and It's Returning for Season Two
Set at a Hawaiian resort, the drama's first season is twisty, astute, savage and hilarious — and exacting when it comes to sinking its teeth into class divides.
The location: a picturesque Hawaiian resort. The clientele: rich and mostly loving it. The vibe: largely demanding, entitled and oblivious that their attitude isn't everyone's idea of normal, at least when it comes to the bulk of the guests staying on the premises and expecting the hotel's staff to cater to their every whim. That's where The White Lotus finds its setting, and the type of folks the HBO series places in its suitably sun-dappled frames as well. But there's an anxious, dark and complex undercurrent pulsating beneath every gorgeous beach, luxurious suite and cashed-up patron — and a strong awareness of the chasm between the well-to-do customers and the struggling and striving hotel staff, too.
The latest series from writer/director Mike White (Brad's Status), The White Lotus splits its time between some of the resort's current crop of guests and a selection of its employees. Business hotshot Nicole (Connie Britton, Bombshell) is on holiday with her husband Mark (Steve Zahn, Where'd You Go, Bernadette), teenage son Quinn (Fred Hechinger, Fear Street), college-student daughter Olivia (Sydney Sweeney, Euphoria) and the latter's pal Paula (Brittany O'Grady, Little Voice), but tension keeps festering — Nicole can't help working, Mark receives some unexpected news, Olivia keeps kicking Quinn out of their room and Paula hits it off with Kai (Kekoa Kekumano, Aquaman), one of the staff. Newlyweds Rachel (Alexandra Daddario, Songbird) and Shane (Jake Lacy, Mrs America) are on their honeymoon, but he's too fixated with the fact that they didn't get an even fancier suite, to the point of constantly harassing the hotel's Aussie manager Armond (Murray Bartlett, Tales of the City). Meanwhile, Tanya (Jennifer Coolidge, Promising Young Woman) just lost her mother, is working through her grief and leans heavily on spa manager Belinda (Natasha Rothwell, Insecure).
Back in 2011–13, long before The White Lotus became one of 2021's best new shows — and best shows overall as well — White spent two seasons crafting Enlightened, the excellent two-season Laura Dern-starring comedy-drama that was cancelled much too soon. It followed an executive who broke down at work and, when she stepped back into her life, wanted something completely different not just for herself, but for and from the world. It isn't linked, narrative-wise, to White's latest TV miniseries. The same mood flows through, however. And, in terms of sinking its claws into the affluent, eat the rich-style, The White Lotus also pairs nicely with the White-penned Beatriz at Dinner, especially as it examines the differences between the haves and the have nots.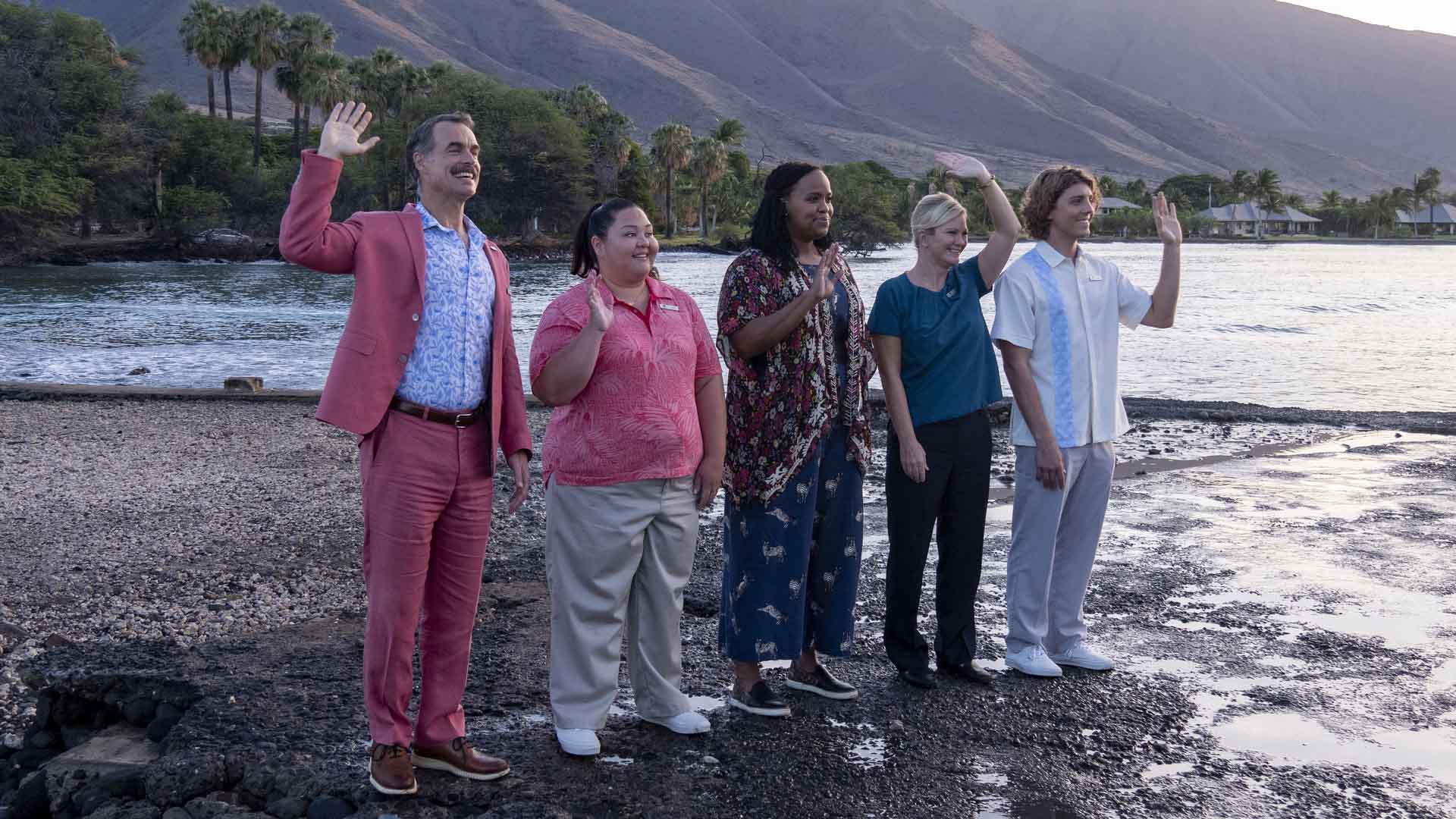 The result: a perceptive, alluring and excellently cast satire that hooks viewers from the outset, and then keeps them both guessing and obsessed. In its opening scene, the series shows Shane accompanying a body on the way home, so the audience know this'll end with a death — and wondering who, how and why is one reason that The White Lotus is so compelling. But as each episode unfurls, it's clear that these characters are reassessing what they want out of life as well. The privileged aren't doing it willingly, unsurprisingly, but those at their beck and call definitely are. Here, a glam and glossy getaway becomes a hellish trap, magnifying glass and mirror, with everyone's issues and problems only augmented by their time at the eponymous location.
This twisty, astute, savage and hilarious storyline will wrap up after six episodes, in what was meant to be one of HBO's many miniseries. That's the only bad part about the show — but, ahead of its final instalment, HBO has just announced that it's going to bring The White Lotus back for a second run. The next batch of episodes will tell a different chapter in a new place, focusing on a fresh group of holiday-goers at another White Lotus property. Just when they'll arrive hasn't been revealed as yet. Fingers crossed that it's as engrossing and biting as this initial season, though — and that it sports a score of tunes that are just as enticing and also eerie, too.
Check out the trailer below:
The first five episodes of The White Lotus season one are available to stream via Binge, with the sixth episode dropping on Monday, August 16.
Concrete Playground Trips
Book unique getaways and adventures dreamed up by our editors