'Yellowjackets' Is the Absolute Best New Show of the Past Few Months — and It'll Be Back for Season Two
Plane crashes, teen cannibals, lingering trauma — this must-watch series has it all.
When Yellowjackets begins, it's with an instantly intriguing mystery, a killer cast — led by the always-watchable Melanie Lynskey (Mrs America), Juliette Lewis (Breaking News in Yuba County) and Christina Ricci (The Matrix Resurrections) — and a deep valley overflowing with trauma. Streaming via Paramount+ in Australia and Neon in New Zealand, it starts with eerie forests, bright-eyed 90s teens with their whole lives ahead of them, devastating plane crashes and what looks like cannibalism, too, plus the unhappy adult lives endured by the tragedy's survivors 25 years later.
In their high-school prime, Shauna (Lynskey, and also The Kid Detective's Sophie Nélisse as a teenager), Natalie (Lewis, plus The Tomorrow Man's Sophie Thatcher) and Taissa (Billions' Tawny Cypress, and also Scream's Jasmin Savoy Brown) were key players on the titular high-achieving New Jersey soccer team, while Misty (Ricci, as well as Shameless' Samantha Hanratty) was the squad's frequently bullied student manager. Then, en route to a big match in Seattle on a private plane in 1996, they entered Lost territory. That accident saw everyone who walked away from the accident stranded in the wilderness — and those who then made it through that ordeal stuck out there for 19 months, living their worst Alive-meets-Lord of the Flies lives.
As established in a stellar first episode that's directed with the utmost precision by Destroyer filmmaker Karyn Kusama, Yellowjackets isn't simply interested in inherently disturbing events that'd change anyone forever, however. There's a reason that it flits between two time periods from the outset, rather than laying its dramas out in a linear fashion and teasing out how things end up. From the get-go, creators and showrunners Ashley Lyle and Bart Nickerson (Dispatches From Elsewhere) ensure that all that time in the woods, cabin and all, is tough, rough, savage and creepy, and that its complications and swerves into the supernatural only grow. That said, their immediately addictive series is just as obsessed with the transformation that springs after such an experience.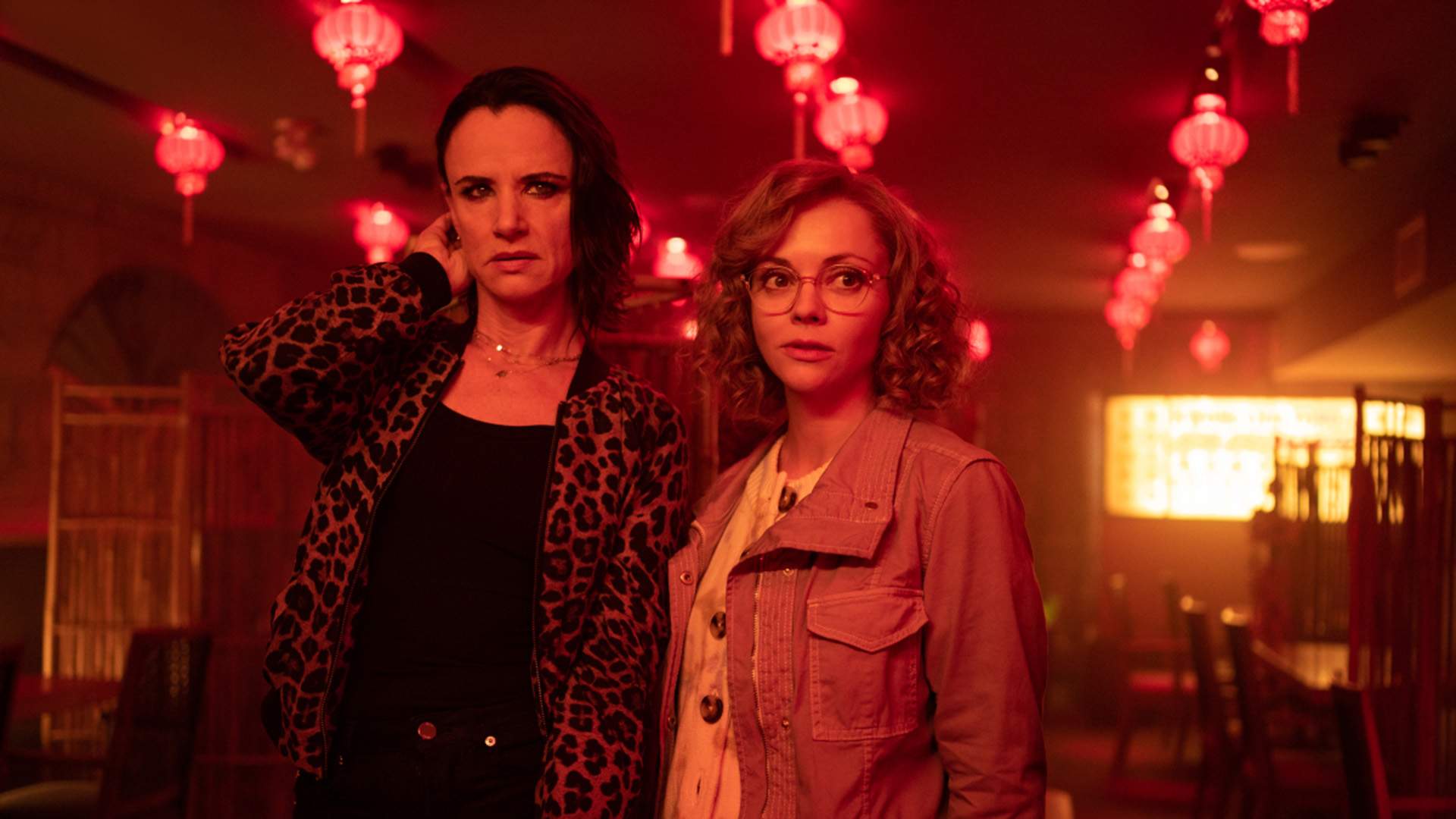 As struggles arise in both the 90s and now — including weird symbols in both, and deaths, plus blackmail plots in the present — Yellowjackets examines how, after falling from the sky, learning to cope in such remote surroundings and plummeting into a horror movie, anyone manages to go on. As set to a top-notch 90s soundtrack, it also faces the fact that for some, normality won't just come calling nicely afterwards. Actually, for everyone, each and every second spent back in civilisation will always be coloured by that time in the wild.
A series about misfortune weathered, paths taken, necessities accepted, friendships twisted and grief endured, as well as the reverberations that linger from all of the above, Yellowjackets boasts a searingly smart and savvy concept, which lets tragedy echo as all tragedies do — because facing an ordeal isn't just about the terrifying experience right there in the moment. Back in 1996, when an at-any-cost survivalist mindset begins to fester amid an embrace of woodland spirituality, grappling with the crash, teammates who don't make it, being cut off from normal teen life, and finding food and shelter is all immensely difficult. In 2021, the adult Shauna is an unhappy housewife embarking upon an affair, Natalie has just come out of rehab for the umpteenth time to shattering news, Taissa is running for state senate and having problems with her wife and son, and Misty is a nurse but still nobody's favourite, and little feels easier.
It's no wonder that the show became a chilling, perceptive, resonant and potent must-see from its very first episode back in November, and that it only grew bolder and stronger as its ten-episode first season kept going. It quickly proved one of 2021's best new series, and is the absolute standout drama of the past few months as well. If you already watched it week-by-week, it was appointment viewing, aka the kind of show you plan your nights around and couldn't stop theorising about in the week afterwards (and the type that gets its pitch-perfect opening-credits track lodged in your head non-stop, too). If you're new to all things Yellowjackets and you're planning to check it out now, it'll make one helluva binge.
And, in news just as exceptional as the series itself, it's returning for a second season. Given that Yellowjackets' first run of episodes kept deepening its mysteries moment by moment, persistently embraced every up and down thrown its complex characters' ways, never took the easy or obvious route, and found the ideal balance between survivalist horror, coming-of-age antics and midlife malaise, its new batch really can't come sooner.
Check out Yellowjackets' first-season trailer below:
The first season of Yellowjackets is available to stream via Paramount+ in Australia and Neon in New Zealand. Season two doesn't yet have a release date — we'll update you when it does.
Images: Kailey Schwerman/Showtime.
Concrete Playground Trips
Book unique getaways and adventures dreamed up by our editors