The Filmed Version of 'Hamilton' Has Hit Streaming and It's As Phenomenal As You've Heard
Recorded in 2016 with the original Broadway cast — including Lin-Manuel Miranda — the historical hip hop musical has just hit Disney+.
Since premiering on Broadway in 2015, winning 11 Tony Awards and nabbing the Pulitzer Prize for Drama, Hamilton has become a pop culture phenomenon. As a result, it was always going to make the leap to the screen in some shape or form. So, it's no wonder that Disney has jumped at the opportunity, albeit via a filmed version of the stage production rather than a traditional theatre-to-film adaptation. An actual Hamilton movie might still happen — creator, writer and star Lin-Manuel Miranda has talked about it, and apparently the first draft of a script has been written — but that's not the case just yet.
Originally, the Mouse House intended to bring this recording of Lin-Manuel Miranda's historical hip hop musical to cinemas in late 2021. Then, as we all know, the COVID-19 pandemic came along. Doing everyone a solid, the company has instead fast-tracked Hamilton to its streaming platform — with this vibrant, whip-smart and immediately dazzling tale of American Founding Father Alexander Hamilton available from today, Friday, July 3, on Disney+.
If you haven't been lucky enough to catch the popular all-singing, all-dancing production in New York, as it toured the US or on London's West End, this "live capture" version is here to fill the gap. Now, everyone who missed out on the opportunity to see the musical's initial run live can experience the next best thing. Shot at the Richard Rodgers Theatre on Broadway back in 2016, the recording features the show's original Broadway performers, including Miranda in the eponymous role. Also seen on-screen as part of the production's colour-blind approach to casting (including enlisting actors of colour to play white historical figures): Daveed Diggs (Snowpiercer) as Marquis de Lafayette and Thomas Jefferson, Leslie Odom Jr (Murder on the Orient Express) as Aaron Burr, Christopher Jackson (When They See Us) as George Washington, Jonathan Groff (Mindhunter) as King George III, Renee Elise Goldsberry (The House with a Clock in Its Walls) as Angelica Schuyler and Phillipa Soo (the Broadway version of Amelie) as Eliza Hamilton.
The story, for those who aren't intimately acquainted with US revolutionary history, chronicles the Caribbean-born "bastard, orphan, son of a whore and a Scotsman" from his arrival in New York in the early 1770s. As the musical's informative opening number explains, Alexander Hamilton will go on to become "the ten-dollar Founding Father without a father", with the production charting how he "got a lot farther by working a lot harder, by being a lot smarter and by being a self-starter". It's a tale that, unlike those of US Presidents Washington and Jefferson, you mightn't have heard before — which is one of the themes that the musical addresses. Just who is charged with recalling and immortalising the past, and who is remembered in the process, is a significant factor in shaping a nation's vision of itself.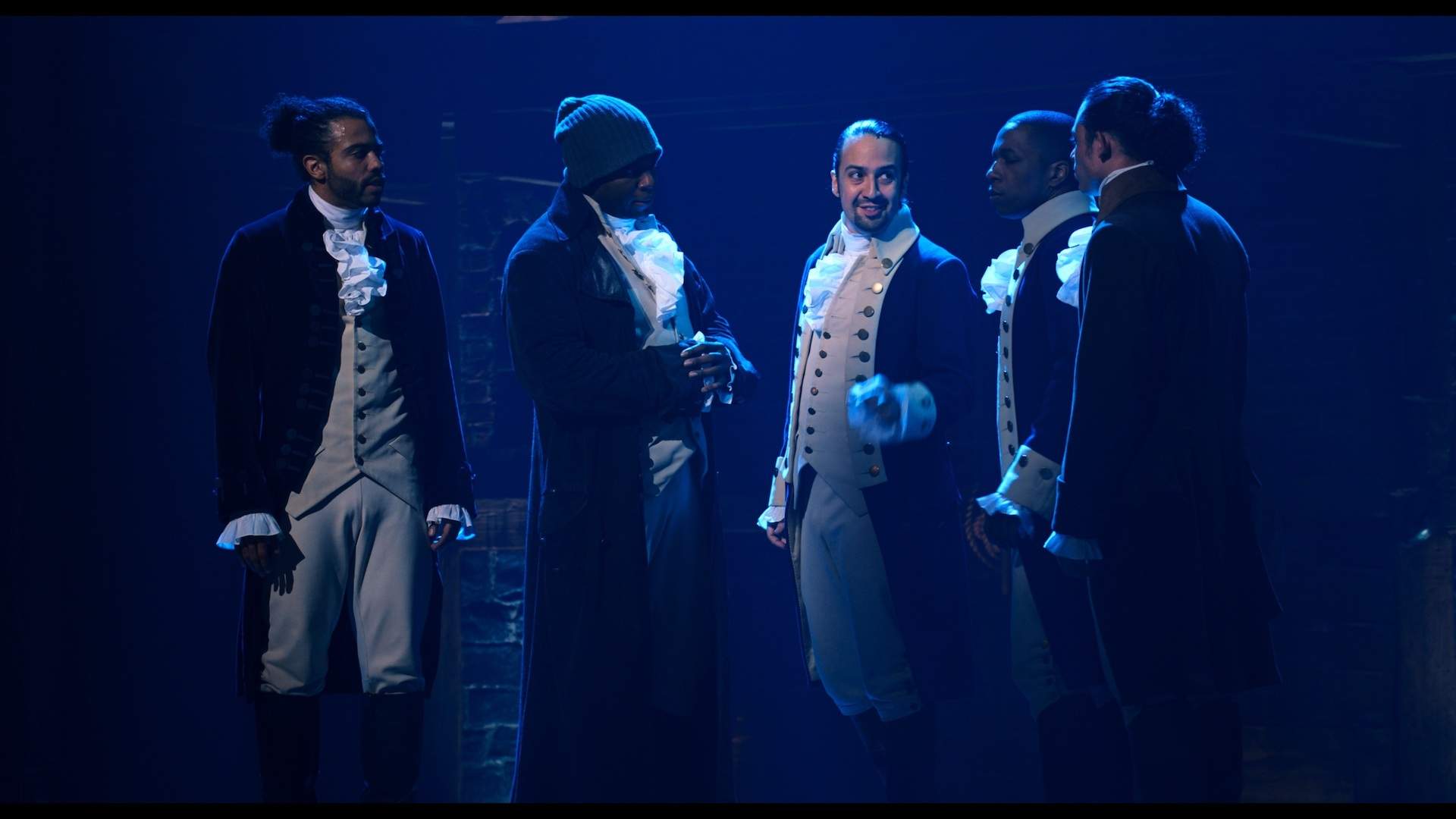 Hamilton isn't the first stage show to release a filmed version, of course; however it arrives on streaming after half a decade of buzz, chatter, acclaim, awards and cultural obsessiveness — and instantly demonstrates why it's been the most talked-about production of the past five years. Infectiously exuberant from its first moments, and not only lively but frequently funny, Miranda's rich, dense but always accessible words and songs interrogate US history with passion, intelligence and energy. Via an array of tunes that prove as clever as they are catchy, Hamilton ponders America's battle for independence from the British, the situation the fledgling country finds itself in afterwards, and what it truly means to start a new nation. Along the way, it also casts a light on political wheeling and dealing, the framing of the American Constitution, as well as Hamilton's complicated personal life. When the musical isn't turning discussions about debt into rap battles, for example, it's letting Groff's scene-stealing King George III sing absolute show-stoppers about imperialism, then breaking up the politics with yearning ballads sung by Goldsberry and Soo that also unpack the plight of women at the time.
By now, the fact that Hamilton is excellent really isn't news — but, if you haven't already seen it for yourself, prepare to be wowed. Miranda, Groff, and Tony-winners Diggs and Odom Jr couldn't turn in better performances and, as directed for the screen by the stage production's helmer Thomas Kail, this filmed version gets up close to their potent and compelling portrayals. Visually, viewers always know they're watching a recording of a live theatre show, too. Pretending otherwise just wouldn't do the production justice. That said, this on-screen presentation of Hamilton is also engagingly shot and edited, not only cutting between different angles, but successfully capturing the rhythm of the choreography, actors and moving set.
Getting swept up by Hamilton's wonders is easy. Recognising its added weight, importance and resonance now, as Black Lives Matter protests continue to take place across the globe and America finds itself at another crossroads, is just as straightforward, too.
Once you've watched the small-screen version, Australians can also get excited about seeing the stage production, as it's finally set to arrive Down Under in March 2021. Under present circumstances, though — and with international travel still banned for the foreseeable future — it's possible that this could be delayed.
Check out Disney+'s Hamilton trailer below:
The filmed version of Hamilton is available to stream worldwide from Friday, July 3, via Disney+.
Images: Hamilton filmed version courtesy Disney+.
Concrete Playground Trips
Book unique getaways and adventures dreamed up by our editors