'Robbie Hood' Brings a Classic Tale to the Red Centre for Your Next Hilarious and Heartfelt Mini-Binge
The six-part series is now available to stream on SBS On Demand.
Stealing from the rich and giving to the poor isn't just the domain of Robin Hood. In SBS's new six-part series, it's how a 13-year-old Northern Territory kid not only tries to get by, but endeavours to help his friends, family and others in his struggling community. The cheeky, big-hearted, hoodie-wearing teen's name: Robbie Hood.
Giving a classic concept a uniquely Indigenous Australian spin, the idea behind Robbie Hood is both simple and ingenious, like many of the best are. Rather than following an adult outlaw attempting to correct the disparity between the wealthy and the less fortunate, the bite-sized show steps into the life of its eponymous hero (Pedrea Jackson) across its ten-minute-long episodes. In an area blighted by poverty, racism and systemic inequities at every turn — sky-high grocery prices that make meat unaffordable, and a foster-care system that does the bare minimum for kids in need, for example — when Robbie flouts the law, it's for a good reason. His light-fingered ways aren't a weapon in a folkloric class war, but a social-realist reflection of suboptimal conditions in Australia's Red Centre
Forget Sherwood Forest, the Sheriff of Nottingham, Little John, Will Scarlett and Maid Marion, then. Instead, in Alice Springs' dusty surrounds, Robbie butts heads with kindly Shane the Copper (Dan Falzon), pals around with the always-hungry Little Johnny (Levi Thomas) and ever-sarcastic Georgia Blue (Jordan Johnson), and has a crush on checkout chick Mim (Tiara Doolan). He's always trying to make life easier for his Nana Mary (Audrey Martin), and, while he calls his boozing, guitar-playing dad (Andy Golledge) a dickhead, his love never falters. Robbie takes the same approach to his hometown — sure, he dubs it a shithole mere moments into the series' first episode, but it's still his home.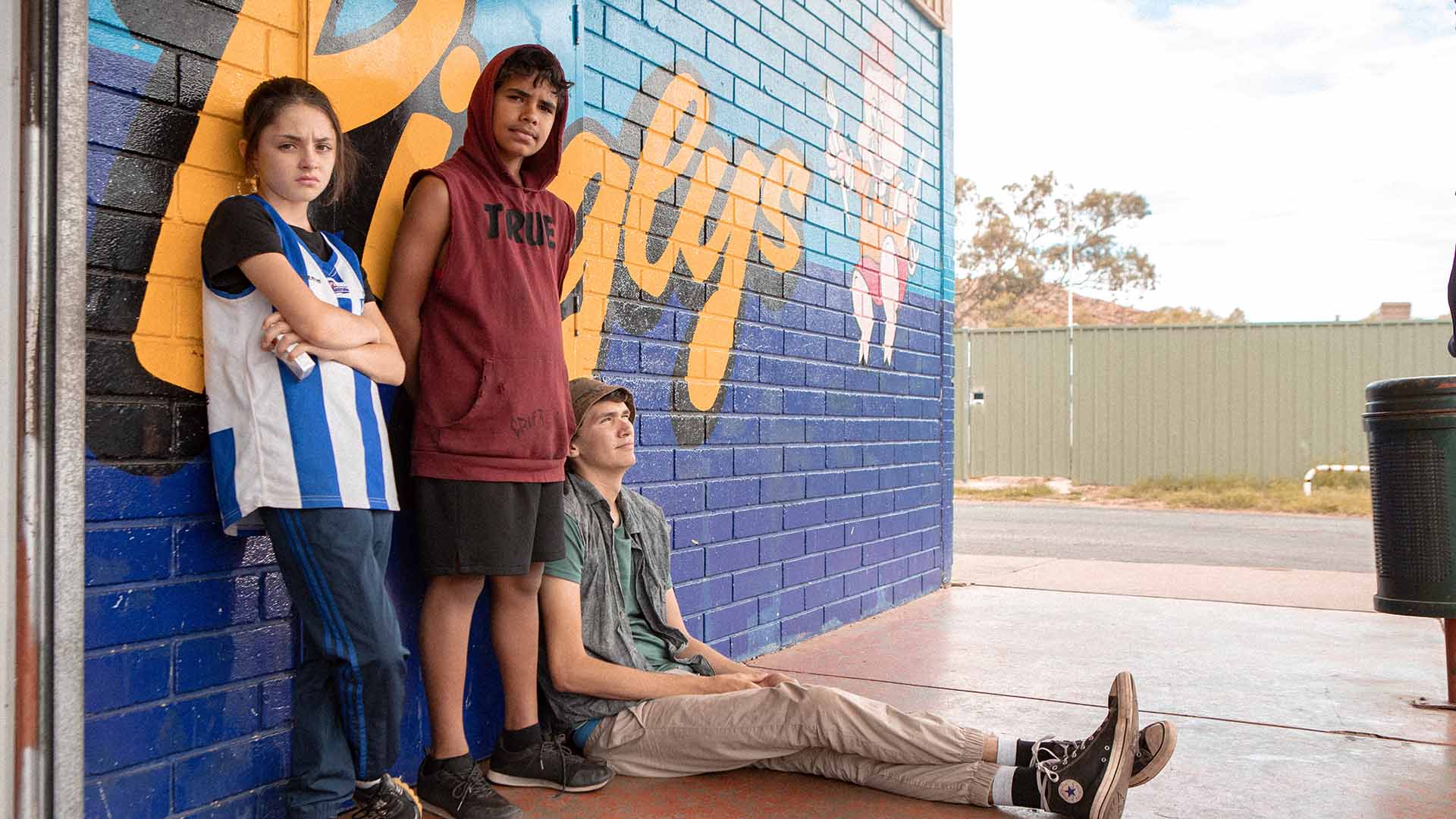 Set in the lead up to Christmas, the show charts sweltering days, attempts to sneak into the local pool, quests to get enough pre-paid power cards to keep the electricity running and trips to the speedway, with writer/director Dylan River finding humour and heart in every scenario. Indeed, the show's ability to pair an upbeat spirit with an unflinching look at reality is one of its unwavering strengths. Robbie Hood's characters, including its irrepressible, irreverent protagonist, are well aware of their situation, and yet they're never defeated or defined by it.
Perfecting that balance and happily dismantling stereotypes in the process, River is helped by his fantastic cast, especially the spirited Jackson — a first-time actor who oozes charisma as the titular thief. The series' expressive cinematography also assists, capturing the everyday minutiae of Alice Springs without a hint of sugarcoating, while also surveying its striking, sprawling desert landscape.
River, however, is his own MVP. The young Aussie filmmaker crafts an entertaining and insightful exploration of life in the Red Centre, as partially inspired by his own life as well as the experiences of his friends and family. And, in making perhaps the best twist on Robin Hood yet, he also adds a stellar credit to his growing resume. The son of Samson and Delilah director Warwick Thornton, and grandson of pioneering Indigenous Australian figure Alfreda Glynn, River already has documentaries Buckskin and Finke: There and Back to his name, as well as cinematography credits on his father's Sweet Country and upcoming Adam Goodes doco The Australian Dream.
All six episodes of Robbie Hood are available to stream now on SBS On Demand.
Concrete Playground Trips
Book unique getaways and adventures dreamed up by our editors