The Best of Berlinale 2019: Ten New Films We Can't Wait to Hit Australian Cinemas
We hopped over to the Berlin International Film Festival to get the jump on what's coming soon to cinemas.
Get excited, cinephiles. One of the biggest film festivals in the world just wrapped up for another year, after unveiling a wealth of new movies from around the globe over a jam-packed 11-day period. And even if you weren't at this year's 69th Berlin International Film Festival — enjoying the brisk but not unbearably frosty German winter, and sneaking in a few schnapps and schnitzels while rushing between cinemas — this huge, high-profile annual fest always brings good news.
Between February 7–17, the highlights were many, especially for anyone looking to add a whole heap of flicks to their must-see list. Among the official competition titles sat everything from blistering dramas to topical real-life tales, as judged by the likes of Juliette Binoche, Toni Erdmann actor Sandra Hüller and A Fantastic Woman filmmaker Sebastián Lelio. Elsewhere, the stars and stories kept flowing, including Jonah Hill's first stint as a feature film director, Tilda Swinton sharing the screen with — and getting outshone by — her daughter, and an essential music documentary finally seeing the light of day. And it wouldn't be a Berlinale without a few controversies, including the last-minute withdrawal of Zhang Yimou's Cultural Revolution drama One Second and the grim reception received by Fatih Akin's serial killer flick The Golden Glove, which earned a hefty amount of walkouts.
After emerging from Berlin's many, many picture palaces, that's just the short version. Here's the long round-up — aka the ten movies that'll hopefully be headed to Australian screens. These are the films that stuck in our head beyond the hustle and bustle. Fingers crossed that they'll be hitting a local cinema sometime soon.
THE SOUVENIR
With The Souvenir, another Swinton becomes an acting powerhouse. Honor Swinton Byrne stars in this 80s drama about aspiring filmmaker Julie and her older boyfriend Anthony (Tom Burke) — and while Tilda Swinton also features as her kindly mother, this is the younger Swinton's show. Struggling to pursue her passion and falling hopelessly for someone who's not quite who he seems, Julie's tale might seem familiar. And yet, with writer/director Joanna Hogg turning her own life into this stunning fictional effort, and unafraid to take aim at love, life, ambition and middle-class privilege, the film becomes a deeply moving adult coming-of-age story. Elegantly and insightfully scripted, lensed and performed, The Souvenir also acts as its own memento, leaving an imprint that lingers long after its frames have stopped rolling.
SYNONYMS
A highly worthy winner of Berlinale's Golden Bear, the festival's top prize, Synonyms refuses easy categorisation. It's a fish-out-of-water affair, following young Israeli Yoav (Tom Mercier) upon his arrival in Paris, but it's also a savvy take on today's fragmented world, a blistering character study about a man who refuses to be pinned down, and a ruminative reflection upon the difficulties of starting life anew, even by choice. Yoav is eager to put his Tel Aviv days behind him as quickly as possible, renouncing his homeland, refusing to speak another word of Hebrew and doing whatever it takes to become French; however, his transition is far from straightforward. Mercier is electrifying in his first acting role, while filmmaker Nadav Lapid draws upon his own experiences to cement his spot as a rising directorial star.
LIGHT OF MY LIFE
The world mightn't necessarily need a Casey Affleck-written and directed survivalist movie about a father, his pre-teen daughter and a post-apocalyptic world otherwise absent of women. It mightn't seem to need a mash-up of Leave No Trace, Children of Men and The Handmaid's Tale either. But that's exactly what the Manchester By the Sea Oscar-winner delivers in his first fictional helming effort (although mockumentary I'm Still Here almost counts), and Light of My Life lives up to its concept and the obvious comparisons it inspires. Thoughtful and heartfelt from start to finish, Affleck's feature uses its dystopian premise to ponder the struggles of parenting a child who'll eventually need to make their own way in life. On screen, the actor-turned-filmmaker is at his nuanced best playing a man trying to protect his curious offspring (Anna Pniowsky) from the harsh reality of her existence, while his young co-star brightens up the movie in a manner wholly befitting its title.
BY THE GRACE OF GOD
Exploring sexual abuse in the Catholic Church, By the Grace of God was always going to prove both topical and sorrowful, regardless of its timing. Based on a real-life French case, the film's ripped-from-the-headlines storyline has recently seen two figures portrayed within its frames take legal action, in an ultimately unsuccessful attempt to block its release. In Australia, the movie arrives hot on the heels of high-profile local legal proceedings; however, the anger, dismay and empathy the Silver Bear recipient inspires is all its own. Focusing on three men (Melvil Poupaud, Denis Ménochet and Swann Arlaud) who were inappropriately taken advantage of by the same priest (Bernard Verley) as children, this is a measured, moving, sensitive and sobering picture from filmmaker François Ozon, who ventures worlds away from previous efforts such as Swimming Pool and Young & Beautiful.
MID90s
Thanks to all-girl flick Skate Kitchen and Oscar-nominated documentary Minding the Gap, the past year has ushered in a new golden age for teen-focused skateboarding films. Mid90s falls happily in the middle of both — exploring the exploits of a group of kick-flipping guys in a way that's both dreamily nostalgic and tenderly clear-eyed — and firmly belongs on the list. Marking Jonah Hill's first full-length solo effort as a writer and director, it follows 13-year-old Stevie (Sunny Suljic). The shy kid wants nothing more than to ollie his way around LA with his new older pals Ray (Na-Kel Smith), Fuckshit (Olan Prenatt), Fourth Grade (Ryder McLaughlin) and Ruben (Gio Galicia), despite the wishes of his worried single mum (Katherine Waterston). As well as getting devastatingly naturalistic performances out of his cast, Hill directs this blast from the past exactly as it demands, with every inch feeling like the product of someone who's been there and seen it, even if he hasn't strictly lived through it.
VARDA BY AGNES
Two years after gifting the world Faces Places, her delightful and insightful documentary about placing oversized portraits of villagers around the French countryside, Agnès Varda returns with another factual effort that's just as wonderful. While the cinema legend co-directed her last movie with much-younger artist JR, this time around she's back on her own, as the 90-year-old has been for much of her 65-year filmmaking career. Indeed, her lengthy life behind the lens is the subject of Varda by Agnes, with the inimitable figure taking viewers through her career as only she can. Spanning from her French New Wave beginnings to her adoption of digital technology, this is a self-portrait, a celebration and a masterclass — and, as always, it's an absolute pleasure spending time in Varda's company.
AMAZING GRACE
Told on screen via text, the story behind concert documentary Amazing Grace is worth its own movie. Over two nights in January 1972, Aretha Franklin recorded her best-selling gospel album of the same name at the New Temple Missionary Baptist Church in Los Angeles, with the Southern California Community Choir as backing singers, and with filmmaker Sydney Pollack on hand to capture the whole thing. But, due to both technical and legal issues — including Franklin suing to stop the movie's belated release before her death — the end result hasn't made it to the big screen until now. 47 years is a long time to wait; however, this doco is worth it. Amazing Grace is joyous for many reasons, from witnessing the Queen of Soul's talent, to paying tribute in an intimate fashion, to seeing the effect of faith and artistry on the on-screen audience. And when Franklin sings the title track for 11 minutes, its a moment no one will forget in a hurry.
GHOST TOWN ANTHOLOGY
There's an alluring mood to this French-Canadian film, which isn't quite a horror flick but certainly isn't a standard drama either. An atmospheric kindred spirit to the Casey Affleck and Rooney Mara-starring A Ghost Story from 2017, of sorts, Ghost Town Anthology enters the remote Quebec village of Irénée-les-Neiges, population 215. Suddenly, after an accident, that number drops to 214, and the townsfolk don't know how to cope. Grief is an immensely difficult feeling to convey on screen, but Denis Côté's haunting movie does a stellar job of capturing the deep-seated yearning to reunite with lost loved ones — and the unnerving impact when mysterious figures start popping up around the tiny locale. The grainy effect of shooting on 16mm certainly enhances Ghost Town Anthology's ethereal tone, as does its willingness to let images and actions speak louder than words.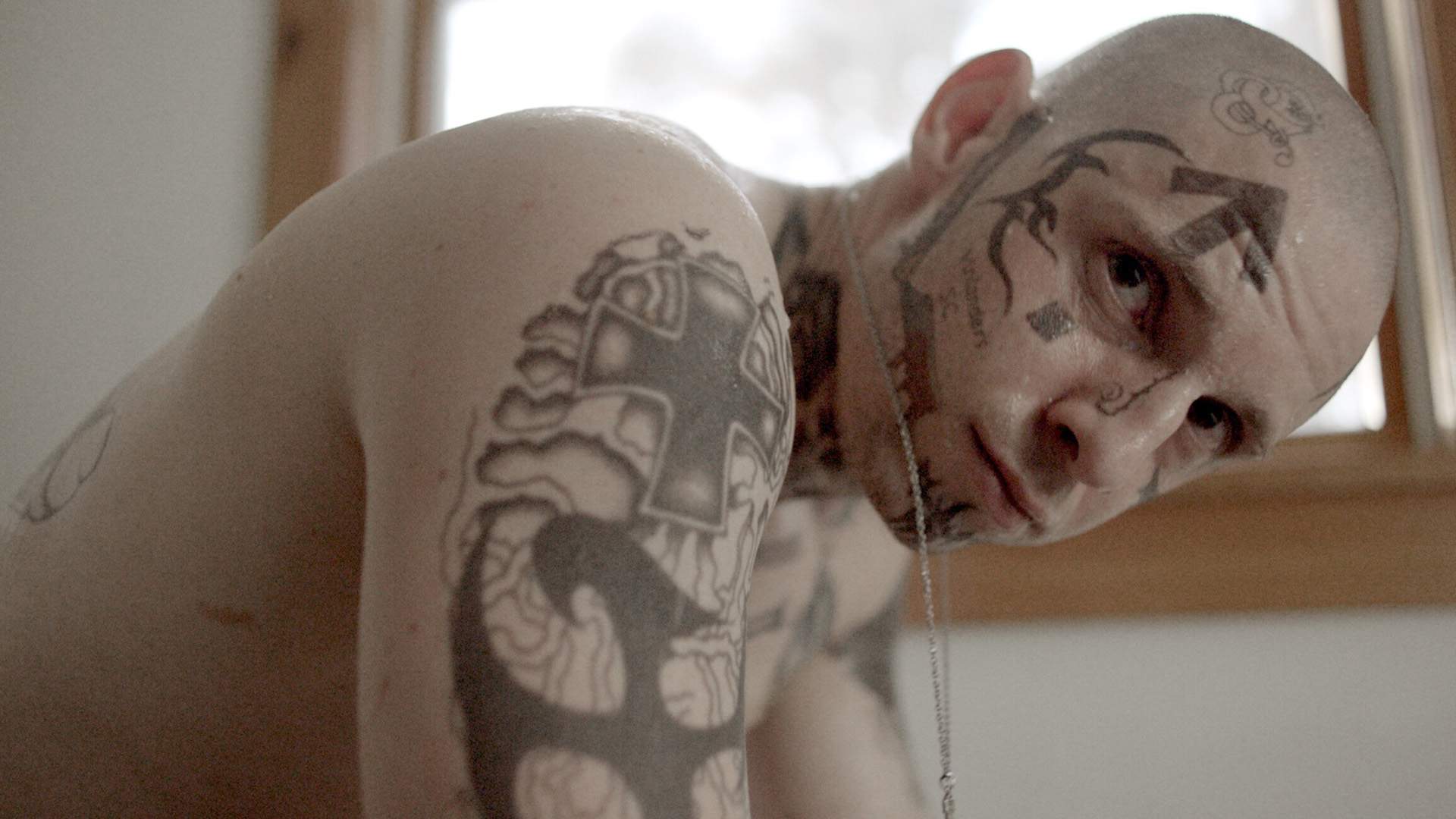 SKIN
It has been 19 years since Jamie Bell danced his way into audience's hearts in Billy Elliot, with his character escaping a harsh home life and a narrow view of masculinity through ballet. In Skin, the British actor is covered in tattoos and sports a shaved head as real-life figure Bryon Widner — and while the American white supremacist doesn't take to dance, he's similarly trapped in a restrictive environment and subconsciously yearning to break free. Widner's path changes when he meets a single mother (Danielle Macdonald), turns away from the right-wing scene and tries to say goodbye to his hate-spewing pseudo parents (Vera Farmiga and Bill Camp). Directed by Oscar-winning short filmmaker Guy Nattiv, Skin might be blunt as it charts Widner's journey; however, thanks to a potent performance from Bell and his co-stars, it's always effective.
BUOYANCY
In recent years, Australian filmmakers have explored the plight of refugees and immigrants in a variety of compelling ways — in hard-hitting documentary Chasing Asylum, in the more meditative Island of the Hungry Ghosts, and now in Buoyancy. Shot in Cambodia and Thailand, and spoken in Khmer, Thai and Burmese, this Aussie drama examines human trafficking, with 14-year-old Chakra (Sarm Heng) leaving life on the rice fields in search of something more, but finding himself tricked into slave labour on a fishing trawler. Informed by real-life experiences, Rodd Rathjen's feature debut doesn't pull its punches, as Chakra's time at sea proves bleak and brutal to say the least. Indeed, every moment and frame is designed to immerse viewers in the boy's despairing, a feat that the film achieves.
Concrete Playground Trips
Book unique getaways and adventures dreamed up by our editors