ARTS & ENTERTAINMENT
Alison Wonderland Talks Warehouse Parties, The Princess Bride and Her New EP
With her Calm Down EP out today, we checked in with Wonderland.
The party never stops for Alison Wonderland. After hosting a slew of warehouse parties earlier this year, as well as playing just about every Australian music festival you can poke a stick at, Wonderland has dropped her Calm Down EP featuring all new original songs. Wonderland's DJ sets are known for their ability to ignite any dance floor, with her special mix of old school hip hop and modern indie dance. We were lucky enough to get Wonderland to sit still just long enough to tell us what we should look forward to with her new EP and her 'Rural Juror Touror' tour.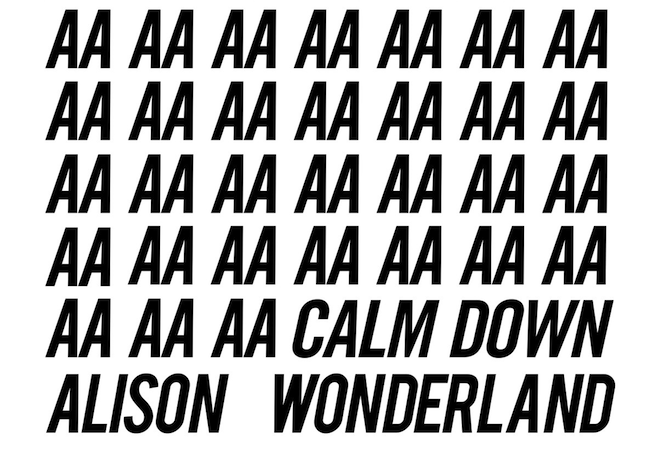 The Calm Down EP
Wonderland has previously released a compilation mix called Welcome to Wonderland, but the Calm Down EP is her first release to feature all original material. A more personal side of Wonderland will be coming through this EP, which her vast fan base has been eagerly awaiting. "This EP will be more songs rather than club jams," says Wonderland. "I'm excited and nervous to hear what people think about them."
So far two singles from the EP have been released, 'Lies' and 'I Want U', the latter of which has a killer video clip, directed by local Melbourne maverick Prad Senanayake. Wonderland says the concept for the clip, which casually features possessed nuns and an old man being coddled by a younger temptress, was a collaborative effort between her and Senanayake. "It was super nice to work with Prad," says Wonderland. "He gets it, he's super smart."
While Wonderland may be most well known for her work as a DJ, spinning tunes is not her first foray into music. Wonderland is a classically trained musician; she was a principal cellist with the Sydney Youth Orchestra and played bass in an indie band for a spell. "I think that the classical education that I received definitely helps me write music," says Wonderland. "I don't try and keep it at the forefront of my mind when I'm writing — I try to do that with feel — but I definitely think in the back of my mind somewhere it's a big reason why I make the music that I do."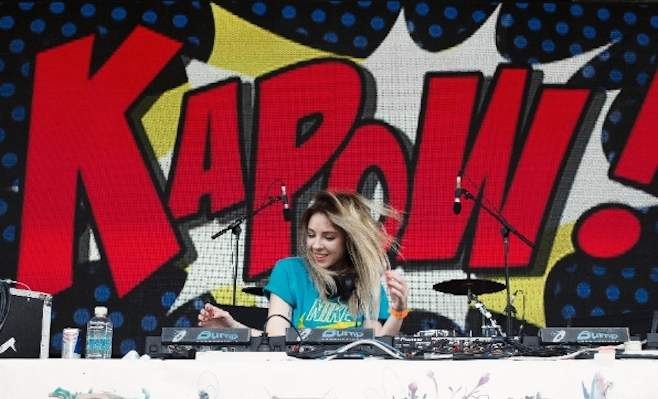 The Love Of Vinyl
Wonderland is clearly excited for the release of her EP, but what's more, it's coming out on vinyl — a medium she has favoured since childhood. "When I was eight my Dad gave me his vinyl collection from when he was a teenager," explains Wonderland.
So then, what was her last vinyl purchase? We don't want to be presumptuous, but it might not be what you'd first expect. "My latest vinyl purchase is actually kind of embarrassing!" admits Wonderland. "My favourite film ever is The Princess Bride, which is a 1980s fantasy film. I have the first ever release of the soundtrack on vinyl, played by Mark Knopfler."
The Party Starter
Before embarking on her Rural Juror Touror, earlier this year Wonderland hosted a series of warehouse parties across Australia. All the shows, held in secret locations, sold out almost immediately and in some cities venues had to be upgraded to keep up with the demand. The Wonderland Warehouse Projects were a huge success, and as per usual with Wonderland's gigs, the crowds were lively, sweaty, and brimming with riotous enthusiasm. "Getting up on stage and seeing the crowd, that was a pretty crazy feeling," explains Wonderland. "There was 2,000 people at each show."
Despite being thrilled with the turn out to these events, there was one audience member in particular that Wonderland was especially thrilled about. "My Mum came to one of my shows, which was exciting!" says Wonderland. "She's only seen me play twice before, it was cool for her to see what I did."
The Rural Juror Touror
Wonderland has already performed the first few shows of her 'Rural Juror Touror', which will send her to all corners of Australia. The desire to take on a national rural tour was sparked after performing at Groovin the Moo last year. "I enjoyed it so much that it was kind of the inspiration for this tour," explains Wonderland.
For Wonderland, there is no difference between playing to a crowd in a major city or a smaller rural venue. "I think they draw a certain type of crowd when I play," explains Wonderland. "They're usually quite educated in the type of music I DJ wherever I am."

ALISON WONDERLAND'S RURAL JUROR TOUROR:
Fri 27 June  — Discovery, Darwin NT
Sat 28 June — Argyle House, Newcastle NSW
Sun 29 June — Flinders Social, Townsville QLD
Thurs 3 July — Southern Cross Uni, Lismore NSW
Fri 4 July — Fitzgeralds, Bunbury WA
Sat 5 July — Toucan, Mandurah WA
Fri 1 Aug — Star Bar, Bendigo VIC
Sat 2 Aug — Amaroo Hotel, Dubbo NSW
Thurs 7 Aug — World Bar, Queenstown NZ
Sat 9 Aug — Movitas, Mackay QLD
Sat 16 Aug — Karova, Ballarat VIC
Fri 22 Aug — Secret Show, Taiwan
Sat 23 Aug — Warehouse 82, Bali
Fri 29 Aug — Observatory, Hobart TAS
Fri 5 Sept — Plantation, Coffs Harbour NSW
Sat 13 Sept — Smirnoff Snowdome, Thredbo NSW
AW's Calm Down EP is out now.
Published on June 27, 2014 by Hannah Valmadre