'Ted Lasso' Is the Warm Hug of a Sitcom That's Absolutely Pitch-Perfect Viewing Right Now
Starring Jason Sudeikis as an American football coach who switches to managing an English soccer team, this Apple TV+ series is a kind-hearted delight.
What do Parks and Recreation, Wellington Paranormal and Ted Lasso all have in common? They're all stellar examples of kind-hearted TV comedies that are an utter delight to watch, especially in chaotic times. Like a balm for frazzled nerves, these types of sitcoms focus on nice and caring people doing nice and caring things, even while their characters navigate all manner of ups and downs. Michael Schur-created favourite Brooklyn Nine-Nine also fits the category, because it too celebrates people who support each other, are always there for each other and form heartwarming bonds as a result. That's what these instantly likeable programs perfect again and again — and do so to not just an entertaining but to a soul-replenishing degree.
By now, three of the aforementioned shows have already established a legion of fans, and deservedly so. Ted Lasso, the fourth series named above — and a 2020 newcomer — definitely belongs in the same company even just based on its ten-episode first season, plus the first two instalments of its second season so far. Starring a gloriously optimistic, already Golden Globe-winning Jason Sudeikis, the comedy first introduces its titular character during a period of transition. A college-level American football coach, Ted is hired by struggling English soccer team AFC Richmond, despite having zero knowledge of the sport.
Ted is recruited for the role by the club's new owner, Rebecca Welton (Hannah Waddingham, Game of Thrones), who received the organisation in her divorce settlement and is determined to tank it to spite her slimy ex (Buffy the Vampire Slayer's Anthony Stewart Head). And, she knows that her new hire will face more than a few issues in his unlikely job. The ravenous British media write Ted off instantly, the club is in a spot on on-field bother, and veteran champion Roy Kent (Brett Goldstein, Uncle) and current hotshot Jamie Tartt (Phil Dunster, Judy) just can't get along. And yet, this American in London's upbeat attitude does wonders — as aided by his laconic offsider and long-time friend Coach Beard (Brendan Hunt, Bless This Mess), and the team's kit man-turned-assistant coach Nathan Shelley (Nick Mohammed, Intelligence).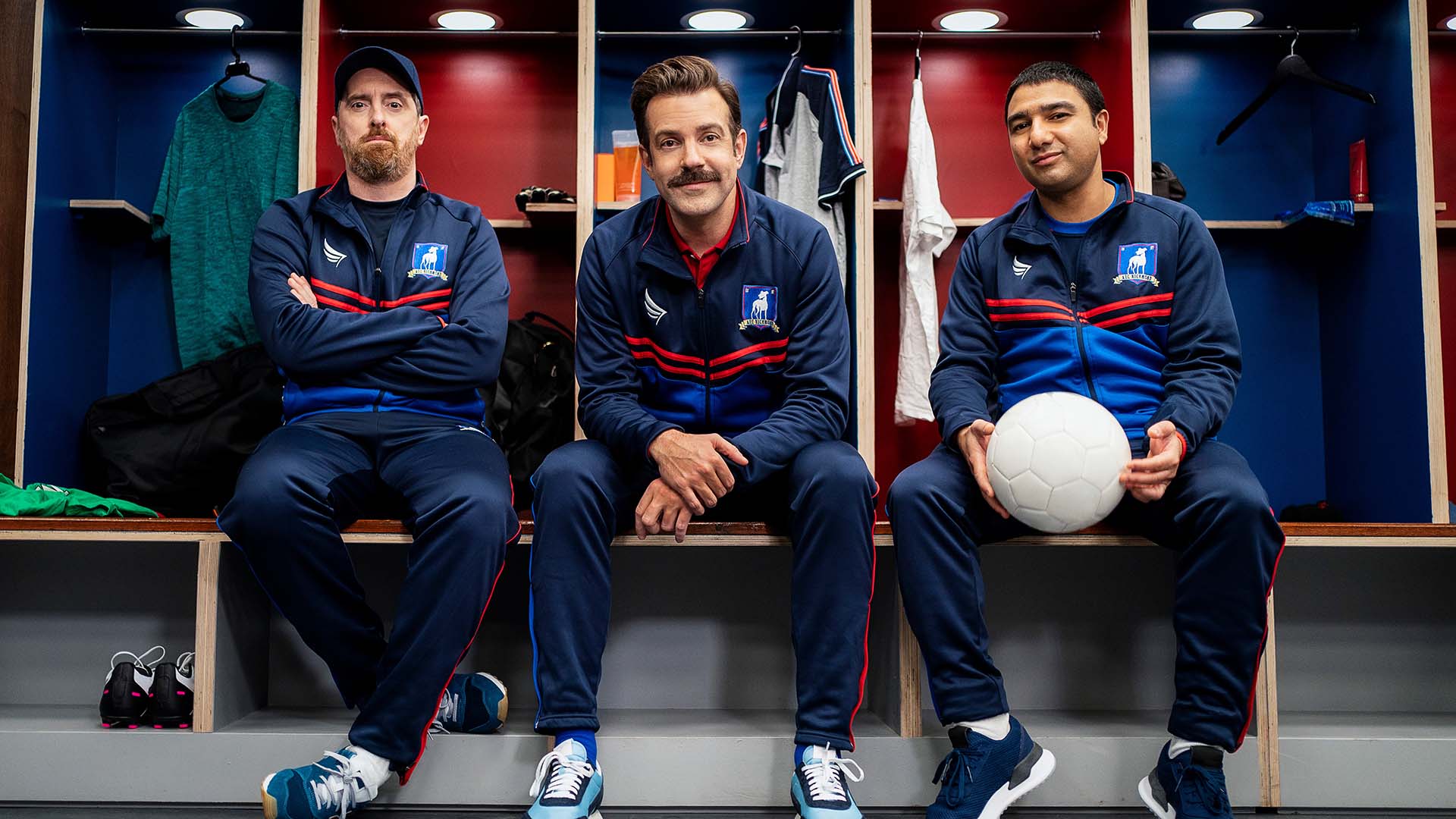 For much of his career, Sudeikis has excelled at playing thorny, jerkish characters (see: the terrific Colossal) who initially appear otherwise. He's exceptional at showing how arrogance can lurk behind a nice-guy demeanour, and he's proven that multiple times. Ted Lasso is never mean-spirited, however — and that applies to both the series and its main figure. Sudeikis is fantastic here as the genuinely caring coach just trying to do his best, and attempting to bring out the best in others. Yes, the series he's in is just as spot-on, as are his impressive cast members.
In Ted Lasso's second season, which has just started streaming on Apple TV+, Ted faces a new challenge. The team has just added psychologist Dr Sharon Fieldstone (Sarah Niles, I May Destroy You) to its ranks and, while Ted  may be all positivity, all the time, he's not fond of Dr Fieldstone's profession — and finds her an unsettling presence. This is a series about working through those kind of roadblocks, though. It's one where Rebecca has moved on from just trying to use the club to annoy her ex, and is now thoroughly invested in its fortunes — and where her friendship with model, media darling, Jamie's ex-girlfriend and Roy's current partner Keeley Jones (Juno Temple, Maleficent: Mistress of Evil) is never framed as competitive, as would likely be the case elsewhere. Consequently, exploring this storyline in a meaningful and positive way just adds to Ted Lasso's strengths.
Viewers definitely don't need to love soccer or even sport to fall for this show's ongoing charms, to adore its determination to value banding together and looking on the bright side, and to love its depiction of both male tenderness and supportive female friendships. Those traits keep building episode by episode, as does fondness for its underdog team both on and off the pitch, and its ability to make Roy's love of swearing constantly both smart and hilarious. It's no wonder that Ted Lasso picked up a whopping 20 Emmy nominations this year, for its first season alone, including acting nods for pretty much every main actor involved in the show. In fact, this is the best sitcom currently in production.
Check out the trailer for Ted Lasso's second season below:
The first two episodes of Ted Lasso's second season are available to stream via Apple TV+, with new episodes dropping weekly — and all of the show's first season is also available via the streaming service.
Concrete Playground Trips
Book unique getaways and adventures dreamed up by our editors