ARTS & ENTERTAINMENT
This Collingwood Public-Housing Block Is Now Home to the Southern Hemisphere's Tallest Mural
The work by local artist Matt Adnate features lifelike portraits of four of the building's residents
This Collingwood Public-Housing Block Is Now Home to the Southern Hemisphere's Tallest Mural
The work by local artist Matt Adnate features lifelike portraits of four of the building's residents
It's safe to say local artist Matt Adnate is pretty comfortable working in large scale. His public works can be seen gracing huge structures across Singapore, New York and Australia. Closer to home, you'll find a portrait of four local Indigenous Australians painted on the side of a soaring Sheeps Hill grain silo as part of the Silo Art Trail.
But, clocking in at around twice the height of the regional Victoria piece, Adnate's latest artistic endeavour is the tallest mural in the southern hemisphere.
If you've been kicking around Collingwood in recent weeks, you might have seen the genesis of this giant, vibrant work, on the side of the 20-storey Collingwood Commission Housing tower. Now complete, it stretches all 62 metres of the building, featuring huge lifelike portraits of four of the development's residents.
Here's how it looks in full: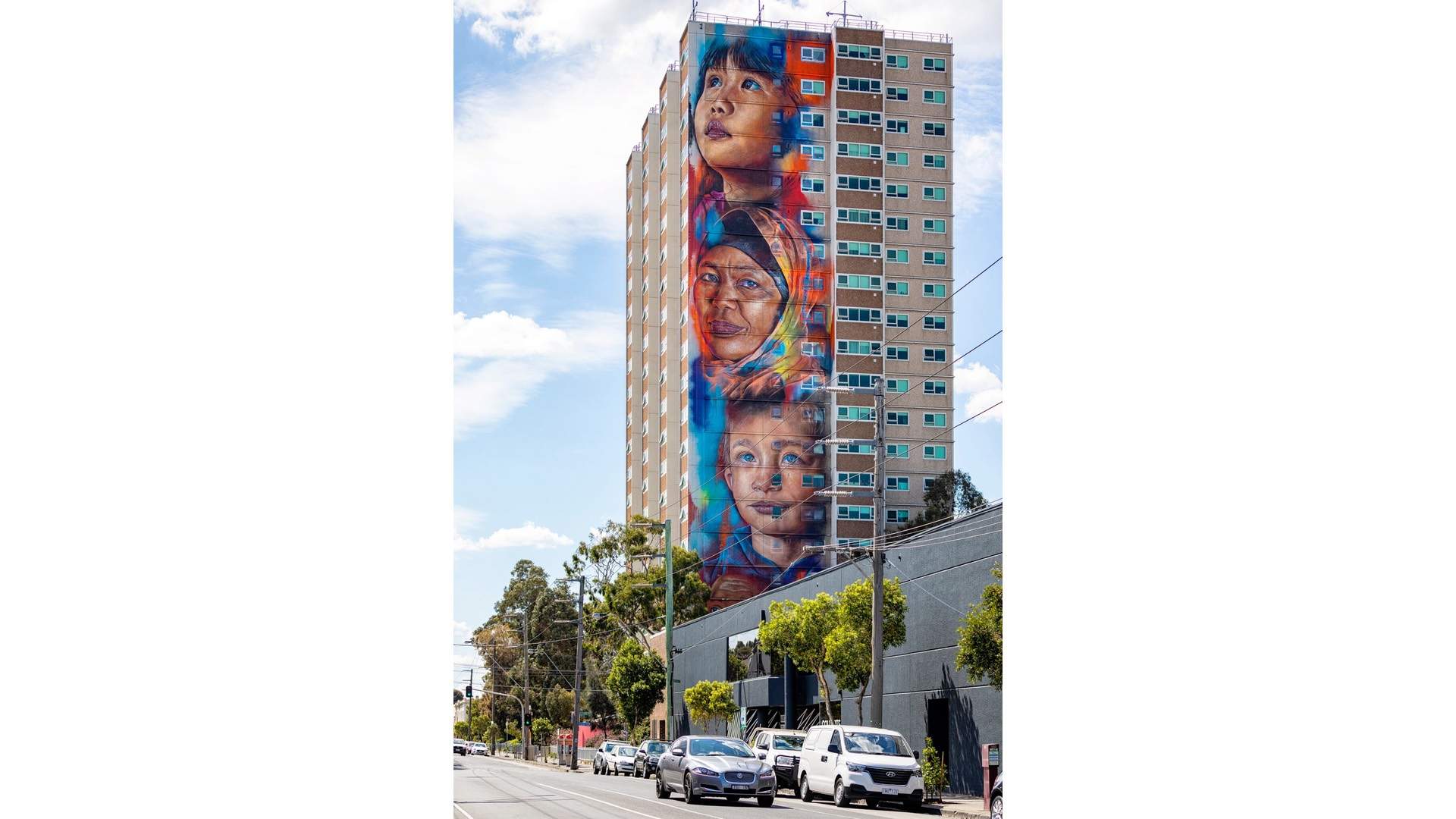 The project saw Adnate teaming up, once again, with Fitzroy-born street art collective and creative agency Juddy Roller, who were also behind the Silo Art Trail. The idea for the work started when they took Minister for Planning Richard Wynne on an impromptu street art tour of the area a few years back. Since them, the crew of art-loving locals have been working towards bringing this huge public-housing mural to life.
Of course, community engagement was key when the artwork's canvas was also home to hundreds of residents. So, organisers held a series of workshops, children from the precinct got together to create murals of their own and all residents keen to have their face immortalised in spray paint had their photo snapped down at the community centre.
The four faces chosen for the work capture the area's spirit of diversity: Ethiopian woman Badria Abdo, who came to Australia 12 years ago as a refugee from Kenya; Indonesian man Yulius Antares Taime who has called the Collingwood flats home for just four months; Melbourne-born six-year-old Arden Watson-Cropley; and five-year-old Australian-Vietnamese girl Ni Na Nguyen.
Find Adnate's Collingwood mural at 240 Wellington Street, Collingwood.
Images: Nicole Reed Photography
Published on September 20, 2018 by Libby Curran